Review: China Airlines Business Lounge Taipei Airport Terminal 1
In this review, we will take a look at the flagship business lounge of China Airlines in terminal 1 of Taipei Airport.
Taipei Airport
After a comfortable flight with on a China Airlines Airbus A330 in economy class, I had arrived in Taiwan.
Within minutes after disembarking I was already back in the airside departure hall again after re-clearing security.
Taipei airport (IATA code: TPE) is an easy and straightforward airport for flight connections and certainly felt like a nice place to walk around.
There were plenty of shops and cafes and everything was well-signposted, making it easy to find your way around.
Sure, Taipei's airport is not anything near the brilliance of Singapore's Changi Airport, but I found it a pleasant and quiet place.
China Airlines lounge entry requirements
China Airlines has multiple business lounges at its home base of Taipei Taoyuan International Airport, which is the biggest and busiest airport in Taiwan.
The airport consists out of two terminals called Terminal 1 and Terminal 2. As China Airlines operates flights from both terminals, it also has several lounges spread out over the two terminals.
The flagship business lounge of China Airlines is the one in Terminal 1 – and as my flight to Rome was set to depart from this terminal, I was fortunate enough to give it a visit.
The China Airlines lounge is of course open for China Airlines business class passengers as well as those flying in business class on other Sky Team airlines out of Taipei.
Of course, eligible frequent flyers with elite status on a Sky Team frequent flyer programme can also access the lounge.
Even though I was flying in economy class, I could access the lounge courtesy of my Air France/KLM Flying Blue platinum status.
Lounge décor
A team of three lounge agents welcomed me into the lounge – and wow – did it look good at first sight!
You enter the lounge through a long hallway with beautiful faux-wood finishing touches and stone elements.
The lounge oozed modern-Asian design and is reminiscent of the business class cabins of China Airlines in which a similar design is used. I instantly loved the entire décor.
Along the hallway was a large newspaper and magazine stand where you could take your preferred reading.
Doors to the right give access to the toilet and shower facilities of the lounge, while the path straight ahead takes you to the main lounge area.
The main lounge area
The main area of the China Airlines lounge is shaped as a giant rectangle with seating options towards the outer sides, and a buffet area with kitchen, a noodle bar and several dining tables in the middle.
This is a handy layout as wherever you are seated you are never too far away from the food and drinks options set out in the middle area.
There was a good variety of seating options, both standard dining tables in the front and read middle section of the lounge, as well as comfortable couches towards the sides.
I found the finishing touches in the lounge to be gorgeous, especially the way how the couches were arranged in small, semi-private seating areas with small paintings, statues and artworks around it.
Even when at a later point in the evening the lounge became a bit more crowded, it still felt like an oasis of calmness and quietness.
No matter which seat you take, you will find that there are plenty of power sockets everywhere too, as well as a fast-working internet connection.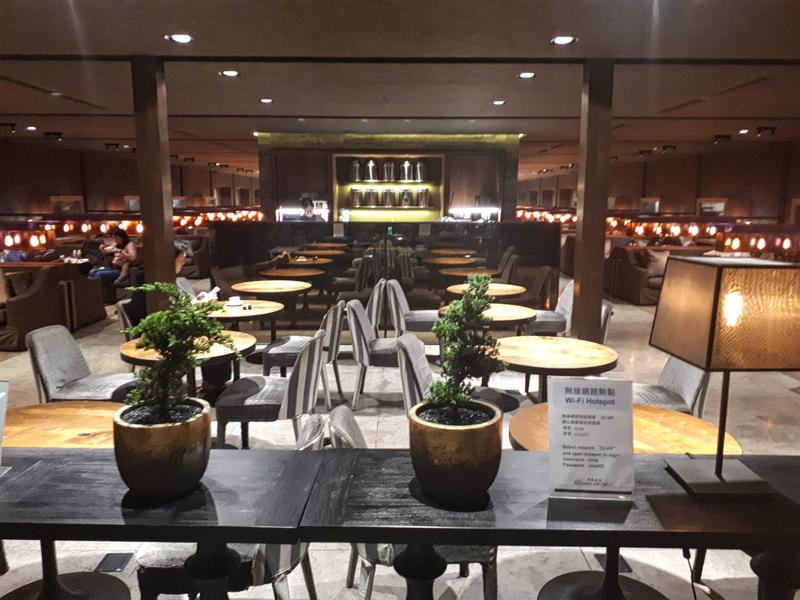 Food buffet
The food buffet was good – both in quantity and quality.
There were several dishes available, both Taiwanese food options as well as Western staples. Think potatoes and grilled sausages and other meats for Western dishes, and dim sum for Asian food.
Best of all was the noodle bar – a live cooking station where a chef would prepare your choice of noodles in front of you.
As I was peckish I tasted both the beef noodles and the Dan Dan noodles, which were all superb.
Given that I was in Taiwan, I avoided the Western options and opted for some of the dim sum as well.
I especially loved the Taiwanese green tea egg – an egg boiled for hours in green tea. It definitely had a weird colour but was surprisingly tasty!
China Airlines lounge drinks
If I have to mention one downside of the lounge, it would be the booze.
Although there were a number of juices and soft drinks available, the same quantity could not be found when it came to alcoholic drinks.
There were just four or so different kinds of strong alcohol available, and only one choice each of white and red wine – which is really sub-par compared to flagship lounges of other airlines.
Besides, there was no champagne or sparkling wine on offer in the China Airlines business lounge.
The quality of the wine was rather average too.
This is something which should be an easy improvement for China Airlines if they really wish to elevate the lounge to the same high standards as the food and décor.
Restrooms and showers
In the main hallway of the lounge are doors leading to the men's and women's toilets, which were kept immaculately clean by the staff.
Showers are available too, although I did not use them on my Taipei layover so I cannot comment on their quality.
A lounge within a lounge
Interestingly, the China Airlines lounge has a lounge within a lounge. A door with the words "Paragon/Emerald Exclusive Area" imprinted in the wooden wall next to it leads to an exclusive area which is out of bounds for most lounge guests.
This area can only be accessed by the top customers of China Airlines' own frequent flyer programme.
Reportedly, besides being an even more quiet an exclusive space, this part of the lounge much better booze on offer, including champagne.
Food is however said to be the exact same as in the main part of the lounge, although I could not verify this in person and am basing myself on other online reports.
Conclusion
The China Airlines lounge in terminal 1 of Taipei International Airport was a really pleasant surprise.
Aesthetically speaking, I think the China Airlines lounge is one of the world's top lounges. It oozes charm and class and is an extremely pleasant and quiet place to await your flight.
In general I do think China Airlines has done a great job when it comes to branding their lounge and planes, as the faux-wooden panels in the lounge are similar as you will find in China Airlines' new A350s aeroplanes.
There were plenty of comfortable seating options in the lounge and service was overall very good, with empty plates being quickly taken from tables and toilets remaining spotlessly clean throughout my stay.
There is plenty of tasty food available, with the noodle bar being the highlight of the lounge. What keeps the lounge from being a truly great lounge is the very limited variety of wines and other alcoholic drinks available in the lounge.
However, even with the limited quantity of booze available, I still think the China Airlines flagship lounge belongs to the top business class lounges in the world.
Trip report index
This article is part of the 'Journey to Java' trip report, which consists of the following chapters:
1. Review: Wizz Air Bucharest to Rome Ciampino (Airbus A321)
2. Half a Day in Rome: A Walk Around the Eternal City
3. Review: Casa Alitalia Lounge 'Piazza di Spagna' Rome Fiumicino Airport
4. Review: Saudia Business Class Rome to Riyadh (Airbus A320)
5. Review: Saudia Alfursan Business Lounge Riyadh Airport
6. Review: Saudia Business Class Riyadh to Jakarta (Boeing 777-300)
7. Review: The Hermitage, a Tribute Portfolio Hotel, Jakarta, Indonesia
8. A Day in Jakarta: Exploring Indonesia's Bustling Capital City
9. Review: Garuda Indonesia Domestic Business Lounge Jakarta Airport
10. Review: Garuda Indonesia Business Class Jakarta to Yogyakarta (Boeing 737-800)
11. Review: The Phoenix Hotel Yogyakarta – Mgallery By Sofitel
12. A Magical Sunrise Visit to Borobudur Temple
13. A Visit to the Great Hindu Temple Complex of Prambanan
14. Review: Yogyakarta to Surabaya (Indonesia) by Train
15. Review: Majapahit Hotel, Surabaya, Indonesia
16. A Day in Surabaya: Exploring Indonesia's Second Biggest City
17. Review: Concordia Premier Lounge Surabaya Airport
18: Review: Singapore Airlines Business Class Surabaya to Singapore (Airbus A330-300)
19. A Short Singapore Stopover: Into the City or Stay at the Airport?
20. Review: SilverKris Lounge Singapore Changi Airport Terminal 2
21. Review: Singapore Airlines Business Class Singapore to Manila (Boeing 787-10)
22. Review: PAGSS Business Lounge Manila Airport Terminal 1
23. Review: China Airlines Economy Class Manila to Taipei (Airbus A330-300)
24. Review: China Airlines Business Lounge Taipei Airport Terminal 1 (current chapter)
25. Review: China Airlines Economy Class Taipei to Rome (Airbus A350)
26. Review: TAROM Economy Class Rome to Bucharest (Boeing 737-700)