Review: TAROM Economy Class Bucharest to Sibiu (Airbus A318)
In this review, we will take a TAROM domestic flight from Bucharest to Sibiu (Romania) on the Airbus A318.
Domestic flight
It is a rather short hop between the Romanian capital of Bucharest and the Transylvanian city of Sibiu, as the distance between the two airports is just 129 miles as the crow flies.
Taking a flight on such a short journey might seem a bit of an exaggeration for those who are not familiar with the Romanian landscape and on-ground situation. It is certainly possible to drive by car, take a bus, or go by train between Bucharest and Sibiu.
However, the lack of motorways in Romania means that road distances can be fairly long, especially so when driving in bad weather or during weekends when half of Bucharest seems to leave the city on a weekend break.
Slow transport

Driving from Bucharest to Sibiu takes at least four-and-a-half hours and with a bit of traffic you can easily spend another hour extra on the road. Between Râmnicu Vâlcea and Sibiu, the road passes through the narrow Olt Defile – a gorge through the Carpathian Mountains prone to rock slides and road accidents which can at times result in traffic being blocked altogether.
Even though Romania's trains are cheap and not uncomfortable, Bucharest to Sibiu takes six hours by train and connections are limited. The trains, which on average travel at a slow 50kph due to the abysmal state of the tracks and infrastructure, are however also prone to big delays.
With this in mind, it is easy to understand why many Romanians opt for a domestic flight to cover distances in the country, especially so if you need to travel even longer distances to places such as Suceava, Timișoara or Oradea.
Relatively cheap flight
For my return flight on national airline TAROM, which is a member of the Sky Team alliance, I only paid 56 EUR. This is just a bit more than a return ticket by train or bus, which costs around 30 EUR.
On TAROM flights, you always have hold luggage included in your ticket price no matter how cheap your ticket is, although obviously I did not use the baggage allowance as I was only going away for a night.
Getting to the airport
Bucharest's Otopeni Airport is located some 10 miles north of the city centre. Without traffic you can get there as fast as 30 to 40 minutes, although this can easily reach up to one-and-a-half hour in rush hour.
An Uber or taxi costs around 8 to 10 EUR, while a ticket on the 783 express bus linking the city centre with the airport is less than 1 EUR. With all its stop, the bus is however much more prone to traffic delays. Especially during rush hour I would always opt for an Uber, which in Bucharest is omnipresent.
Even though normal taxis should be priced similarly (and always drive according to their meter!) it is recommended for foreigners to use ride-hailing services like Uber as there are quite a few rotten apples among Bucharest taxi drivers who see foreign tourists as easy pray.
Security check
At exactly two hours before departure my Uber arrived to drive me to Otopeni Airport, where I arrived some 40 minutes later. As I had already checked in online and received my boarding pass on my mobile phone, I could walk straight to the security check.
The airport has two adjacent buildings where the check-in desks are located, and each has its own security points. No matter which flight you are on, you can use any of these two. If there is a huge queue at one of these security points, it can pay off to walk two minutes to the other security check to see if queues are lighter there, as this is often the case.
Do note that Bucharest's Otopeni airport has no priority security lines for frequent flyers or business class passengers!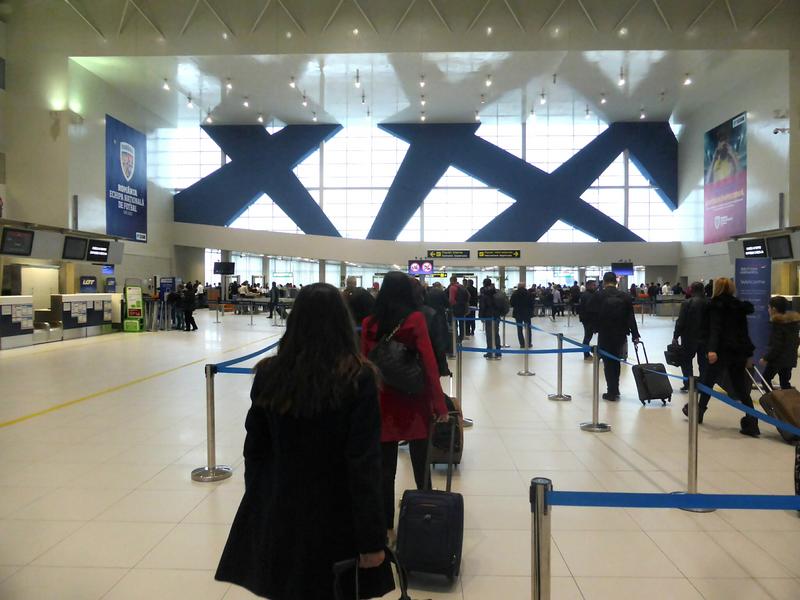 Domestic terminal
Having cleared security, you have to turn left for the domestic terminal and right for passport control and all international departures. After just a few metres you walk straight into the small domestic gate area, which has two shops, one (overpriced) cafe and four or so boarding gates.
TAROM used to operate a domestic lounge here, although this has since closed with no signs of it reopening. If at one point it would reopen, the usually Sky Team rules would apply, meaning that you will only get lounge access when flying domestically if it is in combination with a same-day international departure or arrival on a Sky Team-operated flight.
It really is best not to plan too much time on the ground if you fly domestically as you will quickly become bored!
Bucharest (OTP) to Sibiu (SBZ) on TAROM
Flight RO721 – Airbus A318 – Economy class, seat 1A
Departure: 11.25am – Arrival: 12.10pm
Flight time: 0h45m – Distance: 129 miles
Costs: 56 EUR for Bucharest-Sibiu (return ticket)
Bus gate
All domestic flights departing Bucharest are boarded by bus gates. Priority boarding was not announced and observed, but given that we would anyway be loaded into the same bus this did not matter much.
The load for today's flight to Sibiu turned out to be light, as in the end all passengers easily fitted into one (old) airport bus.
Even though boarding by proper jet bridge is preferred by most people, I do always like to board planes the old-fashioned way by walking up the stairs from the tarmac to the aircraft as it gives somewhat of a kick and makes you somewhat appreciate the art of flying more. It also offers some great photo opportunity to capture the plane you are about to fly on camera.
On board the A318
The flight to Sibiu would be operated by an Airbus A318 in all-economy class seating (TAROM does not offer business class on its domestic flights). Depending on the exact flight you select, it can however also be that your domestic Romanian flight on TAROM will be operated by one of the airline's Boeing 737s or by a smaller propeller plane (TAROM has both the ATR-42 and ATR72 in its fleet).
Needless to say, seat width and pitch is a bit better on the narrow-body jet planes such as the A318 and B737 than one the small turboprops. Some domestic destinations are exclusively served by small turboprops only, but if you do have the luxury to decide which plane to take on your route you can take this into account.
Seat allocation
The A318 itself is a fairly old aircraft, with TAROM having four of them in service. On a plus side, the age of the aircraft means at least that the seats are well-padded when compared to modern slimline seats used on newer planes. TAROM gives free advance seat selection on all fares except for the cheapest 'promo' tickets.
However, at online check-in (which opens 30 hours before departure) everyone can select a seat for free. On the A318, the seats with the best legroom are obviously those in an emergency exit row, although personally I would always opt for a bulkhead seat (1 A-B-C on the left, and 2 D-E-F on the right) in the front of the plane.
On-board service
Our flight to Sibiu departed on time, with the pilots announcing a short 45 minute hop which would take us over the Carpathian Mountains, only to immediately start our descent into Sibiu Airport.
Surprisingly, TAROM still manages to do a full snack and drinks round on such a short flight. Given that a flight time of 45 minutes perhaps means 15 minutes at most on cruising altitude in which all passengers must be served, this is quite a remarkable feat.
On domestic flights, TAROM offers soft drinks, juices as well as coffee or tea.
The snack can be anything from a chocolate bar to a small pastry. Although by no means substantive, the snack is certainly appreciated given the extremely short flight time. Many other airlines in the world would not even bother with any on-board service on flights this short!
Arriving in Sibiu
Normally, flying into Sibiu gives some beautiful views of the city centre (when seated on the right) or Carpathian Mountains (mostly from the left side of the plane). Unfortunately, the weather today was clouded, with limited visibility in the air and on the ground, especially on the northern side of the Carpathians where Sibiu is located.
We did manage to land in Sibiu on time after a short and pleasant flight. To my surprise, there was plenty of snow on the ground in Sibiu, which added to my excitement as I was about to visit the local Christmas market.
Disembarkation at Sibiu is always done by stairs – and you just walk straight from the plane into the terminal building with no buses being used.
This being a domestic flight meant that there were no checks on arrival and I could just walk straight out of the baggage reclaim area into the small arrivals and departures hall of Sibiu Airport.
In short
Flying TAROM is a comfortable and fast way to cover long distances within Romania. Tickets are often fairly priced, with promotional book-in-advance rates not being much more expensive than a train or bus ride.
With free luggage allowance and full in-flight service, you really cannot complain much at all for such a short flight. When the price is right, I would certainly not hesitate to take another domestic flights on TAROM.
Trip report index

This review is part of the 'Europe's Hidden Christmas Market Gem' trip report, which consists of the following chapters:
1. Flying from Bucharest to Sibiu on TAROM in Economy Class (current chapter)
2. Sightseeing in Sibiu's Old Town and a Visit to the Local Christmas Market