Kuala Lumpur in One Day: What to See and Do in 24 Hours
This destination trip report will cover a one day (24 hour) stopover in Kuala Lumpur, the capital of Malaysia.
A day in Kuala Lumpur
Those who read along with the previous installments of this trip report will remember that I just arrived in Kuala Lumpur after an overnight flight from Europe.
Having checked into my hotel in the Bukit Bintang neighbourhood, it was finally time to head into the city. I had visited Kuala Lumpur (affectionately abbreviated as KL by the locals) before on a backpacking trip with friends some seven years ago – and I was excited to revisit the city again.
I basically had a full day to explore KL as I had the late afternoon and evening on my arrival day, as well as the entire morning and afternoon the day after.
Hot and humid
The first thing you will notice when arriving in Kuala Lumpur is the humidity. The city is basically located in the middle of a rainforest and is noteworthy of having consistently high temperatures throughout the year.
Another consistent factor in KL is the precipitation – there is just always a chance of rain. September to the end of March are most noteworthy for their rains. June, July and August are the driest months, relatively speaking, although given the humid climate even in those months the rainfall exceeds on average 140 mm (5.5 inch) a month.
Colonial Kuala Lumpur
Malaysia used to be a sort-of British protectorate (some parts even a formal colony) and it is no surprise that you can still see the British influences on the streets.
By that I do not only mean the fact that the Malays drive on the left side of the road, but also the many colonial-era buildings. There is no better area to see this than the area known as the Padang – which is by far the best spot to start your sightseeing day of Kuala Lumpur
Padang
Officially named Merdaka Square (Independence Square), the Padang – which in Malaysian means field – is basically a large grass lawn in the heart of the colonial district of Kuala Lumpur. In the days of British rule, this large grass field was used as a cricket ground by the Selangor Club, which Tudor Revival-style timber building can still be admired at one side of the green.
It was here that the Union Jack was lowered and the Malaysian flag raised for the first time when the country gained its independence in 1957. The large green field is still home to the annual independence parade on 31st August and to many other festivals.
Architecture
Besides the Selangor Club and the huge flagpole, there are some more noteworthy sights to see around the square.  You will instantly notice the tiny St. Mary's Cathedral, another major colonial-era sight, close the clubhouse.
The Sultan Abdul Samad Building is another famous colonial building on Merdaka Square. It is designed in a neo-Moorish and is currently the office of the Ministry of Information, Communication and Culture of Malaysia. There are plenty more Mughal style buildings in the surroundings – some still as busy as always, some near-abandoned. It is well-worth it exploring a bit around the area.
Mosque
Just across a small river you will find the Masjid Jamek, which is Kuala Lumpur's most elegant mosque. The 1907 mosque is designed in Mughal style by British architect A.B. Hubback (who also designed the neo-Moorish train station of the city).
Islam is the official religion in Malaysia and a majority of Malaysians are Muslims, although the multi-ethnic country also has a significant Buddhist and Hindu population (mostly Chinese and Indian immigrants), as well as a small percentage of Christians.
Central Market
Close to the Padang (and right next to Chinatown) you can find the covered Central Market if you fancy some more souvenir shopping. Also this wider area is nice for a random stroll as you can get a vibe of the old Kuala Lumpur before high-rise construction projects started to dominate the urban landscape.
Bukit Bintang
As the evening was setting in I decided to walk back to my hotel (the citizenM) in Bukit Bintang. Among other reasons, I opted for this hotel because of its location, as the Bukit Bintang neighbourhood is one of the most happening, safest and best-located districts in the city.
A lot of the main sights are easily accessible on foot, and the district is well-connected by metro, suburban train and monorail. So far I did not even had to take public transport at all, nor had to use taxi or Grab (the preferred rides-hailing app in KL – highly recommended to install before your trip commences as Uber is not available in the city).
My evening destination was also within easy walking distance: the famous Jalan Alor night market.
Jalan Alor
If you only have one night in KL and looking for a place to eat look no further than the Jalan Alor night market. Sure, there are plenty of other interesting food markets, as well as upmarket restaurants, in Kuala Lumpur. But Jalan Alor is an experience on its own – and has some of the best street food you can taste in the entire city. No wonder the market is popular with locals and tourists alike!
The Jalan Alor night market is basically a long street full of hawker stalls and restaurants which put out dozens of chairs and tables on the car-free street. Even if you do not stop here to eat (which is almost impossible!) it makes for some very photogenic scenes and a fun walk.
Food
I settled down at a restaurant called Sai Woo for dinner, but basically any restaurant will do in this area, just follow your nose and eyes and stop at a place which you fancy.
To start, I had a small satay platter, followed by some smoked chicken wings which apparently is a house specialty. To finish the meal, I opted for the mamak mee goreng with chicken (spicy fried noodles) which is another signature dish of the restaurant. Especially the mamak mee goreng was delicious – I'm getting hungry again thinking about the dish!
Note that alcohol – although freely available – is relatively expensive in Malaysia, especially when compared with neighbouring Thailand. I paid roughly the same amount for the above three dishes (5 EUR) as for one pint of beer.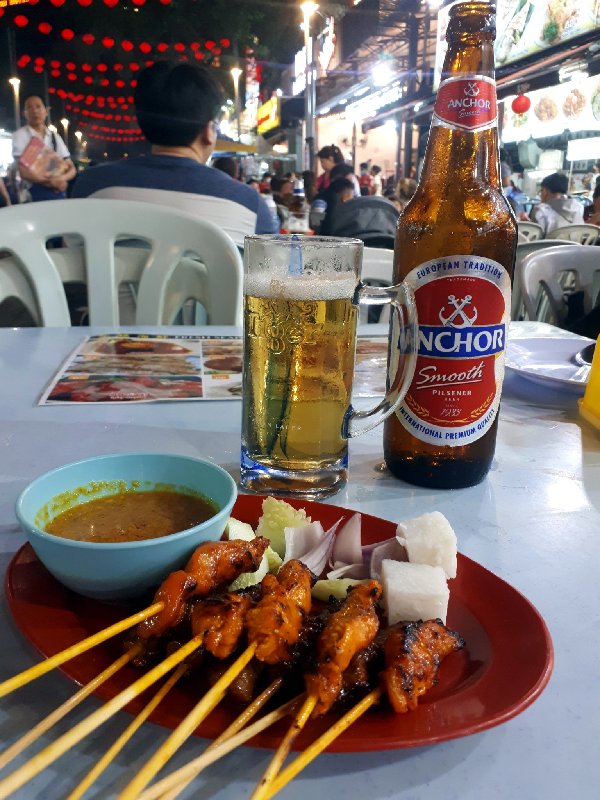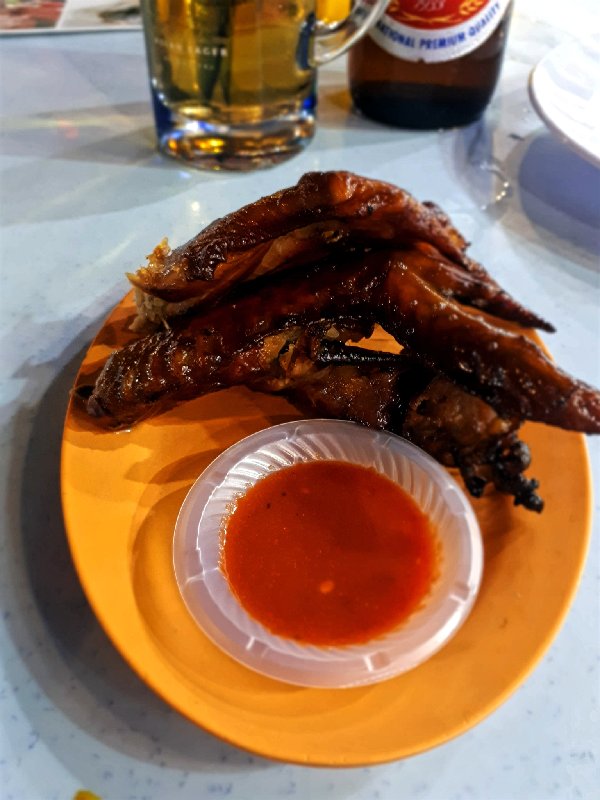 Chinatown
The following morning I woke up relatively early to discover more of Kuala Lumpur. I decided to first focus on Chinatown, a short 15-minute walk away from my hotel in Bukit Bintang.
China Town is basically centred around Petaling Street, also known as the Petaling Street Market. Not as lively as Jalan Alor when it comes to food, Petaling is more of a place to buy cheap souvenirs and to have a nice stroll. That said, the area is much more alive in the afternoon and evening than in the morning hours when I made my visit.
Temples
When you are in Chinatown you should not forget to explore some of the side streets as well. I stumbled upon the lovely Taoist Guan Di Temple which was full of worshippers because of the Chinese New Year.
Kuala Lumpur has large ethnic Chinese and Indian minorities. It was therefore not a surprise that directly opposite Guan Di Temple was a Hindu temple (Sri Maha Mariamman Temple). There are many such temples of different faiths scattered around the area.
Indian food
Although I did not have time to visit KL's Little India proper, I did manage to find a nice place to stop for Indian food. Yusoof Dan Zakhir is a Muslim-Indian restaurant located just outside the Central Market and well worth a stop for a tasty Indian meal.
I had some garlic naan as well as beef massala for lunch – which were both excellent. Even better was the rose-lime juice – which was so refreshing and delicious that I even asked for a second one to take-out. I forgot however that in true Asian tradition, takeaway beverages are often served in a plastic bag with a straw in it.
Petronas Towers
Kuala Lumpur's most iconic sight is arguably the Petronas Towers. These twin skyscrapers of 88 floors each are located in the area known as the KLCC: Kuala Lumpur City Centre.
The KLCC is not what I would say the real heart of Kuala Lumpur, but rather a focal point of the modern-day city. It is home to many of the city's luxury hotels, exclusive shops and restaurants and high-rise apartment blocks. The area is easiest to reach by subway (known as the KTM Komuter), although also the monorail has stops nearby.
Even though I find the area a bit sterile (I rather stay in more lively Bukit Bintang) it does make for a fun stroll to admire the skyscrapers and modern architecture. Especially the KLCC Park in the middle of it all has some excellent infrastructure, including some fountains and playground which make it a great location for those who travel with children.
Rooftop bar

Adults will probably be more interested in some of KL's finest rooftop bars which can be found in this area, which are at their most lively in the early evening (as closer to midnight some of the lights in the skyline are turned off, taking a bit of the view away).
Even though I did not imbibe in any late night drinks this time, I can highly recommend the Sky Bar of the Traders Hotel (the classic) or Fuego at Troika (the new kid on the block – which also does food). A smart casual dress code applies, reservations are recommended, and expect expensive drinks. The views are worth it though!
Batu caves
I left what is perhaps the best sight in Kuala Lumpur for last: the Hindu temples and the massive mountainside stairs of the Batu caves, located on the outskirts of town.
As this particular sight is worthy of a chapter of its own, you should definitely read our next installment with on the Batu Caves with much more pictures, background information as well as practical information how to reach it.
Trip report index

This article is part of the 'Lazing in Laos and Gallivanting a Wee Bit Around Asia' trip report, which consists of the following chapters:
1. Review: Aegean Airlines Business Class Bucharest to Athens (Airbus A320)
2. Review: Goldair Handling Lounge (Non-Schengen) Athens Airport
3. Review: Saudia Business Class Athens to Jeddah (Airbus A320)
4. Review: Saudia Alfursan Lounge Jeddah Airport South Terminal
5. Review: Review: Saudia Business Class Jeddah to Kuala Lumpur (Boeing 787)
6. Review: CitizenM Hotel Kuala Lumpur Bukit Bintang
7. Kuala Lumpur in One Day: What to See and Do in 24 Hours (current chapter)
8. A Batu Caves Half Day Trip From Kuala Lumpur By Public Transport
9. Review: Plaza Premium Lounge Private Resting Suite Gateway KLIA2
10. Review: Air Asia Kuala Lumpur to Vientiane (Airbus A320)
11. Review: Hotel Khamvongsa, Vientiane, Laos
12. Destination Trip Report: A Day in Vientiane, Laos
13. Guide: Domestic Bus Travel in Laos and How to Book a Ticket
14. Review: Simon Riverside Hotel, Vang Vieng, Laos
15. Trip Report: Vang Vieng – Worth a Stop on Your Laos Itinerary?
16. Review: Villa Ban Phanluang, Luang Prabang, Laos
17. Luang Prabang: The Stunning Pearl of Indochina
18. Guide: Luang Prabang Morning, Food and Night Markets
19. Kuang Si Falls: A Gorgeous Luang Prabang Day Trip
20. Review: Thai Smile Economy Class Luang Prabang to Bangkok (Airbus A320)
21. Review: Ibis Styles Bangkok Sukhumvit 4
22. Review: Air France/KLM Business Lounge Bangkok Airport
23. Review: Garuda Indonesia Business Class Bangkok to Jakarta (Boeing 737-800)
24. Review: Sapphire Plaza Premium Lounge Terminal 3 Jakarta Airport
25. Review: Garuda Business Lounge Terminal 3 Jakarta Airport
26. Review: Review: Japan Airlines Business Class Jakarta to Tokyo Narita (Boeing 787-8)
27. Review: Capsule Hotel Transit Shinjuku, Tokyo, Japan
28. Tokyo Stopover: What to See and Do in the Capital of Japan for a Day
29. Review: ANA Business Lounge Tokyo Narita Airport
30. Review: United Club Tokyo Narita Airport
31. Review: Turkish Airlines Economy Class Tokyo Narita to Istanbul (Boeing 777)
32. Review: Turkish Airlines Miles&Smiles Lounge Istanbul Airport
33. Review: Turkish Airlines Economy Class Istanbul to Bucharest (Airbus A330)