Destination Trip Report: A Day in Vientiane, Laos
In this destination trip report we will visit Vientiane, the capital of Laos, and explore its sights, cafes, restaurants and night markets.
Vientiane
For Asian standards, Vientiane is a small city having just over 800,000 inhabitants. When it comes to tourist numbers, the capital of Laos arguably plays second fiddle behind the smaller city of Luang Prabang in the north of the country.
That said, there are still plenty of interesting sights to see in the city. Looking back at my trip through Laos, the city definitely gives a better look into local life than Luang Prabang, which is indeed way more beautiful and a more interesting destination than Vientiane, but exactly because of this it's also more touristy than the Laotian capital.
For this reason, Vientiane is a great entry point into Laos as it is the perfect introduction to the country and Laotian culture. As every other destination you will visit afterwards (Vang Vieng, Luang Prabang) is more awe-inspiring than Vientiane, you might be a bit disappointed at Vientiane if you leave the city as your last destination in Laos.
However, I found Vientiane to be a perfect start to my Laotian itinerary – and exactly because of this ended up liking the city a lot.
Starting my day in the city
Having checked into my Vientiane hotel, it was time to explore the city. My plan was to first take a tuk-tuk to the furthest point of interest – and walk from there back to the city centre.
After a bit of haggling I managed to get a decent enough deal for a 3 USD ride to the Buddhist complex of Pha That Luang.
It has been a while since I've visited south-east Asia and it was good fun again to ride in a tuk-tuk and to absorb the street life from the back of the vehicle.
Pha That Luang
Located a bit outside of the city centre, Pha That Luang is a gold-covered Buddhist stupa surrounded by other Buddhist temples. For the Laotian people, the complex is the most important religious site of the country and the stupa's shape is proudly displayed throughout the entire of Laos, such as for example on the national seal.
As the entire complex is car-free, your tuk-tuk or taxi will drop you off outside of the main gate, from where it is a short walk to the main stupa.
Stupa
According to legends, the first stupa was built in the 3th Century by Ashokan missionaries from India, although the current structure dates to the 16th Century. It was however destroyed and looted by an invading Thai army in 1828, only to be gradually rebuilt between 1900 and 1931.
The golden stupa is surrounded by a cloister in which Buddha statues and historical paintings are showcased.
Wat
The Pha That Luang stupa is surrounded by several beautiful wats. Wat is the name given to a Buddhist temple in several countries in south-east Asia, among which Laos.
When entering a wat – do not forget to take off your shoes! It is recommended to dress modestly when entering a wat. In practice, this means covering your shoulders and your knees – something which counts for both men and women alike.
Besides the many wats there is also a large golden statue of a reclining Buddha lying down to be found in the immediate area around Pha That Luang.
Getting to Patuxay
Next on my sightseeing list was the Patuxay Monument which is located around 1.5 miles (2.5 km) in the direction of downtown Vientiane. As the streets between Pha That Luang and Patuxay seemed a bit boring and the temperature was soaring, I decided to take another tuk-tuk.
Note that you will pay a premium when taking a tuk-tuk waiting for customers at the main touristic sights. Although you can negotiate the price a bit down, these guys will never drop below a certain price which is still highly inflated.
What you should do instead is simply walk a few feet away to the main road and hail down or find any other waiting tuk-tuk for about half the price.
Patuxay
The Patuxay Monument (also spelled as Patuxai – meaning Victory Monument) is basically Vientiane's version of the Arc de Thriomphe. It was built in 1969 using cement which was originally donated by the US government for the construction of a new airport runway.
For a minor entrance fee of around a dollar you can climb the steps to the top where there is a viewing platform with sweeping views over the city.
Talat Sao market
As it was around lunch time I was in dire need of some food and a refreshment. Luckily, I was close to the Talat Sao shopping mall and morning market.
Talat Sao is a large complex full of all kinds of formal and informal shops. There is a more modern shopping centre with escalators and a bit more upmarket boutiques, but it is way more fun strolling through the small alleys surrounding it with shops selling everything from cheap clothes to electronics.
It is a real local experience as you will not easily encounter another tourist here if you walk further away from the main boulevard. I stopped by one of the local restaurants in the market streets for lunch. There was no menu whatsoever and no English was spoken, so I just pointed at some of the market saleswomen eating at the table next to me that whatever they were eating looked fine for me too.
Fortunately, the lady working at the small hawker stall understood what I meant and brought out a delicious bowl of noodles with meatballs, a salad and a large bottle of water for around 1.5 USD only.
That Dam
Being fully energised I continued my walk and walked the short distance towards That Dam, which is another historic stupa.
Slightly decayed, the stupa stands in the middle of a residential area and is surrounded by a few decent-looking cafes and restaurants. The local Lao believe that the stupa is inhabited by a seven-headed serpent (called a naga) who they believe protected them against an invading Siamese (Thai) army in the early 19th Century.
When walking through the surrounding streets I couldn't help but think how calm and quiet Vientiane is – especially when comparing it to the bustling and overcrowded capitals of the neighbouring countries such as Bangkok and Hanoi. Some might say that because of this Vientiane lacks a bit of a fun vibe, although others would argue that it is actually quite refreshing – especially when coming from Thailand, Cambodia or Vietnam.
Living library
One of the nicest places in the city centre to stop for a meal or a drink is the Living Library, an upmarket cafe-restaurant located in an old French colonial-era mansion.
It has a beautiful garden atmosphere as well as elegant indoor seating areas. The food is all vegetarian and organic. As I already had lunch before, I just stopped for a coffee – which came in the form of a fancy blue-coloured latte.
Sisaket
From the Living Library, I headed towards the last few sights for the day. Located opposite the Presidential Palace is the Sisaket Temple (Wat Si Saket), which is well worth a view.
It was built in 1818 by King Anouvong and is the oldest temple in Vientiane still visible in its original form. There are over 2,000 miniature Buddha images made out of silver and ceramic dotted in the niches of the building.
Hophakaew
Diagonally opposite Sisaket you will find the Hophakaew Musuem (also written as Haw Pha Kaew). In the past it was a royal temple in which an emerald Buddha was kept, although nowadays it is the national Laotian museum of religious art.
Mekong
Having one enough sightseeing for the day, I slowly returned towards my hotel for a siesta and a drink by walking along the riverside boulevard.
Vientiane is located on the river Mekong, one of the mightiest and most important rivers of the entire of Asia. In this part of Laos, the Mekong forms the border between Laos and Thailand.
Weirdly enough, Vientiane seems to be built with its back towards the river. When walking the boulevard in the dry season you cannot even see even the tiniest bit of water from the river as it is still located a few hundred feet away in no man's land.
Interestingly, you cannot even cross the Mekong towards Thailand from Vientiane as the closest bridge and border crossing is in Thanaleng, where the Thai-Lao Friendship Bridge connects the Laotian capital with the regional Thai hub of Udon Thani, located a few miles land-inward.
Riverside boulevard
Along the riverside boulevard you can however find a large statue of King Anouvong (Chao Anouvong) and a large riverside park creatively named Chao Anouvong Park.
During the day the park is a lush green area with hardly any soul around. In the evening, the entire park however gets turned into the huge Vientane night market. It is well worth having a look around in the day before you head to the night market – as you will otherwise not believe how the entire area can be transformed into a giant market in a matter of hours.
On the northern side of Chao Anouvang Park you can find two more temples (Xieng Nyeun and Wat Chanthaboury) for those who are not yet overdosed on temple visits. That said, Wat Chanthaboury is quite worthy of a visit if only for the cool elephant statues.
Vientiane night market
Vientiane's biggest draw is arguable its night market – which is by far the biggest in Laos. Although other popular cities in Laos (most notably Luang Prabang) have night markets too, the fact that Vientane's night market is mostly tailored towards locals instead of tourists sets it apart.
From around 6pm until 10pm you will find countless of market stalls in Chao Anouvang Park. Remember that this is a night market tailored for the locals. You will mostly find everyday clothing instead of souvenir t-shirts and are more likely to see stalls selling electronics than those selling trinkets such as magnets or 'I love Laos' coffee mugs.
The night market is absolutely jam-packed with people and is therefore also a great opportunity for some people-watching.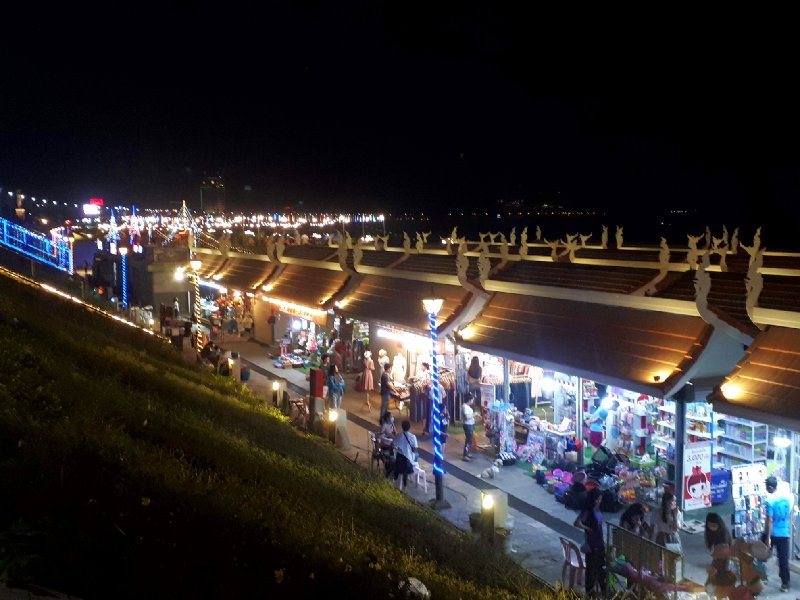 Night market food
Although there are a few food stalls in the night market (more so in the permanent market stall buildings along the river boulevard) you might be disappointed if you are looking for street food.
For hawker stalls and some good Laotian street food, you should head to the street named Quai Fa Ngum on the northern end of Anouvang Park. On the northern side of this street you will find dozens of food stalls, many of them having set up small chairs and tables on the pavement and street.
I ended up eating some noodles as well as some spicy grilled octopus – which packed quite a punch! Fortunately all stalls sell the ubiquitous Beer Lao to wash away the heat from your throat, although be warned that in typical south-east Asian fashion beer is served with plastic glasses filled to the brim with ice cubes.
Alternative night market
The night market at Anouvang Park is not the only on in Vientiane. If you stay longer than a day in town, it is also worth it to explore some of the smaller markets around the city centre.
Although only a fraction of the size of the food stalls found at the main night market, there is also plenty to choose from at the Ban Anou night market, a food-only market found at the northern end of the city centre.
Several restaurants can be found as well in the street (Rue Phai Nam) in which the night market is built up in evening hours.
In short
After a visit to the main Vientiane night market and Ban Anou I walked back to my hotel for a small nightcap before going to sleep.
Having seen much of south-east Asia before, I can't say that Vientiane is the most exciting city of all when it comes to having a special vibe of dozens of blockbuster sights. That said, the city does have something special and grew on me as the day progressed.
There are some beautiful temples to see, nice cafes and bars and bustling markets – checking of a lot of the essentials which any Asian should have. Yet it is also delightfully calm and relaxed for a national capital, making it easy to get around without feeling overwhelmed by all the traffic and crowds as those are largely absent in Vientiane.
Although I'm not sure if I would have the same impression if I would have left Vientiane as my last destination in Laos as it doesn't come close to the sights and vibe of Luang Prabang, I found Vientiane to be the perfect introduction for my trip to Laos and would certainly recommend other travellers to start their journey here as well.

Trip report index
This article is part of the 'Lazing in Laos and Gallivanting a Wee Bit Around Asia' trip report, which consists of the following chapters:
1. Review: Aegean Airlines Business Class Bucharest to Athens (Airbus A320)
2. Review: Goldair Handling Lounge (Non-Schengen) Athens Airport
3. Review: Saudia Business Class Athens to Jeddah (Airbus A320)
4. Review: Saudia Alfursan Lounge Jeddah Airport South Terminal
5. Review: Review: Saudia Business Class Jeddah to Kuala Lumpur (Boeing 787)
6. Review: CitizenM Hotel Kuala Lumpur Bukit Bintang
7. Kuala Lumpur in One Day: What to See and Do in 24 Hours
8. A Batu Caves Half Day Trip From Kuala Lumpur By Public Transport
9. Review: Plaza Premium Lounge Private Resting Suite Gateway KLIA2
10. Review: Air Asia Kuala Lumpur to Vientiane (Airbus A320)
11. Review: Hotel Khamvongsa, Vientiane, Laos
12. Destination Trip Report: A Day in Vientiane, Laos (current chapter)
13. Guide: Domestic Bus Travel in Laos and How to Book a Ticket
14. Review: Simon Riverside Hotel, Vang Vieng, Laos
15. Trip Report: Vang Vieng – Worth a Stop on Your Laos Itinerary?
16. Review: Villa Ban Phanluang, Luang Prabang, Laos
17. Luang Prabang: The Stunning Pearl of Indochina
18. Guide: Luang Prabang Morning, Food and Night Markets
19. Kuang Si Falls: A Gorgeous Luang Prabang Day Trip
20. Review: Thai Smile Economy Class Luang Prabang to Bangkok (Airbus A320)
21. Review: Ibis Styles Bangkok Sukhumvit 4
22. Review: Air France/KLM Business Lounge Bangkok Airport
23. Review: Garuda Indonesia Business Class Bangkok to Jakarta (Boeing 737-800)
24. Review: Sapphire Plaza Premium Lounge Terminal 3 Jakarta Airport
25. Review: Garuda Business Lounge Terminal 3 Jakarta Airport
26. Review: Review: Japan Airlines Business Class Jakarta to Tokyo Narita (Boeing 787-8)
27. Review: Capsule Hotel Transit Shinjuku, Tokyo, Japan
28. Tokyo Stopover: What to See and Do in the Capital of Japan for a Day
29. Review: ANA Business Lounge Tokyo Narita Airport
30. Review: United Club Tokyo Narita Airport
31. Review: Turkish Airlines Economy Class Tokyo Narita to Istanbul (Boeing 777)
32. Review: Turkish Airlines Miles&Smiles Lounge Istanbul Airport
33. Review: Turkish Airlines Economy Class Istanbul to Bucharest (Airbus A330)