Review: TAROM Business Class Paris to Bucharest (Airbus A318)
In this review, we will take a TAROM business class flight from Paris Charles de Gaulle to Bucharest in an Airbus A318.
Changing terminals
After my Aeroflot flight from Moscow to Paris I had just one hour and 20 minutes to connect to my subsequent flight on TAROM to Bucharest. Just like my earlier visit to the airport during this trip it definitely sounded like a tight connection on paper!
A layover of just over an hour is rather short in most world airports – and that is especially true for Paris Charles de Gaulle (CDG). As most of the terminals of CDG are not directly connected – some connections can be a bit awkward and involve an inter-terminal transfer bus and some long distances walking.
Knowing the airport quite a bit I knew that the change from 2C (which is used by Aeroflot among others) to terminal 2E (for my TAROM flight) was on of the least straightforward. I was honestly even a tiny bit nervous of not making it at all to my next flight.
Those who are unfamiliar with the airport should by the way definitely check out the Easy CDG website in advance – as it has all information you might need about transit times and how to transfer between all possible terminal combinations.
Inter-terminal bus
I was one of the first passengers to disembark and this time decided to opt for the landside inter-terminal bus service. Luckily, queues were pretty much absent and after a short wait I was in a near-empty bus doing a loop around the entire airport between all terminals.
The transfer did involve passing through both passport control and a security checkpoint where your carry-on luggage is scanned – so do take this into account.
Long walk
I was dropped off somewhere at the beginning of Terminal 2E, which consists out of three separate gate areas called the K, L and M gates. These gate areas in separate buildings which are either connected by a longish walkway (in my case) or an inter-terminal train.
After what seemed like a long ride in the bus and a long walk in Terminal 2E I finally arrived at the L gates and found my departure gate at the far end of the building. Fortunately, boarding was about to commence at the time I arrived. At CDG, priority boarding is always neatly adhered to in my experiences – and this flight was no exception.
Although I was happy that I made the flight, it was a pity not to to have any time for the (great) Air France business lounge at the L gates of Terminal 2E, which in my opinion is one of the best in Europe.
Paris Charles de Gaulle (CDG) to Bucharest (OTP) on TAROM
Flight RO384 (booked as AF5050) – Airbus A318 – Business class, seat 2F
Departure: 4.20pm – Arrival: 8.10pm
Flight time: 2h50m – Distance: 1,154 miles
Costs: 800 EUR, as part of a ticket including 12 flights in business class
TAROM A318 business class
My flight to Bucharest was operated by an old Airbus A318 – of which TAROM has currently four in service. Although some TAROM planes (the Boeing 737-300, 737-700 and half of the 737-800s) have proper leather recliner seats in business class, the Airbus A318 is unfortunately not one of them.
This means that the seats in business class are exactly the same as back behind the curtain in economy class – with the sole difference of the middle seat being blocked and a tray table being placed onto it.
As the divider curtain between business and economy class can be moved back and forward, the airline can change the size of the business class cabin in just a few minutes. On this flight, the business class cabin had just six seats – and I was the sole passenger in the forward cabin. Also economy class seemed pretty empty with perhaps only a third of the seats being occupied.
Seat
I had pre-selected seat 2F, which on the Airbus A318 is the bulkhead seat on the starboard (right) side of the plane. A pillow and blanket were already put on my seat.
On the plus side, the seats are well-padded and fairly comfortable. The legroom of the front row seats (1A-C on the left/port side, 2D-F on the starboard/right side) was not bad either. That said, the seats felt a wee bit cramped due to small width and relatively big armrests.
The Airbus A318 being an old plane, there was also quite some wear and tear visible. Even though the seats were by no means great, they weren't bad either as I often find the slimline seats on more modern planes much more uncomfortable than these old-fashioned seats.
Note that these seats do not have any power sockets or USB ports, so make sure your electronic devices are all charged before boarding the plane.
Pre-departure service
During boarding one of the two flight attendants serving the forward part of the cabin came by to offer a warm refreshment towel and a pre-departure beverage of choice.
I opted for some champagne, which was swiftly brought to my seat. It did however taste rather bad – it being too sweet, lacking any taste and not even being properly chilled. Upon inquiring later during the flight which "champagne" brand is actually served, the flight attendant brought out the bottle to show me.
It turned out to be a Romanian sparkling wine called Angelli – which can be bought in the shops for around 4 EUR. Needless to say, it was drinkable at best – and an outright disgrace for it to be served by any self-respecting airline in business class.
I think it is always nice for an airline to serve something local on board (especially when you are an airline from a wine-producing country), but why then opt for lower-shelf plonk?
Departure
From our faraway gate at Terminal 2E it was fortunately a short taxi-time to the runway, where we lined up for departure behind another plane. With the A318 being a relatively small plane and with the light load of passengers today we were up in the sky rather quickly.
In-flight entertainment
There is no in-flight entertainment as such on TAROM flights beside the overhead screens showing the route map – if you are lucky enough to get such a novel feature. I personally do not mind on such a short flight as I always bring my own books and music along as entertainment, and I hardly ever look at anything else besides the moving map if I would have my own screen.
The entire TAROM Airbus and Boeing fleet has something called "Airfi". That does not mean there is WiFi on board – it is just an in-flight network to which you can connect through your smartphone, tablet or laptop just like you would do to a WiFi network.
Airfi allows you to read a couple of newspapers, watch a very limited amount of movies and play a few games. It is really nothing to get excited about, if it already is functioning in the first place that is!
Meal service
Soon after reaching altitude, the in-flight service kicked in with the flight attendant bringing another hot refreshment towel, which was a nice touch.
Weirdly, there was no food or drinks menu available. It turned out that there wasn't even a choice of meal, as just five minutes afterwards the flight attendant came back with the meal.
Today's meal was some chicken-and-rice dish. While edible, the meal was a huge disappointment after my recent Aeroflot flights and even paled compared to the cold plate on the ultra-short Amsterdam-Paris hop on Air France. The meal is probably best described as something you can also get from your local Chinese fast-food takeaway – with the added note that my local Chinese restaurant does much better food than this.
The bread buns which came with the meal were very chewy, the salad was as dry as the Atacama desert and the dessert was totally unremarkable. The plating of the food was also badly done in my opinion and looked more like something you would get in economy class on a longer (intercontinental) flight.
The lids were still on each of the small bowls (with stickers of the catering company still pasted on them) and the entire tray was just jam-packed full of stuff.
The only aspect of the dish which did get a passing grade were the two pieces of cheese.
Wine
For my choice of drink, I opted for some red wine with the food. After the shocking discovery of the plonk which TAROM likes to pass on for champagne, I immediately asked the flight attendant if she could perhaps bring out the bottle so I could see what I was drinking.
The red wine being served turned out to be a bog-standard supermarket red (Budureasca) costing around 5 EUR. Not that this wine was particularly bad or so (it is certainly drinkable), but given how much of a wine country Romania is and how good some of the (more premium wines) can be I found it to be a very underwhelming choice for business class to put it mildly.
At best, I would say this is a perfectly acceptable wine for economy class. And here comes the biggest joke of all of them: that is exactly what TAROM does! If you are flying economy and order some wine with your food, it will be the  exact same Budureasca which is served, which literally makes the only aspect differentiating business class from economy the fact that your wine comes in proper glassware instead of a plastic cup.
Some thoughts on TAROM's lacklustre service
I found this all quite shocking considering that there are people who pay a huge premium to fly in business class (on your average Paris to Bucharest one-way journey, it can easily cost 8 to 10 times more than economy). How hard can it be to deliver a real premium experience in business class?
TAROM should for example look for inspiration with another regional airline in Europe – Aegean Airlines. The Greeks do not only have good food, but really take pride in their extensive wine menu which highlights distinct geographical regions and winemakers and changes every few months.
Romanian wine can be as good as Greek wine, with Romania definitely being an up and coming country in the industry. Even if you'd increase the budget to around 10 EUR per bottle I can recommend some excellent Romanian wines which would not look out of place at all when compared to what is being served by other European carriers.
Besides, a truly premium food and beverage service can be a great introduction for foreigners into your country and what it has to offer in terms of culture. This is (on of the many reasons) why so many airlines have cooperation projects with famous chefs and winemakers. Instead of showing the best what the country has to offer, TAROM now arguably shows some of the worst.
Beer
After the meal I decided to switch to beer instead. TAROM serves Peroni Nastro Azzurro from glass bottles in business class, which (to a lesser degree than the wine) is also a puzzling choice. In economy, TAROM serves a local Romanian brand (Ursus) in cans. That's not any worse of a beer than Nastro Azzurro is (in fact, I would prefer Ursus).
Just because it's a dollar or so more expensive in the local supermarket and might be better known to an international public does not make a beer a more 'premium' or suitable choice. Why not opt for some of the local craft beer breweries (there are a few good ones in the wider Bucharest area such as Zaganu and Hop Hooligans) to showcase their beers to give it all a bit more of a local flavour?
(If anyone at TAROM would ever read this – my consultancy services would be free of cost!)
Service
Also when it comes to service, there is much room for improvement. The flight attendants on this flight turned out to be a mixed bunch. The younger of the two women was quite friendly, although the older stewardess was rather snappy and a bit aloof.
During the flight, neither of them turned out to be very pro-active. It took a long time before empty plates were cleaned and when it did happen they did not even ask whether I might another drink.
Outside of mealtime, they never showed their faces outside of the galley to check on me, although to their credit they did respond immediately when pushing the overhead call button.
I don't expect Singapore Airlines or Qatar Airways like perfection and attention to detail from TAROM, but service can be for sure more well-intentioned and with a bit of a smile, which was always the case on my previous four Aeroflot flights on this trip.

Great views
There was however one thing which made this flight memorable for a good reason. The flight path to Bucharest took us straight over the entire length of the Swiss and Austrian Alps – and boy, it made for some spectacular views from the window. This is also why you want to have a seat on the right hand side of the plane when flying out of Paris to Bucharest.
I will let the pictures do the talking here.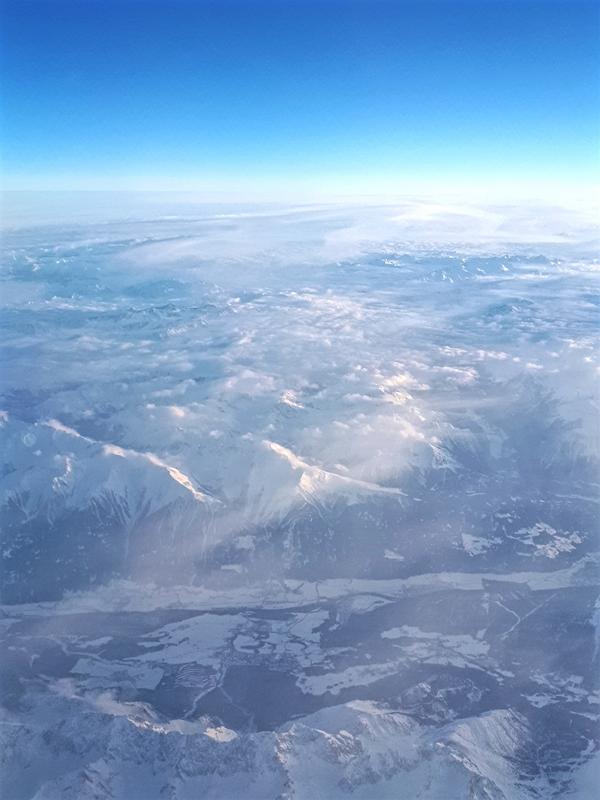 Arrival
Arrival in Bucharest was on time – no pictures here due to the approach route from the East which goes above farmland and thus has zero views at night. Fortunately, we had a proper jet bridge gate on arrival and within 15 minutes after disembarkation I had cleared passport control and was in my Uber for my ride home.
In short
The TAROM flight was a big disappointment. The meal is not better than you get at your local Chinese takeaway and the beverages served are a disgrace for paying costumers. Sparkling plonk of four euro is not business class standard. Serving the same wines as in economy to business class passengers is a joke. The flight attendants got a passing grade at best as well for their lacklustre service.
The seat on the A318 is also nothing to write home about. Just like many other European airlines it is the same as economy class, with the sole difference of the middle seat being blocked. Now I have to say that some TAROM planes do have proper leather recliner seats in a 2-2 layout in business class, which would make a big difference.
On a flight like this on the Airbus A318, the entire business class product is however absolutely uncompetitive – not even when comparing to other airlines but also when comparing it with TAROM's own (pretty good!) economy class product. In economy, TAROM will also give you a hot meal on a flight of this length – and on the two drinks rounds you can even get the same wine as served in business class.
What is then the difference between business and economy class? Proper glassware versus your drink in a plastic cup? Unfortunately, TAROM has much to improve when it comes to their business class product as I cannot imagine ever paying a full-fare business class ticket out of my own pocket for a flight like this.
Trip report index
This article is part of the 'Siberian Shuffle – A Crazy Winter Trip Around Eurasia' trip report, which consists of the following chapters:
1. Review: Wizz Air Bucharest to Oslo Sandefjord Torp (Airbus A321)
2. A Day in the Norwegian Capital of Oslo
3. Review: Norwegian Railways Night Train Oslo-Stavanger in a Private Sleeper
4. Review: Radisson Blu Royal Hotel, Stavanger
5. Stavanger – A Great Norwegian City Trip Surprise
6. Review: North Sea Lounge Stavanger Airport
7. Review: KLM Cityhopper Business Class Stavanger to Amsterdam (Embraer RJ-175)
8. Guide to the Carnival Celebrations in the Netherlands
9. Review: KLM Crown Lounge (Schengen) Amsterdam Airport
10. Review: Air France Business Class Amsterdam to Paris (Airbus A319)
11. Review: 'Salon Paris' Business Class Lounge Paris CDG Terminal 2C
12. Review: Aeroflot Business Class Paris to Moscow (Airbus A320)
13. Review: Aeroflot Domestic Business Class Lounge Moscow Sheremetyevo
14. Review: Aeroflot Domestic Business Class Moscow to Irkutsk (Boeing 737-800)
15. Review: Matreshka Hotel, Irkutsk
16. Irkutsk Trip Report: Exploring the 'Paris of Siberia' in Winter
17. Review: Mayak Hotel, Listvyanka (Lake Baikal)
18. A Winter Trip to the Frozen Wonderland of Lake Baikal
19. Review: Ibis Irkutsk Center Hotel, Irkutsk
20. Review: Domestic Business Class Lounge Irkutsk Airport
21. Review: Aeroflot Domestic Business Class Irkutsk to Moscow (Boeing 737-800)
22. Review: Pushkin Hotel, Moscow
23. A 24 Hour Stopover in the Russian Capital of Moscow
24. Review: 'Moscow' and 'Jazz' Business Lounges Moscow Sheremetyevo Terminal D
25. Review: Aeroflot Business Class Moscow to Paris (Airbus A320)
26. Review: TAROM Business Class (Airbus A318) Paris to Bucharest (current chapter)
27. Review: TAROM Business Lounge Bucharest Otopeni Airport
28. Review: Air France Business Class Bucharest to Paris (Airbus A320)
29. A Short Overnight Stopover in Paris
30. Review: Sheltair Business Lounge Paris CDG Terminal 2D
31. Review: Azerbaijan Airlines Business Class Paris to Baku (Airbus A320)
32. Review: Old City Hotel and Apartments, Baku, Azerbaijan
33. Destination Baku: An Intriguing Mix Between Old and New
34. Guide: Train Travel in Azerbaijan
35. Sheki: Azerbaijan's Most Lovely Town and Springboard to the Caucasus
36. Must Be the Ganja! A Visit to the City of Ganja in Azerbaijan
37. Review: Shah Palace Hotel, Baku, Azerbaijan
38. Review: Azerbaijan Airlines Business Lounge Baku Airport
39. Review: Azerbaijan Airlines Business Class Baku to Paris (Airbus A320)
40. Review: Air France Business Lounge Paris CDG Terminal 2F
41. Review: KLM Business Class Paris to Amsterdam (Boeing 737)
42. Review: KLM Business Class Amsterdam to Bergen (Boeing 737)
43. Blissful Bergen – Is It Really Norway's Most Beautiful City?
44. Review: Bergen to Oslo on a Norwegian Intercity Train (Bergensbanen Railway)
45. The Flamsbana Railway – From the Myrdal Mountains to the Fjord at Flam
46. Review: SAS Economy Class Oslo to Brussels (Boeing 737-600)
47. Review: Diamond Lounge Brussels Airport Pier B Non-Schengen
48. Review: TAROM Economy Class Brussels to Bucharest (Boeing 737-800)