Review: Villa Ban Phanluang, Luang Prabang, Laos
In this review, we will stay at Villa Ban Phanluang in Luang Prabang, Laos.
Luang Prabang accommodation
Whatever your budget is, there is a wide choice of accommodation in Luang Prabang, ranging from party hostels to boutique hotels and from budget guesthouses to out-of-town resorts.
After a long while deliberating which hotel to choose, I ended booking a three-night-stay at Villa Ban Phanluang as it checked all my boxes.
At 32 USD per night for a double room including breakfast, Villa Ban Phanluang was a good deal. The rooms looked pretty, it had excellent ratings and also has a good – yet unusual – location. More on that bit later!
Hotel reception
I arrived in Luang Prabang by minibus from Vang Vieng, which turned out to be an adventurous journey which included a flat tire and literally drifting over a sandy mountain pass. From the minibus drop-off point just south of the old town it was an easy, laid-back 20 minute walk to Villa Ban Phanluang.
The villa is situated in a small side-street off a riverside road. It was easy to find as there were some signposts on the main road.
At the villa I was immediately warmly welcomed by one of the family members running the villa, which feels more like a warm, homely guesthouse than a hotel. After some check-in formalities the man showed me the way to my double room, which was located on the first floor of the villa.
Double room
Villa Ban Phanluang is an old Lao-French colonial villa and oozes local charm throughout the building. Like other villas typical of this era, it means a lot of dark wooden finishes wherever you look in the common areas such as the staircase.
The same was the case in my well-appointed deluxe double room. It featured a large comfortable, double bed, ample storage space, a flat screen TV, two wooden chairs and a small cupboard on which two complimentary water bottles were placed.
Another door opened to a narrow shared terrace which is shared by all the rooms. However, each room has its own little table with seats, which made for an excellent spot to have breakfast in the morning.
Throughout the room there were plenty of power sockets. The WiFi connection was strong and fast throughout the building.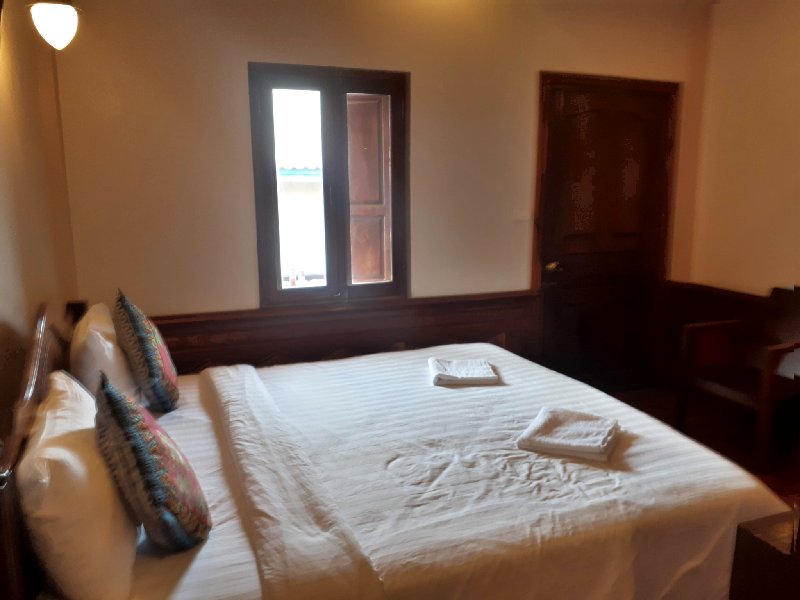 Bathroom
The bathroom of my deluxe double room was large and well-equipped and had a large bath, separate shower, toilet and washbasin. After having two previous hotels with minor bathroom issues I was happy to finally stay in a room where I had no complaints at all about it.
Breakfast
Each morning, breakfast is served by the family which runs the guesthouse. You can choose out of different breakfast sets which are highlighted on a small menu. With each breakfast also tea or coffee and your choice of fresh juice is served.
I opted to have breakfast each morning on the terrace just outside my room, which was an ideal place to have my morning food and coffee in the fresh air.
Quality of the breakfast was actually quite good. It being a guesthouse you shouldn't expect haute cuisine, but rather some good homemade food. I really liked it and especially appreciated the freshly pressed juice each morning.
On one morning I opted for the banana pancake with jam, to which I selected some fresh water melon juice. Another day I went for some delicious noodles and lime juice.
Villa Ban Phanluang location
Most Luang Prabang hotels are located in the old town, which is situated on a peninsula straddled by the Mekong and Nam Khan rivers. Villa Ban Phanluang is however located on the opposite shore of the Nam Khan River across a rickety bamboo bridge.
It means that the hotel is therefore close by all the old town sights, bars and restaurants, but isn't located in the middle of the action but rather in a quiet local neighbourhood.
During the dry season (October to April) you can just walk across the bamboo bridge to the old town, which takes only five minutes. As the wooden bridge needs to be built up each year again by the locals running it, there is a small toll of 5,000 kip (0.50 EUR) for a return ticket.
Rainy season
Do however note that this bridge is deconstructed during the rainy season as the handmade bridge cannot withstand the strong river currents.
Instead of quick hop across the bamboo bridge, you would need to take a 30-minute detour over one of the fixed bridges further away in the wet season. I'm therefore not sure whether I would have opted for the hotel if I would have visited Luang Prabang out of the dry season.
Service
One aspect in which Villa Ban Phanluang excelled was the great service throughout my stay. Everyone working in the guesthouse was amazingly friendly, welcoming and helpful and you are really made to feel like you are staying in your second home.
Although the rooms lacked a kettle, there were tea and coffee facilities in the lobby which are free to use throughout the day.
The villa staff was also extremely helpful all kinds of extras, such as arranging day trips, a taxi to the airport or doing laundry for a minor fee.
In short
I really enjoyed my stay at Villa Ban Phanluang. My room was comfortable, breakfast was good, and service was outstanding throughout my stay.
Although I understand that some people might want to stay inside the old town itself, I actually liked the location as it was only a short, fun five minute walk over a bamboo bridge to all the sights and sounds of Luang Prabang.
I would however opt for a different hotel in the rainy season when the closure of the bamboo bridge would mean a big detour to reach the old town.
If you however visit during the dry season like the majority of tourists, Villa Ban Phanluang is an excellent mid-range option and I can easily recommend it to others looking for a charming, homely accommodation in Luang Prabang.
Trip report index
This article is part of the 'Lazing in Laos and Gallivanting a Wee Bit Around Asia' trip report, which consists of the following chapters:
1. Review: Aegean Airlines Business Class Bucharest to Athens (Airbus A320)
2. Review: Goldair Handling Lounge (Non-Schengen) Athens Airport
3. Review: Saudia Business Class Athens to Jeddah (Airbus A320)
4. Review: Saudia Alfursan Lounge Jeddah Airport South Terminal
5. Review: Review: Saudia Business Class Jeddah to Kuala Lumpur (Boeing 787)
6. Review: CitizenM Hotel Kuala Lumpur Bukit Bintang
7. Kuala Lumpur in One Day: What to See and Do in 24 Hours
8. A Batu Caves Half Day Trip From Kuala Lumpur By Public Transport
9. Review: Plaza Premium Lounge Private Resting Suite Gateway KLIA2
10. Review: Air Asia Kuala Lumpur to Vientiane (Airbus A320)
11. Review: Hotel Khamvongsa, Vientiane, Laos
12. Destination Trip Report: A Day in Vientiane, Laos
13. Guide: Domestic Bus Travel in Laos and How to Book a Ticket
14. Review: Simon Riverside Hotel, Vang Vieng, Laos
15. Trip Report: Vang Vieng – Worth a Stop on Your Laos Itinerary?
16. Review: Villa Ban Phanluang, Luang Prabang, Laos (current chapter)
17. Luang Prabang: The Stunning Pearl of Indochina
18. Guide: Luang Prabang Morning, Food and Night Markets
19. Kuang Si Falls: A Gorgeous Luang Prabang Day Trip
20. Review: Thai Smile Economy Class Luang Prabang to Bangkok (Airbus A320)
21. Review: Ibis Styles Bangkok Sukhumvit 4
22. Review: Air France/KLM Business Lounge Bangkok Airport
23. Review: Garuda Indonesia Business Class Bangkok to Jakarta (Boeing 737-800)
24. Review: Sapphire Plaza Premium Lounge Terminal 3 Jakarta Airport
25. Review: Garuda Business Lounge Terminal 3 Jakarta Airport
26. Review: Review: Japan Airlines Business Class Jakarta to Tokyo Narita (Boeing 787-8)
27. Review: Capsule Hotel Transit Shinjuku, Tokyo, Japan
28. Tokyo Stopover: What to See and Do in the Capital of Japan for a Day
29. Review: ANA Business Lounge Tokyo Narita Airport
30. Review: United Club Tokyo Narita Airport
31. Review: Turkish Airlines Economy Class Tokyo Narita to Istanbul (Boeing 777)
32. Review: Turkish Airlines Miles&Smiles Lounge Istanbul Airport
33. Review: Turkish Airlines Economy Class Istanbul to Bucharest (Airbus A330)