Review: Air France Business Class Bucharest to Paris (Airbus A320)
In this review, we will take an intra-European business class flight with Air France from Bucharest to Paris Charles de Gaulle on the Airbus A320.
Boarding
After spending some time in the TAROM business lounge at Bucharest Otopeni Airport I headed to the nearby gate some five minutes before boarding was set to commence. Priority boarding was neatly observed with business class passengers as well as Flying Blue and Sky Team frequent flyers asked to come forward first.
I was curious how the Air France flight to Paris would compare to my hilariously bad TAROM flight I took earlier in the other direction from Paris to Bucharest.
During this trip I flew with Air France before on the short hop from Amsterdam to Paris and I was pretty impressed with the service on that flight. I therefore wondered if the service would be even better during this flight of around three hours in duration.
Bucharest (OTP) to Paris Charles de Gaulle (CDG) on Air France
Flight AF1889 – Airbus A320-200 – Business class, seat 1F
Departure: 2.50pm – Arrival: 5pm
Flight time: 3h10m – Distance: 1,154 miles
Costs: 800 EUR, as part of a ticket including 12 flights in business class
Air France business class cabin
I was the first to board the plane and was immediately welcomed by two friendly middle-aged flight attendants. On the narrow-body planes which Air France uses for short and mid-haul flights, business class seats are exactly the same as economy.
The only difference with coach is that the middle seat is automatically blocked, so you never have a direct seat mate and thus have a bit more shoulder and elbow room.
The curtain separating business class from economy can be moved back and forth depending on demand. As it turned out that I would be the only passenger in business class on today's flight, the curtain and divider was placed immediately behind row 1.
Business class seat
The Air France Airbus business class (or economy!) seat is therefore just your average seat you will find in the European aviation world. Although not necessarily uncomfortable, there are a few downsides to this seat.
The biggest one is that the seats on this plane – an older Airbus A320 – has fixed dividers between the seats, making it more narrow than those seats which have movable armrests. Having a bulkhead seat, the legroom was however decent. For a three hour flight it is certainly survivable, but I wouldn't like to fly longer journeys on this plane.
On each seat in business class a little red pillow was placed, which is a nice touch as not every European airline offers this on intra-European hops in business class. The seat had an USB port built into the armrest, although note that you cannot be guaranteed to have them as Air France is in the process of introducing them on all their planes.
The seat did not have any other power outlet nor was the plane equipped with WiFi (Air France is however slowly introducing WiFi on their narrow-body planes).
Pre-departure service
Shortly after I took my seat one of the two flight attendants serving the forward cabin came over to introduce herself and welcome me on board. She also asked what I would want as pre-departure beverage. I asked for a glass of champagne, as well as a glass water. Both were promptly delivered to my seat.
The champagne served on board was Laurent Perrier, which is a nice choice for business class.
As economy class was packed, it took quite a while for boarding to finish. It took so long that the flight attendant even came over asking if I perhaps wanted a refill. Well, who am I to say no to that!
Departure
We left some minutes late from our gate although the pilot announced we would easily make up for the slight delay once in the air.
Even though it was only a short ride over the apron to the runway, there were some interesting sights to see from the window such as a Bulgarian government plane parked in front of the VIP terminal of Otopeni Airport.
Take-off was smooth and there were some decent views of the Wallachian plains around Bucharest on this nice and sunny day for flying.
In flight-service
As soon as the fasten seatbelt sign went off, the crew jumped into action and closed the curtains separating the business class cabin from economy.
I liked the fact that both flight attendants took their job seriously when it came to keeping the business class cabin private, as each time when someone from economy class tried to sneak through the curtains to access the forward lavatory they gently send them packing to the toilets at the rear of the plane.
Having a private lavatory on my flight (alright, I still had to share it with the crew) was quite a nice touch and really added to my sense of privacy up front in the business class cabin.
After closing the curtains, the flight attendant came over and handed me the menu of today's flight. She also inquired whether I might want another glass of champagne. Suffice to say, I quite started to enjoy this flight already.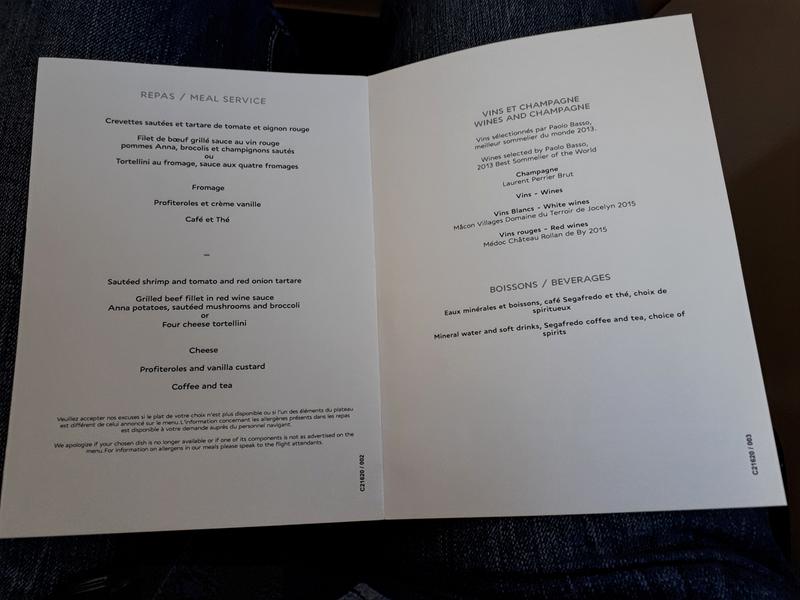 Food
The menu listed a starter, main and dessert. Although the sautéed shrimp, tomato and red onion tartare starter, we well as the dessert of profiteroles in vanilla custard and a cheese plate were fixed options, there was a choice of entrée between grilled beef in red wine sauce and a four cheese tortellini pasta.
I opted for the beef and asked the flight attendant if I could have both the white as well as the red wine for some proper food pairing. I can't after all in good conscience wash away seafood with a red or drink a white with beef when flying on a French airline! Such heresy is a capital offence in France which would land your head under the guillotine.
The entire meal was presented on single tray, and I thought the presentation looked great. Even though I'm no great fan of shrimps the starter tasted fantastic. The shrimps were sautéed to perfection and the tomato and onion tartare adding a nice bite to the dish.
I was surprised that the beef of my main dish was actually very tender – which is quite rare for beef as airline food. It tasted equally great, and went very well with the excellent Médoc (a Chateau Rollan de By 2015). The profiteroles in vanilla sauce made for a relatively simple dessert but also tasted perfect. It was one of the best meals on an intra-European flight I have taken to date.
Difference
What surprised me most was that the meal was actually catered in Bucharest by Dnata – the same caterer which delivered the bad quality meal on my previous TAROM flight in the other direction from Paris to Bucharest.
It just looked like TAROM ordered the caterer to make a business class meal for a dollar while Air France handed them a more liberal budget to actually prepare something nice, as the French do think good quality food is important. The difference in quality between the two meals was staggering – and made the bad food & beverage options on my previous TAROM flight all the more inexplicable.
Snacks
The meal service was not quite over yet as after the meal the flight attendant inquired whether I wanted some coffee or tea and perhaps a digestif.
Air France serves quality Segafredo coffee in business class in firm mugs. I was also given a double serving of cognac, Berlingots cookies, Ladurée macarons and a box of pralines. Count me very impressed here for meal service on a short haul European flight!
Service
I can't speak highly enough of the crew on this flight as both flight attendants serving the forward cabin were charming, talkative, friendly and very proactive. Even though one of them would occasionally help out in the economy cabin, they were always checking on me and anticipating my needs.
As there were still two hours to go to Paris upon completion on the meal, and with the flight attendants ostensibly having the superpower to read my mind, they literally insisted that I should have some more drinks.
When asking for a glass of champagne, they then even decided that they could easily leave the entire bottle with me akin to my prior domestic Aeroflot flight on this trip. There is not much better than slowly getting tipsy while listening to some music and enjoying the views from the window, getting ready for another travel adventure!
Arrival
Before I knew it, the champagne bottle was empty and the fasten seatbelts signs went on again for our descent into Paris Charles de Gaulle Airport.
As it was getting dark there were no real views as to speak of and due to my slightly intoxicated state I therefore also forgot to make any pictures during the last bits of the flight and upon arrival at the airport. What a fun flight it was!
In short
Wow, Air France blew me completely away with this flight – I really had a great time on what surely must be one of the best intra-European flights I have ever taken.
Of course, we all know the intra-European hard product is not a winner, with Air France using the same mediocre seats as in economy class just like most other European airlines do. In this aspect the entire product is incomparable to airlines such as Aeroflot and Turkish (on most of their routes within Europe) which do offer proper business class seating.
Air France does however make things up with their excellent soft product. With friendly, pro-active flight attendants, great quality food, wine and champagne and such small luxury details such as Ladurée macarons, it is a world apart from the previous flights I took on SkyTeam partners KLM and TAROM.
If I would book a new trip within Europe, I would certainly opt for Air France above most other competitors if the price is right. Well done, Frenchies!
Trip report index
This article is part of the 'Siberian Shuffle – A Crazy Winter Trip Around Eurasia' trip report, which consists of the following chapters:
1. Review: Wizz Air Bucharest to Oslo Sandefjord Torp (Airbus A321)
2. A Day in the Norwegian Capital of Oslo
3. Review: Norwegian Railways Night Train Oslo-Stavanger in a Private Sleeper
4. Review: Radisson Blu Royal Hotel, Stavanger
5. Stavanger – A Great Norwegian City Trip Surprise
6. Review: North Sea Lounge Stavanger Airport
7. Review: KLM Cityhopper Business Class Stavanger to Amsterdam (Embraer RJ-175)
8. Guide to the Carnival Celebrations in the Netherlands
9. Review: KLM Crown Lounge (Schengen) Amsterdam Airport
10. Review: Air France Business Class Amsterdam to Paris (Airbus A319)
11. Review: 'Salon Paris' Business Class Lounge Paris CDG Terminal 2C
12. Review: Aeroflot Business Class Paris to Moscow (Airbus A320)
13. Review: Aeroflot Domestic Business Class Lounge Moscow Sheremetyevo
14. Review: Aeroflot Domestic Business Class Moscow to Irkutsk (Boeing 737-800)
15. Review: Matreshka Hotel, Irkutsk
16. Irkutsk Trip Report: Exploring the 'Paris of Siberia' in Winter
17. Review: Mayak Hotel, Listvyanka (Lake Baikal)
18. A Winter Trip to the Frozen Wonderland of Lake Baikal
19. Review: Ibis Irkutsk Center Hotel, Irkutsk
20. Review: Domestic Business Class Lounge Irkutsk Airport
21. Review: Aeroflot Domestic Business Class Irkutsk to Moscow (Boeing 737-800)
22. Review: Pushkin Hotel, Moscow
23. A 24 Hour Stopover in the Russian Capital of Moscow
24. Review: 'Moscow' and 'Jazz' Business Lounges Moscow Sheremetyevo Terminal D
25. Review: Aeroflot Business Class Moscow to Paris (Airbus A320)
26. Review: TAROM Business Class Paris to Bucharest (Airbus A318)
27. Review: TAROM Business Lounge Bucharest Otopeni Airport
28. Review: Air France Business Class (Airbus A320) Bucharest to Paris (current chapter)
29. A Short Overnight Stopover in Paris
30. Review: Sheltair Business Lounge Paris CDG Terminal 2D
31. Review: Azerbaijan Airlines Business Class Paris to Baku (Airbus A320)
32. Review: Old City Hotel and Apartments, Baku, Azerbaijan
33. Destination Baku: An Intriguing Mix Between Old and New
34. Guide: Train Travel in Azerbaijan
35. Sheki: Azerbaijan's Most Lovely Town and Springboard to the Caucasus
36. Must Be the Ganja! A Visit to the City of Ganja in Azerbaijan
37. Review: Shah Palace Hotel, Baku, Azerbaijan
38. Review: Azerbaijan Airlines Business Lounge Baku Airport
39. Review: Azerbaijan Airlines Business Class Baku to Paris (Airbus A320)
40. Review: Air France Business Lounge Paris CDG Terminal 2F
41. Review: KLM Business Class Paris to Amsterdam (Boeing 737)
42. Review: KLM Business Class Amsterdam to Bergen (Boeing 737)
43. Blissful Bergen – Is It Really Norway's Most Beautiful City?
44. Review: Bergen to Oslo on a Norwegian Intercity Train (Bergensbanen Railway)
45. The Flamsbana Railway – From the Myrdal Mountains to the Fjord at Flam
46. Review: SAS Economy Class Oslo to Brussels (Boeing 737-600)
47. Review: Diamond Lounge Brussels Airport Pier B Non-Schengen
48. Review: TAROM Economy Class Brussels to Bucharest (Boeing 737-800)