Guide: Luang Prabang Food, Morning and Night Markets
This destination trip report will guide you through the best markets of Luang Prabang (Laos) including the top morning market, night market and food markets in town.
Luang Prabang
In my last destination trip report I gave an extensive overview of all the lovely sights of Luang Prabang, which I loved so much that it now easily has gotten into my personal top 3 of favourite travel destinations around the world.
In this special guide, I however want to take a closer look at one specific aspect of Luang Prabang: its bustling and colourful markts.
Several markets
There are several markets in Luang Prabang – all of them held daily. While some of these are more tailored towards tourists, others are clearly meant for the local populace when looking at the produce sold.
Both categories of markets make however an interesting trip as a traveller. You are much more likely to buy something nice at the souvenir markets, although some of the local markets are much more picturesque, especially if you love travel photography.
In this overview, we go through the most important (centrally located) markets of Luang Prabang one by one.
Morning market
Located in a long and narrow alley in the backstreets of the peninsula, this is the main market where the locals stop by to shop for groceries. Although the market lasts well into the afternoon, it is at its best in the (early) morning hours.
Whether it is fruits, vegetables or meat – all is sold at this rather informal market. Most of the market stalls are nothing more than a local woman putting down a blanket on the ground and putting her produce onto it!
What to expect at the morning market?
If you are staying at a guesthouse or hotel in Luang Prabang, it is unlikely that you will need to buy any groceries here. If you are however staying in a self-catering apartment, the morning market is a wonderful place to buy all your foodstuff.
That said, even for those who do not need to buy anything the morning market is a fabulous destination for people watching and photography as it gives a perfect look into daily Lao life.
If you are getting hungry or thirsty while visiting the market, there are a few simple stalls selling food and drinks. For food, do not expect much more than some simple noodle meals and grilled meat skewers freshly prepared in front of you. For refreshments, I can recommend the market stall selling great Lao-style iced coffee.
Where to find the morning market?
The morning market is held daily in an unnamed alley at the southern end of the peninsula. It is easy to find as it is located just behind some major sights such as the Wat May temple.
Luang Prabang night market
The night market is one of the most happening markets in the city and is crowded with locals and tourists alike. Contrary to its name the market is actually not really happening in the middle of the night, but rather in the evening hours.
It opens around 5-6pm and closes at 11pm and is best visited around 8 to 9pm when it is at its busiest and all stalls have been set up. I would definitely not recommend going before the sun has actually set and it is not yet fully dark.
The night market is mainly geared towards selling souvenirs to tourists, although it is certainly not the tacky kind of souvenirs. There are stalls selling everything from handicrafts, paintings and woodwork to tea and t-shirts.
It's definitely fun walking around the night market and even I – not really being someone who usually buys souvenirs – ended up buying quite a few nice gifts and home decorations.
Everything though everything is already decently priced, you can easily get some 30-40 percent off if you haggle, which is certainly recommended if you want to buy more than one item from a seller.
Although there is a separate area of the night market where you can find some hawker food stalls, there are a few stands where some small pastries, cake and ice cream is sold.
Where to find the night market?
The night market is held daily on Sisavangvong Road, the central artery of the old town of Luang Prabang. Just before the sun sets, all traffic is cleared from the road and the market salesmen and women set up their stalls.
Food street
If you are looking for some delicious local street food at the night market, you need to step into a side street of Sisavangvong Road. Simply called 'Food Street' by the locals, this is the place where in the evening hours you will find dozens of hawker stalls selling delicious street food.
You can find anything from south-east Asian noodles and rice dishes to grilled meats and fish. Especially the grilled fish, prepared with lots of lemongrass and served with a spicy sauce, is delicious.
Note that the seats and tables inside this small alley always belong to a certain food stall. If you sit down somewhere, a person will quickly come over with a menu from which you can order.
Alternatively, just point at anything you fancy from the grill or the dozens of plates and bowls of food which are showcased and just take a seat at the tables belonging to the food stall in question. If you sit down at the tables of a food stall with food from an entirely different hawker stall, you will be asked to move away.
The food served at these stalls is great and it is highly recommend to eat at least once here during your stay in Luang Prabang. All food is cheaply priced, with such dishes as a grilled fish or Pad Thai costing just 3 USD. Add another dollar for a cold Beer Lao!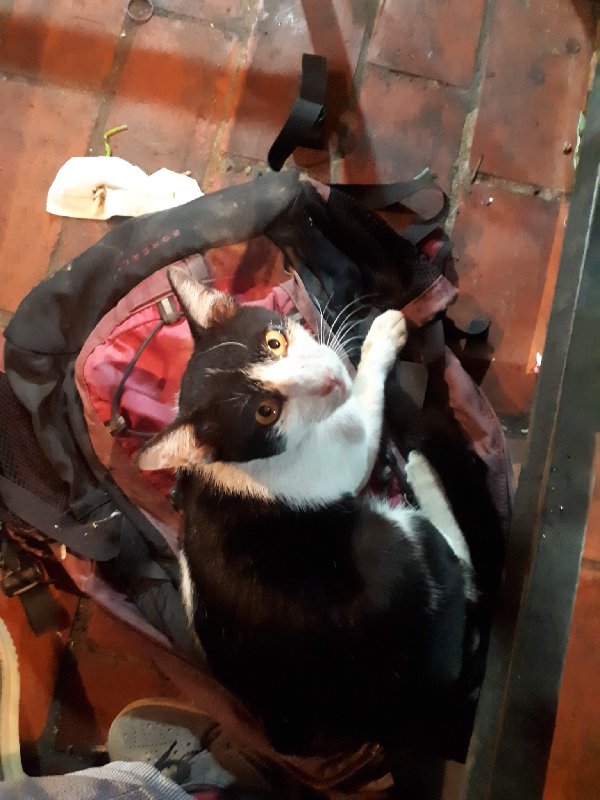 Where to find Food Street?
Food Street is basically a side alley of Sisavangvong Road where the night market is located. The opening hours of the food street hawker stalls are similar as those of the night market (opening around sunset, closing at 11pm).
Other Luang Prabang markets
The three markets I mentioned above are the main markets of interest for travellers, although there are a couple more night markets which are worth seeking out if you stay in Luang Prabang for a longer period of time.
One of these is the That Luang night bazaar a mile or so south of the city centre. It is held on a massive field and is almost an entirely local affair. Don't expect to find any interesting souvenirs here, it is more local household stuff and clothes for the local population and thus more akin to the night market in the Lao capital of Vientiane.
There are quite a few food stalls here as well for an evening meal, as well as a children's playground which might make it worthwhile if you are travelling with young kids.
If you stay at the other side of the Nam Khan River, you might want to seek out Phan Luang market, a day market similar to the main morning market on the peninsula but only smaller in size.
In short
Whatever your reason is for visiting Luang Prabang, it is a must to check out its bustling and picturesque markets. I can highly recommend to check out the morning market and night market at the very least. These markets certainly do not disappoint and you are unlikely not to return without a couple of nice souvenirs and a belly full of yummy food.
If you stay longer than a couple of days in town, it is well worth to a bit off the beaten track and to check out some alternative markets, which can be equally worthwhile!
Trip report index
This article is part of the 'Lazing in Laos and Gallivanting a Wee Bit Around Asia' trip report, which consists of the following chapters:
1. Review: Aegean Airlines Business Class Bucharest to Athens (Airbus A320)
2. Review: Goldair Handling Lounge (Non-Schengen) Athens Airport
3. Review: Saudia Business Class Athens to Jeddah (Airbus A320)
4. Review: Saudia Alfursan Lounge Jeddah Airport South Terminal
5. Review: Review: Saudia Business Class Jeddah to Kuala Lumpur (Boeing 787)
6. Review: CitizenM Hotel Kuala Lumpur Bukit Bintang
7. Kuala Lumpur in One Day: What to See and Do in 24 Hours
8. A Batu Caves Half Day Trip From Kuala Lumpur By Public Transport
9. Review: Plaza Premium Lounge Private Resting Suite Gateway KLIA2
10. Review: Air Asia Kuala Lumpur to Vientiane (Airbus A320)
11. Review: Hotel Khamvongsa, Vientiane, Laos
12. Destination Trip Report: A Day in Vientiane, Laos
13. Guide: Domestic Bus Travel in Laos and How to Book a Ticket
14. Review: Simon Riverside Hotel, Vang Vieng, Laos
15. Trip Report: Vang Vieng – Worth a Stop on Your Laos Itinerary?
16. Review: Villa Ban Phanluang, Luang Prabang, Laos
17. Luang Prabang: The Stunning Pearl of Indochina
18. Guide: Luang Prabang Morning, Food and Night Markets (current chapter)
19. Kuang Si Falls: A Gorgeous Luang Prabang Day Trip
20. Review: Thai Smile Economy Class Luang Prabang to Bangkok (Airbus A320)
21. Review: Ibis Styles Bangkok Sukhumvit 4
22. Review: Air France/KLM Business Lounge Bangkok Airport
23. Review: Garuda Indonesia Business Class Bangkok to Jakarta (Boeing 737-800)
24. Review: Sapphire Plaza Premium Lounge Terminal 3 Jakarta Airport
25. Review: Garuda Business Lounge Terminal 3 Jakarta Airport
26. Review: Review: Japan Airlines Business Class Jakarta to Tokyo Narita (Boeing 787-8)
27. Review: Capsule Hotel Transit Shinjuku, Tokyo, Japan
28. Tokyo Stopover: What to See and Do in the Capital of Japan for a Day
29. Review: ANA Business Lounge Tokyo Narita Airport
30. Review: United Club Tokyo Narita Airport
31. Review: Turkish Airlines Economy Class Tokyo Narita to Istanbul (Boeing 777)
32. Review: Turkish Airlines Miles&Smiles Lounge Istanbul Airport
33. Review: Turkish Airlines Economy Class Istanbul to Bucharest (Airbus A330)