Kuang Si Falls: A Gorgeous Luang Prabang Day Trip
In this destination trip report, we will make an easy day trip from Luang Prabang (Laos) to the gorgeous Kuang Si Falls.
Luang Prabang
Already on its own right Luang Prabang is the top travel destination in Laos by a mile. However, there are also some excellent day trips which you make from the city. In our comprehensive Luang Prabang trip report we already summarised a few of the most interesting options.
As I only had three days in Luang Prabang I had only time to make one single day trip at most, unfortunately. I decided to opt for a visit to the Kuang Si Falls (also spelled as Kuang Xi), a series of gorgeous waterfalls and natural pools in the jungle about  a 40 minutes drive out of the city.
Arranging a Kuang Si Falls trip
It is very straightforward to arrange a (half) day trip to the Kuang Si Falls. There is absolutely no need to make arrangements in advance as you pay premium prices if you decide to book over the internet! I even saw some local tour agency advertise 100 EUR+ private day trips to the falls – which is outrageously expensive considering how low local price levels are.
Even if you decide to take a private tour or just a private car transfer, you are much better off arranging it on the ground in Luang Prabang, either through your hotel or a local travel agency or simply by haggling with local taxi drivers.
If you do not mind shared transport in a minivan, local tour agencies, hotels and guest houses can arrange you a round trip transfer to the Kuang Si Falls for around 5 EUR – which includes the entrance fee to the waterfalls! This is what most backpackers tend to do and which was what I decided to settle on.
The only downside to this is that you are automatically fixed to a predetermined schedule, leaving you with just around three hours at the actual falls. This is definitely enough for a good look around the area, some time for photography and a refreshing dip in one of the pools if all you want is a quick half day trip out of town.
However, there are some good reasons why spending a full day at the Kuang Si Falls might be a better option, but more on that later. Let's first have a peek at what there actually is to see at the Kuang Si Falls!
Arrival at the falls
From the sandy parking lot of the Kuang Si Falls it is a short walk to the main entrance of the park. As the entrance fee was included in my half day tour, all passengers from our minivan simply followed the driver to the entrance booth.
After we got our tickets, the driver informed us that we could do as we please but had to make sure to be back at the parking lot in three hours – otherwise we would miss our ride with him back to Luang Prabang.
From the ticket booth, a pathway leads through the dense jungle towards the falls. At the entrance of the path there is a good sign which shows some of the hiking paths in the area.
First pool
After some ten minutes walking on a comfortable path I arrived at the first of a long series of natural pools for which Kuang Si is famous. These hillside pools are all connected by a shallow river, creating a stunning series of waterfalls along the way.
Only two pools at the lower half of Kuang Si are designated for swimming – it is strictly forbidden to swim in the river or the other pools you come across unless otherwise specified.
I was absolutely stunned when I walked upon the first deep blue pool. The bright colours, the jungle canopy, the flowers. It felt like entering the Garden of Eden.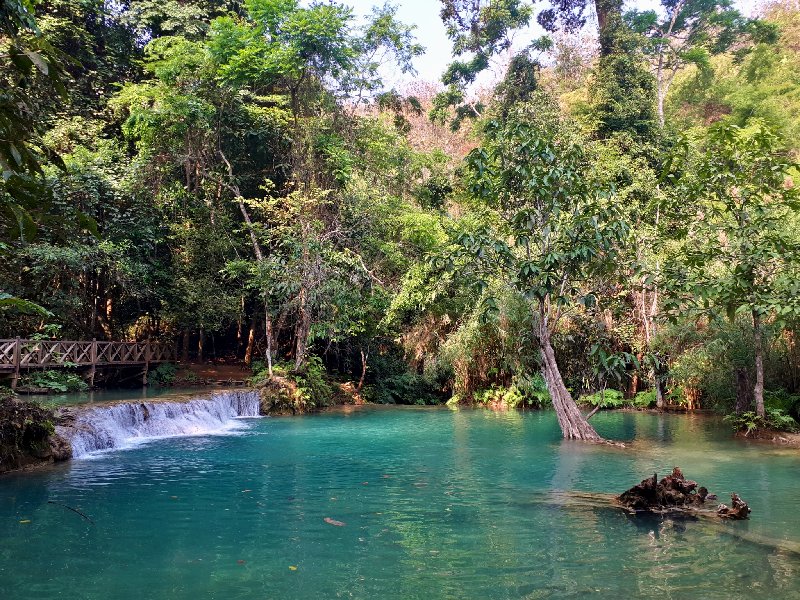 Waterfalls
From the first pool the path follows the riverbed slightly up on the hill. Along the way you pass a series of waterfalls. Although the Kuang Si Falls refers to the biggest single waterfall located a bit further uphill, there are literally hundreds of waterfalls in the area. Some are big, some small, and a lot of medium-sized one of about five feet high.
If you are into photography progress will be slow – I literally stopped at every meter or two to take another photograph! The colours of the water and jungle can look different from one vantage point to another. Especially when some sunshine breaks through the rainforest canopy it creates some lovely light effects.
Natural swimming pool
After an easy 10 minute walk you arrive at the first natural pool in which you are allowed to swim. It is also one of the biggest pools you will come across at Kuang Si and it makes for an excellent location for a refreshing dip.
There are some benches to sit down in this area to relax. A lot of travellers opted to stay at this pool for a while to relax, which is certainly a good idea if you have all the time. I didn't see any dressing rooms so it is best if you are already dressed in swimming shorts (or for the girls to wear your bikini under your normal clothes).
However, if you have limited time you should definitely not forget that the main Kuang Si waterfall is located a further 10 to 15 minutes upstream and that there is plenty more amazing scenery to come.
Continuing through the jungle
Just a stone throw upstream from the first natural swimming pool there is yet another natural pool in which you are allowed to swim. Even though the first pool was already calm enough, having only ten or so people swimming in it at most, the second pool was even more quiet as just a single person was swimming in it.
As most tourists obviously stop at the first of the pools to take a dip, you might want to continue for a bit more to the second pool if you seek a bit more quietness on a busy day, although the first pool is arguably the most picturesque of the two.
From the second swimming pool it is a further 10 minute walk on a good path towards the main Kuang Si waterfall. Along the walk there are some fabulous views over the river making its way through the dense rainforest.
The main waterfall
After a while you reach a bridge over the river from where you have an excellent view over another natural pool and the main Kuang Si waterfall, a large three-tired waterfall.
Even though I already thought the waterfall was impressive enough, it must be an even more fantastic sight to see in the rainy season when the river swells to its highest point. Unfortunately, that can also mean that the colour of the water turns from its typical shades of blue and green to a dirty brown colour as sand from the jungle floor is carried along.
If the natural pools and unique colours of the water are important to you, you are therefore best of visiting Laos during the dry season which runs from October to April. For what it's worth, all these pictures on this page I took during a trip to Laos in early February.
Hiking
The main waterfall is also the end of the main pathway. The entire walk is straightforward and accessible even for the elderly.
However, if you take any of the trails further up the hill it gets a bit more strenuous. Although there is still a clear path up, it does get more uneven and you should expect quite some steps up, making it a sweaty walk in the warm Laotian weather.
Even though not many people venture beyond the main waterfall, it is absolutely worthwhile to climb a bit further up as there are some amazing views over the jungle canopy and surrounding mountains, giving you a much better picture of the terrain you are actual in.
At the top of the waterfall there is another series of natural pools in which swimming is allowed, although these are slightly different from the ones downstream as due to the thick canopy not much sunlight shines through here, making it all a bit gloomy, with the water being more shallow too.
Bear Rescue Centre
Although I wished I had time to hike even further or to stay at the uppermost natural pools for a refreshing swim and to relax for a while to absorb the views, I had to go all the way back down in order to be in time back at the parking lot for the minibus back to Luang Prabang.
Don't forget to have a look at the Bear Rescue Centre which you automatically pass by on the way between the Kuang Si Falls and the main parking lot. This bear sanctuary is a charity founded by an Australian grandmother to save the moon bears (Asiatic Black bears).
Across south-eastern Asia, these bears are often captured and held in dire conditions for the alleged health benefits of their bile, which is forcefully milked from them using dirty catheters inserted directly into their gall bladder and then used in traditional medicine.
Besides rescuing and rehabilitating such bears, the centre also works in education projects with the local populace to make them aware of the importance of nature conservation.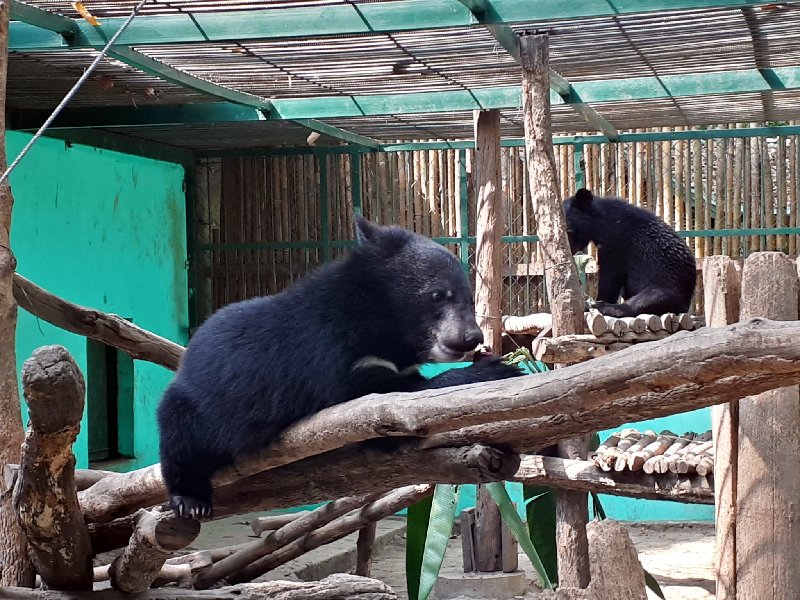 Parking lot
I managed to get back to the parking lot in time, where most of the other passengers were already waiting. It being Laos where everything runs on 'Laos time', our driver arrived some 15 to 20 minutes late to drive us back to Luang Prabang.
Around the parking lot there are a couple of food stalls and restaurants, so if you need a meal after your visit to Kuang Si Falls or want to buy some drinks before you embark on a hike, this is the place to stop. The same counts for toilets as well.
In short
I tremendously enjoyed my visit to the Kuang Si Falls. The natural pools and waterfalls are just a gorgeous piece of nature. The whole vibe is so serene as well that it feels almost like a magical place, a sort of Garden of Eden.
Although I was happy with the organised half day trip and I got exactly what I paid for (return transport by minibus, entrance fee to the falls) I however would organise it differently on a future visit. Even though many people seem to be happy with three hours at the falls, I thought it was too short.
Sure, if you just want to go to the natural pool to swim and relax a bit, three hours is sufficient. For a walk to the main waterfall, some photography, and a quick dip in one of the pools it is also enough.
I was however stretching it by hiking further up from the main waterfall and it left me with zero time to actually sit down, swim and relax. Kuang Si is so beautiful that it really is a good place to just slow down for a while and to absorb the surroundings. Although I saw everything, I thought it was a shame that I did not have time to do exactly that and to explore around a bit more.
If I would do the trip again, I would probably try to arrange return transport myself in Luang Prabang leaving much more time at the Kuang Si Falls. An alternative would be just use the minibus as a one-way transfer to the Kuang Si Falls, although I'm not sure how easy it would be in that case to find a ride back to Luang Prabang at the Kuang Si parking lot.
Trip report index
This article is part of the 'Lazing in Laos and Gallivanting a Wee Bit Around Asia' trip report, which consists of the following chapters:
1. Review: Aegean Airlines Business Class Bucharest to Athens (Airbus A320)
2. Review: Goldair Handling Lounge (Non-Schengen) Athens Airport
3. Review: Saudia Business Class Athens to Jeddah (Airbus A320)
4. Review: Saudia Alfursan Lounge Jeddah Airport South Terminal
5. Review: Review: Saudia Business Class Jeddah to Kuala Lumpur (Boeing 787)
6. Review: CitizenM Hotel Kuala Lumpur Bukit Bintang
7. Kuala Lumpur in One Day: What to See and Do in 24 Hours
8. A Batu Caves Half Day Trip From Kuala Lumpur By Public Transport
9. Review: Plaza Premium Lounge Private Resting Suite Gateway KLIA2
10. Review: Air Asia Kuala Lumpur to Vientiane (Airbus A320)
11. Review: Hotel Khamvongsa, Vientiane, Laos
12. Destination Trip Report: A Day in Vientiane, Laos
13. Guide: Domestic Bus Travel in Laos and How to Book a Ticket
14. Review: Simon Riverside Hotel, Vang Vieng, Laos
15. Trip Report: Vang Vieng – Worth a Stop on Your Laos Itinerary?
16. Review: Villa Ban Phanluang, Luang Prabang, Laos
17. Luang Prabang: The Stunning Pearl of Indochina
18. Guide: Luang Prabang Morning, Food and Night Markets
19. Kuang Si Falls: A Gorgeous Luang Prabang Day Trip (current chapter)
20. Review: Thai Smile Economy Class Luang Prabang to Bangkok (Airbus A320)
21. Review: Ibis Styles Bangkok Sukhumvit 4
22. Review: Air France/KLM Business Lounge Bangkok Airport
23. Review: Garuda Indonesia Business Class Bangkok to Jakarta (Boeing 737-800)
24. Review: Sapphire Plaza Premium Lounge Terminal 3 Jakarta Airport
25. Review: Garuda Business Lounge Terminal 3 Jakarta Airport
26. Review: Review: Japan Airlines Business Class Jakarta to Tokyo Narita (Boeing 787-8)
27. Review: Capsule Hotel Transit Shinjuku, Tokyo, Japan
28. Tokyo Stopover: What to See and Do in the Capital of Japan for a Day
29. Review: ANA Business Lounge Tokyo Narita Airport
30. Review: United Club Tokyo Narita Airport
31. Review: Turkish Airlines Economy Class Tokyo Narita to Istanbul (Boeing 777)
32. Review: Turkish Airlines Miles&Smiles Lounge Istanbul Airport
33. Review: Turkish Airlines Economy Class Istanbul to Bucharest (Airbus A330)