Review: Capsule Hotel Transit Shinjuku, Tokyo, Japan
In this review we will stay at the Capsule Hotel Transit Shinjuku in Tokyo, Japan.
First time in Japan
After a great flight on Japan Airlines' excellent business class on the Boeing 787 and a refreshing shower upon arrival it was time to head into Tokyo.
It has been quite a while ago since I had such a culture shock upon arriving in a new country like this time in Japan. There are the weird looking ATMs, the toilet seats with over a hundred different buttons and functions. It's all these tiny details which make the country feel strange to first arrivals!
It was a bit weird as I never had such a culture shock on any of my previous trips to Africa or on my travels through the countries of the former Soviet Union, with the only experience coming close being my trip to Pakistan which marked my first ever trip to a Third World country.
Perhaps it has to do with the fact that while Japanese culture and society is so peculiar and strange in the eyes of Europeans, it is at the same time so similar if you look at the infrastructure and facilities.
Getting into Tokyo
I imagined that getting into Tokyo and navigating the public transport network of this mega-city which is home to more than 30 million people would be an extremely difficult task. Weirdly enough, this wasn't the case at all.
The excellent train station ticket office at Narita Airport has English speaking personnel and is extremely helpful explaining the system. You can by the way look up train times, connections and fares yourself using Google Maps, which in my experience works excellent in the Greater Tokyo area.
Within minutes I had my ticket for the Skyliner Express train to Nippori station, where it would be an easy change to the suburban Yamanote line for Shin-Okubo station.
Throughout the entire network, signs at stations are bilingual Japanese and English, making the system super easy to use once you get the hang of it. With for example the platforms of the Yamanote line being clearly signposted at a big station like Nippori, you just have to make sure you are taking the train in the right direction, which isn't too hard really if you can read a map and have some sense of direction.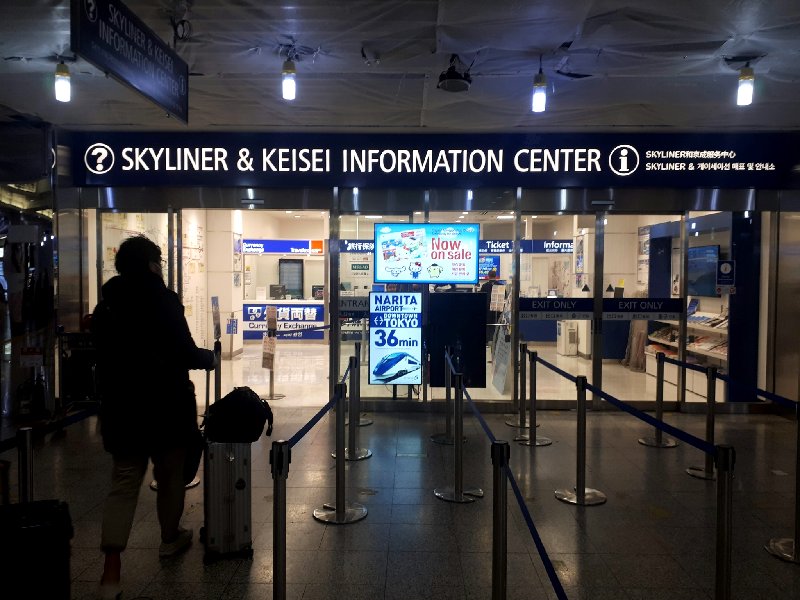 Capsule hotel
As I only had a one-night stopover in Tokyo I wanted a truly Japanese experience. This basically means staying at a Ryokan (traditional Japanese inn with tatami-matted rooms) or a capsule hotel. Given that Tokyo is quite an expensive city and I was travelling solo, it was a no-brainer to opt for a capsule hotel.
For those unfamiliar with capsule hotels, these are cheap, basic hotels with small capsules which function as your own miniature bedroom. Yeap, your bedroom is basically a small pod of perhaps some 2 metres in length and about 1 metre in height and width. All other hotel facilities such as toilets and showers are shared much akin to a hostel.
It is common for Japanese capsule hotels to be gender segregated, with men and women having different rooms or floors. Some capsule hotels cater exclusively to men or women only.
This is due to the fact that originally capsule hotels catered mostly to (drunk) businessmen who missed their last train home or just needed a quick sleep after a long working day before rising early the next day for another working day. Therefore, they weren't always a safe environment for women.
Nowadays, capsule hotels are also popular with tourists as well as with Japanese who need to stay for a prolonged duration in a city but cannot afford a short-term apartment rental.
Capsule Hotel Transit Shinjuku
For my one night in Tokyo I opted for the Capsule Hotel Transit Shinjuku, with a capsule room costing 2,700 Japanese yen (23 EUR). Although there were other capsule hotels available in Tokyo for around 5-6 EUR less, this particular capsule hotel did not only have good rating but also has a superb location close to the popular Shinjuku nightlife district.
As I arrived in the early morning I was not yet able to check in for my capsule. The capsule hotel does however have a luggage room to store your bags.
With some tips in hand from the friendly and helpful receptionist, who spoke perfect English, I went out to explore Tokyo only to return again late afternoon to finally check-in.
A look at the Shinjuku capsule hotel
Each guest at the Capsule Hotel Transit Shinjuku gets a wristband which unlocks the doors to the actual rooms. Attached as well is a key for your own personal locker in a large locker room where you can store all valuables.
Just like in most Japanese houses, you must take off your shoes at this capsule hotel before being allowed into the public spaces. There are however some free slippers which you can use if you forgot to take your own.
One floor up was my male sleeping room with some 50 or so capsules in it. All capsules are numbered, so you just have to search for your sleeping pod for the night!
Capsule door
The capsules at the Capsule Hotel Transit Shinjuku have a sturdy screen in front of them which you can pull up and down. Compared to capsules with a firm door this has some positive and negative sides.
On the plus side, not having a fixed door makes a capsule less claustrophobic. It makes you feel more like you are camping in a tent instead of being seated in the inside of a washing machine.
The screens were sturdy and firm enough to block out all light, although the obvious negative side of these screens is that they are not sound-resistant so you can for example hear the snores from people around you. Whether a firm door or a screen is better is thus an entirely personal question which only you can answer for yourself!
Fortunately, the (mostly Japanese) guests were a civilised bunch. Don't forget this is a country with strict social norms, so apart from a few snores perhaps you will not hear anyone making noises in the common area around the capsules.
Inside a capsule
The capsules at the Capsule Hotel Transit Shinjuku were definitely large and wide enough to have a comfortable sleep in. You can even sit in them without bumping your head. I had for example not a problem at all changing clothes inside the capsule.
The capsule had a comfortable mattress, pillow and bedding and a small shelf on which you can put your mobile phone or reading glasses or so. Each capsule also has a power socket. Just don't forget to take a travel adapter with you just like I did (rookie mistake!).
I did not find these capsules to be claustrophobic at all – and that comes from a person who doesn't particularly like narrow spaces (crawling through the Vietcong tunnels in Vietnam gave me the creeps for example). The whole experience was pretty much like camping in a tent!
Common areas
The common areas directly around the capsule had some seating areas in which you can sit, eat and drink, read a book or work on your laptop or so. The walls of the male-only room were all lined with book cabinets containing thousands and thousands of manga comics.
Inside the area were also some vending machines selling snacks and drinks.
Although the main capsule room did have some toilets, the washroom with sinks and showers was located a floor down next to the reception.
All these areas were kept immaculately clean during my stay, which I think has partly to do with the great staff of the Capsule Hotel Transit Shinjuku as well as with the civilised Japanese clientele not making a mess out of it in the first place.
Capsule Hotel Transit Shinjuku location
One thing I loved about the Capsule Hotel Transit Shinjuku was its location. It is just a short walking distance to some major public transport stops such as the Shin-Okubo train station (on the handy Yamanote line) and the Higashi-Shinjuku metro station.
Even the large Shinjuku railway and subway station – a major interchange – is walking distance away from the hotel.
The same counts for all the bars and restaurants of the Shinjuku nightlife district, which can easily be reached within 10 minutes on foot. It really makes a convenient base for your Tokyo trip – especially if your time in the city is limited just like my one-night stopover!
In short
Staying in a capsule hotel is a quintessential Japanese experience which you must for sure try out at least once. I thought the whole experience was pretty much akin to camping in a tent or staying in a more luxurious hostel.
I did not think the capsule was claustrophobic at all. The capsules are actually well-designed, containing power sockets and a small shelf, and are actually bigger as they might look at first as you can sit up inside them.
The Capsule Hotel Transit Shinjuku managed to deliver on all aspects. I had a comfortable night of sleep, the facilities were spotlessly clean, and the reception staff were extremely helpful and friendly.
Would I stay in a capsule hotel again? Yes, for a short-term stay they are cheap and sufficient enough when travelling solo, especially in an expensive city like Tokyo.
However, capsule hotels do lack privacy as you share all other facilities with the other guests. For this reason, I would opt for a proper hotel if staying longer in the city than just one night or when travelling as a couple.
Trip report index
This article is part of the 'Lazing in Laos and Gallivanting a Wee Bit Around Asia' trip report, which consists of the following chapters:
1. Review: Aegean Airlines Business Class Bucharest to Athens (Airbus A320)
2. Review: Goldair Handling Lounge (Non-Schengen) Athens Airport
3. Review: Saudia Business Class Athens to Jeddah (Airbus A320)
4. Review: Saudia Alfursan Lounge Jeddah Airport South Terminal
5. Review: Review: Saudia Business Class Jeddah to Kuala Lumpur (Boeing 787)
6. Review: CitizenM Hotel Kuala Lumpur Bukit Bintang
7. Kuala Lumpur in One Day: What to See and Do in 24 Hours
8. A Batu Caves Half Day Trip From Kuala Lumpur By Public Transport
9. Review: Plaza Premium Lounge Private Resting Suite Gateway KLIA2
10. Review: Air Asia Kuala Lumpur to Vientiane (Airbus A320)
11. Review: Hotel Khamvongsa, Vientiane, Laos
12. Destination Trip Report: A Day in Vientiane, Laos
13. Guide: Domestic Bus Travel in Laos and How to Book a Ticket
14. Review: Simon Riverside Hotel, Vang Vieng, Laos
15. Trip Report: Vang Vieng – Worth a Stop on Your Laos Itinerary?
16. Review: Villa Ban Phanluang, Luang Prabang, Laos
17. Luang Prabang: The Stunning Pearl of Indochina
18. Guide: Luang Prabang Morning, Food and Night Markets
19. Kuang Si Falls: A Gorgeous Luang Prabang Day Trip
20. Review: Thai Smile Economy Class Luang Prabang to Bangkok (Airbus A320)
21. Review: Ibis Styles Bangkok Sukhumvit 4
22. Review: Air France/KLM Business Lounge Bangkok Airport
23. Review: Garuda Indonesia Business Class Bangkok to Jakarta (Boeing 737-800)
24. Review: Sapphire Plaza Premium Lounge Terminal 3 Jakarta Airport
25. Review: Garuda Business Lounge Terminal 3 Jakarta Airport
26. Review: Review: Japan Airlines Business Class Jakarta to Tokyo Narita (Boeing 787-8)
27. Review: Capsule Hotel Transit Shinjuku, Tokyo, Japan (current chapter)
28. Tokyo Stopover: What to See and Do in the Capital of Japan for a Day
29. Review: ANA Business Lounge Tokyo Narita Airport
30. Review: United Club Tokyo Narita Airport
31. Review: Turkish Airlines Economy Class Tokyo Narita to Istanbul (Boeing 777)
32. Review: Turkish Airlines Miles&Smiles Lounge Istanbul Airport
33. Review: Turkish Airlines Economy Class Istanbul to Bucharest (Airbus A330)