Review: Azerbaijan Airlines Business Class Baku to Paris (Airbus A320)
In this review, we will take an Azerbaijan Airlines (AZAL) flight in business class on the Airbus A320 from Baku to Paris Charles de Gaulle.
Boarding
After a short time in the decent Azerbaijan Airlines business lounge it was time to head to my boarding gate for today's flight to Paris. I had a long day of flying ahead, as besides this Baku-Paris flight I would have two connecting flights, first to Amsterdam and then to Bergen in Norway.
Boarding started on time and was probably the most chaotic affair I have seen in years. Priority boarding was not observed at all and there was a huge scrum to reach the only gate agent scanning the boarding passes. Having played rugby in my student days, I still managed to be among the first dozen or so persons to walk down the jet bridge to our aeroplane.
However, shortly before reaching the aeroplane we found ourselves with a closed glass door halfway down the jet bridge, which caused an even bigger scrum of people as the impatient mob behind us did not realise there was no way for us to walk any further.
It took 15 minutes before an airport employee realised the situation and walked from the plane to the glass door to open it. However, the employee then realised that our mob was headed to Paris and that the aeroplane at the other end of the jetbridge had another destination altogether.
Only after 10 minutes more a flurry of other airport employees arrived and found out we were all sent through the wrong jetbridge. As a solution, a small side door was opened and we were led to an adjacent jet bridge which was connected to the right aircraft: our Airbus A320 with the destination of Paris. What a giant cock-up it all was.
Baku (GYD) to Paris Charles de Gaulle (CDG) on Azerbaijan Airlines
Flight J2 73 (booked as AF8177) – Airbus A320-200 – Business class, seat 4A
Departure: 6.30am – Arrival: 9.20am
Flight time: 5h50m – Distance: 2,369 miles
Costs: 800 EUR, as part of a ticket including 12 flights in business class
Azerbaijan Airlines Airbus A320 seats
As I already explained in detail in the review of my outbound Azerbaijan Airlines flight from Paris to Baku, the business class cabin on the Airbus A320 exists out of 5 rows of comfortable recliner seats in 2 by 2 layout.
These seats are certainly not cutting edge and are in fact a bit old, with some wear and tear clearly visible. That said, they are certainly comfy and both shoulder and legroom is good.
The biggest drawback is however the lack of power sockets or USB ports. Note as well that the Azerbaijan Airlines Airbus A320s are not equipped with WiFi and do not feature in-built entertainment screens, although tablets are distributed during the flight.
On this flight, I was seated in row four. I lucked out again as just on my previous flights I would not have a seatmate next to me. While the first three rows of the business class cabin were completely full, the fifth and last row remained empty. Economy class seemed to be booked out solid on this flight when looking back behind the curtain.
Pre-departure service
You know immediately that you have a good flight upcoming when the crew delivers a stellar and warm service from the start. A great, pro-active crew can make up for a bad quality product, while the other way around this is not always the case.
On my previous Azerbaijan Airlines flight from Paris to Baku the crew was good but not excellent as there were a few service flaws and they were all a bit distant. That was absolutely not the case on this flight as both lovely ladies serving the business class cabin were excellent.
After I stowed my bags in the overhead compartment they immediately came to my seat with a tray of non-alcoholic welcome drinks. I went for an orange juice as pre-departure beverage, which was served with some candied fruit.
While getting comfortable in Azerbaijan Airline's old but comfortable recliner seat, I was also presented an amenity kit, which was the same as I received on the Paris to Baku flight in the other direction.
Menu
Before departure, we were also presented the food and drinks menu and were asked about our meal preferences. As the drinks list was exactly the same as on my previous CDG-GYD flight on Azerbaijan Airlines, I won't bother posting all the pictures of the extremely large drinks list here again.
By all means, check out the previous review too so you have a better picture of the service on board AZAL based on two flights instead of just this one! To summarise: I thought that especially the wine list was quite impressive as it was simply massive, there already being a choice out of three sparkling wines (Nicolas Feuillate and Mumm champagne, as well as an Azerbaijani sparkling wine).
Take-off
Due to the strong winds outside on this cold March day, take-off from Baku was a bit choppy. Due to the boarding cock-up we departed a bit late, although the captain announced that we would make up for the time lost on the way to Paris.
Because of the morning fog, the departure views from the window disappeared after just half a minute as we flew into a thick layer of clouds. However, when we finally surfaced again above the cloud cover, we were treated to a gorgeous sunrise and some great views of the Lesser Caucasus mountain range from my window.
Azerbaijan Airlines breakfast
Some 30 minutes after take-off service kicked in with a flight attendant inquiring what I wanted to drink with my meal. I opted for both a glass of champagne and orange juice. When flying business class I just need that glass of champagne no matter the hour of the day.
The drinks were delivered along with the meal, which was served on a tray straight from the galley.
First came the starter, which in my case was the assorted meat platter. It was much better than the assorted meats which I had as lunch starter on the outbound journey. Also on the tray were some fresh fruits and cheese, as well as some jams in cute little jars. From the bread basket I selected a bun and a croissant.
After finishing most of the food, the breakfast entrée which I had pre-selected was brought out: grilled chicken breast with Bechamel sauce, spinach, baked beans, grilled tomato and potato croquettes. Basically the Azerbaijani (halal) version of a full English breakfast. It was very tasty, and above all it made for a very big breakfast combined with the starter.
Just like the outbound flight, Azerbaijan Airlines made sure I wouldn't go hungry on their flight! Often, breakfast meals tend to be the more boring and worse quality meals on board planes, although I did not find this the case with Azerbaijan Airlines at all. Peeking at the passenger seated a row in front of me, I have to say that also the pancakes looked highly appetising!
I finished the meal with some tea and the dessert of strawberry gateau and baklava. I was also given a ramekin of nuts when the flight attendant offered a champagne refill.
Views
Due to the headwinds, the flight time from Baku to Paris takes longer than in the other direction with today's flight almost taking six hours. That is quite a long sit in a narrow-body plane! Although the leather recliner seats of Azerbaijan Airlines are fairly old and certainly not cutting edge, they are certainly comfortable.
For the first hour or two I spend some time reading my book, eating breakfast and sipping some champagne while watching the views from the window. There were some lovely mountain views all the way up to the moment we reached the Black Sea coastline somewhere over Georgia.
When I got tired of reading and watching the free entertainment from the plane window, I had no problem dozing off for a while in the comfortable seat.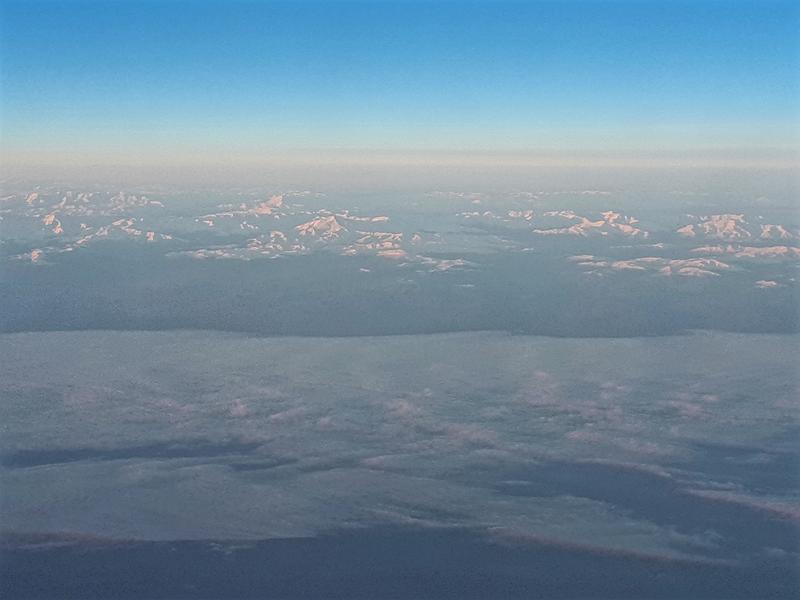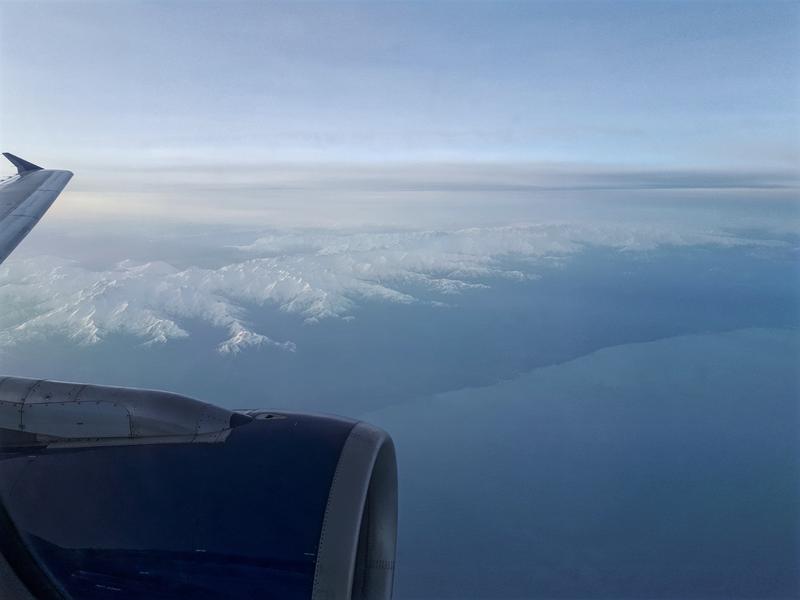 In-flight entertainment
The business class seats on the Azerbaijan Airlines Airbus A320 do not have built-in entertainment screens. There are overhead screens, which on this flight unfortunately did not feature the route map (I'm an old-school geography nerd/route map fan) but some boring film.
In business class, passengers however receive a tablet which has a very limited entertainment selection loaded into the system. Although I did watch some series on the outbound flight from Paris to Baku, this time I did not use the tablet at all.
Arrival
Despite the long flight time the time went by much faster than I thought, which might have been a result of the wine tasting and napping. Looking down the window, the French countryside still looked as gloomy and cold as it did when I departed for Azerbaijan five days before.
We had a smooth landing into Paris Charles de Gaulle Airport and indeed managed to make up our slight delay upon departure. Fortunately, we only had a short taxi ride to terminal 2D.
In short
Having now completed both of my Azerbaijan Airlines flights on my long itinerary, I can conclude that it is a nice little airline to fly with in business class.
Although the seats are certainly not cutting edge nor very new, they remain comfortable even for a flight of more than five hours in length. The biggest drawback is the lack of power outlets and internet on board. Although tablets are distributed to make up for the lack of in-flight entertainment, the contents are highly limited.
Where Azerbaijan Airlines excels it its great food on board. You will certainly not get hungry on board an Azerbaijan Airlines flight in business class, as portions are big and the quality of the food is quite good. The drinks list is extensive as well. How many other airlines can say they offer passengers the choice out of three champagnes in business class?
Overall, I also think the service on board is excellent, something which certainly counts for the great ground experience at Baku Airport. If the price is right, I would be more than happy to fly again with Azerbaijan Airlines!
Trip report index
This article is part of the 'Siberian Shuffle – A Crazy Winter Trip Around Eurasia' trip report, which consists of the following chapters:
1. Review: Wizz Air Bucharest to Oslo Sandefjord Torp (Airbus A321)
2. A Day in the Norwegian Capital of Oslo
3. Review: Norwegian Railways Night Train Oslo-Stavanger in a Private Sleeper
4. Review: Radisson Blu Royal Hotel, Stavanger
5. Stavanger – A Great Norwegian City Trip Surprise
6. Review: North Sea Lounge Stavanger Airport
7. Review: KLM Cityhopper Business Class Stavanger to Amsterdam (Embraer RJ-175)
8. Guide to the Carnival Celebrations in the Netherlands
9. Review: KLM Crown Lounge (Schengen) Amsterdam Airport
10. Review: Air France Business Class Amsterdam to Paris (Airbus A319)
11. Review: 'Salon Paris' Business Class Lounge Paris CDG Terminal 2C
12. Review: Aeroflot Business Class Paris to Moscow (Airbus A320)
13. Review: Aeroflot Domestic Business Class Lounge Moscow Sheremetyevo
14. Review: Aeroflot Domestic Business Class Moscow to Irkutsk (Boeing 737-800)
15. Review: Matreshka Hotel, Irkutsk
16. Irkutsk Trip Report: Exploring the 'Paris of Siberia' in Winter
17. Review: Mayak Hotel, Listvyanka (Lake Baikal)
18. A Winter Trip to the Frozen Wonderland of Lake Baikal
19. Review: Ibis Irkutsk Center Hotel, Irkutsk
20. Review: Domestic Business Class Lounge Irkutsk Airport
21. Review: Aeroflot Domestic Business Class Irkutsk to Moscow (Boeing 737-800)
22. Review: Pushkin Hotel, Moscow
23. A 24 Hour Stopover in the Russian Capital of Moscow
24. Review: 'Moscow' and 'Jazz' Business Lounges Moscow Sheremetyevo Terminal D
25. Review: Aeroflot Business Class Moscow to Paris (Airbus A320)
26. Review: TAROM Business Class Paris to Bucharest (Airbus A318)
27. Review: TAROM Business Lounge Bucharest Otopeni Airport
28. Review: Air France Business Class Bucharest to Paris (Airbus A320)
29. A Short Overnight Stopover in Paris
30. Review: Sheltair Business Lounge Paris CDG Terminal 2D
31. Review: Azerbaijan Airlines Business Class Paris to Baku (Airbus A320)
32. Review: Old City Hotel and Apartments, Baku, Azerbaijan 
33. Destination Baku: An Intriguing Mix Between Old and New
34. Guide: Train Travel in Azerbaijan
35. Sheki: Azerbaijan's Most Lovely Town and Springboard to the Caucasus
36. Must Be the Ganja! A Visit to the City of Ganja in Azerbaijan
37. Review: Shah Palace Hotel, Baku, Azerbaijan
38. Review: Azerbaijan Airlines Business Lounge Baku Airport
39. Review: Azerbaijan Airlines Business Class (Airbus A320) Baku to Paris (current chapter)
40. Review: Air France Business Lounge Paris CDG Terminal 2F
41. Review: KLM Business Class Paris to Amsterdam (Boeing 737)
42. Review: KLM Business Class Amsterdam to Bergen (Boeing 737)
43. Blissful Bergen – Is It Really Norway's Most Beautiful City?
44. Review: Bergen to Oslo on a Norwegian Intercity Train (Bergensbanen Railway)
45. The Flamsbana Railway – From the Myrdal Mountains to the Fjord at Flam
46. Review: SAS Economy Class Oslo to Brussels (Boeing 737-600)
47. Review: Diamond Lounge Brussels Airport Pier B Non-Schengen
48. Review: TAROM Economy Class Brussels to Bucharest (Boeing 737-800)