Review: KLM Business Class Paris to Amsterdam (Boeing 737)
In this review, we will fly in business class on a KLM Boeing 737-800 from Paris CDG to Amsterdam.
Boarding
After a long layover in which I visited the decent Air France business lounge in Terminal 2F, it was time to finally board my flight to Amsterdam.
Even though short European hops in business class aren't really that interesting, I was quite curious to this flight, if only to compare how KLM would relate to my experience on Air France earlier this journey flying the opposite way from Amsterdam to Paris.
As is usually the case at Paris Charles de Gaulle Airport, priority boarding was neatly enforced and this time consisted. To my surprise, there were not many people in the Sky Priority line this time around, which is quite remarkable for a flight between two major SkyTeam hubs.
Paris Charles de Gaulle (CDG) to Amsterdam (AMS) on KLM
Flight KL1234 (booked as AF8234) – Boeing 737-800 – Business class, seat 2A
Departure: 2.40pm – Arrival: 3.50pm
Flight time: 1h10m – Distance: 248 miles
Costs: 800 EUR, as part of a ticket including 12 flights in business class
Boeing 737 seat
Just like most other European airlines, KLM does not have special seats in their business class cabins but rather the standard economy class seats of which they leave the middle seat empty.
Although having a bit of extra shoulder room is always nice, it is of course not a competitive product when compared to the proper leather recliner seats used by airlines such as Aeroflot and Azerbaijan Airlines which I flew before on this trip.
It really is your average economy seat and there is nothing that makes the KLM seat on the Boeing 737 stand out from its competitors, although that said, it isn't any worse either. For a flight of about an hour in length like this, it is perfectly fine, although to pay full buck for business class and to be stuck in a seat like this for a flight of three or four hours in length would certainly not be something I would ever be willing to do.
Departure
The flight seemed to be entirely full in both business class as well as in the back of the plane in economy. Unfortunately, unlike Air France KLM does not offer pre-departure beverages on intra-European business class flights.
There were again some decent planespotting opportunities on departure from Charles de Gaulle, including two Airbus A380s from Qatar Airways and Air France.
Right on the dot, we departed from a cold Paris for Amsterdam. It would be a short flight, as of the scheduled flying time of just over an hour there is perhaps only 40 minutes or so in the air and an equal amount spent of time taxiing at both airports.
In-flight meal
Given the short flight time, service on board was rather limited, but did still include a small lunch. On most short to mid-haul hops, KLM just serves a sandwich in business class.
Menus were distributed prior to departure, although I forgot to take a picture of it. I therefore added a picture below of the menu of my previous KLM flight from Stavanger to Amsterdam to give you a general idea what is being served on board such a short intra-European hop.
Although I thought the meal was nicely presented and the quality was quite good, it does pale in comparison to Air France, which manages to serve a proper meal on the same route.
As I already concluded on my previous KLM review, the sandwich does align with Dutch lunch culture in which workers only take a box of sandwiches to work as lunch, although for non-Dutch people it might be a big disappointed to be only served a sandwich in business class.
Although for a short flight of just 40 minutes in the air this is certainly an acceptable meal, I don't think it is the case if you happen to be on a flight of 2 or 3 hours in length – and I do really feel that KLM should certainly make some improvements here. The same counts for the not-so-good cava and the mediocre wines, which are of a much higher standard on Air France as well as on KLM's own long-haul flights.
Bizarrely, KLM does sometimes offer hot meals on longer flights within Europe, but only on a few select routes on which the competition does so as well. That means no hot meal when flying to Rome as Alitalia is the competitor, but you do get one on the Istanbul route where KLM has to compete with Turkish Airlines' vastly superior seat and catering.
Service
For a flight this short there isn't much else to report on. The service from the flight attendants was professional but a bit aloof in an almost arrogant way. At least they were eager to work and pro-actively going around the cabin to offer top-ups of our drinks, which is an appreciated gesture on a flight this short.
Entertainment
KLM does not have WiFi on its Boeing 737, although seats did feature an USB outlet. There are no personal in-flight entertainment screens, so do bring your own book, laptop or tablet along on your European KLM flight.
However, when flying to the Netherlands there is always some natural entertainment in the form of some beautiful views from the window upon arrival. As I wrote already in my previous installment covering my previous Stavanger to Amsterdam flight on this long adventure, I never get bored of flying into Amsterdam.
From above, the Netherlands just looks like a miniature model wonderland. Besides the dunes, almost nothing what you see is natural. Almost all is man-made. The Netherlands is basically just one big triumph of mankind over nature, especially in the low-lying provinces of North and South Holland above which most of the approach routes into Amsterdam are located.
Even though I do think the Dutch scenery is a tad boring from the ground, I so love the straight lines, the infrastructure and the green-and-blue colours when seen from the air.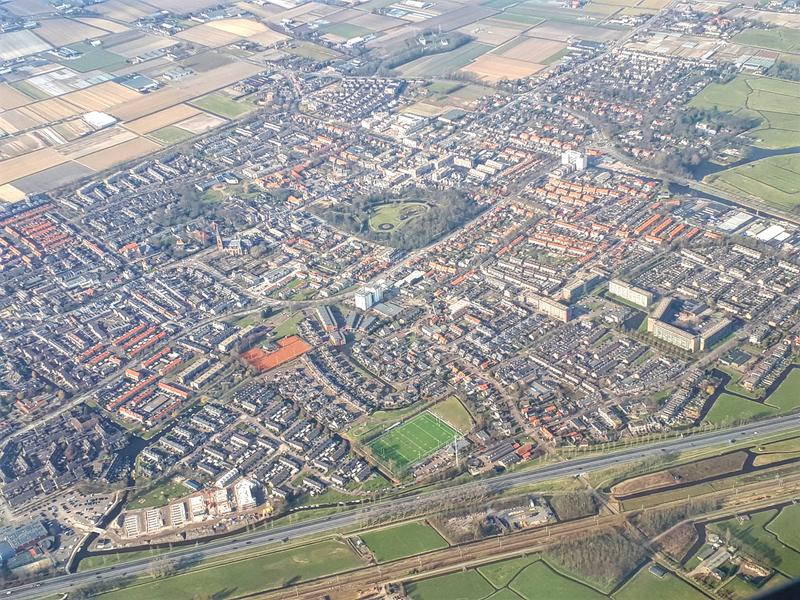 Arrival
After a relatively short taxi ride at the airport, we parked at our jet bridge. I thanked the crew for the fun flight, and went off to the KLM Schengen lounge to kill the time until my last flight of the day.
In short
Although I had a perfectly nice flight and the on-board service was certainly adequate for a flight this short, I still think that KLM's short haul business class flights are nothing to write home about.
When compared head-on with Air France (which I flew on the outbound journey in the other direction), KLM clearly has a more lacklustre soft product and I couldn't think of any aspect which was better than Air France.
Think of it, with Air France I had a pre-departure beverage, a pillow at my seat, proper champagne, quality wines and a proper lunch. KLM serves a rather poor cava instead of champers, uninspiring wines, a sandwich as lunch and no such little luxuries as a pillow at my seat or a drink before departure.
When it comes to flight crews and service, I'd call it a 2-2 draw based on my previous 2 Air France flights and 2 KLM flights so far this trip.
The reality is that short and mid-haul business class is not really worth it when flying with most European airlines, and that includes KLM as well. You have the same seats as in economy and most airlines only serve you a marginally better meal. Given the huge price difference, I would certainly say that it is not worth paying for a full-fare business class ticket or even for an upgrade at the airport.
Sure, the extra space, better meal and bit of booze is all nice, but unless you can get a stellar deal or get the short-haul flight in combination with a long-haul flight in business class on proper seats on a wide-body aircraft, I certainly wouldn't pay out of my own pocket for this.
Trip report index
This article is part of the 'Siberian Shuffle – A Crazy Winter Trip Around Eurasia' trip report, which consists of the following chapters:
1. Review: Wizz Air Bucharest to Oslo Sandefjord Torp (Airbus A321)
2. A Day in the Norwegian Capital of Oslo
3. Review: Norwegian Railways Night Train Oslo-Stavanger in a Private Sleeper
4. Review: Radisson Blu Royal Hotel, Stavanger
5. Stavanger – A Great Norwegian City Trip Surprise
6. Review: North Sea Lounge Stavanger Airport
7. Review: KLM Cityhopper Business Class Stavanger to Amsterdam (Embraer RJ-175)
8. Guide to the Carnival Celebrations in the Netherlands
9. Review: KLM Crown Lounge (Schengen) Amsterdam Airport
10. Review: Air France Business Class Amsterdam to Paris (Airbus A319)
11. Review: 'Salon Paris' Business Class Lounge Paris CDG Terminal 2C
12. Review: Aeroflot Business Class Paris to Moscow (Airbus A320)
13. Review: Aeroflot Domestic Business Class Lounge Moscow Sheremetyevo
14. Review: Aeroflot Domestic Business Class Moscow to Irkutsk (Boeing 737-800)
15. Review: Matreshka Hotel, Irkutsk
16. Irkutsk Trip Report: Exploring the 'Paris of Siberia' in Winter
17. Review: Mayak Hotel, Listvyanka (Lake Baikal)
18. A Winter Trip to the Frozen Wonderland of Lake Baikal
19. Review: Ibis Irkutsk Center Hotel, Irkutsk
20. Review: Domestic Business Class Lounge Irkutsk Airport
21. Review: Aeroflot Domestic Business Class Irkutsk to Moscow (Boeing 737-800)
22. Review: Pushkin Hotel, Moscow
23. A 24 Hour Stopover in the Russian Capital of Moscow
24. Review: 'Moscow' and 'Jazz' Business Lounges Moscow Sheremetyevo Terminal D
25. Review: Aeroflot Business Class Moscow to Paris (Airbus A320)
26. Review: TAROM Business Class Paris to Bucharest (Airbus A318)
27. Review: TAROM Business Lounge Bucharest Otopeni Airport
28. Review: Air France Business Class Bucharest to Paris (Airbus A320)
29. A Short Overnight Stopover in Paris
30. Review: Sheltair Business Lounge Paris CDG Terminal 2D
31. Review: Azerbaijan Airlines Business Class Paris to Baku (Airbus A320)
32. Review: Old City Hotel and Apartments, Baku, Azerbaijan 
33. Destination Baku: An Intriguing Mix Between Old and New
34. Guide: Train Travel in Azerbaijan
35. Sheki: Azerbaijan's Most Lovely Town and Springboard to the Caucasus
36. Must Be the Ganja! A Visit to the City of Ganja in Azerbaijan
37. Review: Shah Palace Hotel, Baku, Azerbaijan
38. Review: Azerbaijan Airlines Business Lounge Baku Airport
39. Review: Azerbaijan Airlines Business Class Baku to Paris (Airbus A320)
40. Review: Air France Business Lounge Paris CDG Terminal 2F
41. Review: KLM Business Class (Boeing 737) Paris to Amsterdam (current chapter)
42. Review: KLM Business Class Amsterdam to Bergen (Boeing 737)
43. Blissful Bergen – Is It Really Norway's Most Beautiful City?
44. Review: Bergen to Oslo on a Norwegian Intercity Train (Bergensbanen Railway)
45. The Flamsbana Railway – From the Myrdal Mountains to the Fjord at Flam
46. Review: SAS Economy Class Oslo to Brussels (Boeing 737-600)
47. Review: Diamond Lounge Brussels Airport Pier B Non-Schengen
48. Review: TAROM Economy Class Brussels to Bucharest (Boeing 737-800)