Review: Turkish Airlines Miles&Smiles Lounge Istanbul Airport
In this review, we will check out the Turkish Airlines Miles&Smiles Lounge at Istanbul Airport (IST).
Istanbul New Airport
After a pleasant flight in Turkish Airlines' economy class from Tokyo Narita to Istanbul I found myself in the vast spaces of Istanbul's relatively new airport, which took over the role of the city's main airport on 6th April 2019, replacing ageing Ataturk Airport which had become way too small to handle the massive growth in air traffic over the last decades.
Simply called Istanbul New Airport or just Istanbul Airport (IATA Code: IST), it is a beautiful but massive space. Walking distances can however be long. From one side of the airport to the far other side can easily take some 25 to 30 minutes.
The airport itself feels mostly like a gleaming new shopping centre – it is a nice place to walk through and do some window shopping. It feels airy, there are plenty of food outlets, moving walkways and seating areas. There are even designated sleeping chairs which you can grab as an economy passenger! Sure, you won't have any privacy at all – but these reclining chairs are much better than the usual airport benches.
Istanbul Airport does have free WiFi internet, although you need to register with your mobile phone and be able to receive a text message in order to get a login code – so make sure you have cell phone coverage in Turkey for this as otherwise you will struggle to find internet in the airport if you do not have lounge access.
The airport exists out of four international departure piers and one domestic pier, all linked to the same central building. In there, you can also find the airport lounges.
Turkish Airlines lounge entry requirements
Home airline Turkish Airlines has currently two lounges at its Istanbul hub: The Miles&Smiles Lounge and the Turkish Airlines Business Lounge. Located at opposite sides in the central building, both have the same facilities and are almost mirror images of each other apart from one or two small details. They are both open 24/7.
The sole difference between the lounges is that the Turkish Airlines Miles&Smiles Lounge is meant for qualifying Turkish Airlines elites and Star Alliance gold members, while the Turkish Airlines Business Lounge is solely meant for business class passengers flying on Turkish or any other Star Alliance carrier.
The decision to create two separate lounges was made to prevent overcrowding, which was a massive issue at the wonderful old Turkish Airlines Lounge at Ataturk Airport.
Star Alliance gold members cannot access the Turkish Airlines Business Lounge if they don't fly business class, while business class passengers without Star Alliance gold status cannot visit the Miles&Smiles lounge. However, if you fly in business class and have Star Alliance gold status, you can technically choose between both lounges.
As usual, Star Alliance gold card holders are allowed to bring in a guest if that person also has a same-day ticket on Turkish Airlines or another Star Alliance airline. Paid access to the Turkish Airlines lounges is not possible and lounge membership passes such as Priority Pass are not accepted.
Miles&Smiles Lounge
The entrance to the Turkish Airlines Miles&Smiles lounge is basically located behind a large duty free shop near gate C1. The actual lounge is however located one floor up, high above the central airport concourse.
To reach the main entrance, you have to take an escalator or lift up one floor, with a Turkish Airlines employee briefly checking your boarding pass before you are allowed to step onto the escalator or inside the elevator.
Once upstairs, there are automated gates at the lounge entrance where you need to scan your boarding pass to get access to the actual lounge. If for some reason this is not working, or if you want to bring in a guest, you need to report yourself at the large reception desk right next to the electronic barriers.
If needed, these receptionists are also able to help you with basic tasks regarding your upcoming flight, such as printing your boarding pass if you haven't yet received one for your connecting flight or changing seat assignments.
Inside the Miles&Smiles Lounge
At the entrance of the Miles&Smiles Lounge is a huge screen covering the entire wall and a grand piano. If you turn left, you will head into the main lounge area where you can find most of the seating and all food and drink stations.
If you however turn right, you will find a big number of lockers and a small business centre with a few computers and printer. The lockers come in various sizes and are great if you want to store your carry-on during your stay in the lounge.
Sleeping room
When you head right at the lounge entrance, you will encounter a small reception desk at the far end of the lounge where you can reserve a shower room or even a private sleeping room to take a nap. Although the showers are available for everyone on a first come, first serve basis, the rules for the nap rooms are a bit more restrictive.
These are only given to business class passengers or Turkish Airlines Miles&Smiles Elite Plus members who have a flight connection between four and nine hours. Also, one of these flights must be a long-haul flight longer than eight hours in length. Flights must be on Turkish Airlines and even codeshares are excluded.
This means that as a Star Alliance gold member with another frequent flyer programme than Turkish, you won't be able to get a private sleeping room in the lounge unless you fly in business class.
However, you might be eligible for a free 4 or 5-star hotel outside the airport if your layover between connecting Turkish Airlines flights meets a certain set of requirements.
Lounge showers
The Turkish Airlines Miles&Smiles Lounge has 12 showers which are readily available for most of the day. If you are unlucky and they are all occupied, which can happen at peak rush hour, you will be given a beeper which will signal you when your shower room is ready.
The shower rooms are well-appointed and clean, although they do already suffer from quite a bit of wear and tear which I thought was rather surprising for such a relatively new lounge!
Miles&Smiles Lounge seating
With a floor size of 5,600 square metres and a seating capacity of 765 people, the Turkish Airlines Miles&Smiles Lounge definitely is one of the larger airline lounges in the world.
The space is massive – if you have never set foot before in the lounge you are well advised to first explore a bit around the lounge so you see which area you like best.
There are food and drink stations placed throughout the entire lounge so you are never too far off from a bite or drink. This is a smart design move by Turkish Airlines as it spreads out the passengers and prevents a single area from becoming clogged with people.
The first part of the lounge behind the grand piano consists of some live cooking stations and seating which perhaps reminds most of a rustic country tavern. Most of the seats here are around dining tables, which makes them perfect for those who wish to have a bite.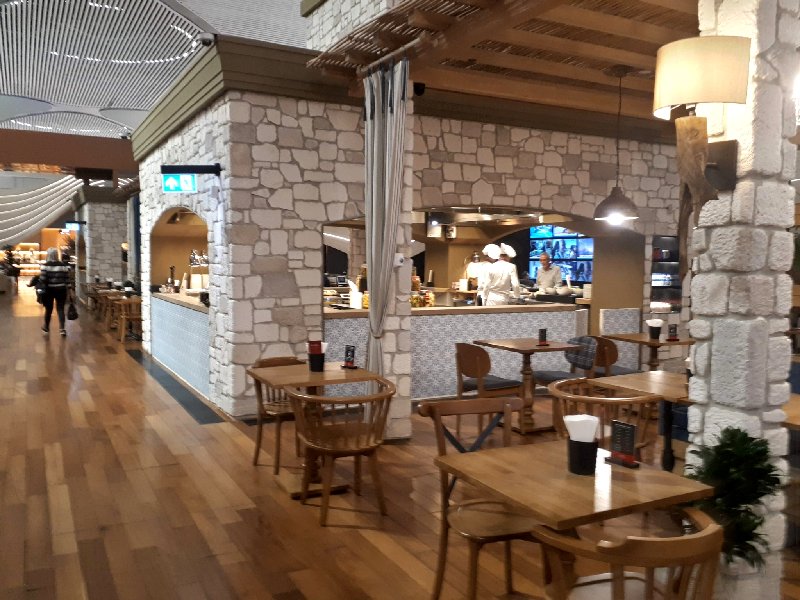 Balcony
If you walk all the way to the end here and then turn right, you end up at a large balcony terrace overlooking the main concourse of the airport.
Seats here consist out of comfy sofas and chairs as well as some more dining tables. You will also find a large miniature race track here which children will surely love! For the younger kids there is a video room and small playground near this area as well.
Library and tea room
If you however turn left at the far end of the lounge, you will access two seating rooms which feature their own unique design. One room is designed as an old-fashioned library with book cabinets and leather couches and seats.
Next to this you will find an area which is dubbed as the tea room with yet more sofas and seats. Although it is possible to get some tea at other drink stations too, you will find a much wider choice in both Turkish teas as well as blends from other parts of the world here.
Cinema room
Halfway through the lounge you will see on your right hand side a TV wall with a dozen or so TV screens showing news and sports channels. You will also find the entrance here to a dark cinema room, where most of the times some silent movies or footage and music of a classical music concert are played.
As this room is quite dark and features lounger chairs, it is a popular spot for people to take a quick nap in between flights. There are however also proper lounger chairs at the outer edges of the lounge which can be used for the same purpose (or well, which are actually meant for this purpose!).
Miles&Smiles Lounge food buffet
The old Turkish Airlines lounge at Ataturk Airport always had the reputation of being one of the best business class lounges in the Star Alliance network for one single reason: the massive food buffet.
Turkish Airlines certainly managed to bring this aspect over to its lounges at Istanbul New Airport. Indeed, they might have even managed to outdo themselves even more as I think the buffet is even better in the new Miles&Smiles Lounge!
There is one main buffet area in the centre of the lounge where you can find mostly healthy and fresh salads, olives, cheeses, spreads and sauces. Throughout the lounge there are live cooking stations where you can grab a hot meal freshly prepared in front of your eyes.
As a Turkish Airlines regular who has visited this lounge on numerous travels, I managed to taste almost everything there is on offer (and that is a lot!) during my frequent lounge visits. All food is really of great quality and the chefs cooking the food take pride in guests trying out the authentic Turkish staples.
The live cooking stations prepare breakfast dishes from early in morning until around 10 or 11am, when they switch to the normal food. Even if you arrive late at night, you can still grab a dinner as the only time no food is cooked is during the switch from lunch/dinner service to breakfast and vice versa.
In the text and images below, I will take you along a culinary journey through all the food stations of the Turkish Airlines Miles&Smiles Lounge.
Pide
The most popular food station in the old Turkish Airlines Business Lounge at Ataturk Airport was always the pide station. Therefore, the pide bakery is located in the centre of the Miles&Smiles Lounge and is impossible to miss.
For those who do not know what pide is: This is basically an open-top flat bread topped with a variety of ingredients. There is a cheese pide, pide with minced meat, a veggie pide – you name it! Also called 'Turkish pizza', these pides are constantly baked in large ovens by one of the chefs. If all the pide is gone from the counter (it is popular!), just wait for 5 or 10 minutes or so until a new batch has been freshly baked.
Manti
Manti are dumplings filled with minced meat. Manti is a staple dish in the Turkic-speaking countries of Central Asia, although nowadays it is also hugely popular in Turkey.
You can grab a bowl of manti at this live cooking station, with the chef often throwing some chili flakes and a sort of creme fraiche over it.
Grilled meat and veggies
There is also a food station in the Turkish Airlines Miles&Smiles Lounge where a chef grills different kinds of meat (both beef and chicken) and some peppers, eggplant and other veggies.
Moussaka
Another live cooking station serves freshly prepared moussaka, which is called "Aegean" moussaka on the sign at the counter as it seems like the Turks are too proud and nationalistic to call it what it originally is: Greek.
Politics aside, the chefs at the Turkish Airlines lounge do make a tasty version of the dish.
Gözleme
A new feature in the Turkish Airlines Miles&Smiles Lounge is a station where a chef prepares some gözleme, which is a filled Turkish flat bread. In the Miles&Smiles Lounge, it is filled with spinach, creating a healthy and relatively light dish.
Indian and Italian food
All the way in the back of the lounge (around the corner of the pide bakery) you will also find a fairly hidden food station where you can get some very tasty Indian food (chicken tandoori, rice and lentils – one of my own favourites in the lounge).
Next to the pide station, there is also a station in which sometimes fresh vegetarian pasta is cooked.
Breakfast
In the morning, all of the above food stations are closed as some are used to prepare more typical breakfast specialties. There is for example a station which prepares eggs cooked to order, there are the traditional Turkish simit breads (a kind of bagel) and one in which kumru is made (a cheese, tomato and sausage sandwich which traditionally comes from the part of Turkey around the city of Izmir).
Desserts, cakes, pies and baklava
Of course you can count on the Turks to also have plenty of sweets available in the lounge. There is a wide choice of Turkish delight and different cakes and pies, as well as of course baklava.
You can find this 'sweet tooth' station on the balcony terrace. You will also find here some large canisters filled with Turkish Airlines' trademark raspberry and lemonade drinks which are served as pre-departure beverages in business class.
Coffee and tea
Let's move over to the drinks. On two places in the lounge there is a coffee bar where you can get your fill of caffeine. This is proper barista coffee, so you can look forward to a tasty espresso, cappuccino or latte. It being Turkey, the barista can of course also make you a Turkish coffee.
If you are just making a quick pit stop in the lounge, it is also possible to ask for a takeaway coffee to bring along on your walk to the gate.
There are also large canisters here with Turkish tea, although for a wider selection you are advised to go to the special tea room.
Soft drinks, water and beer
At multiple places throughout the lounge, you can find an open fridge placed against the wall. You can grab a can or bottle of soda, water or Efes beer from these self-service fridges.
Wine and booze
Throughout the Turkish Airlines Miles&Smiles Lounge you can find small drinks carts. Some are wine carts with a large collections of wine bottles on top and wine glasses hanging down from the bottom, while others contain only bottles of strong alcohol.
The Turkish Airlines Lounge has a large selection of wine. There are always at least five whites, five reds and two rose wines available. All of them are Turkish, which makes for some fun tasting if you are not familiar yet with Turkish wine (some of them are quite good!).
The booze selection inside the lounge is certainly good too in both quantity and quality. It includes some mid to top-shelf brands such as Jack Daniels and Johnny Walker for whiskey (bourbon) and Hennessy as cognac. All is self-serve.
Internet
If I need to name one (slightly) negative aspect of the Turkish Airlines Miles&Smiles Lounge then it would be the WiFi internet. To get access to the network, you need to scan your boarding pass at one of the internet machines in the lounge, which will then print a ticket with your WiFi login name and password.
Most of the times, the WiFi network is reliable and has fairly good speeds. At peak times, it can happen however sometimes that in some parts of the lounge the internet becomes almost unworkable if you need to perform some more data-intensive tasks.
If this happens, you are almost forced to sit in the middle of the lounge (close to the pide and moussaka food stations) where the WiFi station is the strongest from my experience.
At peak times it can also be tricky to find a spot in the lounge with a power socket, although I always managed to find one on my visits to the lounge. Sometimes, it might only require a 5 to 10 minute walk through the lounge to find an available spot. Don't forget to look at the floor, as some of the power sockets are hidden in the ground underneath some iron covers.
That said, in my many experiences visiting this lounge this was all not an issue most of the times. Let's say that I only faced some issues with the WiFi and available power sockets on 2 out of my 15 last visits to this lounge.
Service
Service in the Turkish Airlines Miles&Smiles Lounge is great. A team of cleaners are constantly walking through the lounge to collect empty plates and glasses and to prepare tables for the next lounge guests.
Apart from the shower rooms, there are two restroom areas inside the lounge. In each restrooms there is always a cleaner walking around (one for the men, one for the women) who constantly checks on the cleanliness of the toilets, making sure that they remain immaculately clean.
This is an aspect of the lounge which I also really appreciate and for which the cleaners do unfortunately not always get enough credit, so I want to emphasise the great job they are doing here.
In short
The Turkish Airlines Miles&Smiles Lounge is without doubt one of the finest airline lounges in the world. The space is gorgeous and makes for a nice, comfortable place to await your flight.
Of course best of all is the food. The buffet is full of fresh, healthy options such as salads, veggies and cheeses. If you want something more filling there are more than half a dozen live cooking stations in which proper chefs prepare freshly cooked meals.
When it comes to the drinks on offer in the lounge, Turkish Airlines delivers as well. There is proper barista coffee, a huge choice in wine and a good selection of booze.
The lounge has countless of other facilities which guests can use, such as a miniature race track and playground for children, big and well-appointed shower rooms, and even sleeping rooms for passengers with a long airport transit. The lovely staff keeping the premises spotlessly clean is another positive factor of this lounge.
The only minor negative I can think of is the at times spotty WiFi connection and the bit of a search for a place to charge your electronic devices at peak rush hour if the lounge is quite full.
All combined, I can only say that Turkish Airlines did an astonishing job with their Miles&Smiles and Business Class lounges at Istanbul Airport. The great lounge experience is a big reason why I'm a happy Turkish Airlines customer and often select them above their competitors when I need to fly somewhere.
Trip report index
This article is part of the 'Lazing in Laos and Gallivanting a Wee Bit Around Asia' trip report, which consists of the following chapters:
1. Review: Aegean Airlines Business Class Bucharest to Athens (Airbus A320)
2. Review: Goldair Handling Lounge (Non-Schengen) Athens Airport
3. Review: Saudia Business Class Athens to Jeddah (Airbus A320)
4. Review: Saudia Alfursan Lounge Jeddah Airport South Terminal
5. Review: Review: Saudia Business Class Jeddah to Kuala Lumpur (Boeing 787)
6. Review: CitizenM Hotel Kuala Lumpur Bukit Bintang
7. Kuala Lumpur in One Day: What to See and Do in 24 Hours
8. A Batu Caves Half Day Trip From Kuala Lumpur By Public Transport
9. Review: Plaza Premium Lounge Private Resting Suite Gateway KLIA2
10. Review: Air Asia Kuala Lumpur to Vientiane (Airbus A320)
11. Review: Hotel Khamvongsa, Vientiane, Laos
12. Destination Trip Report: A Day in Vientiane, Laos
13. Guide: Domestic Bus Travel in Laos and How to Book a Ticket
14. Review: Simon Riverside Hotel, Vang Vieng, Laos
15. Trip Report: Vang Vieng – Worth a Stop on Your Laos Itinerary?
16. Review: Villa Ban Phanluang, Luang Prabang, Laos
17. Luang Prabang: The Stunning Pearl of Indochina
18. Guide: Luang Prabang Morning, Food and Night Markets
19. Kuang Si Falls: A Gorgeous Luang Prabang Day Trip
20. Review: Thai Smile Economy Class Luang Prabang to Bangkok (Airbus A320)
21. Review: Ibis Styles Bangkok Sukhumvit 4
22. Review: Air France/KLM Business Lounge Bangkok Airport
23. Review: Garuda Indonesia Business Class Bangkok to Jakarta (Boeing 737-800)
24. Review: Sapphire Plaza Premium Lounge Terminal 3 Jakarta Airport
25. Review: Garuda Business Lounge Terminal 3 Jakarta Airport
26. Review: Review: Japan Airlines Business Class Jakarta to Tokyo Narita (Boeing 787-8)
27. Review: Capsule Hotel Transit Shinjuku, Tokyo, Japan
28. Tokyo Stopover: What to See and Do in the Capital of Japan for a Day
29. Review: ANA Business Lounge Tokyo Narita Airport
30. Review: United Club Tokyo Narita Airport
31. Review: Turkish Airlines Economy Class Tokyo Narita to Istanbul (Boeing 777)
32. Review: Turkish Airlines Miles&Smiles Lounge Istanbul Airport (current chapter)
33. Review: Turkish Airlines Economy Class Istanbul to Bucharest (Airbus A330)