Review: Diamond Lounge Brussels Airport Pier B Non-Schengen
In this review, we will check out the Diamond Lounge at Pier B (Non-Schengen flights) of Brussels Airport.
Brussels Airport
After a short, uneventful SAS flight from Oslo to Brussels I found myself in the vast concourse of Pier A of Brussels Airport, which is being used for flights within the Schengen Zone.
Brussels' main airport of Zaventem (BRU) is usually a breeze to connect. On flight connections solely within the Schengen Area there is no security screening as you basically stay inside the concourse of Pier A at all times.
In my case, I however had to make my way to Pier B which is being used for non-Schengen flights. Apart from a long walk it was an easy transfer as there was no queue at all for passport control.
I can highly recommend the YouTube videos of Brussels Airport for those who connect for the the first time through this hub. Below is Brussels Airport's video of the route I took. Their YouTube also has more videos explaining all other possible connections as well (such as Pier B to Pier A if coming the opposite way, which is basically the same route – but has an additional security screening).
Pier B lounges
From the arrival of my SAS flight from Oslo to the departure of my TAROM flight to Bucharest I had a total of 9 hours and 40 minutes to kill. This would of course have been plenty of time to head out of the airport and into the city of Brussels, but as I had quite some work to do I opted to stay the entire time in the lounge.
There are three business lounges in Pier B. Home carrier Brussels Airlines operates 'The Suite', which is the designated lounge to all Star Alliance member airlines. British Airways has a lounge as well at Brussels Airport, which is also used for those departing on a Qatar Airways flight.
Finally, there is the Diamond Lounge, which is basically being used by about every other airline operating from Pier B.
Diamond Lounge entry requirements
If you are a business class passenger or have lounge access courtesy of your frequent flyer programme, you will have complimentary access to the Diamond Lounge if this is the designated lounge of the airline you fly with.
I was flying out of Brussels on TAROM in economy class, and was granted access to the lounge courtesy of my platinum status with Air France/KLM's Flying Blue programme (Sky Team Elite Plus).
Priority Pass members are eligible to use the Diamond Lounge as well. According to the website of Brussels Airport, paid access to the lounge is also possible. This will cost you 39 euro on the spot or 34 euro when you reserve your lounge pass in advance.
If you buy a one-time lounge pass in advance, make sure that you buy it for the right Diamond Lounge, as there is a Diamond Lounge as well in Pier A for Schengen Zone flights.
Lounge design
The non-Schengen Diamond Lounge basically is one large rectangular space, with the food and drinks buffet to be found directly at the lounge reception and the restrooms all the way in the back.
On one side of the lounge large windows overlook the tarmac, although the views are quite a bit obstructed due to the windowsill and some bars on the outside. The windows do however make the lounge feel bright and airy.
The lounge itself is not the prettiest you'll find within Europe and has a bit of an Ikea feel to it. The interior design of the lounge is however done smartly, with objects such as plants and pillars being placed in such a way that different seating areas are created. This way, the lounge does have quite a bit of privacy and feels a bit more intimate.
There is a large array of different seats, ranging from dining tables to loungers, sofas and comfortable chairs.
Work spaces
As I had some work to do, I headed straight to the work spaces in the lounge, which offer quite a bit of privacy and seclusion as well despite being open from the side.
Thanks to the strong WiFi connection and fast internet speeds, it made for an excellent spot to get some work done on my laptop.
Even if you sit elsewhere in the Diamond Lounge this is a great location to work, as there are plenty of power sockets throughout the lounge to keep your laptop and other electronic devices charged.
Lounge buffet
The Diamond Lounge has a single buffet area which can be found right in front of the reception desk. Although the food buffet isn't exhaustive, it is good in quality – especially considering this is a third party contract lounge and not some major airline's hub lounge.
Besides bread and pastries, cold cuts, salads, sweets and crisps and nuts, you can always find at least two hot mains at the buffet, as well as a soup. I've visited the Diamond Lounge a number of times and always thought the quality of the food is very good. You'll definitely be able to get a good meal or snack here before your flight.
Drinks
There is a good choice of beverages to be found in the Diamond Lounge. Self-service fridges contain everything from bottled water to soft drinks and juices. On the counter next to it, you can find a coffee machine and a small selection of different teas.
There are also some decent wines available in the lounge, as well as sparkling wine (a rather good Vilarnau Brut Reserva cava – which is miles better than the sub-standard cava served on board my previous KLM flights).
The selection of strong alcohol is a bit more limited. It consists out of the standard mid-shelf alcohol brands such as Bombay Sapphire gin and Bacardi rum.
Beer
This being Belgium, the pride of the booze selection is of course the beer, which deserves a separate paragraph. If you like your Belgian ales, the Diamond Lounge is definitely a nice place to kill some time before your flight. Just watch out not to overindulge!
There is both Leffe Blonde and Leffe Brune from draught available, as well as plenty of bottled beers in the fridge such as Stella Artois, Hoegaarden and Belle-Vue Kriek (a cherry beer). All have of course their proper glassware to pour the perfect pint.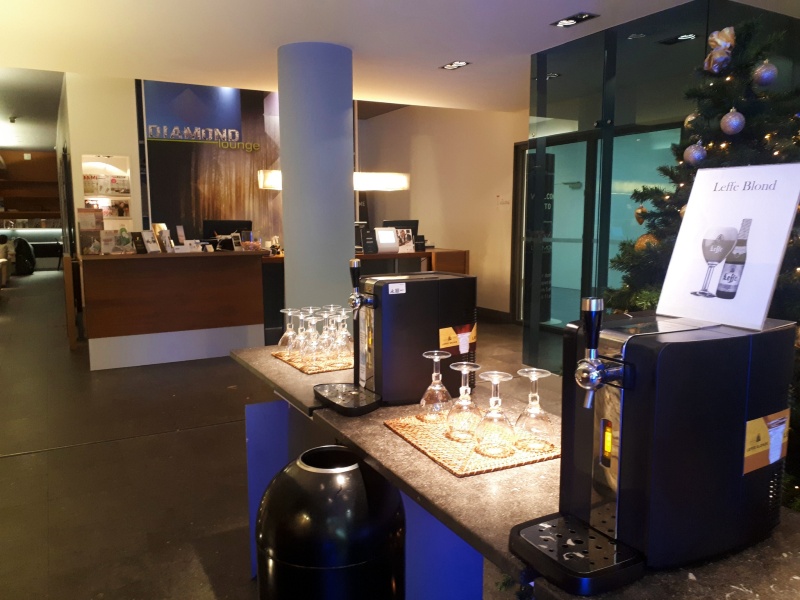 Shower
There are showers available in the restrooms of the Diamond Lounge. You have to report at the reception desk in order to get the keys. When I inquired about it at the end of the morning, there was no queue at all and I could enter the shower room straight away.
The shower room itself is certainly large and made for a refreshing shower during my layover, although the provided amenities were fairly basic.
In short
The Diamond Lounge at Brussels Airport is a decent-looking, comfortable place to wait for your flight and a great space if you need to do some work before boarding your plane.
The buffet is certainly not exhaustive, but the quality of the food is actually good and there is enough choice to keep everyone satisfied. As there is always a soup and at least two cooked options available, you can certainly get a good bite here before your flight. A large shower room also makes this a good lounge for those who need to refresh themselves during their layover at this airport.
Best of all is of course the beer. The Diamond Lounge does Belgium proud by offering quite a large selection of beer, including two from tap. If you seek one last quality beer before leaving the country, you will definitely not be disappointed.
Overall, I'd say that although the Diamond Lounge is not great, it certainly ranks well above average when compared to other European lounges.
Trip report index
1. Review: Wizz Air Bucharest to Oslo Sandefjord Torp (Airbus A321)
2. A Day in the Norwegian Capital of Oslo
3. Review: Norwegian Railways Night Train Oslo-Stavanger in a Private Sleeper
4. Review: Radisson Blu Royal Hotel, Stavanger
5. Stavanger – A Great Norwegian City Trip Surprise
6. Review: North Sea Lounge Stavanger Airport
7. Review: KLM Cityhopper Business Class Stavanger to Amsterdam (Embraer RJ-175)
8. Guide to the Carnival Celebrations in the Netherlands
9. Review: KLM Crown Lounge (Schengen) Amsterdam Airport
10. Review: Air France Business Class Amsterdam to Paris (Airbus A319)
11. Review: 'Salon Paris' Business Class Lounge Paris CDG Terminal 2C
12. Review: Aeroflot Business Class Paris to Moscow (Airbus A320)
13. Review: Aeroflot Domestic Business Class Lounge Moscow Sheremetyevo
14. Review: Aeroflot Domestic Business Class Moscow to Irkutsk (Boeing 737-800)
15. Review: Matreshka Hotel, Irkutsk
16. Irkutsk Trip Report: Exploring the 'Paris of Siberia' in Winter
17. Review: Mayak Hotel, Listvyanka (Lake Baikal)
18. A Winter Trip to the Frozen Wonderland of Lake Baikal
19. Review: Ibis Irkutsk Center Hotel, Irkutsk
20. Review: Domestic Business Class Lounge Irkutsk Airport
21. Review: Aeroflot Domestic Business Class Irkutsk to Moscow (Boeing 737-800)
22. Review: Pushkin Hotel, Moscow
23. A 24 Hour Stopover in the Russian Capital of Moscow
24. Review: 'Moscow' and 'Jazz' Business Lounges Moscow Sheremetyevo Terminal D
25. Review: Aeroflot Business Class Moscow to Paris (Airbus A320)
26. Review: TAROM Business Class Paris to Bucharest (Airbus A318)
27. Review: TAROM Business Lounge Bucharest Otopeni Airport
28. Review: Air France Business Class Bucharest to Paris (Airbus A320)
29. A Short Overnight Stopover in Paris
30. Review: Sheltair Business Lounge Paris CDG Terminal 2D
31. Review: Azerbaijan Airlines Business Class Paris to Baku (Airbus A320)
32. Review: Old City Hotel and Apartments, Baku, Azerbaijan 
33. Destination Baku: An Intriguing Mix Between Old and New
34. Guide: Train Travel in Azerbaijan
35. Sheki: Azerbaijan's Most Lovely Town and Springboard to the Caucasus
36. Must Be the Ganja! A Visit to the City of Ganja in Azerbaijan
37. Review: Shah Palace Hotel, Baku, Azerbaijan
38. Review: Azerbaijan Airlines Business Lounge Baku Airport
39. Review: Azerbaijan Airlines Business Class Baku to Paris (Airbus A320)
40. Review: Air France Business Lounge Paris CDG Terminal 2F
41. Review: KLM Business Class Paris to Amsterdam (Boeing 737)
42. Review: KLM Business Class Amsterdam to Bergen (Boeing 737)
43. Blissful Bergen – Is It Really Norway's Most Beautiful City?
44. Review: Bergen to Oslo on a Norwegian Intercity Train (Bergensbanen Railway)
45. The Flamsbana Railway – From the Myrdal Mountains to the Fjord at Flam
46. Review: SAS Economy Class Oslo to Brussels (Boeing 737-600)
47. Review: Diamond Lounge Brussels Airport Pier B Non-Schengen (current chapter)
48. Review: TAROM Economy Class Brussels to Bucharest (Boeing 737-800)