Review: Aegean Airlines Economy Class Bucharest to Athens (Airbus A320)
In this review, we will take an Aegean Airlines flight from Bucharest to Athens in economy class on the Airbus A320-200.
Aegean Airlines
After a quick visit to the MasterCard Lounge at Bucharest Otopeni Airport, it was time to board my flight to Athens.
Just two months earlier I took the same Bucharest to Athens Aegean Airlines flight in business class, so I was curious to see how the experience in economy class would compare on the exact same flight.
In the weeks before your flight, Aegean Airlines will inform you by mail about the possibility to bid for an upgrade to business class.
Called the 'Aegean Upgrade Challenge', this can be worthwhile to some passengers – especially those who would otherwise not benefit from perks such as lounge access or an extra checked bag.
This time I did not put in a bid and just went for economy.
Being a regular on Aegean Airlines, I knew that the airline generally has a very good economy product too and that it is certainly a civilised way to fly.
Would that also be the case on this flight? Well, let's read on!
Bucharest (OTP) to Athens (ATH) on Aegean Airlines
Flight A3 961 – Airbus A320-200 – Economy class, seat 5A
Departure: 10.40am – Arrival: 12.15pm
Flight time: 1h35m – Distance: 471 miles
Costs: 75 EUR for OTP-ATH-DBV
Boarding
Priority boarding was neatly enforced as the gate agents asked business class passengers and frequent flyer elites to step forward, a group of around eight people in size.
As one of the first, I walked down the jet bridge to the Airbus A320-200 which would operate today's flight to Athens.
After being given a warm welcome on board by the crew, I headed down to seat 5A.
Aegean Airlines economy class seat
The economy class seats on board Aegean Airlines planes are relatively standard seats and not dissimilar to those found on other European airlines.
The leather seats are well-padded and comfortable, and especially in the front rows the seat pitch and leg room is absolutely fine.
For a flight of up to three or four hours in length, these are perfectly acceptable seats with enough shoulder and elbow space.
Emergency exit and front row seats cost extra to book in advance.
Even during online check-in these seats are still subject to a surcharge, so only on a full flight when asking at airport check-in will you be able to potentially snag them without paying for it.
The only exception are elite members of the Aegean Airlines Miles+Bonus frequent flyer programme, who can buy these seats with a 50% discount.
However, if you do not select a front cabin seat in advance, frequent flyer elites of Aegean Airlines and other Star Alliance partners usually get assigned a front row seat automatically at online check-in.
My plane did not have any USB ports or power sockets, which is the situation on board the bulk of the aeroplanes used by Aegean.
Departure
The plane turned out to be around 85 percent full.
Thanks to Aegean Airlines' seating policy this meant that almost everyone was seated in the back of the plane, with the front rows being relatively empty.
Fortunately, this meant that I had no seat mates and basically had row 5 completely to myself.
If you are seated in the crowded back of the plane, you can try to switch seats after take-off if you like, but do note that most Aegean crews seem to actively send people back to their assigned seat from what I saw on previous flights.
Before departure, the flight attendants hand out small candies to all passengers, which I think is a nice touch.
We took off from Bucharest Otopeni Airport on time.
Quite unusually, we had a flight path which would take us straight over the city of Bucharest, something which I never experienced before on many dozens of flights.
It made for some great views out of the window as landmarks such as Nicolae Ceaușescu's mad Palace of Parliament and the national stadium.
Meal service
Once we reached cruising altitude, the crew almost immediately kicked of with the in-flight meal service.
No matter how short the flight, you will always get a snack and a drink of choice when flying Aegean.
On longer flights within Europe (if I'm correct, the benchmark is all flights longer than 2 hours in length) you will even receive a warm meal.
The quality of the snacks and meals served on board of Aegean Airlines is generally quite good from my experiences flying the airline.
On the Bucharest to Athens route, you can expect a sandwich and something sweet, either a candy bar or a piece of baklava or the like.
This time, the sandwich was a decent ham-and-cheese bun.
Besides coffee, tea and soft drinks, beer and wine is complimentary too. I went for a Greek Alfa beer this time around.
Service
I consistently find service on Aegean Airlines to be great. Crews may not always be super warm, but Aegean Airlines flight attendants are always polite, friendly and helpful.
The crew on my flight was fantastic in every way possible.
From the moment I boarded the flight I immediately felt welcome and they genuinely seemed to be pleased to serve us and work today's flight.
It's a small thing, but when you ask for a drink with your meal, Aegean flight attendants will often ask if you want a glass of water with it as well, which is a nice touch.
Although one can also say that this has as much to do with Greek culture as in Greece you will get complimentary water with every coffee, wine or beer you order at a taverna.
Also in other aspects the crew did their work excellently.
When I went to the toilet shortly before landing, the flight attendant in the back of the plane quickly checked the lavatory whether it was still in a clean state before opening the door for me to enter.
Entertainment
None of the Aegean Airlines planes have in-flight entertainment.
Although there are some screens throughout the cabin, these normally only play the route map and some promotional videos of Aegean Airlines and Greece.
Note that currently none of the planes are equipped with WiFi internet.
Entertainment on board is thus basically limited to the in-flight magazine (which is quite a big book and a nice read, especially if you seek some inspiration for your Greek holiday) and whatever the views are from the plane window.
Flying to Greece I always select a window seat as I just love to stare out of the window and watch for the first glimpses of the deep blue Aegean Sea after which the airline is named.
There is just something magical seeing the waves glittering in the sunlight and spotting the dozens of large islands and tiny islets from the sky.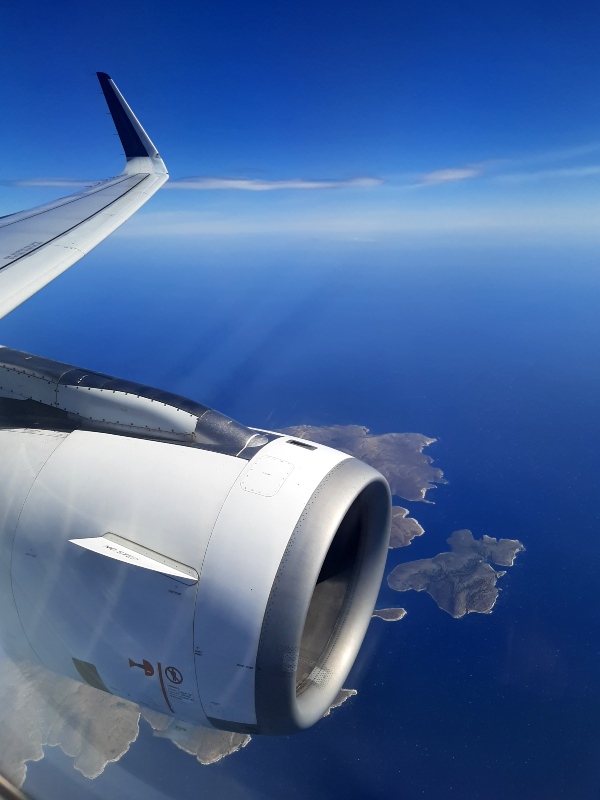 Arrival
The flight went by extremely fast and soon we were already on our final descent into Athens Eleftherios Venizelos International Airport named after the Cretan-born statesman who was seven times Prime-Minister of Greece and is considered as the father of the modern-day Greek state.
As always, views on arrival into Athens were great and made me look forward to visiting Greece again in the near future.
We finally landed on-time in Athens and after a short taxi ride parked at a remote bus gate, which is usually the case for flights from Bucharest.
Conclusion
Aegean Airlines has in my opinion one of Europe's best economy class products.
The seats are comfortable and spacious as far as modern-day economy class goes, there is always a complimentary snack and drink, and service by the flight attendants is done with a smile.
There are definitely some improvements which could be made, such as adding USB power ports and WiFi internet, although these are in my opinion minor issues for an airline which exclusively flies short to mid-haul routes only.
The bottom line is that where it matters most – comfort, seat, service and meal – Aegean certainly ranks among the top of European airlines.
The airline also runs an extremely smooth and reliable operation, another important factor on which the airline has a clear advantage on some of its competitors.
My Bucharest to Athens flight in economy class on the Airbus A320 was again a comfortable, enjoyable flight and I look forward again to the next time I can fly Aegean Airlines again.
Trip report index
This article is part of the 'An Adriatic Adventure: Off-Season Travel to Dubrovnik, Montenegro and a Bit of Bavaria' trip report, which consists of the following chapters:
1. Review: MasterCard Business Lounge Bucharest Otopeni Airport
2. Review: Aegean Airlines Economy Class (Airbus A320) Bucharest to Athens (current chapter)
3. Review: Aegean Business Lounge Athens Airport Hall A (Non-Schengen)
4. Review: Olympic Air Economy Class Athens to Dubrovnik (Bombardier Dash 8-400)
5. Review: Apartments Festa, Old Town of Dubrovnik
6. A Dubrovnik Winter Trip: Off-Season Travel Away from the Tourist Crowds
7. Review: Dubrovnik (Croatia) to Kotor (Montenegro) by Bus
8. Review: Palazzo Drusko Deluxe Rooms, Kotor, Montenegro
9. Kotor, Montenegro: Old Town Charm in Europe's Most Spectacular Scenery
10. Cetinje – The Old Royal Capital of Montenegro
11. Review: Ramada by Wyndham Podgorica, Montenegro
12. Podgorica: Is the Capital of Montenegro Worth a Visit?
13. Review: Wizz Air Podgorica to Memmingen (Airbus A320)
14. Memmingen: More Than Just a Low-Cost Airport Close to Munich
15. The Bavaria Ticket: Unlimited Train Travel Across the German State of Bayern
16. Review: Michel Hotel Landshut, Bavaria, Germany
17. Landshut: Bavaria Off The Beaten Track
18. Review: Air France/KLM Lounge Munich Airport
19. Review: Air France Economy Class Munich to Paris CDG (Airbus A319)
20. Review: Air France Business Lounge Paris CDG Airport Terminal 2E – Hall L
21. Review: Air France Economy Class Paris CDG to Bucharest (Airbus A320)