A Dubrovnik Winter Trip: Off-Season Travel Away from the Tourist Crowds
In this trip report we visit the city of Dubrovnik in Croatia in the off-season winter month of (early) March when the city is completely devoid of tourist crowds.
Tourism
Already when I walked off the plane into an empty terminal, took a shuttle bus with only a handful of other tourists in it, and walked from the bus stop to my Dubrovnik apartment I started to realise just how empty the city was.
From mid-spring all the way until October, Dubrovnik is amass with tourists.
Although the city has always been popular among tourists, the vast increase in tourists traversing the Adriatic Sea on cruise ships and making port calls in Dubrovnik contributed to the overcrowding of the old town.
The popularity of the HBO series Game of Thrones, which used Dubrovnik as backdrop for the fictional city of King's Landing, only brought more tourists from all around the world to Dubrovnik's wonderful old town which already struggled to cope with the crowds.
With millions of people having put Dubrovnik on their 'bucket list', summer crowds are likely only to get worse in the future.
Exploring the old town
Of course, there is nothing wrong with people wanting to see Dubrovnik.
After all, the city is without doubt drop-dead gorgeous I was thinking out loud.
But as I walked into the first couple of old town streets without seeing any other tourist in sight I started to realise that there is much more to the story of overcrowding and overtourism in cities like Dubrovnik, Venice or Barcelona.
Although overtourism is certainly a problem, with most locals having left the old town long ago being displaced by tourist apartments, it is also very much a seasonal issue.
If you visit any of these cities infamous for its tourist crowds in the off-season months, you feel like you are king and have the entire place to yourself!
The first 20 minutes, I only encountered a single cat sitting in front of a door and not any human whatsoever.
Game of Thrones sights
You can easily see the influence Game of Thrones has on Dubrovnik as in the main streets you will see signs everywhere for GoT-themed walking tours, GoT escape rooms and souvenirs shops selling rather tacky GoT merchandise.
Although none of the above is of any interest to me, I did certainly enjoy watching the entire Game of Thrones series and it certainly is quite cool to see the places where famous scenes were filmed.
Perhaps no place is more famous than the historic stairs in front of the Saint Ignatius Church, which is of course the place where Cersei Lannister performed her 'walk of atonement' after being stripped bare by the fanatics of the Faith Militant all supervised by the High Sparrow.
If you do visit Dubrovnik in the midst of summer, you will likely encounter crowds here ten times as great than in the actual movie scene.
Visit in March just like I did? Not a soul around! You can actually see the stairs and admire the beauty of it.
Outer forts
When walking through the most southerly street of Dubrovnik's old town closest to the sea you don't realise that the water is so close by as some vast walls stand in the way.
At regular intervals, the old rulers of Dubrovnik constructed bastions to protect the city from a seaborne attack.
These forts, which have names such as Svetog Petra, Sveta Margarita or Sveti Stjepan, can be visited.
For some of these forts you need to pay a pricey admission ticket to be able to climb onto the bastion towers.
However, at some locations you can simply walk through a passage in the walls to the outer side and admire the fortress views without paying anything, which is a great alternative for those on a budget as Dubrovnik can certainly be an expensive city.
Weather
Although the weather was quite stormy on this day, it was fabulous to sit down by the sea and watch the waves crash ashore.
Sure, I agree that summer weather with clear blue skies probably is more attractive, but there is something equal special to Dubrovnik when the weather is a bit gloomy.
With temperatures of around 14 degrees Celsius, it wasn't exactly cold and wearing a thin spring jacket easily sufficed when walking around town.
A trip in winter or early spring will mean that the weather can be a bit unpredictable, with equal chances of getting clouds or blue skies.
While my first day in the city brought stormy weather, the following day I would end up enjoying a sunny spring day!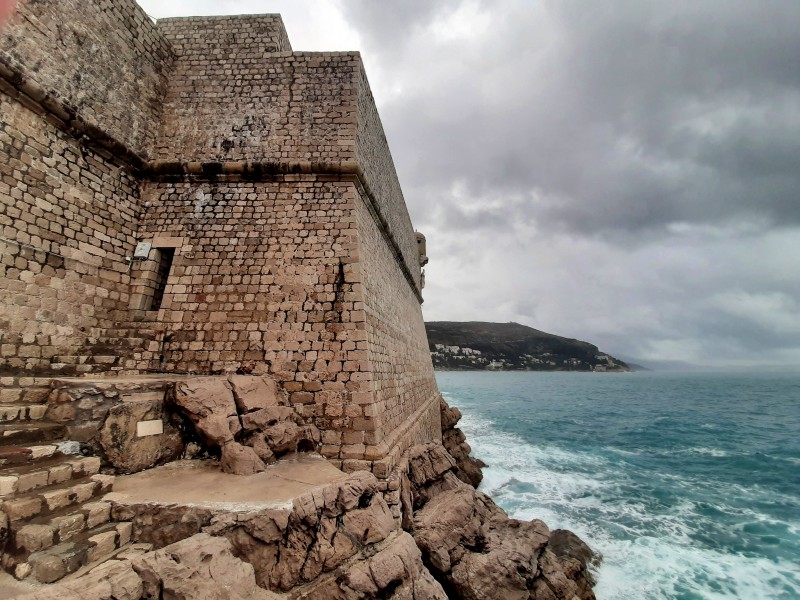 Dubrovnik cathedral
I continued my way through the narrow cobblestoned streets and alleys of Dubrovnik's old town.
Although you can walk around using Google Maps or an old-fashioned paper map from sight to sight, it is way more fun to just wander around randomly and just see what you come across.
After a while I found myself standing in front of the baroque Cathedral of the Assumption of the Virgin Mary, which is Dubrovnik's main cathedral and well-worth a quick visit.
Rectoral Palace
Dubrovnik's cathedral is located on a wide street, which feels more like some kind of central square given its size and importance.
It is home to several other notable buildings such as the Rector's Palace. Built in Gothic style, the beautifully decorated building is home to a museum which details the city's glorious history and showcases some old paintings and other artworks.
If you are in need of a bite or refreshment, you can also find plenty of cafes and restaurants lining the square, most of them having outdoor seating terraces.
However, you will most likely pay a premium for the prime location.
As a rule of thumb, remember that the further away you go from the main streets and tourist attractions, the lower the prices will be.
Even going just one alley away can often make a world of difference.
Churches and palaces
There are also quite a few more important – and gorgeous – buildings at the other end of this street.
The Church of Saint Blaise was built by the Venetians in baroque style and is still one of the main churches of Dubrovnik.
Saint Blaise, called Sveti Blaž in Croatian, is also the patron saint of Dubrovnik and its staunchly catholic population.
For many years, Dubrovnik was actually ruled by the great city state of Venice, although the locals managed to shake off Venetian control in the 14th Century, becoming a leading maritime power in the Adriatic Sea and great rival of their Italian competitors on the trade routes.
Diagonally opposite the church you can find the Sponza Palace, built in a mixture of Gothic and Renaissance styles.
The most notable landmark is without doubt the 'zvonik' – the city's bell tower.
Measuring 31 metres high (101 ft), this clock tower can be seen from afar which makes it a clearly identifiable orientation point.
Ploče Gate
Dubrovnik's old town has four entrance gates, of which the Ploče Gate on the eastern approaches is arguably the most beautiful.
The fortified entrance tower is connected to a stone bridge, from where there are some lovely views over the old town and its harbour.
There are perhaps even better views from the ramparts inside the fortifications, which features some pretty cool cannons pointed at the harbour entrance.
Just inside the city walls you will also find the Dominican Monastery.
Although its massive stone walls on the outside almost makes you think it is part of the fortifications, the lovely Gothic-style courtyard certainly feels more peaceful.
Northern slopes
To the north of the old town of Dubrovnik is a steep mountain slope.
From the centre of the old town, there are several streets going uphill, which makes for quite a climb on the hundreds of steps.
It is however absolutely worthwhile to walk up, as the views back over the old town are fabulous.
In these streets there are a few down-to-earth cafes, pubs and wine bars which are well-worth a visit.
I stopped at the fun-looking Buzz Bar for a beer, which during my visit was fairly full with both high school students and a few middle-aged locals.
At just under 3 euro for a pint, the prices were certainly among the lowest I saw in the entire old town of Dubrovnik.
War
While walking the steps on the north side of the old town I was reminded of the unique geographical location of Dubrovnik on the mountainous Croatian coast.
Although the mountains and sea certainly added to the protection of the city in Medieval times, making a siege from the north and south all but impossible, this was not the case in more recent history.
During the Yugoslav Wars, the old town of Dubrovnik was besieged and shelled by the Serbian-dominated Yugoslav army which held the higher grounds on the mountain.
The Croatians, who were fighting for independence, were basically sitting ducks for the Serbian artillery placed on the high ground.
In total 194 Croatian soldiers as well as some 80 Croatian civilians were killed in the siege, which was eventually lifted by the victorious Croatian forces.
Some 10,000 buildings were damaged by the shelling, although the damage has long been repaired.
If you want, you can take a cable car to a viewing platform 778 metres (2,552 ft) up on the mountaintop for sweeping views over the old town and coastline.
The lower cable car station is located just outside the northern town gate.
Stradun
Dubrovnik's main artery is Stradun, which runs from Pile Gate in the west all the way to Ploče Gate in the east.
This wide pedestrian street is lined with cafes and restaurants and especially in the high summer season will be full of people taking a stroll.
On its western side you can find the huge Onofrio Fountain, a circular fountain using mountain spring water built in 1438. It is decorated with some ornate, carved-stone masks.
Pile Gate
Pile Gate is nowadays the main entrance point to the old town of Dubrovnik as right outside you can find the local bus stop from where buses depart to the modern-day town centre, the ferry and cruise port and the main bus station.
There is a small park underneath the Pile Gate bridge, which leads to a viewing point on the rocky Kolorina inlet.
There are some great vistas here over the seaside fortifications and bastions such as Tvrđava Bokar and Lovrijenac.
As by the time I arrived the sun slowly went under, I paused for a while to admire the lovely views over the choppy sea.
Dinner
So far I tremendously enjoyed walking around a near-empty Dubrovnik between a handful of other tourists and the few locals, there is one downside when visiting in the low season.
Around a third to half of the restaurants and cafes will still be closed, so the city will of course be less lively when it comes to dining and nightlife.
Fortunately, quite a few of these places are the ones you don't want to visit anyway as this category also includes the kind of touristy restaurants where you pay a hefty premium for mediocre food.
The host of my apartment recommended one Croatian fish restaurant and a Bosnian meat restaurant.
As I was getting quite hungry at this point, I decided to settle for the Bosnian place.
Bizarrely named 'Taj Mahal', this restaurant does not serve any Indian food but rather grilled meats, veggies and other Bosnian staples.
The welcoming and warm service in this small restaurant certainly rekindled memories of previous trips I made through Bosnia.
I went for some ćevapčići (Balkan-style grilled minced meat rolled) and krompir (foil-wrapped potato from the oven filled with kaymak cream cheese) and a Sarajevsko beer – which was certainly all very tasty.
The dinner set me back around 20-25 euro, which in Bosnia would be outrageously expensive, but was in fact actually quite decent for Dubrovnik's old town where most of the sit-down restaurants have highly inflated prices.
If you visit Dubrovnik on a budget, food choices will be mainly limited to kebabs and pizza.
Night out
There isn't much of any nightlife whatsoever if you visit during the off-season.
Although there are some places in the modern-day town which will be busy with locals, the old town is mostly deserted in the evening – even more so than during the day when it already was eerily quiet.
There are however still a handful of bars and pubs open, although most of them will only be filled by a handful of locals only so don't expect too much from it.
That said, I had a fun evening drinking beer at Glam Cafe, which had quite an extensive drinks list with some surprisingly good craft beers.
I can certainly recommend the beer called 'Goa' – a proper IPA brewed in the city itself by Dubrovnik Beer Co.
The Imperial Hazelnut & Toffee Stout by Zagreb-based The Garden Brewery hit the spot too, as did some other Croatian beers which I tasted.
Night walk
Slightly intoxicated, I left the pub and slowly walked back to my apartment.
Wandering on an empty Stradun, I realised just how special Dubrovnik can be at night.
The city lights reflect gorgeously off the stone streets and houses, creating a special palette full of warm colours.
It is well worth it to walk again along some of the main sights and see them beautifully lit up in the spotlights.
All the time I didn't encounter a single person, with the only ones left on the street besides me being the local cat population.
Lost
At one point, I had seriously no idea where I was walking at the moment as I lost the GPS signal on my phone and my normally infallible geographic sixth sense became clouded by all the craft beer.
But heck. Especially at this moment, I had King's Landing err.. Dubrovnik all for myself as there was no local or tourist left in the old town after midnight.
There were no masses of Chinese tourists. No American cruise groups.
There was no invasion of Italians and Germans. Just me. All alone in the maze-like alleys completely devoid of any people. I absolutely loved it.
Even though at one point I was able to find my bearings, I liked the night atmosphere so much that I walked around for an hour more before finally retreating to my apartment.
Clear blue skies
The following morning I woke up to clear blue skies overhead, showing how changeable Dubrovnik's weather can be in the winter or early spring.
You can as easily have dark, stormy clouds as some warm sunshine.
After buying some breakfast from a nearby bakery and eating it at home with some much-needed coffee on the side, I was ready to explore more of the city.
As I had an early afternoon bus to Montenegro, I basically had a few morning hours only to see some last bits of the city.
The one-and-a-half days which I spent in the city are really the bare minimum to get a glimpse of Dubrovnik and its unique setting and atmosphere.
To do it justice, I would recommend at least two or three full days.
Early morning
Getting up relatively early in the morning has its advantages as this is the time most locals will be out.
I was surprised to even encounter a small fruit and vegetable market, showing that not all local life has completely disappeared from the old town.
The bakery where I brought some breakfast earlier also seemed to be geared mostly towards locals.
I made my way to the old fishing port to have a look around there in daylight as this was more or less the only corner of the old town which I didn't see the previous day.
There wasn't much activity going on in the port besides one sole fishermen returning with a small catch and three locals catching up on the quay.
Although I loved yesterday's stormy weather, I have to admittedly say that the Mediterranean vibe and colours show themselves better on a day with clear blue skies, making it much nicer to sit down for a while on a bench at the seashore to take in the view.
Cats of Dubrovnik
You might have already noticed it from some of the pictures I posted before, but there are a lot of street cats in Dubrovnik.
These community cats are all well-fed and lovingly taken care off by the locals.
There is perhaps no place better than the Rectoral Palace to see this, as there were even some blankets placed here for the cats to nap on, as well as plenty of food and water in some bowls.
If you are a cat lover and visit Dubrovnik off-season, you will love the experience as the cats are all affectionate and happy to get some attention.
Lovrijenac
As my time in Dubrovnik was slowly coming to an end, I had to make my way out of the old town to catch the local city bus to the main bus station.
The bus stop is located just outside of Pile Gate and is easy to find.
As I still had some time left, I decided to climb up to Lovrijenac Fortress as it was just a few hundred feet away from Pile Gate.
Lovrijenac, or St. Lawrence Fortress, is also known as the "Gibraltar of Dubrovnik" due to its position high on top of a rock.
Although you need to pay to enter the fortress itself, it is free to climb the stairs to the fortress entrance and to absorb the gorgeous views over Dubrovnik and its city walls.
It made for a beautiful final moment in this magical city.
Conclusion
With its picture-perfect old town, tons of charm and long history, Dubrovnik certainly is one of Europe's most evocative destinations.
Although in high season Dubrovnik is overwhelmed by tourists masses, you will have the city more or less for yourself if you make an off-season trip.
During my visit in early March, there were just a handful of other tourists around, making the city feel like your own private playground.
In summer you will walk shoulder-to-shoulder with tens of thousands of others, but in winter, early spring or late autumn the only others which you will have to share the streets and alleys with are the community cats.
If you always wanted to visit Dubrovnik but want to avoid the tourist masses, there is no reason why you shouldn't visit during the low season.
Sure, the weather can be a bit unpredictable, but you are as likely to have some warm sunny days as some clouds and rain.
And as my trip somewhat proved, even in stormy weather Dubrovnik has a special kind of charm.
As I previously wrote in the trip report introduction, I didn't like Dubrovnik during my first visit some years back in June as the crowds made it rather unpleasant.
This time around, I absolutely adored it.
Trip report index
This article is part of the 'An Adriatic Adventure: Off-Season Travel to Dubrovnik, Montenegro and a Bit of Bavaria' trip report, which consists of the following chapters:
1. Review: MasterCard Business Lounge Bucharest Otopeni Airport
2. Review: Aegean Airlines Economy Class Bucharest to Athens (Airbus A320)
3. Review: Aegean Business Lounge Athens Airport Hall A (Non-Schengen)
4. Review: Olympic Air Economy Class Athens to Dubrovnik (Bombardier Dash 8-400)
5. Review: Apartments Festa, Old Town of Dubrovnik
6. A Dubrovnik Winter Trip: Off-Season Travel Away from the Tourist Crowds (current chapter)
7. Review: Dubrovnik (Croatia) to Kotor (Montenegro) by Bus
8. Review: Palazzo Drusko Deluxe Rooms, Kotor, Montenegro
9. Kotor, Montenegro: Old Town Charm in Europe's Most Spectacular Scenery
10. Cetinje – The Old Royal Capital of Montenegro
11. Review: Ramada by Wyndham Podgorica, Montenegro
12. Podgorica: Is the Capital of Montenegro Worth a Visit?
13. Review: Wizz Air Podgorica to Memmingen (Airbus A320)
14. Memmingen: More Than Just a Low-Cost Airport Close to Munich
15. The Bavaria Ticket: Unlimited Train Travel Across the German State of Bayern
16. Review: Michel Hotel Landshut, Bavaria, Germany
17. Landshut: Bavaria Off The Beaten Track
18. Review: Air France/KLM Lounge Munich Airport
19. Review: Air France Economy Class Munich to Paris CDG (Airbus A319)
20. Review: Air France Business Lounge Paris CDG Airport Terminal 2E – Hall L
21. Review: Air France Economy Class Paris CDG to Bucharest (Airbus A320)