The Big Paliparan Travel Advent Calendar for Christmas
To celebrate Christmas, we have launched an online travel advent calendar to look back on past travels and be grateful of all amazing travel opportunities!
Christmas
As you might have already realised, today is Christmas Day for most people in Europe as well as those from many other countries across the world.
Although Coptic and (most) Orthodox believers from countries such as Ethiopia, Russia, Ukraine, Georgia and Armenia will still have to wait for a a few days longer until the start of their Christmas holidays, I would already like to take the opportunity to wish all our readers a merry Christmas!
Travel advent calendar
Needless to say, 2020 has been a hectic travel year for many due to the corona virus pandemic. Those of you who follow the Paliparan twitter page might have seen that I took the opportunity to come up with a travel-related advent calendar.
Every day I posted a picture of a travel destination which is memorable to me, either because it is a drop dead gorgeous destination to visit, or perhaps because the place might have a certain symbolic meaning or story attached to it.
At times it is always good to reflect on past experiences and realise that you are lucky to visit so many beautiful corners of our planet!
2) There is much to complain about this year & I had my shares of misfortune too. That said, I want to keep a positive outlook & highlight good experiences. Until Christmas, I will therefore highlight my favourite travel memories in a kind of #advent calendar. One picture a day.

— Paliparan (@PaliparanDotCom) December 1, 2020
Destinations
It was quite hard to pick 25 destinations for this thread. First of all, I wanted to share memorable trips which tell a story, and not necessarily my 25 favourite places in the world. If that would be the goal, maybe half to even two thirds of the highlighted destinations would have been different.
Secondly, I wanted to make sure there was some geographical and thematic variety between the destinations. There were many awesome destinations which I had to scrap because of this. In the end I did manage to select 25 of my own travel pictures which all tell a certain travel story. You can check them out on Twitter through the link above, or read on below here.
Have a good read, enjoy the holidays, and take care. See you all again back here soon on Paliparan, as there are lots of reviews, flight deals, trip reports and much more to follow in the next couple of weeks.
December 1: Wadi Rum Desert, Jordan
My first picture brings me back all the way to 2009 when I made a great multi-day horse riding trip through the Wadi Rum desert in Jordan, full Lawrence of Arabia style. I wasn't able to sit down for 3 days straight afterwards (saddle pain!), but the unique experience, with overnight stays in Bedouin tent camps, was totally worth it.
December 2: Ala Archa National Park, Kyrgyzstan
If I must choose, I'm probably more of a "mountain person" than a "sea person" even though I love both. That said, there is just something awe-inspiring about great mountain vistas. The Tian Shan mountains of Kyrgyzstan were probably some of the most scenic mountain landscapes I've seen on my travels.
December 3: Svalbard, Norway
Let's stay in mountainous terrain in this advent calendar of travel pictures and go to the snowy landscapes of Svalbard, the Norwegian island which is perhaps better known under its old name of Spitsbergen. Going on a snow mobile ride under the pastel-coloured skies of early March was certainly one of the biggest travel highlights of the last few years.
December 4: Hydra, Greece
Quality food is a hugely important factor when it comes to travel, at least in my opinion. I don't mean Michelin restaurants as that's way above my budget, but rather the opportunity to eat well and to taste authentic local fare, trying out some new cuisines. It's best with a view, and not many places are better for this than Greece!
December 5: Lviv, Ukraine
One of my favourite destinations for a city break in Europe has to be Lviv in western Ukraine. Lviv has tons of history, a gorgeous old town centre, some great restaurants and pubs, as well as an easy-going and vibrant atmosphere. And it's a highly affordable destination too!
December 6: Luang Prabang, Laos
Another city which I love is Luang Prabang in Laos. It has such a relaxed vibe, great food and an interesting Lao-French cultural heritage. Although I went in with high expectations, the city and its gorgeous natural beauty surrounding it certainly didn't disappoint. And what's better than drinking a cold Beer Lao on a pontoon while watching a gorgeous sunset over the mighty Mekong River?

December 7: Borobudur, Indonesia
I'm a night owl and not a fan of waking up early, but sometimes it can be worth the effort for a great sunrise view. Perhaps no place is better for that than the magical Buddhist temple of Borobudur on the Indonesian island of Java. It's certainly not a travel secret and you won't be the only one there, but the temple is large enough to find your own private spot to enjoy the magical moment in complete silence.
December 8: Zadar, Croatia
Sunsets are of course even better than sunrises, given that you don't have to wake up so early for them! Wherever I am – especially when being at the seaside – I always try to find the perfect spot to watch the sunset. The lovely Croatian coastal city of Zadar is one of the best places in the world for sunset watching. Don't take my word for it. Nobody less than Alfred Hitchcock said the same.
December 9: Aleppo, Syria
One of my favourite countries in the world when it comes to friendliness and hospitality of the locals is Syria. It has such warm and welcoming people! I was lucky enough to visit the country before the eruption of the war and loved the experience. It's truly heart-breaking to see how Syria had to suffer under civil war/ISIS barbary.
Although there are many amazing sights in Syria (Damascus, Hama, Krak des Chevaliers, Palmyra) I perhaps loved Aleppo the most with its insanely atmospheric bazaar from Medieval times and citadel.
December 10: Persepolis, Iran
Another great country off the beaten path with fabulously friendly people and equally amazing sights is Iran. I just loved my trip visiting Shiraz, Esfahan & Tabriz and should go back to see more of the country. Iran has its equal great share of vibrant cities, amazing natural beauty and world class historical sights such as ancient Persepolis.
December 11: Dublin, Ireland
Sometimes you don't need more on your trip than a cosy pub and some good quality beer. Of course, Ireland is one of the countries which fits the bill perfectly. Whether it's Dublin's Temple Bar district or the sole village pub somewhere in Connemara. When it comes to evening entertainment I don't need much more than a pint of Guinness and a live band playing some good old Irish traditional music.
December 12: Snæfellsnes Peninsula, Iceland
Although most people visit in summer, Iceland is equally worthy of a visit in winter. On top of fantastic snowy landscapes you have the advantage of much lower accommodation and rental car prices in a country which normally isn't among the cheapest to visit. Even in winter Iceland is prime road trip country, especially when the wind blows powdered snow over the road surface.
December 13: Colleville-sur-Mer, France
As this advent travel calendar is about appreciation, I automatically have to think about a trip I made last year to Normandy. I'm fortunate enough to have the freedom to travel around the world and write what's on my mind. You realise that this is something which wasn't always as straightforward in the past when you visit the huge American World War II cemetery in Colleville-sur-Mer.
We can only be grateful for all sacrifices made by past generations!

December 14: Lahore, Pakistan
One reason why people travel is to experience other cultures. Of course, that means having the odd culture shock. The biggest culture shock I ever had was in my early 20s when I visited Pakistan – my first ever trip out of the western world. As much of a shock it was, I ended up loving the place though, especially the wonderful city of Lahore with its fabulous Mughal architecture and bustling bazaars.
Together with Syria and Iran, Pakistan also had among the most amazingly friendly and hospitable people I've ever met on my travels.
December 15: Tokyo, Japan
Since that trip to Pakistan I never really had a big culture shock on my travels anymore despite having visited some 80 countries. There is however one big exception: my recent trip to Tokyo. The Land of the Rising Sun is such a modern country and feels at times so similar to our Western European world, but at the same time it is also so different in culture.
I would love to travel back and see more of Japan than just Tokyo!
December 16: El Nido, The Philippines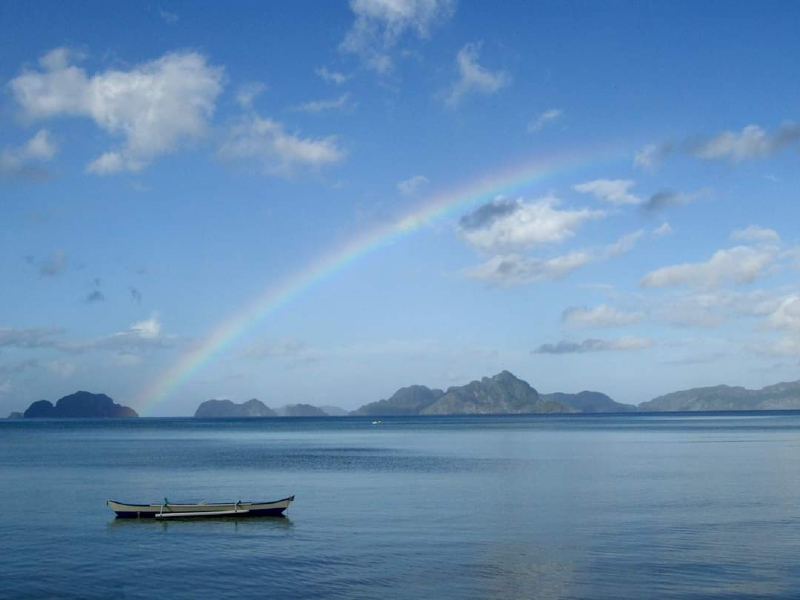 Sometimes the most amazing travel memories happen at moments when you least expect them. After partying a bit too hard on Tanduay rum and Red Horse beer in El Nido on the gorgeous island of Palawan, I had to wake up early to catch the rickety boat to Port Barton. Having a huge hangover, I slowly made my way from the hotel to the jetty, only to see this rainbow view when I arrived at the beach.
All physical discomfort was instantly forgotten – wow!
December 17: Rio de Janeiro, Brazil
Some cities have just an instantly likeable vibe. Rio de Janeiro and its fun-loving Cariocas always seem to provide a happy atmosphere. Even though they may live in anything from glitzy seaside apartments to the infamous favelas, everyone knows how to party and people always seem to have a smile on their faces no matter how squalid the conditions are in which they live.
When walking across Ipanema Beach, you instantly get a smile on your face yourself and almost start singing the classic Astrud Gilberto song 'Girl from Ipanema' out loud! Apart from my Rio de Janeiro visit and a short stopover in Bogota, Colombia, South America is however still a continent I never really managed to explore. I should definitely give it some more focus on future trips!
December 18: Dakar, Senegal
Another continent which I have yet to explore is Africa, as so far I only managed to visit Senegal and Cape Verde. The Senegalese capital of Dakar and its environs are certainly colourful, but the the non-stop hassle from tricksters and con men when walking around.. it really is a destination where you have to be on guard!
December 19: Santo Antão, Cape Verde
I did absolutely love the wild nature of Cape Verde, or Cabo Verde as it is called in Portuguese. Especially the remote island of Santo Antão (which can only be reached by ferry from Mindelo, which itself is not the best connected island in the archipelago..) is a stunner and would give Hawaii a run for its money. Half of the island has a bare and black volcanic feel, while the Paúl Valley is green and verdant.
December 20: Monument Valley, United States of America
When it comes to amazing natural scenery, the United States is hard to beat. I loved touring around the south-west of the United States, visiting such National Parks as Zion, Bryce, the Grand Canyon and Monument Valley on the Arizona-Utah border. I would love to return again to the US when European tourists are welcome again and explore more of this vast country.
December 21: Charyn Canyon, Kazakhstan
Although US National Parks are famous across the world (and rightly so!), there are equally beautiful sights in places where you might not expect them. For each great city or natural sight there is always an off-the-beaten-path equivalent. What about Charyn Canyon, which basically is the Kazakh version of the Grand Canyon?
An added benefit of visiting Kazakhstan is that there are hardly any other tourists around and that you can have such beauty all to yourself!
December 22: Lake Baikal, Russia
One of the most fun travels I had in recent years was my winter trip to Siberia, visiting Irkutsk and Lake Baikal. If you come prepared, the temperatures of -30 degrees Celsius aren't that bad, really. The moment I first saw the vast expanses of the frozen lake I had goose bumps all over my body! I tremendously enjoyed my stay, embarking on such activities as dog sledding and ice skating.
December 23: Bologna, Italy
Although I love to travel to other continents, Europe really feels like home. Of course, there are huge differences between European countries, but there is definitely something like "European culture" and a shared history which makes this continent unique. To me, it's the lifestyle. Enjoying your food and drink, the rich cultural life, the architecture, all the historical sights.
It doesn't matter much if I visit such an European city like Lisbon, or places like Krakow or Bologna (pictured here) instead – I always enjoy the time spent in Europe's urban delights.
December 24: Karpathos, Greece
Having lived in Greece and considering myself a big Hellenophile, I just have to add a second Greek picture to this advent travel calendar. Greece has so many amazing places, both on the islands and the mainland, that it is hard to select even two Greek travel moments. It's tempting to choose Crete as I lived there and love the place, but I'll go for one of my other favourite islands: Karpathos.
It's authentic, it's rugged, it's gorgeous.
December 25: Maramureș, Romania
The last picture in this advent travel calendar has to be from Romania, given that it's my favourite European country and have been calling it home for a few years now. What I love best about the country is that it still manages to retain most of its authentic culture and traditions – especially so in the countryside. There is no place better in the country to see this than Maramureș in the northern part of Romania.
What are your favourite places and travel moments? Feel free to leave a comment behind!