Review: Snälltåget InterCity Train Lund – Stockholm
In this review, we will travel on a Snälltåget InterCity train between Lund and Stockholm Central in Sweden.
Train travel in Sweden
Sweden has a great railway network and travelling by train through the country is a real joy. Especially in the more densely populated south of the country, the major cities are well connected by rail.
Most trains are operated by national railway operator SJ, although on some routes there are also a couple of private operators.
This is for example the case on the Malmö – Lund – Stockholm route, where SJ has competition from a company called Snälltåget.
Given that I had to travel from Lund to Stockholm, it presented an excellent opportunity to try out the Snälltåget service.
Booking your ticket
It is extremely easy to search for train times and prices in Sweden. Interestingly, each operator has to show the departure times and prices of the trains of their competitors as well on their website.
This means that you can book your Snälltåget train on the SJ website, or vice versa!
That said, it is of course best to book your train at the website of the operator itself, as you will be presented with a wider variety of options such as advance seat selection.
Snälltåget does this extremely well, as during the booking process you can select your exact seat in the train.
First of all, you can choose whether you want a seat in an open coach (saloon style seating) or one in a compartment. You can then choose the carriage you want to sit in and select your exact spot on the seat map.
As social distancing measures were in place due to the ongoing corona virus pandemic, not every seat could be selected on the seat map.
It meant that I could select a seat at a table-of-four while the three seats around me were automatically blocked.
I certainly could appreciate that, if only for the extra privacy as well as increased leg and shoulder room!
Ticket price
Ticket prices aren't fixed, which means you can generally score a cheaper deal if you book ahead of time, and run the risk of paying the full-price walk-up fare if you buy your ticket at the last minute and the train is close to capacity.
As my trip was rather spontaneous and I had to take a popular Friday afternoon departure, I paid 649 SEK (64 EUR) for my ticket.
That said, I had no problems finding fares as low as 149 SEK (14.7 EUR) when searching for dates just one to two weeks ahead.
On the Malmö – Lund – Stockholm route, Snälltåget currently only offers second class seats.
Tickets are automatically rebookable, although if you want to get a fully refundable ticket a 99 SEK (9.8 EUR) surcharge applies. The exact terms and conditions for rebooking or refunding Snälltåget tickets are spelled out on their website.
The route
The journey from Malmö and Lund to Stockholm will take you over Sweden's Southern Mainline (Södra stambanan).
SJ runs high speed X2000 trains on this line, which take 4 hours and 30 minutes to cover the stretch between Malmö and Stockholm.
The conventional Snälltåget trains can however take up to six hours to cover the same distance, although some services are a bit faster.
Between Malmö and Stockholm, the Snälltåget train also stops at railway stations such as Hässleholm, Alvesta, Nässjö, Linköping, Norrköping and Södertälje.
So how is the actual experience like on a Snälltåget train? Let's find out!
Lund C to Stockholm Central
Snälltåget – Train 3930
Departure: 12:33pm – Arrival: 18:30pm
Duration: 5h57m – Distance: 570 kilometres
Carriage 111, seat 63 (window, family seat)
Costs: 64 EUR
Departure
Having spent a fun half day in the beautiful town of Lund, it was time to head to the railway station for my train to Stockholm.
The Snälltåget train arrived right on time at the platform and looked fabulously old school with its stainless steel carriages.
Inside the carriage, my first feeling was that these carriages were really retro. They must have easily been a couple of decades old judging by the old-school, bare-bones looks.
I easily found my carriage and made myself comfortable in my seat as the train slowly rolled out Lund's central railway station for the long journey north to the Swedish capital of Stockholm.
Seat comfort
Even though the carriage was definitely old, it was however perfectly comfortable. The seat was soft, well-padded and had a decent recline, making for a comfortable place to sit for a few hours.
Although it definitely helped a lot having the bay of four seats all to myself, it also seemed there was plenty of legroom even if the opposite seat would be taken.
The table in front was certainly large and stable enough to get some work done on my laptop.
Although the Snälltåget carriages are old, they are retrofitted with power sockets at each seat. The train also had WiFi internet with decent enough speeds, which worked fine for most of the ride.
On this cold October day, the carriage was also perfectly air-conditioned and nicely heated to a comfortable temperature.
Overall I would say that although the open seat carriage might have looked a bit bare-bones and a tad old-fashioned, it certainly made for a pleasant ride. Later on in the journey I wouldn't have a problem at all dozing off in these seats.
Window views
For the first hour or so, I worked a bit on my laptop while watching the views from the window.
Southern Sweden isn't the most spectacular when it comes to scenery, so it's mostly fields, forests and a few lakes and towns you will see.
That said, the scenery certainly wasn't boring at all.
It just isn't in the same league as the endless pine forests of northern Sweden, let alone the more rugged, mountainous terrain you might encounter in neighbouring Norway.
Compartments
An hour or so into the journey I got up from my seat to have a walk across the different carriages of the train. A great advantage of travelling by train instead of car, bus or plane is that you can easily stretch your legs during the ride.
Besides the open seat saloon car, the Snälltåget train also had carriages with compartments.
Although my preference normally goes to open plan seating, these compartments might be preferable if you are travelling as a family or group.
Compared to the open coach car, these compartment carriages for sure felt more fresh and modern, looking like they have been recently refurbished.
These carriages are also used by Snälltåget for its overnight service between Malmö and Stockholm, either as couchettes which you share with other passengers, or as private compartment.
Of course, mattresses and bedding is provided on these overnight sleeper trains if you select a couchette or private compartment.
Snälltåget's government-owned competitor SJ also runs sleeper trains between Malmö and Stockholm for what it's worth.
Toilet
At the end of each carriage you can find a toilet. These are your normal, basic train toilets – so don't expect too much from them.
Although the toilets might look a bit grubby on the picture, they were in perfectly clean state even when I visited them towards the end of the journey.
Restaurant wagon
I left the best aspect of the Snälltåget train for the last bit of the review!
One great perk of Snälltåget trains is that they have a proper dining car, which has a lot more class than the self-service bistro cars of competitor SJ.
Of course, you can always bring your own picnic on board a Snälltåget train, or use the restaurant wagon to buy a coffee and snack at the counter for takeaway and enjoy it back at your seat.
But in my opinion, there goes nothing above a proper sit-down meal with a drink in a dining car. It brings you straight back to the glory days of the railways when Europe's elite would sit in a wagon-lits dining car with a cigar and glass of cognac. You get the idea!
Snälltåget's restaurant wagon, which is called 'krogen' (the pub), surely tries hard to bring you back to those times.
The dining car oozes charm and class with its dark blue chairs, old-fashioned lamps and faux book cabinets wallpaper.
During your booking – or anytime after – you can make a free reservation for a table seating at a certain hour if you want to be assured of a place.
You can easily do this my accessing your booking online at the Snälltåget website, and it is recommended during these corona virus times as not all tables can be used at the same time.
However, you can always just turn up in the dining car spontaneously and check if there are available places to sit down.
Food on board
Of course, I had reserved a spot in the dining car for lunch and sat down for a few drinks and a meal. The food menu isn't very extensive but the few dishes such as coq au vin and lasagne certainly sounded good.
I settled however for the beef patties in pepper sauce, which came in a big portion and did indeed taste good. To drink, I washed it away with a German weizen beer.
Prices in the Snälltåget restaurant wagon are certainly quite decent, with a hot dish costing around 10 euro (children's menus are 6 euro).
Alcoholic drinks do however have prices you'd more expect for a Scandinavian train, with a beer or glass of wine costing 8 euro.
Soft drinks and coffee or tea are again more decently priced at 2.50 EUR. Credit cards and cash (Swedish krona) are both accepted.
During the few hours I spent in the dining car, service was impeccable and with a smile at all times.
Stockholm
Time went by fast doing some work on my laptop and drinking a few beers in the dining car.
Before I realised it, the staff of the dining car announced the last round as they had to close down a bit early before arrival in Stockholm.
I returned back to my seat and watched from the window as the train rolled into the Stockholm suburbs.
Minutes later, we pulled into Stockholm Central Station some five minutes behind schedule.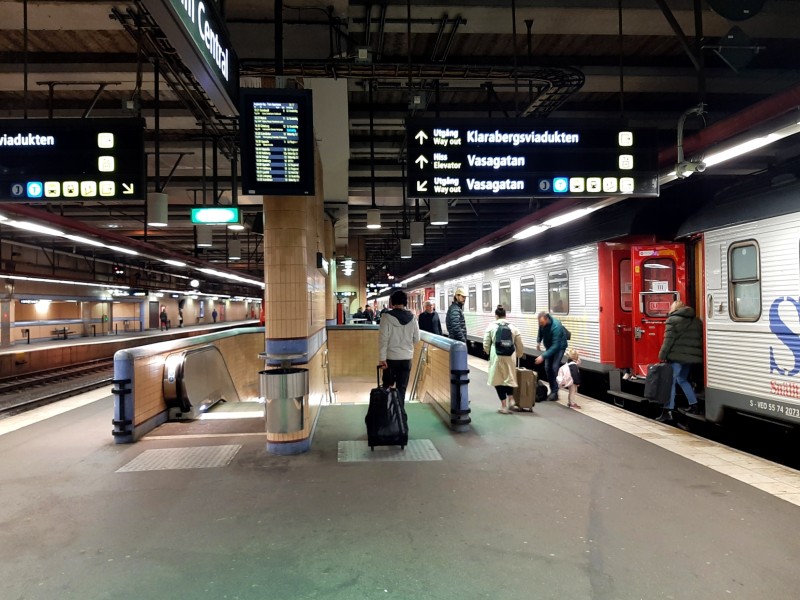 Other Snälltåget services
Besides the Malmö – Lund – Stockholm route, there are two other Snälltåget services which are of interest for tourists visiting Sweden.
First of all, this is the overnight train between Malmö, Stockholm and the Swedish ski resort of Åre.
In March 2021, Snälltåget will also start with an exciting new overnight service between Stockholm, Malmö, Copenhagen, Hamburg and Berlin – which is an exciting new addition to Europe's train timetables as this is somewhat of a missing link.
In short
The Snälltåget train service from Malmö/Lund to Stockholm pleasantly surprised me. Sure, the train is a tad old and some carriages might look a bit bare-bones, but don't let cosmetics fool you.
The seats in the train are however perfectly comfortable and well adjusted to modern-day standards, as all seats have power sockets and there is WiFi internet. The compartments even look pretty good!
Booking the Snälltåget train couldn't be easier, and I certainly appreciate being able to select my exact place on a seat map, a feature which only a select few train operators across Europe have as well.
Best of all is in my opinion Snälltåget's classy dining car 'Krogen', which is just an excellent spot to enjoy a meal or drink while watching the scenery go by.
Is Snälltåget better than SJ? I think both products are competitive and both have their own advantages and disadvantages.
Snälltåget is likely a bit cheaper, but their departures are less frequent and the journey takes a bit longer.
On the other hand, I certainly prefer Snälltåget's dining car above the bistro wagon on board the SJ X2000 train on the Malmö-Stockholm line.
In the end, I'd probably opt for whatever operator offers the best deal and most suitable departure time when deciding which train to pick!