Review: KLM Crown Lounge (Non-Schengen) Amsterdam Airport
In this review we will visit the KLM Crown Lounge for non-Schengen flights at Amsterdam Schiphol Airport (AMS).
KLM Crown Lounge
After a pleasant flight on the KLM Boeing 787 from San José to Amsterdam, I found myself in the vast departure hall of Schiphol Airport with lots of time to spare.
My connecting flight would only depart after six-and-a-half hours, which left me with plenty of time to check out on the new KLM Crown Lounge in the non-Schengen terminal of Amsterdam Airport.
The lounge had been completely refurbished only a few months ago and I was highly curious about the result. I had visited KLM's Schengen Lounge a couple of times before and was never a big fan.
Sure, there are definitely worse lounge around in Europe and I would certainly rank it as average. But average is not enough when you are a world renowned airline like KLM and we are talking about the lounge at your home airport! So how would the new non-Schengen lounge compare? Let's find out!
KLM Lounge entry requirements
The KLM non-Schengen Crown Lounge is also designated as "Lounge 52" on airport signage. As long as you know this, the lounge is actually well-signposted and thus quite easy to find.
The lounge is one floor up by escalator or lift from the main airport corridor. The entrance to the lounge by escalator is impressive as you pass by a wall full of the famous KLM miniature houses which are handed out to long-haul business class passengers.
You have to scan your own boarding pass at one of the electronic gates in order to enter the lounge, although there is always a host or hostess available to help you with this.
Entrance to the KLM business lounge is of course complimentary to business class passengers flying on KLM or another Sky Team airline. Frequent flyers with Sky Team Elite Plus status also get free entry into the KLM lounge and are allowed to bring a guest along.
A first look
The KLM non-Schengen Crown Lounge is a big place. If you haven't visited the lounge before, I recommend you to walk around a bit first to see all the different areas and amenities before settling down somewhere.
The lounge is built over two floors. Most of the seats, as well as the hot food buffet and a large drinks station, are located on the lower floor. The upper floor does however have a manned bar, as well as a smaller food buffet with more limited (cold) options.
Although there are escalators and a lift connecting the two floors, you can also take some lovely designed stairs up, which has several small mezzanine levels with a handful of couches. These are always the most popular places to sit down in the lounge, so chances are that all seats here will be taken when you arrive.
However, even from a distance this area of the lounge is aesthetically pleasing to look at. It certainly gives the lounge a fresh contemporary look, and there are also some typical Dutch design elements if you look closely.
You can find for example some old KLM posters, as well as Delft Blue tiles and Miffy figures. It certainly is a pleasant change compared to the rather boring design of the KLM Schengen lounge.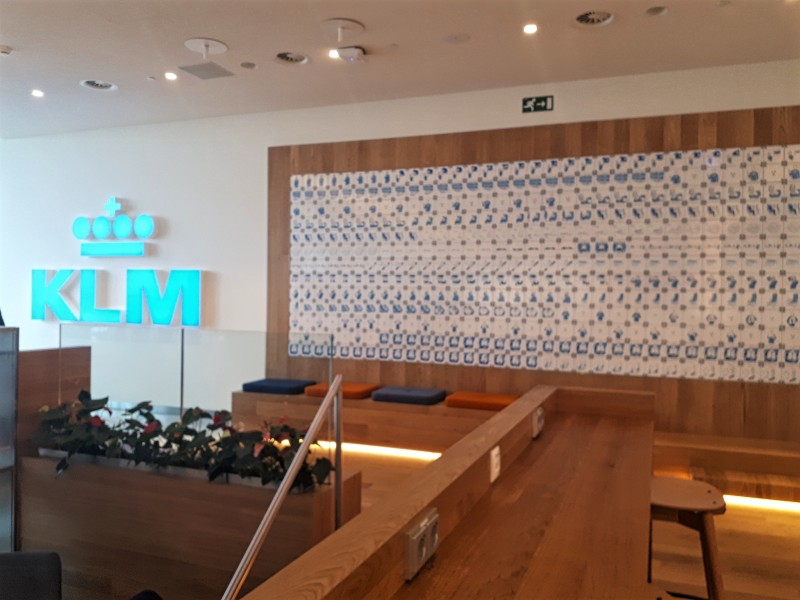 Shower
Coming from a long-haul flight, my first order of business was to take a shower. At the time I was visiting the lounge in February 2019, the showers were not finished yet (they are now) and a temporary arrangement was in place as KLM Lounge visitors received a voucher which they could us at the nearby Mercure Hotel inside the terminal.
Having read horror stories on frequent flyer forums of people having to wait 5-6 hours for a shower to become available, I was happy to hear from the KLM receptionist that there was no queue at all and that a shower would be ready immediately at the Mercure a short ten minutes walk away.
According to online reports, shower availability inside the KLM lounge is pretty good nowadays during the day, with the exception of the rush hour in the (early) morning when most trans-Atlantic flights arrive.
Lower floor
As I wrote before, the KLM non-Schengen Crown Lounge is built over two floors. When I returned in the lounge after the shower, I first went to discover the lower floor a bit more.
Most of the seating options are on the lower floor, which in some parts feels quite massive. Given that this is the part where most people enter the lounge and this is also where the (hot) food buffet is, it is also usually the most crowded part.
Seating options range from comfortable couches to sofas to high top tables, although you shouldn't expect too much privacy at any of those seats.
Kitchen
On the lower floor is also an open kitchen/buffet counter where hot food is plated at the counter for you by KLM employees. Unfortunately, food quality isn't too great. Just like in the Schengen Crown Lounge, it mostly resembles sloppy, flavourless food from a high school canteen.
During my visit a sort of vegetable curry was served, which was just completely bland. Together with a soup, it was also the only hot dish available in the lounge.
Opposite the kitchen counter there is also a normal self-serve food buffet with salads, sandwiches and cold pastas and the like.
Upper floor
Personally, I prefer the upper floor of the KLM Crown Lounge as a place to sit down. First of all, I think it has more pleasant and private seating areas, secondly, it is usually less crowded here.
By far the best seats in the lounge are perhaps the ones towards the wall with the curtains, as these offer the most privacy and make for excellent places to take out your laptop and get some work done.
On the upper floor there is also a small food buffet, where you can find mostly sandwiches, salads and a few savoury items. These food items did look quite appealing and fresh, and were for sure all of a better quality than whatever hot food was available downstairs!
What is in my opinion a major downside are the flimsy throwaway plates and wooden cutlery being used given that they felt cheap compared to proper tableware.
Blue Bar
On the upper floor there is also a manned bar, which is one of the highlights of the KLM non-Schengen Crown Lounge. The Blue Bar as it is called has however undergone some changes over the time.
When I visited drinks were free-flowing from the bar, whether you wanted a gin tonic, a barista-made cappuccino or one of the wines available by the glass. The Spanish white from Galicia which was served was actually of good quality.
Then KLM came with the brilliant idea (ahum) to charge its lounge guests for drinks at the bar, making it part of an exclusive a-la-carte restaurant called "Blue" which it opened on the top floor of the lounge.
Needless to say, this didn't turn out to be very popular, as why would you want to pay extra for food or drinks which in any other lounge in the world are free? The fact that a huge section of the upper floor was now curtailed off for the few guests willing to pay something extra was also unpopular, as it caused overcrowding in the other areas of the lounge.
As it currently stands, the Blue restaurant has been closed indefinitely due to the ongoing corona pandemic and the disappointing turnaround. As far as I know, the Blue Bar is now again serving free drinks to all lounge guests. Given how many changes have been made to the whole concept it is however best to just inquire first before sitting down and ordering a drink!
At the very least, the bottom shelve booze should be free of charge at the bar, as this is also the case at the self-service drink stations throughout the lounge.
Other lounge areas
There are a few other areas in the lounge which were not yet opened for the public when I visited (although they are now). The most eye-catching of these areas is an outdoor terrace with views over the tarmac.
Another new addition to the lounge are sleep cabins, although these aren't complimentary. For a three hour nap you would need to cough up 49.50 EUR or Flying Blue miles 12,400 miles, while for a five-hour stay you would need to pay 75 EUR or 18,800 miles.
Crowds
Overall I did enjoy my stay in the lounge, although this also depended on the crowds. When I first entered the lounge in the early afternoon it was almost completely full.
It however emptied out between 4pm and 6pm, when it suddenly became an oasis of quietness, only to become much more crowded afterwards before the evening departures bank.
The exact moment of the day when you will visit the lounge will likely be of influence of how you will perceive the lounge.
WiFi
One positive aspect of the lounge is that there are plenty of power sockets to be found and that WiFi internet was fast and reliable.
Although a dedicated business centre or work cubicles are lacking, the KLM Lounge isn't a bad place to get some work done as long as you don't mind the lack of privacy and the crowds at peak hours.
Conclusion
The KLM non-Schengen Crown Lounge at Amsterdam Airport is aesthetically a beautiful space which makes for a pleasant place to await your flight. It is certainly an improvement over the old lounge and much better than the nondescript Schengen lounge.
The lounge is certainly large and has many different seating areas, all with a different theme and style. There are plenty of power sockets and reliable internet, making it a good place to get some work done.
There are however some minor issues as well. First of all there are the crowds at peak hours. Even though during my visit not all of the areas were completed, the lounge was already at capacity during peak travel hours. I hope that with the new areas of the lounge being opened this issue is addressed, although online reports say it is still a mixed bag and highly dependent on how busy a certain day is.
When it comes to food, the KLM non-Schengen lounge is also a mixed bag. I liked the fresh sandwiches, salad bar and waffles, but the tasteless, sloppy hot food certainly left a lot to be desired.
Fortunately, drinks and booze in the lounge were much better, as there are plenty of self-service drinks stations as well as a manned bar where you can order barista coffee, draught beer or a long-drink or cocktail.
Overall I think it's a fine business lounge and an attractive place to visit, although in terms of quality I'd rank the KLM flagship lounge behind the Air France flagship lounge at Paris Charles de Gaulle airport, which offers superior food, a more quiet environment, and many more unique amenities.
Trip report index
This article is part of the 'A Piece of Panama With a Bit of Bogota and a Slice of San Jose' trip report, which consists of the following chapters:
1. Review: Air France Economy Class Bucharest to Paris (Airbus A320)
2. Review: Air France Business Lounge Paris CDG Airport Terminal 2E – Hall K
3. Review: Air France Economy Class Paris to Bogota (Boeing 787)
4. Review: Hotel Morrison 114, Bogota, Colombia
5. A Short One-Day Stopover in Bogota, Colombia
6. Review: Copa Club Bogota Airport, Colombia
7. Review: Copa Airlines Economy Class Panama to Bogota (Embraer RJ-190)
8. Review: Tryp by Wyndham Panama Centro
9. How to Visit the Miraflores Locks on the Panama Canal
10. Into the Casco Viejo – Exploring Panama City's Old Town Centre
11. Isla Taboga: A Day Trip to the Island of Flowers
12. A Panama Day Trip to the Portobelo Forts and Tropical Isla Mamay
13. Review: Copa Club Panama Tocumen International Airport
14. Review: Copa Airlines Economy Class Panama to San Jose (Boeing 737-800)
15. Destination San Jose: A Day in the Capital of Costa Rica
16. Review: VIP Lounge Costa Rica, San Jose Airport (SJO)
17. Review: KLM Economy Class San Jose to Amsterdam (Boeing 787)
18. Review: KLM Crown Lounge (Non-Schengen) Amsterdam Airport (current chapter)
19. Review: KLM Economy Class Amsterdam to Bucharest (Boeing 737-800)