Half a Day in Rome: A Walk Around the Eternal City
In this destination trip report, we take a leisurely half-day walk around the major sights of Rome.
Rome stopover
After an early morning Wizz Air flight from Bucharest I found myself at Ciampino Airport, Rome's secondary airport which is exclusively used by low-cost airlines.
The reason why I came to Rome was simple: I had booked a great business class flight deal to Jakarta.
As I didn't want to risk a same day connection on separate tickets, I decided to fly to Italy a day early. After all, why not spend a day in the Eternal City?
Unfortunately, I didn't have time the entire day to walk and see around as I still had some work to do.
I therefore hopped on a bus from Ciampino Airport to Anagina, where I switched to metro line A. Many stops later, I found myself at Ottaviano-San Pietro station.
I had booked a room at St. Peter Bed for 50 EUR per night, a great deal for Italy's capital city. There are some cheaper hotels in the area around Termini station, but in my opinion it is not a nice area to stay in at all.
This neat little guesthouse on the top floor of an old apartment building on Piazza del Risorgimento, located just a stone throw away from the Vatican, did the trick as all I needed travelling alone was a centrally located and cheap hotel.
I spent the late morning and early afternoon working from my room and around 2pm I was finished, with still half a day left to explore Rome.
Visiting the Eternal City
Before I get a lot of angry comments from readers how on earth you can possibly visit Rome in half a day: Indeed, you simply cannot. It is impossible.
Half a day is way too short to see the delights of Rome. Three days is the bare minimum, and there is even enough to see in and around the city for a full week.
I have visited Rome twice before so I already saw the most important places and some of the city's finest museums and historical sights.
However, I can imagine that quite some people might find themselves in a similar situation as I found myself in, for example when having a stopover between flights or trains.
In such a case, why wouldn't you go into town and walk a bit around and see something? Whether it's your first or tenth time in Rome – in any case it's absolutely worth the effort to go into town.
Exploring Rome
Given that I spent quite some hours working behind my desk, I decided not to visit anything but to stretch my legs a bit and take a leisurely stroll along some of the major sights in the city centre while stopping a few times for some food and some drinks.
If you only have half a day or perhaps a full 24 hours in Rome, I would strongly suggest not to try to take in all.
It's better just to focus on one or two areas of town to explore, and to add perhaps one or two museums or archaeological sights depending on their size if that's your cup of tea.
For example, in one day you can walk around the area of the Forum Romanum and the Palatine Hill and visit the nearby Colosseum, spending the rest of the time remaining in one of the nicer neighbourhoods nearby for dinner and some drinks (Trastevere across the River Tiber is the logical choice in this case).
Adding in the Vatican and the Pantheon in the mix would probably be an absolute overkill here.
If you only have half a day, you should limit your plans even more, especially if you also like some time to relax at a café, pub or restaurant.
Although I eventually managed to see quite a lot on my half-day walk, I didn't stop at any of the sights as I had already visited them before.
I therefore wouldn't recommend duplicating my entire route if it's your first time in Rome, as it will be way too hurried with too little time to actually see each sight.
Rather, you could use it as a visual guide to see how some areas of town look like and what some of the major sights in Rome actually are.
Based on that, you can then make a selection what you prefer to see and do in Rome when you only have limited time in the city.
Vatican
With my room being close to the Vatican, the Holy See made for a logical starting point of my route.
The Catholic microstate is the smallest in the world, measuring just 0.2 square miles.
The heart of the Vatican is St. Peter's Square, a large plaza located directly in front of St. Peter's Basilica in the papal enclave.
Having visited the basilica before, I just walked along to wave hello to the Pope and then went looking for a nearby place for lunch.
Rome restaurants
There are many bad-quality, overpriced touristic restaurants in most areas of the city centre.
In fact, most Romans wouldn't ever go near any of the major touristic sights for a meal, but would rather go to one of the neighbourhoods out of the centre for better quality (and most importantly: normally priced) food.
That doesn't mean however that you cannot get good food in central Rome, although you should definitely check restaurant ratings (for example through Google Maps and reviews) what the reputation of a certain place is before you sit down.
Fortunately, I managed to find one nice looking place with good reviews and affordable prices, where to my surprise there were even plenty of Italian speaking people having lunch – which is always a good sign.
Called Caffè Castello, it did a very nice pasta all'amatriciana, which I washed away with a tasty local wine from the Lazio Province in which Rome is located.
Across the Tiber
As I was in the mood for a long walk, that was exactly what I did for the rest of the day.
I decided to put my phone (and thus Google Maps) away and tried to see how much I remembered from the previous times I visited the city (my last time in Rome was as a student a decade ago).
To my surprise, I managed very well to map out a fun route through the city from the top of my head without having to look even a single time on a map.
From the Vatican, I first headed towards Castel Sant Angelo, from where there are some lovely views from the bridges over the River Tiber.
Spanish steps
Passing by the Italian Supreme Court and through some small streets, my sense of direction didn't let me down as I managed to easily find my way to Piazza di Spagna and the famous Spanish Steps.
One thing which I surprised me was the huge number of Americans around. At times it felt that I was in Florida rather than in Italy!
Sure, Rome is touristy, but on my last visit there was always an equal number of Brits, Germans, Chinese, Spanish and many other nationalities around, while this time the dominating group in town were clearly the Americans.
Although at times it would mean some quite loud and obnoxious shouting matches erupting on Rome's fine squares, it wasn't entirely bad either as I would later find out.
Trevi Fountain
Ten minutes walking distance from Piazza di Spagna I found myself back at the Trevi Fountain for the obligatory coin toss into the water.
Throwing in a coin over your shoulder into the fountain waters means that you will definitely return to Rome in the future according to folklore.
Having completed this must-do activity, it was again time to continue with my whirlwind tour of Rome.
Pantheon
Next up was the Pantheon, a former Roman temple commissioned by Marcus Agrippa, whose name is clearly visible on the portico.
Nowadays the Pantheon is used as a Catholic church and is officially named the Basilica of St. Mary and the Martyr.
The Pantheon is possibly my favourite building in Rome as the dome is just absolutely massive. It is fascinating to think how on earth the Romans managed to construct it in those ages.
The Pantheon was built in 126 AD and still is the world's largest unreinforced concrete dome – a good two centuries after it was constructed!
As it's free to enter and there was no queue, I decided to quickly hop into the Pantheon again to admire its beauty.
There is a central opening (oculus) in the dome through which a ray of sunlight shines through on a clear day. The bright light of the sunbeam set against the dark interior is a gorgeous sight on its own.
Fashion police
On one of the squares in the area around the Pantheon I witnessed the Italian cops arresting a tourist for two crimes against the fashion code: Wearing a fedora hat (a light offence which might warrant a warning only) and wearing white socks under shorts (a capital crime – especially in Italy).
What a contrast with the stylish uniform of the carabinieri addressing the tourist!
Heck, if I was Italian just that uniform alone, and being able to drive in Alfa Romeo's in their gorgeous police livery, would be reason enough for me to join the rozzers.
Piazza Navona
Next up on my walk – which was inadvertently becoming quite strenuous in the hot Italian summer weather – was gorgeous Piazza Navona, one of Rome's finest squares.
From there, I decided to walk even further and head towards another major square: Piazza Venezia on which the pompous Altar of the Fatherland (National Monument for King Vittorio Emanuele II – the first ruler of modern-day united Italy) is located.
Colosseum
When you are at Piazza Venezia, you are basically just the length of the Forum Romanum away from the Colosseum.
Perhaps no view sums up Rome more to me than this picture: The boulevard down to the Colosseum with its ubiquitous stone pines that are so common in this part of Italy.
I just love the look of stone pines – they are so elegantly shaped, and so quintessential Italian to me.
Unfortunately, these trees are apparently at risk from climate change, bugs, storms and municipal mismanagement.
Forum Romanum
I couldn't resist a small hike up the hill to the square in front of the Capitoline Museums for a look over the Forum Romanum.
The Forum Romanum (or simply Roman Forum) was basically the main marketplace of Ancient Rome.
It was so much more than just a place where Romans shopped for goods, as citizens gathered here to make political and commercial deals or to hold trials, meetings and elections. It was simply the nucleus of Classical Rome!
The Forum Romanum, as well as the sights of the nearby Palatine Hill, are well-worth visiting from up close if you are into history.
You can buy a combined entrance ticket for all these sights as well as the Colosseum, which will save you a long time queuing.
It's best to buy the ticket at the Palatine Hill, as generally the waiting times are the shortest here.
With the ticket in hand, you can then skip the long queues in front of the ticket offices at the Forum Romanum and the Colosseum, although you may still have to wait for a while at the (much shorter) second queue to actually enter the grounds of each historical site.
Beer time
While I was drinking the last sips from my bottle of water on this hot day sitting on a bench on the Capitoline Hill, I decided I had walked enough for the day.
I headed across the River Tiber to the lovely Trastevere neighbourhood to find a place for an aperitivo and some dinner.
Instead of a proper Italian aperitivo place, I however came across a newly opened craft beer bar, so I decided to ditch the Aperol Spritzes for some beers.
The barkeep was super chatty, as were the American tourists already in the bar, and I ended up tasting a wee bit too much in the end!
It was however jolly good fun and some of the beers were actually very nice (the IPAs were disappointing, but there were some very good tripel beers and other Belgian style brews made by Italian microbreweries).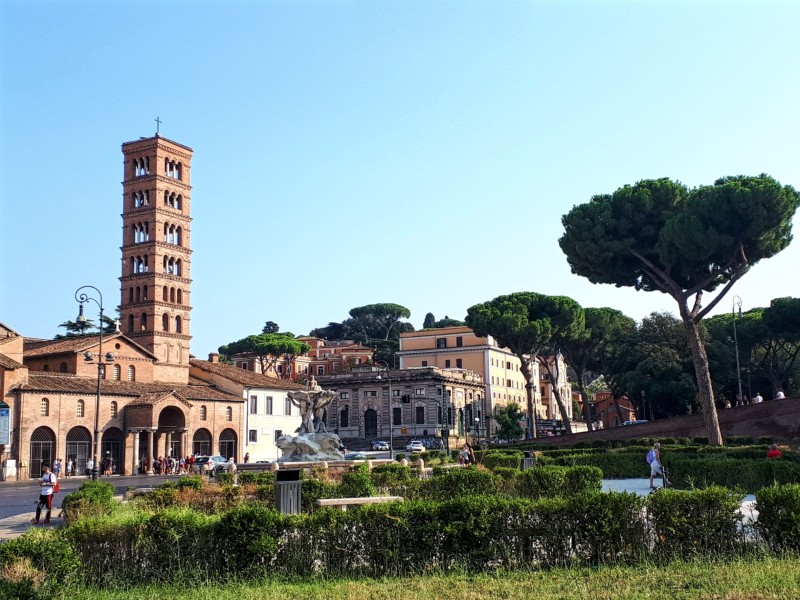 Dinner
As I was quite tipsy at this point, I desperately needed something to eat.
I went for a pizza restaurant recommended by the barkeep. The pizza I ordered was just OK. Decent enough – but I had certainly many better ones both in Italy and abroad.
Instead of taking public transport back to my hotel room, I decided to walk back home – with a detour. At night, Rome looks just as magical as during the day.
In short
Summer is probably not the best time to visit Rome. The weather is too hot, many Italians have left on holiday, and all that is remaining are lots of other tourists.
I however certainly enjoyed being back in the Eternal City. Even though I only had half a day in Rome, I still had a highly enjoyable day walking across the city and seeing some of the most important places in world history.
Rome is just such a charming city to wander around.
Although you need at least three days to do the city justice, even spending just half a day in Rome on a stopover is already a joy – whether it's your first time in town or your tenth or twentieth visit.
Rome's nickname of the Eternal City really is fitting in so many ways!
Trip report index
This article is part of the 'Journey to Java' trip report, which consists of the following chapters:
1. Review: Wizz Air Bucharest to Rome Ciampino (Airbus A321)
2. Half a Day in Rome: A Walk Around the Eternal City (current chapter)
3. Review: Casa Alitalia Lounge 'Piazza di Spagna' Rome Fiumicino Airport
4. Review: Saudia Business Class Rome to Riyadh (Airbus A320)
5. Review: Saudia Alfursan Business Lounge Riyadh Airport
6. Review: Saudia Business Class Riyadh to Jakarta (Boeing 777-300)
7. Review: The Hermitage, a Tribute Portfolio Hotel, Jakarta, Indonesia
8. A Day in Jakarta: Exploring Indonesia's Bustling Capital City
9. Review: Garuda Indonesia Domestic Business Lounge Jakarta Airport
10. Review: Garuda Indonesia Business Class Jakarta to Yogyakarta (Boeing 737-800)
11. Review: The Phoenix Hotel Yogyakarta – Mgallery By Sofitel
12. A Magical Sunrise Visit to Borobudur Temple
13. A Visit to the Great Hindu Temple Complex of Prambanan
14. Review: Yogyakarta to Surabaya (Indonesia) by Train
15. Review: Majapahit Hotel, Surabaya, Indonesia
16. A Day in Surabaya: Exploring Indonesia's Second Biggest City
17. Review: Concordia Premier Lounge Surabaya Airport
18: Review: Singapore Airlines Business Class Surabaya to Singapore (Airbus A330-300)
19. A Short Singapore Stopover: Into the City or Stay at the Airport?
20. Review: SilverKris Lounge Singapore Changi Airport Terminal 2
21. Review: Singapore Airlines Business Class Singapore to Manila (Boeing 787-10)
22. Review: PAGSS Business Lounge Manila Airport Terminal 1
23. Review: China Airlines Economy Class Manila to Taipei (Airbus A330-300)
24. Review: China Airlines Business Lounge Taipei Airport Terminal 1
25. Review: China Airlines Economy Class Taipei to Rome (Airbus A350)
26. Review: TAROM Economy Class Rome to Bucharest (Boeing 737-700)