Review: Saudia Business Class Rome to Riyadh (Airbus A320)
In this review, we will take a Saudia business class flight from Rome to Riyadh on the Airbus A320-200.
To the gate
Having spent some time in the excellent Casa Alitalia business lounge at Rome Fiumicino Airport, it was time to slowly head to the boarding gate for my flight to the Saudi capital of Riyadh.
At the gate, the gate agents called the names of a few dozen passengers – including mine – for a visa check.
Given that I was flying to Indonesia (which is visa-free for me) I was quite surprised by it at first, but it turned out that the gate agents actually only wanted to see proof of onward travel or a return ticket given that I had just bought a one-way ticket with Saudia to Jakarta.
It took a while for me to pull up my other flight reservations, but in the end the gate agents were satisfied after showing my flight ticket from Surabaya to Singapore.
Saudia A320
Standing near the gate gave me a good opportunity to take a snap of the A320 that would take me to Riyadh.
Saudia is perhaps as far as it gets from the world's sexiest airline companies to fly with.
Saudia just doesn't have the same ring as Singapore Airlines or Emirates – but I do love the livery of their planes.
The white, beige and dark blue colours match beautifully and certainly make the planes stylish. In my opinion it is one of the most beautiful airline liveries out there.
Rome Fiumicino (FCO) to Riyadh (RUH) on Saudia
Flight SV208 – Airbus A320-200 – Business class, seat 4A
Departure: 3.40pm – Arrival: 9.40pm
Flight time: 5h – Distance: 2,283 miles
Costs: 350 EUR for FCO-RUH-CGK
A320 configuration
Saudia currently has two different configurations of their Airbus A320s.
The planes with the old interior have 12 leather recliner seats in business class, while Saudia's refurbished A320s have 20 lie-flat business class seats.
A quick look at the seat map will show you whether a newly configured aeroplane or an older one is scheduled to operate your flight.
The planes with the new lie-flat business class seats make for a truly excellent product as I found out on another Saudia A320 flight which I recently took.
On this flight from Rome to Riyadh, I was however still on a plane with the old narrow-body business class product.
For what it's worth, in the future this older hard product will disappear from the skies completely as Saudia soon hopes to solely operate their refurbished A320s on all Europe to Saudi Arabia routes when more planes have been reconfigured.
Boarding
Priority boarding was neatly observed, with business class passengers and SkyTeam Elite Plus status holders being called forward first.
I was the first to board the plane and my first impressions were mixed.
The seats in business class looked spacious and comfortable, but that colour scheme! The Saudia cabin on this plane looked the same as the treatment room of my local dentist.
Saudia business class seat
Although the recliner seats are obviously not the best for an overnight flight, they are in my opinion still perfectly acceptable for a mid-haul daytime flight like this.
Indeed, when I sat down the Saudia business class seat was certainly spacious and comfortable. They were certainly better than your average intra-American first class seat.
To begin with, both the seat pitch and recline were good and there was tons of leg room given that there was quite some distance between the rows. You could easily stretch your legs without bumping into the seat ahead of you.
There was however quite some wear and tear around the seat, table, floor carpet and seat controls. All the control were however responsive as you could easily adjust the headrest, recline and leg rest.
In the armrest you can find a USB port to charge your electronics. The fold-out tray table was also certainly big and stable enough to work on with your laptop.
Overall I'd still say it is a very comfortable and absolutely fine business class seat for a short or mid-haul flight, although it of course pales compared to Saudia's new lie-flat business class seats on their reconfigured A320s.
Pre-departure service
As the cabin slowly filled up with the other passengers, the crew offered pre-departure beverages. We could choose between fresh orange juice, lime juice and water.
Of course, there is no champagne on board your Saudia flight as the airline – just like the entire country of Saudi Arabia – is completely dry with alcohol being forbidden by law.
Don't even think about bringing your own booze on board – which is reportedly tolerated by some other dry airlines like Egyptian and Kuwait Airways if you have to believe other flight reviews – but it's certainly not allowed on Saudia (and besides that it would be absolutely disrespectful to do so).
For my pre-departure beverage, I went for the lime juice, which was tasty and certainly refreshing on this hot Italian summer day.
The crew also came by with refreshment towels.
Departure
After glasses and towels were taken away by the crew we were rolling off on the tarmac towards the runway.
After their in-flight safety video, Saudia always plays a short pre-flight video in which a travel prayer from the prophet Muhammed is recited, wishing for a safe and smooth journey.
From our gate, it was a short distance over the tarmac towards the runway.
Take-off was smooth and there were some nice views from the window back over Rome Fiumicino Airport.
Amenity kit
Shortly after the fasten seatbelts sign went off, the crew jumped into action and started to distribute amenity kits, a nice touch on a daytime mid-haul flight.
The Porsche Design branded amenity kit did not have anything spectacular in it, but was not bad either.
It contained all the basic essentials such as a travel toothbrush and toothpaste, eyeshades, a comb and similar amenities.
I did however like the design of the sturdy, brown pouch – which can certainly be reused at home or on future travels.
Menus
The menus for today's flight were distributed as well a short while later. With its light blue cover, it certainly looked classy.
The only weird aspect was that drinks weren't fully listed in the menu which just listed "selection of assorted juices" and "selection of soft drinks", meaning that you still had to ask the crew what they actually had on offer.
For starters, today's choices were between Arabic mezze and the Western appetiser of salmon and prawns.
For the main, the choice was between a pistachio-crusted lamb rack, seafood fettuccine and roasted chicken rolls.
After the menus were distributed, the sole male flight attendant (and the only native Saudi – the other female flight attendants being all Asian) came around to note meal preferences.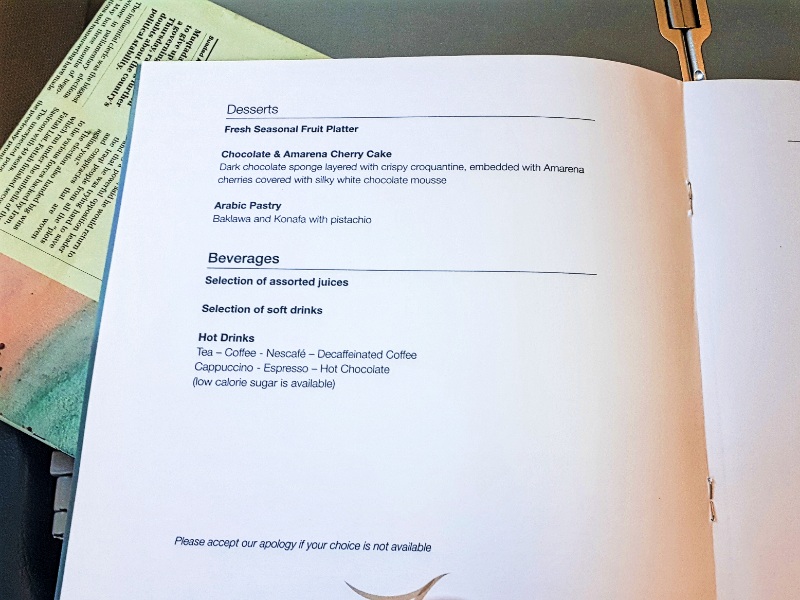 Service
The cabin crew on this flight was very peculiar.
The Saudi male flight attendant was actually a very friendly and welcoming guy – but my gosh – he was one of the slowest I ever saw.
It took an hour for him to note every meal preference for the entire business class cabin, which was fully booked.
The other flight attendants – all females from Asia – were faster and seemed to work more efficient, but weren't very welcoming as they couldn't even show the slightest of smiles.
We were almost one-and-a-half-hour into the flight – way beyond Sicily about halfway to Crete – when the crew started the Arab coffee and dates service.
In my opinion that took way too long.
Mealtime
After more than two hours – well past Crete – the lunch service finally commenced.
It's not that I don't mind a drawn-out dining experience on a daytime flight, but this just seemed to be way too slow.
First, the flight attendants distributed the starters on trays to all passengers, only to come back later with every main dish.
I had ordered the Arabic mezze and the lamb, both of which tasted perfectly fine and were nicely plated.
During the meal services the crew members came by as well with a bread basket, from which I selected the flat bread as it goes best with the mezze dips.
To finish off the meal, I went for the Arabic pastry selection instead of the chocolate and amarena cherry cake. Unfortunately, the portion was rather small and the pastries themselves dry and tasteless.
Strange service
The whole meal service left me with some conflicting views.
Overall, the food was certainly good. The mezze dips were yummy, the lamb succulent and flavourful, even though my dessert was a bit of a disappointment.
With the meal, a glass of water was automatically served. And while that is perfectly fine, it was also where much of the service went wrong.
At not a single point during the entire meal service did any crew member stop by to refill the glass.
It seemed to be downright impossible to get their attention to ask for a refill (or for any other drink!) as they were so pre-occupied going through all the motions of the meal service.
It also puzzled me why they didn't ask for drink preferences before the meal.
The crew was just so painfully slow and forgetful. It took them one hour to write down all dining wishes.
It also took them one full hour from the moment person 1A got his meal, to the moment the final business class passenger in 5F got his. How on earth does it take one hour to put 20 trays on the tray tables?
After the meal service the crew disappeared entirely from the cabin and only after a reminder by the call button I was finally given another glass of juice – something which I had already asked about during mealtime.
Saudia changes
One thing which I have to mention here is that in the months since this Rome to Riyadh flight, Saudia has enhanced its on board service in business class.
As you can read in my review of a more recent mid-haul Saudia flight between Athens and Jeddah, the airline has not only revamped its food and drinks menus, but also tackled some service issues.
Especially as a dry airline you want to differentiate and offer a wide selection of non-alcoholic drinks, and Saudia seems to have finally acknowledged this, as since my Rome to Riyadh flight the airline is now offering mocktails, barista-made coffee and many more non-alcoholic drinks.
They also updated service protocols, which has now resulted in service being much more smooth and customer-oriented. Read the link above as well to my other Saudia A320 review as you can clearly see all the positive changes!
IFE and WiFi
In business class, there is an in-flight entertainment screen in the central armrest console between the seats which you can fold out.
The screen itself was responsive and the contents of the in-flight entertainment system weren't too bad. There was a decent selection of films, series and music.
Although the selection is certainly not as wide as some other airlines (such as Emirates or Qatar Airways to name two other airlines from the Arab peninsula), I'm quite sure that everyone can find something interesting to watch.
The Saudia Airbus A320 is also equipped with WiFi internet, although I didn't manage to get the system working to test it out.
Although I could log into the system, it then wanted to force me to download a weird application which frankly I did not fully trust (and neither did my phone as it gave some warnings!).
Arrival
By the time the meal service ended we were already flying over the Nile Delta. From my two plane windows, I also had a great view of the sunset over North Africa.
Soon after we were already on final approach into the Saudi capital of Riyadh. Despite it being dark, the views on arrival were quite spectacular.
There is just something fascinating about a giant city which seems to be located in the middle of nowhere in a desert.
All you see are pitch black views, and then out of nowhere there are the bright lights of the buildings and streets of Riyadh, which at night looks more like a circuit board or being caught inside the Matrix.
We landed on time in Riyadh and after some 15 minutes of taxiing parked at one of the airport jet bridges.
Conclusion
I had a perfectly enjoyable flight on Saudia, even though I seldomly had a flight like this before in which so many positive and negative thoughts battled it out in my mind.
Let's begin with the positives. Although there was a bit of wear and tear in the cabin and the business class seat isn't state of the art, it still makes for a very comfortable seat for a mid-haul flight on a narrow-body plane.
The seat has a sea of leg room, is well-padded and has a decent recline. The business class cabin also features USB charging ports at each seat, as well as an in-flight entertainment screen with a decent selection of films and series.
Apart from my dessert, I had an excellent meal as well.
The service though left a lot to be desired. First of all, the meal service was just plain inefficient and amazingly slow, lasting almost four hours. Secondly, the crew was horrible when it came to refilling drinks or asking for any other drink besides the glass of water which was pro-actively served with the food.
I don't think this was due to them being unhelpful or disinterested, but more of them being absolutely chaotic and somehow overwhelmed while at the same time they bizarrely took forever for every small step like noting down meal orders.
Fortunately, Saudia has since addressed the issue of their lacklustre drinks service and has introduced new service protocols, making this a thing of the past.
Although I understand that Saudia might not be everyone's cup of tea due to it being a dry airline and some people being hesitant to fly with an airline from a country like Saudi Arabia which doesn't have the best human rights record, I did enjoy my flight and would not hesitate flying with them again if the price is right.
Trip report index
This article is part of the 'Journey to Java' trip report, which consists of the following chapters:
1. Review: Wizz Air Bucharest to Rome Ciampino (Airbus A321)
2. Half a Day in Rome: A Walk Around the Eternal City
3. Review: Casa Alitalia Lounge 'Piazza di Spagna' Rome Fiumicino Airport
4. Review: Saudia Business Class (Airbus A320) Rome to Riyadh (current chapter)
5. Review: Saudia Alfursan Business Lounge Riyadh Airport
6. Review: Saudia Business Class Riyadh to Jakarta (Boeing 777-300)
7. Review: The Hermitage, a Tribute Portfolio Hotel, Jakarta, Indonesia
8. A Day in Jakarta: Exploring Indonesia's Bustling Capital City
9. Review: Garuda Indonesia Domestic Business Lounge Jakarta Airport
10. Review: Garuda Indonesia Business Class Jakarta to Yogyakarta (Boeing 737-800)
11. Review: The Phoenix Hotel Yogyakarta – Mgallery By Sofitel
12. A Magical Sunrise Visit to Borobudur Temple
13. A Visit to the Great Hindu Temple Complex of Prambanan
14. Review: Yogyakarta to Surabaya (Indonesia) by Train
15. Review: Majapahit Hotel, Surabaya, Indonesia
16. A Day in Surabaya: Exploring Indonesia's Second Biggest City
17. Review: Concordia Premier Lounge Surabaya Airport
18: Review: Singapore Airlines Business Class Surabaya to Singapore (Airbus A330-300)
19. A Short Singapore Stopover: Into the City or Stay at the Airport?
20. Review: SilverKris Lounge Singapore Changi Airport Terminal 2
21. Review: Singapore Airlines Business Class Singapore to Manila (Boeing 787-10)
22. Review: PAGSS Business Lounge Manila Airport Terminal 1
23. Review: China Airlines Economy Class Manila to Taipei (Airbus A330-300)
24. Review: China Airlines Business Lounge Taipei Airport Terminal 1
25. Review: China Airlines Economy Class Taipei to Rome (Airbus A350)
26. Review: TAROM Economy Class Rome to Bucharest (Boeing 737-700)