A Magical Sunrise Visit to Borobudur Temple
In this trip report we make a sunrise visit to the magical Borobudur Temple on the island of Java (Indonesia) and explain how to reach it as a day trip from Yogyakarta.
Borobudur
Borobudur – sometimes transcribed as Barabudur – is a 9th Century Mahayana Buddhist temple some 40 kilometres or so out of Yogyakarta.
As the world's largest Buddhist temple, Borobudur is perhaps Indonesia's most famous sight.
I would even say that it ranks as one of Asia's top historical sights together with the temples at Angkor Wat (Cambodia) and Bagan (Burma).
It is therefore only logical that the Borobudur Temple Compounds are recognised as a World Heritage Site by UNESCO.
How to visit Borobudur from Yogyakarta?
Access to Borobudur is fairly straightforward from Yogyakarta. Most people come here on an organised tour or by renting a taxi or vehicle for the day – both of which can be organised by any hotel or hostel in the city.
I wouldn't bother with driving to Borobudur yourself given the relatively cheap prices of a taxi or car and driver.
Using public transport may be possible, but it is highly inconvenient as ideally you want to combine a visit to Borobudur with the nearby Hindu temple compounds of Prambanan.
Borobudur and Prambanan can be easily visited from Yogyakarta as a half-day trip.
To give you an idea about the price levels, I paid 30 EUR for a car and driver to take me to both Borobudur and Prambanan, although the price of the entrance tickets came on top of this.
Sunrise visit
A popular time to visit Borobudur is at sunrise as the view from the top of the temple over the rising sun coming from behind the mountains is apparently world famous.
You will have to get up early though. A 4am start is not unheard of, and it might even be earlier when going on an organised group tour by bus.
Also take into account that a sunrise ticket is more expensive than a normal entrance ticket. To visit Prambanan during the day (8am to 4pm) you have to pay 362,500 IDR (25 USD) for an adult ticket.
A sunrise ticket will cost you 500,000 IDR (34.50 USD). There are special discount tickets for students, children and domestic (Indonesian) tourists.
Leaving early
I woke up early at 3.30am and at 4am sharp my driver for the day arrived in front of the Phoenix Hotel.
The private vehicle did not disappoint, as I had a luxury SUV all to myself and bottled water was complimentarily offered.
It took around an hour to drive from central Yogyakarta to Borobudur.
Entering the complex
It was quite crowded at the temple this early morning. I'm bad at guessing numbers of people, but it would easily have been around 100 to 200 tourists who had turned up this early.
Even though I'm bad at guessing crowd sizes, I do have a talent when it comes to getting orientated quickly having a generally great sense of direction.
Although I certainly wasn't among the first people to have arrived at Borobudur and having bought the entrance ticket from the parking lot ticket office, I somehow was one of the first in the queue at the entrance gate to the actual temple.
When one of the guards finally opened the entrance gate to Borobudur, I therefore was one of the first to actually set foot inside the temple.
Each person will be given a flash light when buying the ticket, which you have to return again after your visit. It was certainly useful as it was still pitch-black at this hour of the morning.
Using Google Maps on my smartphone, it was also easy to determine the exact side of the temple where the sun would rise, which allowed me to occupy a great spot high up on top of the temple from where hopefully I would have some unobstructed views without too many other people in front of me.
All I had to do now was to wait for about 30 to 40 minutes until the sun would come up.
Dawn
At dawn, you will get your first real glimpses of the surrounding area. In the far distance you can see the two silhouettes of the twin volcanoes of Mount Merbabu and Mount Merapi.
The only thing less great are some very bright lights of some buildings towards the East shining directly into your eyes, which of course makes it much harder to take a good photo.
Sunrise
Some minutes later the sun came up from behind the mountains. Although the sunrise was beautiful, it was not as great as I imagined.
Don't get me wrong – the actual sunrise is fantastic to see – but there were two factors which ruined it a little bit.
First of all, it was the sheer size of the crowd. After a while, the other tourists became quite loud and obnoxious.
Instead of quietly observing the beautiful sunrise and respecting the environment of a temple, some idiots started to run wildly around and shout.
Others started to shine their flash light into other people's faces, which also made it more difficult to make some decent pictures.
Just like all other main sights in Asia, do not think that you will be the only one around and that the atmosphere will be as serene as you might have imagined it would be.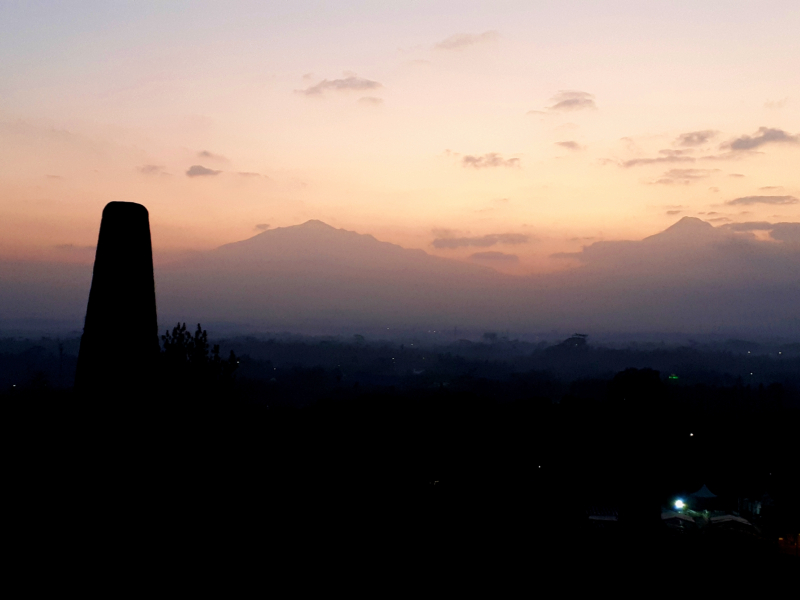 Escaping the crowds
After a while, I decided to have a walk around the temple complex and to see the view from the other side of Borobudur.
This would also get me as far away from the obnoxious persons in the crowd as possible, as most of the people were still seated or standing at the eastern side where the sun rises.
Giving up my prime spot on the top of the temple was probably the best decision I made, as the view from the other side of the temple turned out to be absolutely magnificent as well.
Even better, apart from two or three other people I had this side of the temple all for myself, which allowed me to absorb the views and vibe in silence.
The first bits of sunlight and the morning fog between the trees around Borobudur created some magical light effects. Only now did I really start to savour the entire experience and finally got some goosebumps on my skin.
Statues and reliefs
After sitting down for a while to admire the views, it was time to explore the temple in earnest.
Borobudur basically combines the forms of a stupa (a Buddhist commemorative mound), a mountain (based on the image of Mount Meru from Hindu mythology) as well as the mandala (the Buddhist symbol of the universe which exists out of a square symbolising the earth and a circle to symbolise heaven).
Borobudur has nine stacked platforms and is topped by a central dome.
It has more than 2,600 relief panels and 500 Buddha statues depicting scenes out of daily life of both the locals and royals alike.
Coffee
The sunrise entrance ticket to Borobudur includes a small snack and coffee at the restaurant above the ticket office – which is much appreciated when you have to get out of bed this early.
Mendut
There are two other Buddhist temples close to Borobudur which are well-worth a visit. These are the temples of Pawon and Mendut, which are both located on a straight line to the east from Borobudur.
Mendut – at approximately three kilometres distance – is the furthest away from Borobudur.
As it's located on the road back to Yogyakarta, most organised tours will make a stop here. If you have your own private driver, make sure that the stop is included on your half-day trip as well.
Just like Borobudur, Mendut is a 9th-century Buddhist temple. Even though there is a religious connection between the three temples, archaeologists are however not sure what the exact ritual process was between them.
Mendut is just a small temple and you can easily visit it in 10 to 15 minutes. The location of the temple – next to a beautiful old tree – is quite lovely.
Conclusion
The sunrise visit to the Borobudur temple complex turned out to be magical. Although at first I thought the experience was somewhat of a disappointment due to the crowds, I quickly found out that there was an easy way to escape from it.
As most people have their eyes and cameras firmly fixed towards the sunrise in the east, there is almost nobody at the other three sides of the temple.
By all means, watch the actual moment of the sunrise at the eastern side of Borobudur.
Once the sun has surfaced, it is well worth it to walk to the other side where you can actually enjoy the surroundings and beautiful morning lights in a serene, magical atmosphere.
Borobudur is an amazing historical sight which is a must to visit when you find yourself in Yogyakarta (or anywhere else on the Indonesian island of Java).
No matter which time of the day you go, you cannot go wrong really. If you don't feel like getting up at 3.30am – there is no need. That said, I didn't regret it for a minute that I did as the sunrise views were stunning.
Trip report index
This article is part of the 'Journey to Java' trip report, which consists of the following chapters:
1. Review: Wizz Air Bucharest to Rome Ciampino (Airbus A321)
2. Half a Day in Rome: A Walk Around the Eternal City
3. Review: Casa Alitalia Lounge 'Piazza di Spagna' Rome Fiumicino Airport
4. Review: Saudia Business Class Rome to Riyadh (Airbus A320)
5. Review: Saudia Alfursan Business Lounge Riyadh Airport
6. Review: Saudia Business Class Riyadh to Jakarta (Boeing 777-300)
7. Review: The Hermitage, a Tribute Portfolio Hotel, Jakarta, Indonesia
8. A Day in Jakarta: Exploring Indonesia's Bustling Capital City
9. Review: Garuda Indonesia Domestic Business Lounge Jakarta Airport
10. Review: Garuda Indonesia Business Class Jakarta to Yogyakarta (Boeing 737-800)
11. Review: The Phoenix Hotel Yogyakarta – Mgallery By Sofitel
12. A Magical Sunrise Visit to Borobudur Temple (current chapter)
13. A Visit to the Great Hindu Temple Complex of Prambanan
14. Review: Yogyakarta to Surabaya (Indonesia) by Train
15. Review: Majapahit Hotel, Surabaya, Indonesia
16. A Day in Surabaya: Exploring Indonesia's Second Biggest City
17. Review: Concordia Premier Lounge Surabaya Airport
18: Review: Singapore Airlines Business Class Surabaya to Singapore (Airbus A330-300)
19. A Short Singapore Stopover: Into the City or Stay at the Airport?
20. Review: SilverKris Lounge Singapore Changi Airport Terminal 2
21. Review: Singapore Airlines Business Class Singapore to Manila (Boeing 787-10)
22. Review: PAGSS Business Lounge Manila Airport Terminal 1
23. Review: China Airlines Economy Class Manila to Taipei (Airbus A330-300)
24. Review: China Airlines Business Lounge Taipei Airport Terminal 1
25. Review: China Airlines Economy Class Taipei to Rome (Airbus A350)
26. Review: TAROM Economy Class Rome to Bucharest (Boeing 737-700)