Guide: How to Travel From Rhodes to Halki by Ferry
In this guide we explain how you can travel from Rhodes (Rodos) to Halki (Chalki) by ferry and show you how the crossing is like.
Rhodes
After a fun flight from the island of Kastellorizo I found myself outside of Rhodes Airport. Although I would spend some time on Rhodes later during the trip, my first port of call was the island of Halki, where I would stay three nights.
Rhodes is only a short ferry distance away from Halki, so needless to say it features also as the main transport hub for Halki. As the largest island of the Dodecanese island group, it's also the place where Halki's residents go for shopping or administrative tasks when these cannot be done on their tiny island.
As Rhodes is one of Greece's most touristic islands which sees tens of thousands holidaymakers arriving each year, there is also a keen interest among tourists in day trips to Halki.
Whatever your reason is for visiting Halki, it is very straightforward to make the ferry crossing, whether it's a one-way trip or a same-day return when you are making a day trip.
Two routes
As you can see on the map below, there are two ferry routes from Rhodes to Halki.
First of all, there are conventional ferries departing Rhodes Town for Halki. This the longer route and these conventional ferries are also slower, but they are the only ones which can take cars with them (not that you'd need on Halki, though!).
The other option to travel from Rhodes to Halki is by taking the smaller ferry departing from Kamiros Skala on the western coast of Rhodes, which is what the bulk of travellers end up doing.
This route is operated by Alko Ferries – which uses a boat named 'Sebeco II' for the crossing.
Conventional ferries
Although the conventional ferries can certainly be convenient if you are staying in Rhodes Town, these ferries sail on a very irregular basis.
Depending on the day and the season, there might be two days in a row without ferry departure – and even if there is a departure the departure and arrival hours might not always be suitable.
However, these ferries can again be great if you want to travel from another place in Greece to Halki or vice versa.
For example, this year (2021) ANEK Lines runs a biweekly Piraeus to Rhodes service, which stops on the way in Halki. That means that twice a week you can take a ferry from Halki to such islands like Karpathos, Crete (the port of Sitia), Santorini, Milos and of course Piraeus as the mainland port for Athens.
To check ferry times for all Greek conventional ferries, I can recommend the website of Viva. This website does not only have the most user-friendly search tool of all ferry booking websites, but it can also book any (conventional) ferry ticket in Greece.
Alko Ferries
Most visitors to Halki are however likely to use the smaller ferry boat from Alko Ferries as it offers a much greater variety of departures.
One great advantage of Alko Ferries is that the journey from Kamiros Skala to Halki is not only faster than the conventional ferries departing Rhodes Town (Alko only takes 30 minutes for the crossing) but also that these ferries sail on a more regular basis.
Although in low season there might only be one departure daily, this goes up to a morning and late afternoon (or early evening) crossing in the shoulder season.
In the summer season, more departures are offered and there could be as many as three or four daily sailings between Halki and Kamiros Skala.
You can check timetables on the website of Alko Ferries. Note that the website writes Halki as 'Chalki' and that Kamiros Skala is written on the website as both 'Skala Kameirou' and 'Skala Kamirou'.
Bus connection
Last but certainly not least, all Alko Ferries arrivals and departures at Kamiros Skala connect with a bus to/from Rhodes Town. That means if you take the public bus from Rhodes to Kamiros Skala, there will be a guaranteed connection with the ferry.
The same way is the case the other way around. If you take the ferry from Halki and arrive at Kamiros Skala, there will be a bus waiting to bring you to Rhodes Town.
Of course, you can also drive to Kamiros Skala with your own (rental) car as there is a large car park right next to the quay.
You can buy tickets for the Kamiros Skala – Halki ferry (and bus connection) online at the website of Alko Ferries, or do it at the Alko Ferries travel agency in Halki or their ticket booth on the quay of Kamiros Skala.
Ferry schedules
It's important to note that Alko's ferry schedules are only published two months out or so, so don't worry if you check their website in spring and the summer schedule has not yet been published.
You should be aware of a similar situation when checking the timetables of conventional ferries. Although these are published a couple of months out (you can check and book most autumn ferries in spring, for example) next year's ferry schedules are simply not yet known.
And while Alko Ferries schedules are likely to stay roughly the same (1 daily ferry in low season, 2 in shoulder season, 3 to 4 in high season) the timetables of conventional ferries (and operators!) can differ greatly from year to year.
Taxi
So how does the ferry crossing look like? Let's find out! My trip to Halki did not start in Rhodes Town but at the airport.
As there weren't any bus departures from the airport to Kamiros Skala until the late afternoon and I was thinking I could still make the noon ferry departure by taking a taxi, this was exactly what I did.
Officially, the taxi price for the ride between the airport and Kamiros Skala is a steep 50 euro (although admittedly the distance of 32 kilometres isn't short).
As there were no other flights arriving at the same time and the airport premises were eerily quiet, I however had quite some negotiating room and I ended up finding a taxi driver willing to drive me to Kamiros Skala for 35 euro.
The road from the airport to Kamiros Skala runs parallel to Rhodes' western coast, giving you some decent views over the sea.
Ferry departure
As my taxi driver put the pedal down, we managed to arrive in Kamiros Skala within no time with even a couple of minutes to spare until the ferry departure.
I could easily buy the ferry ticket (7.50 EUR one-way) from the small booth at the port. It took however quite a bit longer to fill in the compulsory passenger locator form and health and safety questionnaire introduced on Greek ferries during the corona pandemic – which you have to hand over to the crew when you embark.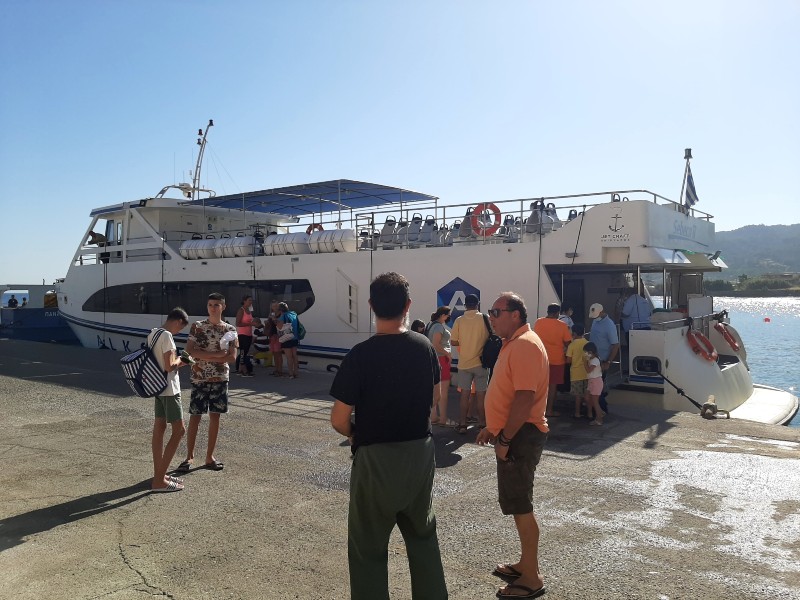 Sebeco II
The sailings from Kamiros Skala on Rhodes to the island of Halki are operated by the ship Sebeco II. Crossings between Rhodes and Halki on this vessel take between 30 and 40 minutes.
The Sebeco II has two decks. On the lower floor, there is indoor seating and a small (covered) outdoor deck at the rear with a couple of seats. That is also the place where groceries, building materials and other goods are stored for delivery in Halki.
If you are travelling with large and heavy baggage, you will also find some luggage racks here where you can store your bags.
On the upper deck, there is outdoor seating – which seemed to be the most popular among travellers. Part of the deck is covered and thus has shade, while the other half will be in the open sun.
There are no assigned places, so you are free to take any seat you like.
The ferry crossing
The ferry crossing from Kamiros Skala on Rhodes to Halki Town takes some 30 to 40 minutes. It's a leisurely crossing, and there are some nice views over the western coast from Rhodes as the boat departs to the south-west.
After a while, the ferry heads west and away from the Rhodian coast, passing by the uninhabited island of Alimia and some minor islets, some of them just barren rocks.
Halki arrival
When the ferry approaches the island of Halki, you want to make sure that you are standing on the open deck on the right-hand side for the best arrival views.
Halki town looks absolutely stunning as seen from the ferry deck, as the small but colourful town contrasts beautifully to the barren mountains behind it and the deep blue sea.
There won't be any place in Halki Town itself where you will have such a fine panoramic view over the island's largest settlement.
The ferry back
Fast forward three days on my trip and it was time to take the ferry back from Halki to Rhodes. This time around I took the early morning crossing.
There is a nice little bakery right opposite the quay from where the Semeco II departs, allowing you to grab a tasty pastry and freddo espresso or frappe as provision for the short crossing.
When approaching Rhodes, do look out for the ruins of Kritinia Castle, a hilltop castle built in 1472 by the Knights of St. John.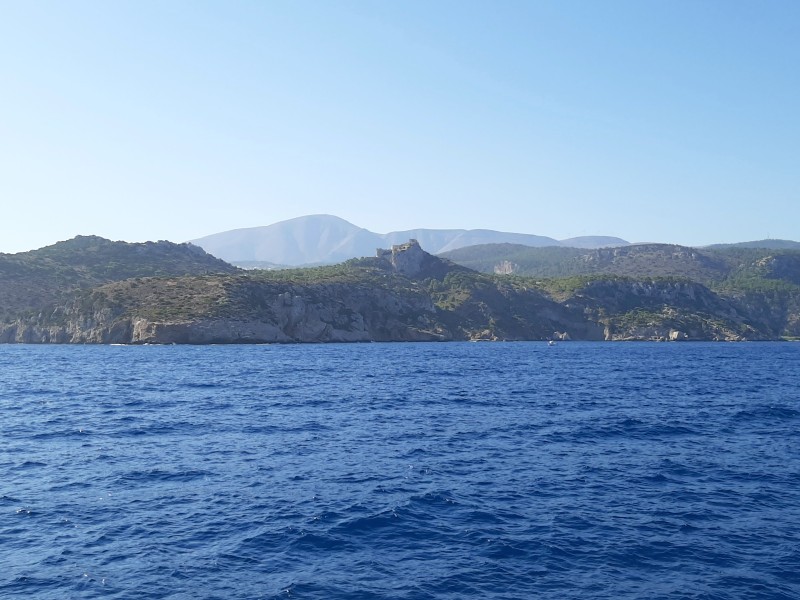 Bus to Rhodes
On arrival in Kamiros Skala, the connecting bus to Rhodes was already waiting at the dock. The ferry to bus connection couldn't be any smoother.
From Kamiros Skala, the bus goes straight to Rhodes Town, where you will be dropped off right outside the old walled town.
Conclusion
As you will read in the next chapter of this trip report, Halki is a fantastic island which is well-worth visiting, whether that's on a day trip from Rhodes or for a longer, multiple-day stay.
Although information on how to reach Halki might be a bit tricky to find on the internet (I spent quite some time myself searching for ferry timetables and bus connections) it cannot be more easy in practice.
The Halki-Rhodes ferry connects with buses to/from Rhodes Town, which makes for a seamless bus to boat connection. If you have your own rental car, there are plenty of parking places right next to the dock where you can park your car while you make your way by boat to Halki.
Alko Ferries runs the most reliable ferry connection between Kamiros Skala (Rhodes) and Halki, with up to three or four daily departures in the high summer season.
However, do not discount the conventional ferries running between Halki and Rhodes Town. These might be slower and less frequent, but if a sailing coincides with your travel dates it might be a very convenient option.
Trip report index
This article is part of the 'A Dodecanese Dream: Summer Island Hopping in Greece' trip report, which consists of the following chapters:
1. Back in the Skies – My First International Flight in the Age of Corona
2. Review: Kimon Hotel, Athens, Greece
3. Exploring Plaka: Through the Winding Streets of the Old Town of Athens
4. Climbing up the Acropolis: Visiting Athens' Most Famous Sight
5. Review: Skyserv Melina Merkouri Lounge Athens Airport
6. Review: Sky Express Athens to Naxos (ATR 42)
7. Review: Studios Zafiri, Naxos Town, Greece
8. Naxos Town: The Gorgeous Historic Heart of the Cyclades
9. Review: Blue Star Ferries Naxos to Astypalaia
10. Review: Belvedere Studios, Astypalaia Town, Greece
11. Astypalea Town: The Unknown Crown Jewel of the Aegean Sea
12. Astypalea Island Guide: Exploring the Butterfly of the Aegean
13. On a Night Boat in Greece – Astypalea to Kastellorizo With Blue Star Ferries
14. Review: Traditional Apartments Alexandra, Kastellorizo, Greece
15. Kastellorizo: A Look Around Greece's Easternmost Island
16. Hiking on Kastellorizo: Two Sunset Hikes Detailed
17. Review: Olympic Air (Dash 8-100) Kastellorizo to Rhodes
18. Guide: How to Travel From Rhodes to Halki by Ferry (current chapter)
19. Review: Dorothea Apartments, Halki, Greece
20. Halki Town: Eating, Swimming & Relaxing in Beautiful Emborios
21. A Hike to Horio: Exploring Halki's Old Abandoned Capital
22. Guide: The Best Beaches on the Island of Halki
23. Review: Hermes Hotel, Rhodes Town, Greece
24. A Visit to the Delightful Old Town of Rhodes
** rest of the chapters to follow soon **