Review: Sofitel Nile El Gezirah, Zamalek, Cairo
In this review, we will stay at the luxury Sofitel Nile El Gezirah hotel in the upscale Zamalek district of Cairo, Egypt.
Reaching the hotel
After my impressive visit of the Giza pyramids I collected my bags from my hotel and hailed down a taxi for the ride to downtown Cairo, where I would stay the next two nights at the Sofitel Nile El Gezirah.
One great aspect about travel in Egypt is that even luxury five star hotels are perfectly affordable compared to Western Europe. For my stay, I paid 75 euro per night for a superior king room, a rate which included breakfast.
Although Cairo has a great range of high-end hotels, I was immediately drawn to the Sofitel when browsing through them on booking websites.
Especially the stunning location on the southern tip of Zamalek island with sweeping Nile views instantly attracted me to the Cairo Sofitel.
From Giza, it was however still a good hour of travel time to the Sofitel Nile El Gezirah in Cairo's gridlocked traffic.
Check-in
Arriving at the Sofitel might not be a good reflection of all the great aspects this Cairo hotel has in store. Just like other top-end Egyptian hotels, your taxi has to pass through some barriers first at a security checkpoint.
The driveway to the Sofitel is certainly not the most beautifully appointed and it feels a bit like you are ushered in through some back doors.
The reception area, which feels a bit dark and gloomy, is for sure one of the least appealing of the Sofitel's public areas.
Fortunately, the check-in process was friendly, fast and smooth – and I was even surprised with a complimentary room upgrade!
Room
My room at the Sofitel Nile El Gezirah certainly did not disappoint. It was large and nicely appointed, featuring a comfortable double bed, a desk and a cute seating corner with a chaise longue.
There was tons of storage space, both in the room and in the closets in the hallway.
At the desk, there were two complimentary bottles of water (which were replenished every day by housekeeping), tea and coffee bags and a kettle, as well as a special 'corona kit' featuring a face mask and hand sanitiser.
There were plenty of power sockets throughout the room and WiFi internet was fast and reliable. The room also featured a flat screen TV as well as air-conditioning, a must in Egypt.
The room was perfectly clean as well and certainly lived up to expectations.
Bathroom
Also the bathroom was nicely appointed, featuring a rain shower in a spacious shower room with floor to ceiling glass walls.
The bathroom sink certainly had enough space as well to put down all your toiletries.
All the necessary amenities were provided as well, including some decent quality shower gel and shampoo, hairdryer, bathrobes, slippers and more.
Balcony
Another great aspect of the room is the balcony and the lovely view you have from it over the Cairo skyline.
No matter which direction your room faces, you are guaranteed a panoramic view over Egypt's capital due to the circular shape of the Sofitel Nile El Gezirah.
In my case, I had a perfect view over Zamalek island and both river branches of the Nile.
It's an absolutely impressive view which you certainly want to check out both during daylight, at sunset and at night when all the lights are on.
The only odd aspect was that the balcony doors were firmly shut when I entered the room.
Apparently you have to call the reception to send in a maintenance worker to unlock the doors, for which you have to sign a special waiver.
Public spaces
Although the reception area of the Sofitel Nile El Gezirah might not be the nicest, all the other public spaces of the hotel are beautifully decorated, bright and spacious.
This is especially true of the central atrium, which has a huge chandelier, tons of seating and large glass windows and doors opening up to the garden on the banks of the River Nile.
The grounds around the Sofitel Nile El Gezirah are an oasis of peace and quietness compared to the hustle and bustle of Cairo, and make for a great refuge to sit down for a while watching all kinds of boats and ships passing by.
The Sofitel Nile El Gezirah also has 4 restaurants and 2 bars, a casino, gym, spa, business centre and of course a swimming pool.
Swimming pool
The swimming pool is another gem which makes the Sofitel Nile el Gezirah such a lovely hotel.
It's the setting which makes the pool so fabulous. The outdoor swimming pool is surrounded by beautiful palm trees and is located on the far southern tip of Zamalek Island, opening up to an infinity view over the River Nile.
Indoors, you can find a Jacuzzi and a sauna as well.
The service by the swimming pool attendants was top notch.
A towel is immediately handed out to you when you take a seat or lounger near the pool. If you return back from a swim and dry yourself with the towel, you were pro-actively handed a fresh towel straight away so you wouldn't have to reuse the wet towel.
When using the sauna, the pool attendants would even make sure that you had a complimentary carafe of ice cold lime-infused water.
There is a pool bar as well, although at times the waiters seemed to disappear completely. When you could however manage to get hold of a waiter, you would get your preferred drink within minutes.
My order of a beer came in a special ice bag to keep it cold and with some complimentary nuts.
Breakfast
Breakfast at the Sofitel Nile El Gezirah is served buffet style.
You can opt to sit inside, but in my opinion nothing beats having breakfast outside in the hotel garden while overlooking the Nile to kickstart your day in Cairo.
For a luxury five star hotel, I found the size of the breakfast buffet to be somewhat underwhelming. That said, quality of the food was certainly good and I was certainly pleased with the breakfast.
There were plenty of Egyptian favourites such as 'foul mudammas' (stewed fava beans), French croissants, pain-au-chocolate and other flaky, freshly baked pastries, cold cuts, meats and other foods available.
When you sit down, a waiter will come by to ask whether you would like coffee or tea, and will also inquire whether you want a made-to-order omelette.
Besides tea, coffee and bottled water, there is also a wide variety of juices and smoothies available as well.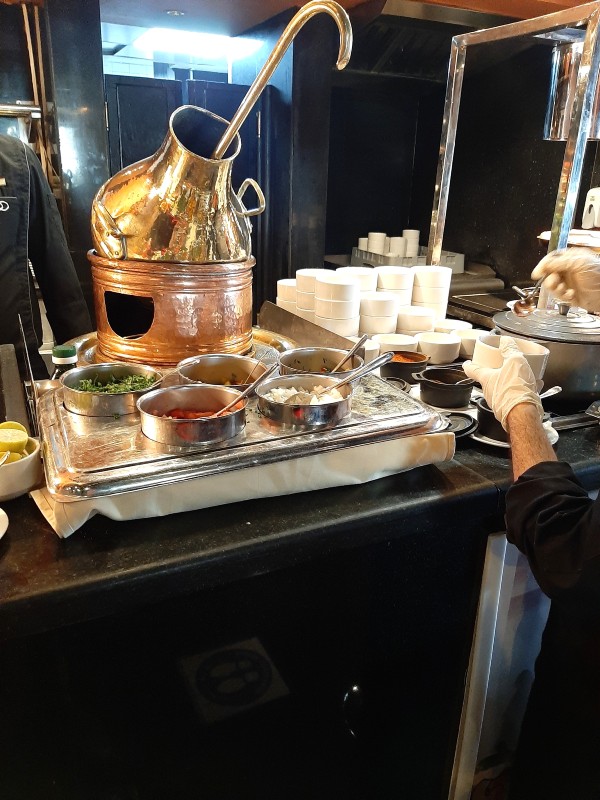 Dining options
There are a couple of restaurants on the grounds of the Sofitel Nile El Gezirah. These are among others La Palmeraie (Moroccan/Middle Eastern), Kebabgy (barbecue) and Casa Mia (Italian).
You can sit inside one of these restaurants or in their individual outdoor terraces.
However, if you sit down in the generic part of the Sofitel's outdoor garden you will be brought all of the above menus so you can still have your pick of your favourite food from any of the restaurants.
Service was attentive and although expensive for Egyptian standards, the food is still highly affordable for European standards (think around 15 EUR for a main, 6 EUR for a glass of beer or wine).
On my first night I took the Saudi lamb kabsa – which came in a big portion and was absolutely divine.
Just like breakfast, another great advantage of eating at one of the Sofitel restaurants is the amazing sunset view over the River Nile.
Because I enjoyed my first dinner so much, I also ate at the hotel on my second night – ordering the Egyptian lamb fattah, which was certainly good too.
Service
Service at the Sofitel Nile El Gezirah was exactly what you can expect from a luxury chain hotel in Egypt.
The employees were all immensely friendly and welcoming, and all interactions I had with the staff were pleasant.
When I returned back to my room after my first dinner, I was pleasantly surprised to find a personalised welcome message and some complimentary baklava waiting for me on the table.
Another great example of the excellent service at the Sofitel Cairo was my interaction with the hotel loyalty/customer relations manager.
When I asked her if I could perhaps check out an hour or two later, she generously offered that I could stay in my room until my evening train departure after inquiring with the reception staff if this wouldn't cause a problem with room availability.
Conclusion
The Sofitel Nile El Gezirah certainly did not disappoint and I ended up having an amazing stay at this centrally located Cairo hotel in the city's upscale Zamalek district.
My room was well-appointed, comfortable and had sweeping views over the Cairo skyline.
Service was generally welcoming, warm and attentive – whether it was at reception, one of the restaurants or at the swimming pool.
The garden with its palm-fringed swimming pool is certainly another big selling point of this hotel as the infinity view over the Nile is spectacular.
This is partly thanks to the Sofitel's location on the southern tip of Zamalek Island – this upscale island neighbourhood in the middle of the Nile is definitely a quiet oasis compared to the bustling and chaotic streets in other areas of Cairo.
Breakfast and food at the restaurants is certainly good too – and again the views from the outdoor terrace over the Nile are amazing and will definitely make for some memorable dining moments.
If you are looking for a great five star chain hotel in Cairo, I can certainly recommend the Sofitel Nile El Gezirah!
Trip report index
This article is part of the 'Walk Like an Egyptian: A Grand Tour of Egypt' trip report, which consists of the following chapters:
1. Red-Eye Ramblings of a Late Night Flight to Cairo
2. A Visit to the Pyramids of Giza by Camel
3. Review: Sofitel Nile El Gezirah, Zamalek, Cairo (current chapter)
4. Exploring the Medieval Old Town and Islamic History of Cairo
5. Visiting the Museum of Egyptian Antiquities in Cairo
6. Mar Girgis: The Churches of Christian Old Cairo
7. Review: Ernst Watania Sleeping Train Cairo to Aswan
8. The Ancient Quarry of Aswan and the Unfinished Obelisk
9. A Boat Ride From Aswan to the Temple of Isis at Philae
10. A Visit to the Aswan High Dam and Lake Nasser
11. A Visit to the Nubian Village on Aswan's Elephantine Island
12. Aswan Guide: A Visit to Egypt's Most Stunningly Located City
13. A Half Day Trip From Aswan to Amazing Abu Simbel
14. Nile River Cruise Guide: All Info for Your Egypt Boat Trip
15. Review: M/S Princess Sarah Nile River Cruise Ship
16. Nile Cruise: Sailing From Aswan to Kom Ombo
17. A Visit to the Ancient Crocodile Temple of Kom Ombo
18. A Visit to the Temple of Horus at Edfu
19. Nile Cruise: Sailing From Edfu to Luxor
20. Luxor, Egypt: Visiting the Sights of Ancient Thebes
21. A Visit to Luxor's Giant Temple Complex of Karnak
22. Visitor Guide to Wonderful Luxor Temple
23. Valley of the Kings: A Visit to Luxor's Ancient Necropolis
24. The Temple of Hatshepsut: A Visit to a Unique Mortuary Temple
** rest of the chapters to follow soon **