Review: Concordia Premier Lounge Surabaya Airport
In this review, we will visit the Concordia Premier Lounge in Terminal 2 of Surabaya Juanda International Airport (SUB), Indonesia.
To the airport
My visit to Surabaya marked the end of my trip to the Indonesian island of Java.
The way home would however not be straightforward, as I had five flights to go on my crazy itinerary.
Although the trip had sort of come to an end I did however still have some things to look forward to, as my first two flights would be in Singapore Airlines' excellent business class.
As the breakfast at my Surabaya hotel was mildly disappointing, I decided to leave early for Juanda Airport with the thought I might as well review it properly and have breakfast in the lounge.
After I checked out at the Majapahit Hotel, the friendly receptionist called a taxi for me, which arrived within a minute.
Surabaya Airport
Surabaya Juanda Airport (IATA code: SUB) is about half an hour driving out of the city centre and is Indonesia's third busiest airport after those in Jakarta and Bali.
My first impressions of Surabaya Airport were positive. It looked fairly modern and even more important: It was clean and efficient.
Surabaya Airport has two terminals. Terminal 2 is used for all international flights as well as for Garuda Indonesia and Indonesia AirAsia domestic flights, while Terminal 1 is purely a domestic terminal used for all other airlines.
There were two dedicated business class check-in desks for the Singapore Airlines flight, although it seemed that most travellers clearly did not seem to care and appeared to queue randomly.
Luckily I did not have to wait long as within ten minutes it was finally my turn to step forward to the desk.
A minute later I had my two boarding passes in hand and could walk towards security and passport control.
Concordia Premier Lounge entry requirements
Although there are multiple lounges at Surabaya Airport, the international departures area of Terminal 2 only has one single lounge: The Concordia Premier Lounge.
When I arrived, it was fairly crowded which is no surprise as the lounge seemed to welcome a lot more people than just business class passengers and frequent flyers.
The Concordia Premier Lounge also accepts lounge membership cards such as Priority Pass and it seemed that many Indonesian credit cards also gave access.
A look around the Concordia Premier Lounge
The Concordia Premier Lounge in Surabaya has some quirky design touches. When you enter the lounge, you will instantly notice the buffet area around a huge pillar.
Thanks to the black-and-white tiled floor as well as the bright green and black chairs, the Concordia Premier Lounge for sure has quite some colour.
Whether the lounge design matches your taste is another question, but the designers for sure made the most out of the space.
Although the Concordia Premier Lounge doesn't have tarmac views and only has limited views back towards the main corridor in the terminal, the lounge did feel bright and pleasant.
The Concordia Premier Lounge is fairly small and can thus fill up quickly. When its not at capacity, it is however quite a comfortable place to sit.
WiFi internet was reliable relatively fast and there were enough power sockets available to charge your electronic devices, even though the lounge did not have a dedicated business centre or any other area set up for work. It's basically just chairs and low tables all over the lounge!
Concordia Premier Lounge buffet
The Concordia Premier Lounge has a small but decent buffet, which unsurprisingly mainly consists out of Indonesian food.
I visited the lounge at breakfast time, and there were quite a few Indonesian breakfast staples put out, including some warm, cooked dishes.
However, compared to some other international business lounges I visited in Indonesia such as the Garuda Indonesia Business Lounge and the Sapphire Plaza Premium Lounge, the Concordia Premier Lounge certainly lagged behind both in quality and quantity of the food.
I thought the food items didn't look too appetising and the quality was indeed mediocre at best.
The highlight in my opinion was the small waffle station where a friendly lounge attendant made fresh waffles.
Drinks
At the central buffet area were a couple of large canisters with infused water as well as a different kinds of juices, including some fresh exotic ones such as guava juice.
In the back of the lounge is a bar where you can order coffee or take a can of soda from the fridge.
Unfortunately, no alcohol is served in the Concordia Premier Lounge, so you have to wait for your beer or glass of wine until you are in the air (if you don't fly Saudia out of Surabaya, that is!).
Restrooms
In the back of the Concordia Premier Lounge you can find the toilets.
Reportedly there is a shower as well in the lounge, but as I just arrived from my hotel and had already showered this morning I did not need one.
Somehow the toilets were quite dirty and seemed to be always occupied, which even forced me to seek out the toilets in the central concourse at one point instead.
When after a couple of coffees I had to visit the toilets again and the lounge restrooms were still occupied, I decided to just leave the place altogether.
In the end, I preferred just to walk a bit around of the airport and hang around the gate area, which has some decent views over the tarmac.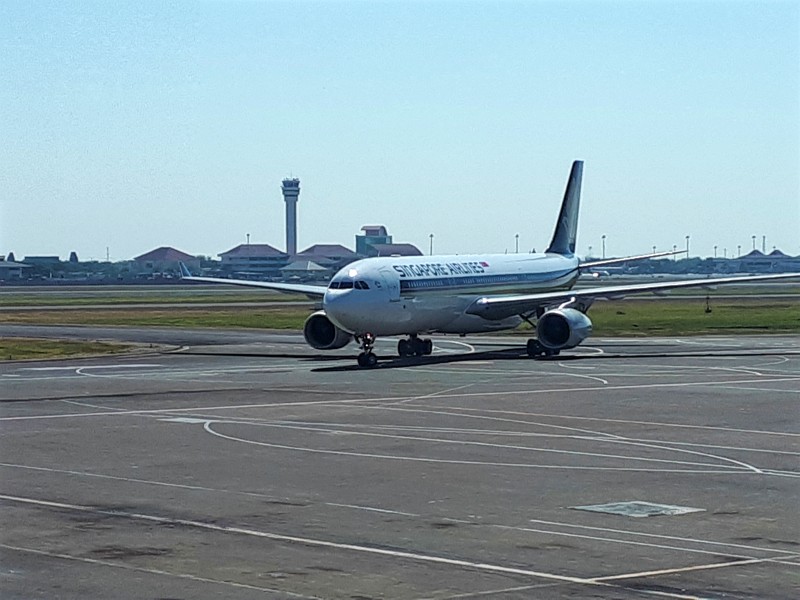 Conclusion
Even though Surabaya's airport is overall quite a pleasant place, the Concordia Premier Lounge is much less attractive.
As the sole business lounge in the international departures area of Surabaya Airport Terminal 2, the Concordia Premier Lounge is a good enough place for a quick coffee or (non-alcoholic) drink and a small snack, but that's about it.
Although the lounge is fairly comfortable and is a decent place to get some work done thanks to the reliable internet, it isn't the best place to relax as it can get quite crowded in the small space.
The lounge food wasn't anything to write home about and the restroom situation was quite atrocious during my visit.
After I had my coffee and finished with my emails, I thought the public spaces of the airport were actually a much better place to hang out.
Trip report index
This article is part of the 'Journey to Java' trip report, which consists of the following chapters:
1. Review: Wizz Air Bucharest to Rome Ciampino (Airbus A321)
2. Half a Day in Rome: A Walk Around the Eternal City
3. Review: Casa Alitalia Lounge 'Piazza di Spagna' Rome Fiumicino Airport
4. Review: Saudia Business Class Rome to Riyadh (Airbus A320)
5. Review: Saudia Alfursan Business Lounge Riyadh Airport
6. Review: Saudia Business Class Riyadh to Jakarta (Boeing 777-300)
7. Review: The Hermitage, a Tribute Portfolio Hotel, Jakarta, Indonesia
8. A Day in Jakarta: Exploring Indonesia's Bustling Capital City
9. Review: Garuda Indonesia Domestic Business Lounge Jakarta Airport
10. Review: Garuda Indonesia Business Class Jakarta to Yogyakarta (Boeing 737-800)
11. Review: The Phoenix Hotel Yogyakarta – Mgallery By Sofitel
12. A Magical Sunrise Visit to Borobudur Temple
13. A Visit to the Great Hindu Temple Complex of Prambanan
14. Review: Yogyakarta to Surabaya (Indonesia) by Train
15. Review: Majapahit Hotel, Surabaya, Indonesia
16. A Day in Surabaya: Exploring Indonesia's Second Biggest City
17. Review: Concordia Premier Lounge Surabaya Airport (current chapter)
18: Review: Singapore Airlines Business Class Surabaya to Singapore (Airbus A330-300)
19. A Short Singapore Stopover: Into the City or Stay at the Airport?
20. Review: SilverKris Lounge Singapore Changi Airport Terminal 2
21. Review: Singapore Airlines Business Class Singapore to Manila (Boeing 787-10)
22. Review: PAGSS Business Lounge Manila Airport Terminal 1
23. Review: China Airlines Economy Class Manila to Taipei (Airbus A330-300)
24. Review: China Airlines Business Lounge Taipei Airport Terminal 1
25. Review: China Airlines Economy Class Taipei to Rome (Airbus A350)
26. Review: TAROM Economy Class Rome to Bucharest (Boeing 737-700)