Visa Free Travel: Visiting a EURO 2020 Football Match in Russia
During the last one-and-a-half week I managed to have an amazing trip travelling around Russia, using a ticket to the EURO 2020 football tournament for visa-free entry to visit Saint Petersburg and beyond.
EURO 2020
A few weeks ago, I got a tip off from a friend that there were still football tickets on sale for all EURO 2020 group matches in Saint Petersburg, Russia.
Of course, the tournament was supposed to take place in the summer of 2020, but was postponed to 2021 because of the corona pandemic.
Some of these matches were originally set to take place in Dublin, but as the Irish Government could not guarantee that spectators would be allowed in the stadium, the UEFA decided to move these matches to Saint Petersburg.
Football
To be completely honest, some of these matches such as Slovakia vs. Poland didn't sound too exciting. The group stage match I bought a ticket for, Poland against Sweden, was only marginally more attractive on paper.
If the match would have taken place in any other country than Russia, I would have never bought the ticket. The reason why I did buy the ticket had to do with much more than football.
Visa-free travel
Although Russia was supposed to introduce visa-free travel in 2021, these plans have been suspended due to the COVID-19 pandemic.
That's not even all, as Russia is one of the countries in the world which has taken a hard line when it comes to travel during the current crisis.
Currently, no tourist visas are issued and nobody knows when it will be possibly to travel to Russia again. That alone was reason enough for me to use this opportunity for some travels across Russia, as it may very well be the case that in the near future this will still be difficult or impossible.
However, if you buy a football ticket for a match at the Euros in Saint Petersburg, you can apply for a Fan ID online. Such a Fan ID gives you visa-free entry to Russia!
As the cost of the football ticket (50 euro) is more or less the same as you normally need to pay for an invitation letter plus Russian visa, it's a great way to gain entry to Russia! In fact, the whole procedure was even easier and smoother than applying for a Russian visa through your local embassy or consulate.
Trip across Russia
With my matchday ticket and Fan ID in hand, I could thus book myself a nice trip across Russia. I've visited the country a number of times before and I always loved travelling through it.
Russia is such a fascinating and diverse country – and its people are so much more warm and friendly than they are often given credit for.
This time, I settled on a trip to the far northern reaches of Russia, flying first to Murmansk and then slowly making my way down via the Solovetsky Islands to Saint Petersburg to visit the football match.
The trip has been an epic one, as it was full of interesting historical sights, wild nature, beautiful landscapes and interesting cities.
As the trip was quite intense and internet on the way was not the best, I therefore didn't really manage to make any updates to this website, although I posted some regular trip updates on the Paliparan Twitter account.
Tournament visit
In the near future, I will be posting some more outtakes of the trip, but given that these I'm generally quite busy with work and still have some other trip reports to finish first, it might take a few weeks or even months.
However, I would like to take the opportunity to point out that such visa-free access rules when holding tournament or match tickets are far from uncommon!
During the match in Saint Petersburg, I saw people from many nations across the world in the stadium, waving flags of several African countries, Vietnam, China and some others.
Especially those who hail from a country which unfortunately faces strict visa and immigration rules when travelling, can benefit immensely from such visa-waiving tournament tickets.
However, even for Europeans like me it is well worth checking out when big international tournaments are held as even for us it can be beneficial.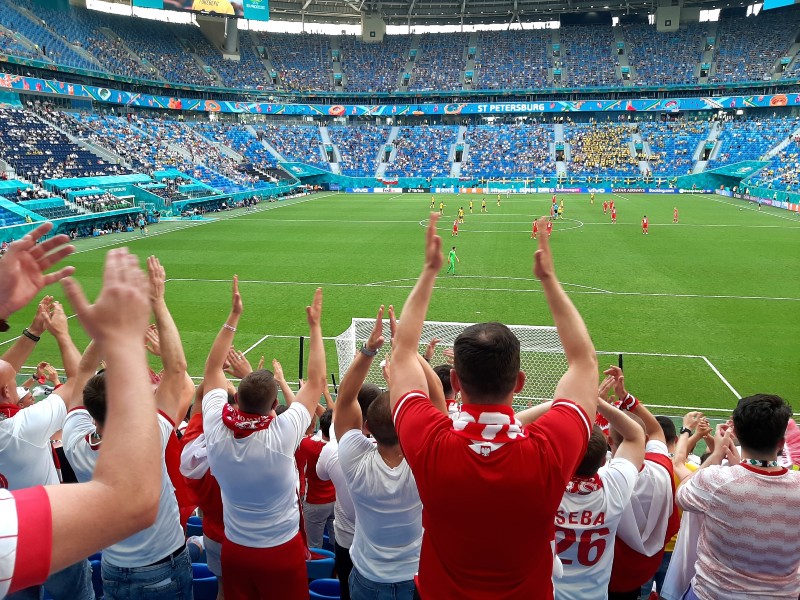 Never miss out on news and flight deals
If you want to stay up to date on the latest travel news, make sure to regularly check the Paliparan website. We also recommend you to regularly check the flight deals section on Paliparan.com to ensure that you will not miss out on great travel deals or special sales.
Or subscribe to our Twitter, Facebook and Instagram and pages to receive instant Paliparan updates!