Review: Singapore Airlines Business Class Surabaya to Singapore (Airbus A330-300)
This review details my flight in Singapore Airlines business class from Surabaya to Singapore on the Airbus A330-300.
Singapore Airlines
Having spent some time at the lacklustre Concordia Premier Lounge, I went to the gate early. I was immensely looking forward to the upcoming two flights as it would be my first ever ones on Singapore Airlines.
The first flight from Surabaya to Singapore would see my flying Singapore Airlines' Airbus A330-300 featuring their old regional business class product, after which I would try out the airline's brand new regional business class product on the Boeing 787 from Singapore to Manila.
Aviation enthusiasts will probably know the feeling when you step aboard a new airline for the first time and I was surely full of excitement as well when I watched the Singapore Airlines Airbus A330 arrive at our gate.
The two flights were a great deal too as the total costs were only 21,000 miles from my Aegean Airlines Miles+Bonus account, plus just 16.42 euro in taxes.
Although the Miles+Bonus frequent flyer programme has slightly devaluated since I took this flight (2018), such intra-Asian flight redemptions are still considered to be somewhat of a sweet spot and are well-worth seeking out if you have a stack of Aegean miles.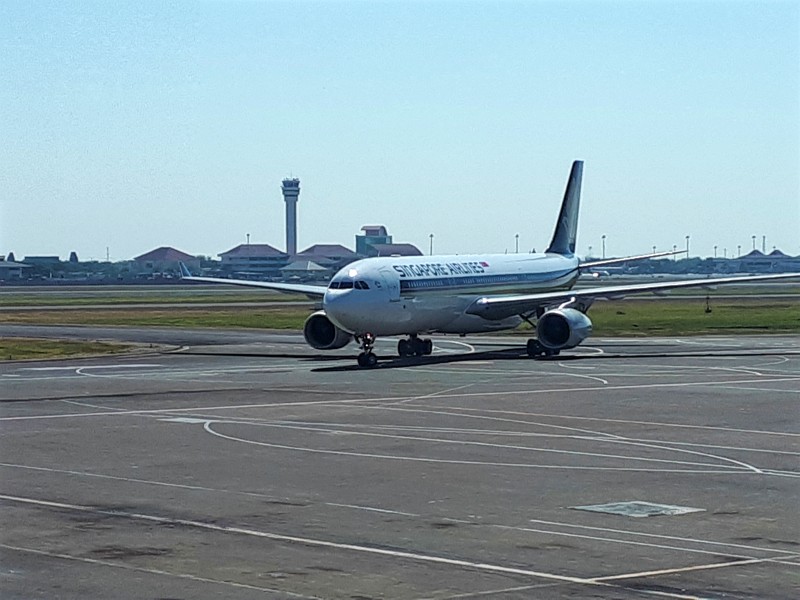 Boarding
Priority boarding was neatly organised at Surabaya Airport as there were three clearly marked queues: One for business class passengers, one for Star Alliance gold members, and one for everyone else in economy class.
It was a great feeling being the first to walk on board of this relatively old but beautiful airplane. I was given a warm welcome by the crew on board and escorted to my seat.
When the male flight attendant serving my aisle saw that I was snapping a lot of pictures of the cabin, he kindly inquired whether I wanted him to take a picture of me.
I politely declined for the moment and just explained that I just wanted to take a few pictures of the plane this being my first time flying Singapore Airlines, something which he did fortunately completely understand being an avgeek himself.
Surabaya (SUB) to Singapore (SIN) on Singapore Airlines
Flight SQ931 – Airbus A330-300 – Business class, seat 12A
Departure: 10.10am – Arrival: 1.30pm
Flight time: 2h20m – Distance: 854 miles
Costs: 21,000 Aegean miles + 16.42 EUR in taxes for SUB-SIN-MNL
Singapore Airlines A330 seat
The cabin of the Singapore Airlines Airbus A330 does feel a bit old and dated and the business class seats are certainly not ground-breaking.
Fortunately, Singapore Airlines only flies these planes on short and mid-haul routes, on which the hard product is certainly more than acceptable.
Business class seats on Singapore Airlines' Airbus A330 are in a 2-2-2 configuration, so not every seat has direct aisle access.
Fortunately, the loads on this flight were fairly light in business and the seat next to me remained empty.
The seats themselves are angled-flat, have plenty of legroom, and are certainly comfortable for a daytime flight.
Besides, coming from Europe where the regional business class product often consists of standard economy seats with the middle seat left empty, this felt quite luxurious.
The seat controls are easy to use and within seconds you have your seat, headrest or footrest adjusted to your preferred angle.
Even though I found the seats perfectly comfortable to lounge when they are straight up or slightly reclined, the same isn't completely true when you turn them in sleeping position.
If you happen to fly overnight on this Airbus A330 on one of Singapore Airlines' longer regional flights, such as those to India, you may struggle to sleep due to the significant angle.
Amenities
Already waiting at my seat were a big pillow, a blanket and headphones. Singapore Airlines does not hand out amenity kits on these flights, but rather has all basic amenities available in the communal spaces or in the lavatories.
Of course, if you require something you can also ask one of the flight attendants, which will gladly hand out the product you might need.
Shortly after I got seated, one of the crew members came by and asked what I wanted as pre-departure drink. Naturally, I opted for a glass of champagne.
While the other passengers boarded, the crew also distributed newspapers and refreshment towels as I made myself more comfortable in my seat.
Menu
The menu for today's flight was already put in the seat pocket when I boarded. I was very happy to see a lunch menu despite the 10am morning departure.
Unfortunately, way too many airlines still serve breakfast on flights departing at 10 or 11am, which is weird as most people will already be awake for at least 4 hours at this point when you facture in the time spent going to the airport, checking in etc.
With a light lunch menu, Singapore Airlines has by far the best conceivable option for a relatively short flight at this hour.
Although a neat printed lunch menu was available there was no drinks list, which I found a bit odd. That said, the fantastic flight attendants on this flight were eager to discuss all available drinks.
You could certainly notice how well-trained Singapore Airlines crew members are, as they all had some general F&B knowledge and were able to give a proper overview of all the available wines.
Departure
Pushback from the gate was on time and while taxiing to the runway there were some good views over the airport and the planes of some exotic Indonesian airlines.
We had to wait a short while for a Lion Air aeroplane to land before we were allowed to line up for take-off.
Views upon take-off were excellent, with the city of Surabaya and the surrounding wetlands clearly visible from the sky.
Meal service
Meal orders were already taken when we were still on the ground, which meant that service kicked in immediately when we reached cruising altitude, with a proper tablecloth being put on my tray table.
I opted for the salmon, which was served with a sea food salad. As I'm not really a fan of shrimps, I just picked out the tasty pieces of octopus from the salad.
The flight attendant serving my aisle also came by with a bread basket, from which I selected a few pieces of freshly baked, warm garlic bread.
Overall the food on Singapore Airlines was certainly good, with the salmon being moist and tender. Only the strawberry cake was a bit uninspiring.
To drink, I had a crisp Sauvignon Blanc from Marlborough, New Zealand. It was eminently drinkable and went well with the salmon, so I might have even had two glasses of it.
The meal service was super efficient and completed within an hour after departure when we were not even halfway to Singapore. Talk about effectiveness!
The meal was concluded with tea and coffee service, which I decided to skip.
In-flight entertainment
Each business class seat on the Airbus A330 has a large screen which is connected to Singapore Airlines' excellent KrisWorld in-flight entertainment system.
The system contains hundreds of films, series, music albums and much more, although on this short flight I just ended up watching the route map and the views from the window.
Although the resolution of the screen isn't the best due to the age of most of these Airbus A330s, it still makes for an above-average entertainment system, especially when seen in the context of this just being a short-haul flight.
At each seat you can find a power socket and USB charging port. Unfortunately, the Singapore Airlines Airbus A330 is not equipped with WiFi internet.
Service
After the lunch, I had a great chat with the flight attendant about aviation in general and Singapore Airlines specifically.
The guy clearly loved his job and was super enthusiastic to share his stories about his life and the company.
Of all airline crews, I think that Singapore Airlines has the best service as I find their flight attendants both warm and welcoming and at the same time amazingly professional.
They are not only flawless when it comes to all aspects of in-flight service, but it's really also the small touches in personal communication.
For example, when I interacted with the flight attendant in my aisle, he would kneel down to be on the same eye-level as you in the seat.
On both the Singapore Airlines business class flights which I would fly today, I found every single flight attendant enormously service-orientated and eager to serve, perfectly knowing when a passenger wanted to be left alone, might be in for another drink, or perhaps might want to make a small chat.
You could also clearly see how hard-working they were, as empty plates were cleaned up quickly, refills proactively offered, and the lavatories kept spotlessly clean.
Landing
After dinner, I just watched the route map on my screen and the views from the window while sipping a gin tonic or two.
Time went by fast and soon we were already on final descent towards Singapore Changi Airport, where we landed safely and on time.
I thanked the crew for the great flight and after a short walk I arrived at an empty passport control, where I was stamped into Singapore.
Conclusion
Even though Singapore Airlines' regional business class product on the Airbus A330 is fairly old and showing its age, it is still a great way to fly.
If you have a short or mid-haul daytime flight, these business class seats are still perfectly comfortable. Only when you happen to fly these Airbus A330s on an overnight flight will you really see the drawbacks of these angled flat seats.
Where Singapore Airlines shines most is its impeccable business class service. Singapore Airlines is known for its service-orientated crews which are pro-active and amazingly professional.
The food and drinks on board were all good quality too.
I certainly enjoyed my flight from Surabaya to Singapore, although it would pale to what would be in store for next flight on Singapore Airlines' new regional business class product on the Boeing 787 to Manila!