Review: China Airlines Economy Class Manila to Taipei (Airbus A330-300)
In this review, we take a China Airlines flight in economy class on the Airbus A330-300 from Manila (MNL) to Taipei (TPE).
Manila Airport
China Airlines flies out of Terminal 1 of Manila Airport – which is by far the most overcrowded an dilapidated of all of the airport terminals and frankly one of the worst in the world.
As the designated business lounge – the PAGSS Lounge – isn't much better, I went to my departure gate a bit early.
Fortunately, the airport agents did handle the boarding procedure a lot better than I expected. A part of the seating area in front of the gate was roped off for the exclusive use of business class and Sky Priority passengers.
There was not only plenty of space to sit in comfort and quietness at the gate area, but it also assured that priority boarding was neatly observed.
Manila (MNL) to Taipei (TPE) on China Airlines
Flight CI 704 – Airbus A330-300 – Economy class, seat 10A
Departure: 4.45pm – Arrival: 7pm
Flight time: 2h15m– Distance: 727 miles
Costs: 280 EUR for MNL-TPE-FCO
China Airlines Airbus A330
As priority boarding was strictly enforced I was one of the first to board the Airbus A330, which forms the backbone of China Airlines' regional fleet.
This Airbus A330 was however clearly showing its age. The seats looked a bit old and worn out and the in-flight entertainment system was an ancient relic with low-resolution seatback screens.
That said, there were definitely some positives as well about the China Airlines Airbus A330.
The economy class seats on the China Airlines Airbus A330 are in a 2-4-2 configuration, which gives quite a bit more shoulder room than the 3-3-3 or even 3-4-3 configuration you would find on most of the newer planes.
The seat itself was well padded and fairly comfortable – certainly much better than your average modern-day slimline seat. For a two-hour-long regional flight, it's certainly a much better economy class seat than those on board the bulk of airlines in Europe.
Officially, the seat pitch is 31 to 32 inch in economy class on this plane while the seat width is 18 inch.
Departure
Although boarding took a while due to the flight being almost fully booked, we pushed back from the gate on time.
A Singapore Airlines Boeing 777 was taxiing behind us – I could only wish I would be back on that airline sipping a Singapore Sling in business class like I did the day before!
Take-off was a bit choppy due to the bad weather this summer day with wind gusts shaking up the aeroplane a bit.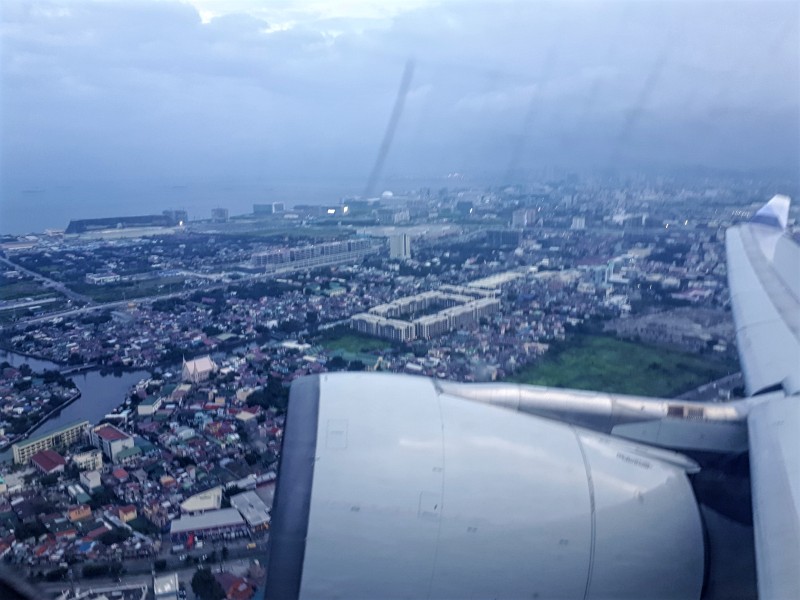 In-flight service
The in-flight service kicked in almost immediately once we reached cruising altitude.
I know it's the industry standard in Asia for a full-service airline, but as an European I really can't complain when a full hot meal is served on a flight of only two hours in length.
The meal itself – I took the beef and a Taiwan Beer to wash it all down – was even fairly tasty. It was served with a small desert, some fresh fruit and a cup of water.
China Airlines serves complimentary beer and wine in economy class and flight attendants also made a coffee and tea run. Overall, the service was efficient and friendly.
In-flight entertainment
As the flight between Manila and Taipei was fairly short, I did not watch anything on the in-flight entertainment system on this flight.
If you want to charge your mobile phone or laptop, you will find that there is a power socket between every two seats in economy class on the China Airlines Airbus A330, so you will have to share the power outlet with your neighbour.
Landing
With our arrival time being in the early evening, there weren't any views from the window whatsoever on arrival as darkness had already fallen.
After a smooth landing, we arrived at Taipei's Taoyuan International Airport right on time.
Conclusion
My China Airlines flight on the Airbus A330 between Manila and Taipei was certainly enjoyable as this Taiwanese airline offers a perfectly acceptable economy class product.
Although the China Airlines Airbus A330 is showing its age, the economy cabin is spacious and the seats are comfortable.
Even on a short regional flight like this you will get a full meal and drinks – which certainly makes it more pleasant compared to your average flight across Europe or America.
Trip report index