Review: TAROM Economy Class FCO – OTP (Boeing 737-700)
In this review, we will take a TAROM flight in economy class on the Boeing 737-700 from Rome Fiumicino (FCO) to Bucharest (OTP).
Rome Fiumicino Airport
After a surprisingly comfortable flight in economy class on the China Airlines Airbus A350 from Taipei to Rome, I found myself at the satellite building of Terminal 3 of Rome Fiumicino Airport from which most of the long-haul flights to Asia and the Americas depart.
From the satellite building, I had to take a short ride on the underground automated people mover to reach the main terminal building.
Although queues at Rome Fiumicino Airport can often be long, this time around it took just minutes to clear passport control and security – which are both required to enter Terminal 3 again for your connecting flight.
Alitalia lounge
As I had a couple of hours to spare between the arrival of my China Airlines flight and my onward TAROM flight to Bucharest, I went again to the Casa Alitalia Business Lounge.
TAROM business class passengers as well as SkyTeam Elite Plus members flying in economy class can access this lounge, the latter being the case for me as an Air France/KLM Flying Blue platinum member.
I already had the pleasure to visit this great business lounge earlier this trip before flying to Asia, so for a full review of the Casa Alitalia Lounge you should check the link above if you haven't already read it.
My first call was to inquire for a shower, which I was told would be ready in 20 minutes. This was ideal as I could first get some decent breakfast after the rather bad breakfast meal which was served on my China Airlines flight.
After breakfast and the refreshing shower, I managed to get some bits of work done and even had time left to enjoy an Aperol Spritz at the bar.
Boarding
Priority boarding was neatly enforced at Rome Fiumicino Airport, although it was quite meaningless for my TAROM flight as it was departing from a remote bus gate.
Today's flight load was pretty light with 2 passengers in business class and around 50 in economy, so everyone could fit in one single bus.
Of course, the only advantage of boarding by stairs is that you can make some nice pictures of the plane upon boarding, which was the case as well with this TAROM Boeing 737-700 in SkyTeam livery which was used for today's flight.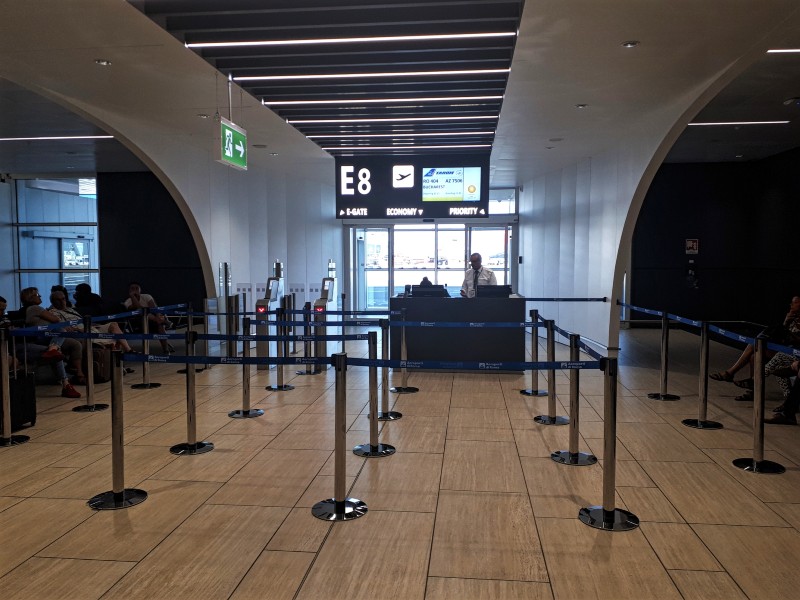 Rome Fiumicino (FCO) to Bucharest (OTP) on TAROM
Flight RO404 – Boeing 737-700 – Economy class, seat 5A
Departure: 12.15pm – Arrival: 3.30pm
Flight time: 2h15m– Distance: 724 miles
Costs: 80 EUR
TAROM Boeing 737-700
The TAROM fleet currently consists out of some Airbus A318s, ATR turboprops as well as a couple of Boeing 737s.
TAROM has three types of Boeing 737 in their fleet: The ageing Boeing 737-400, the Boeing 737-700 which I will review here, and the Boeing 737-800 which I have reviewed before.
The TAROM Boeing 737-700 has 14 leather recliner seats in business class in a 2-2 configuration as well as 102 economy class seats in a standard 3-3 configuration.
The economy class seats on the TAROM Boeing 737-700 might look old and there certainly is quite some wear and tear, but they are well-padded compared to modern slimline seats which are used on more modern planes by most European carriers.
I had assigned myself seat 5A, one of the bulkhead seats, at online check-in. The amount of legroom here was certainly good and the seat itself was quite comfortable.
Do however note that economy class seats on the TAROM Boeing 737-700 do not have any power sockets or USB charging ports and that not a single plane of the Romanian flag carrier is equipped with WiFi internet.
Departure
Due to the light passenger load, boarding was completed in record speeds. Just minutes after I sat down, we were already taxiing towards the runway for our departure.
The take-off from Rome Fiumicino Airport was smooth and the views over the Tyrrhenian Sea were lovely.
In-flight service
As a full-service airline, TAROM always serves complimentary food and drinks on board its flight. Depending on the flight length this can be just a snack or a full meal.
In the case of flights between Rome and Bucharest, TAROM serves a sandwich.
Although the bread was rather dry, at least the sandwich had some decent amounts of cheese and ham on it, making it edible enough. The crew also handed out bags of salty peanuts.
To drink, I just went for a cup of coffee.
Unfortunately it wasn't any good – as all I got was a sachet of rather disgusting instant coffee and a half-full cup of hot water which was just barely enough to make some coffee with in the first place.
Apart from coffee or tea, TAROM also serves complimentary soft drinks, juice and alcoholic drinks (beer and wine only) in economy class.
Landing
The flight went by fast and about one-and-a-half hour after we had departed from Rome Fiumicino Airport the fasten seatbelt signs flashed on again as we started our gradual descent towards Bucharest Otopeni Airport.
Although I've flown to Bucharest more times than I can possibly remembers, I was still glued to my window as the views over the Wallachian countryside were certainly lovely today.
The landing at Otopeni Airport was smooth and even a couple of minutes before our scheduled arrival time.
Otopeni arrival
Unfortunately, it wasn't all that smooth once I entered the terminal building of Bucharest Otopeni Airport as there were some huge queues at immigration.
Passport control really took forever as proper queuing etiquette was non-existent, with everyone just trying to shove his way forward.
Conclusion
I had a perfectly fine flight from Rome to Bucharest on the TAROM Boeing 737-700. Sure, the plane might be old and there is some wear and tear in the cabin, but the old-fashioned seats are well-padded and comfortable.
If you manage to grab a bulkhead or emergency exit row seat, the legroom certainly is great too for economy class.
TAROM's in-flight product is in theory quite nice as the airline serves complimentary meals and beverages, even though the quality left something to be desired this time around.
Flying TAROM often is a blast from the past, although mostly in a good way. Even though it's certainly not Europe's best economy class product, it's certainly well above average and you can't really go wrong flying TAROM.
End of the trip
The arrival back at Bucharest Otopeni Airport marked the end of this fantastic trip to the Indonesian island of Java.
If you have followed the adventure from the beginning, I want to give you a big thank you for following along. If you missed the earlier instalments of this trip report, you should definitely check out the index below.
Feel free to leave a comment, or subscribe to our Facebook, Instagram or Twitter pages to receive instant updates when a new article is posted online! A simple like, follow or comment really makes our day and helps supporting this website.
Trip report index