Review: Wizz Air Bucharest to Kutaisi (Airbus A320)
In this review, we will take a Wizz Air flight from Bucharest (OTP) to Kutaisi (KUT) on the Airbus A320-200.
Bucharest Otopeni Airport
Like most of my travels, my trip to Georgia and Turkey started at my home airport: Bucharest Otopeni.
Frequent readers of this website will know by now how much I hate the place, as Bucharest Otopeni Airport is overcrowded, chaotic and dirty, having bizarrely expensive shops and cafés compared to local price levels.
Fortunately, my Wizz Air flight to Kutaisi would only depart at 1.20pm, thereby avoiding the extended morning rush hour queues which hits Bucharest Airport between 4 and 9am and turns the airport in total shambles.
I grabbed an Uber from my home for the 25 minute ride to the airport and arrived about an hour an fifteen minutes before departure, easily managing to clear both security and passport control in just over ten minutes.
From the many dozens or so of Wizz Air flights I've taken from Bucharest, I had only one which ever departed from an airbridge.
Today's flight was no exception either, departing from a bus gate in some obscure and slightly hidden part of the basement.
Apart from a small café there is barely anything in this area except for four or five benches shared between three different departure gates.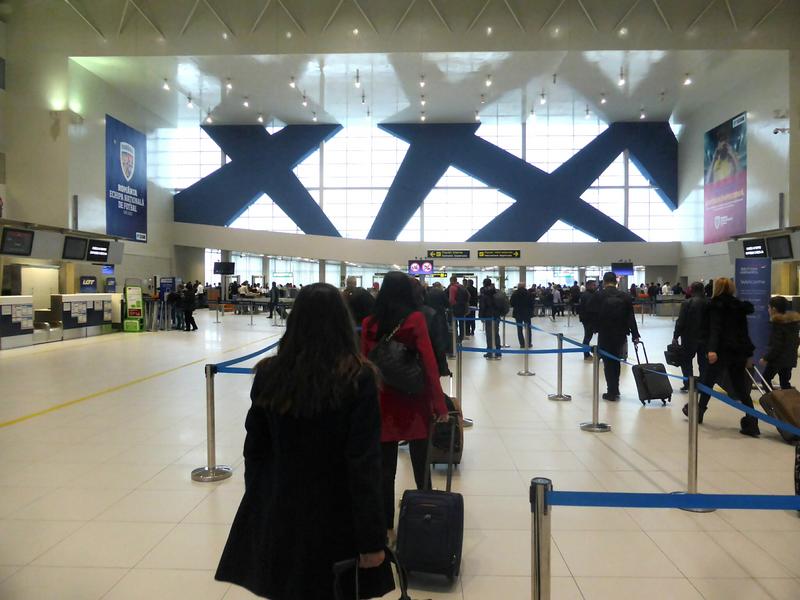 Boarding
Having grabbed a coffee from the overpriced café, I waited at the gate until boarding finally commenced.
As I was carrying a trolley bag with me on this trip, I had added Wizz Priority to my booking for 34 RON (7 EUR) extra as this allowed me to bring it on board as hand luggage (otherwise it would have been a small bag only).
Wizz Priority also allowed me to be among the first to board, but given that dozens of others also bought Wizz Priority and we were driven to the aircraft in a packed bus, this wasn't really a benefit to write home about.
Bucharest (OTP) to Kutaisi (KUT) on Wizz Air
Flight W6 3277– Airbus A320-200 – Economy class, seat 5A
Departure: 1.20pm – Arrival: 4.30pm
Flight time: 2h10m – Distance: 840 miles
Costs: 20 EUR
Wizz air seat
I've reviewed Wizz Air countless of times before, so I won't go into much detail here about the seat, service and other such aspects in this review.
The load of today's flight was relatively light, with perhaps only 60 percent of all seats being taken.
The middle seat next to me remained empty, which was a blessing
Flying Wizz Air is by no means a treat and the seat isn't especially comfortable, but I still find these older Wizz Air A320s with old-school leather seats much better in quality than the newer planes in the Wizz fleet.
Departure
Departure was on time on this stifling hot afternoon in July.
There were some nice views over the Wallachian plains of Romania as we flew in an easterly direction towards the Black Sea coastline.
The flight from Bucharest to Kutaisi would basically take us from one of the countries on the western shore of the Black Sea to one of the countries on the eastern shore, so most of the time we would be flying above water.
About 20 minutes after departure we flew over the Romanian port of Mangalia and started the stretch over the Black Sea.
Arrival
More than an hour later, the eastern shore of the Black Sea appeared from my window.
While the Romanian coast is rather barren and dry, the Georgian coastline is lush and humid, even featuring subtropical vegetation.
Once we flew over Georgian land, the captain announced our descent towards Kutaisi Airport.
Kutaisi Airport
We landed on time at Kutaisi's small but modern airport.
In recent years, Kutaisi David the Builder Airport has developed into something of a low-cost hub, with Wizz Air flying to multiple destinations across Europe and the Middle East.
I was one of the first to disembark the plane. Fortunately, there was no bus waiting and we could walk straight across the tarmac from the plane to the terminal building.
Immigration
Passport control took a bit longer than expected for an unexpected reason: The female immigration officer was in a chatty mood.
She started off the conversation: "Welcome to Georgia, is this your first time here?"
When I answered it was my fourth or fifth time visiting Georgia, she started to shuffle through my passport pages and noticed my Russian visas and stamps, which triggered some questions where I went to in Russia and for what reason.
For some reason she was a bit puzzled as why anyone would want to visit Siberia in winter.
It got even more funny when she suddenly inquired whether I spoke German.
She was visibly delighted that I could speak the language as apparently she once studied German in university and doesn't have many opportunities to speak it in her daily environment.
While still slowly shuffling through my passport pages she started to dwell off completely in German, and by the time she finally put the Georgian entry stamp in my passport most other passengers on the plane had already passed through immigration despite me being one of the first in the terminal!
With the Georgian entry stamp in my passport, I searched the parking lot outside the terminal for my pre-arranged ride to my Kutaisi hotel. Let the Georgian adventure begin!
Trip report index
This article is part of the 'Khachapuri & Kebabs: A Summer Trip to Georgia and Turkey' trip report, which consists of the following chapters:
1. Review: Wizz Air (Airbus A320) Bucharest to Kutaisi (current chapter)
2. A Day in Kutaisi, the Charming Capital of Imereti
3. Caves, Churches and Monasteries – A Kutaisi Day Trip
4. Review: My Warm Guest House, Batumi, Georgia
5. Beautiful Batumi – The Pearl of Georgia's Black Sea Coast
6. From Georgia to Turkey: Batumi to Kars by Bus
7. Review: Kars Konak Hotel, Kars, Turkey
8. A Day Trip From Kars to the Ancient Armenian City of Ani
9. Goose, Cheese and Russian Remnants: A Visit to Kars, Turkey
10. Review: Dogu Express Night Train Kars to Ankara, Turkey
11. Review: AnadoluJet Ankara to Izmir (Boeing 737-800)
12. Review: Ege Palas Business Hotel, Izmir, Turkey
13. Izmir: Turkey's Most Liberal and Liveable City
14. Ancient Ephesus: An Easy Day Trip From Izmir
15. A Visit to the Hilltop Wine Village of Sirince
16. A Beach Trip From Izmir to Cesme and Ilica
17. Foça: A Beautiful Seaside Town to Visit From Izmir
18. Flying Back Home With Atlasglobal and TAROM