A Happy New Year Full of Travels From Paliparan!
On behalf of the entire team behind Paliparan, I would like to take the opportunity to wish all readers a happy new year which hopefully will bring a lot of great travels to you all!
New Year in Sarajevo
During the last couple of days, I spent some time with good friends celebrating New Year in Sarajevo, the capital of Bosnia and Herzegovina.
For those who have never visited Sarajevo: You really should. This trip marked my third one to the Bosnian capital, which keeps on surprising me each time I visit.
Sarajevo is full of character and colour and you can get some great food in town. Whether you visit in the midst of winter or in summer, you will find an enormously lively city which won't disappoint.
Travel planning
Although I had a great time in Sarajevo and a fun New Year's Eve celebration, the travels back on the 2nd of January weren't as easy as I'd hoped for.
With some long travel distances by road, train services having been slashed almost everywhere in the Balkans in recent years and COVID still impacting flight schedules, not all connections are as straightforward as they should be.
A decade or so ago I would have travelled overland from Bosnia to my home in Romania, although that's not really a convenient option anymore.
With one-stop connections on Austrian or Turkish Airlines being a ridiculous €400+, I settled on an Air Serbia flight from Sarajevo to Belgrade on the 2nd and another Air Serbia flight from Belgrade to Bucharest the 3rd.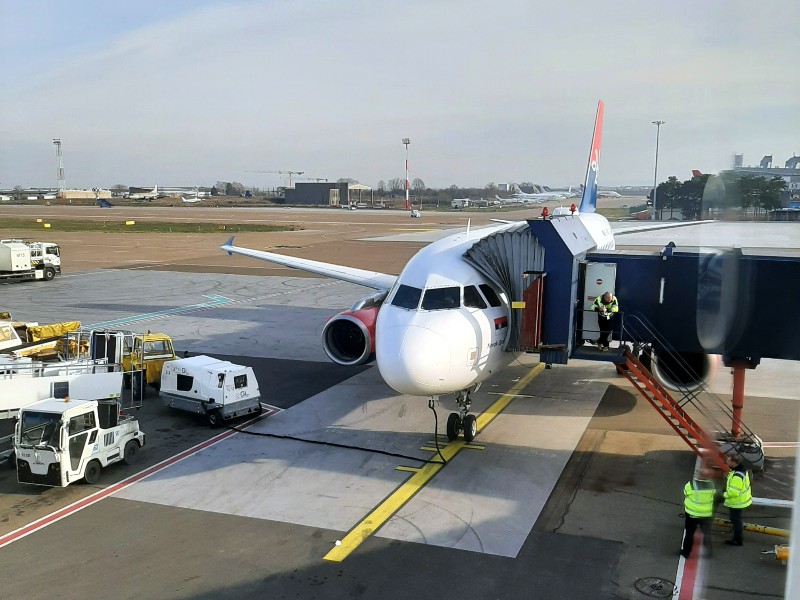 A difficult journey back

All plans were set and I was looking forward to spending a day in Belgrade, another Balkan capital which I've visited quite a few times before. Unfortunately, it didn't really work out that way.
When I arrived at Sarajevo Airport on the 2nd of January, thick fog was creating havoc. In the morning, all the flights to Istanbul as well as departures to Zurich and Vienna were cancelled, although I was able to check-in and receive my boarding pass.
However, some moments later the entire airport was shut down for two hours because of the fog. When airport operations did officially resume two hours later, my flight suddenly also showed as cancelled.
With the fog being forecast to remain at least until the next morning, I received an email that my flight had now been rescheduled to the afternoon of the 3rd.
Normally all fine if Belgrade was my final destination, but it also meant that my rescheduled flight would now arrive in Belgrade well after the departure of my Belgrade to Bucharest flight.
With the next Belgrade-Bucharest flight being scheduled on the 5th of January, it would probably have meant a hugely inconvenient two extra days in Belgrade before finally being able to get home.
Bus
I therefore decided to act immediately by leaving the airport as fast as I could to find out whether or not I would still be able to secure a place on a bus from Sarajevo to Belgrade.
Although the buses from the city's main bus station were fully booked, I was fortunately still able to get a seat on a bus from the more obscure eastern bus station in the Sarajevo suburbs which are part of the Republika Srpska entity.
The 8-hour-long overnight bus journey was pretty much an experience straight from hell, but at least I arrived safe and sound in Belgrade in the wee hours of morning on the 3rd of January.
I had plenty of time left to take the local bus to the airport in order to catch my flight to Bucharest, from where I'm now typing this post.
Paliparan in 2021
My first travel in 2021 turned out to be quite an adventure – and I will probably write about it more in-depth in the near future.
However, in the next weeks you can first expect the Egypt trip report being finished, as well as two other recent European trip reports which I recently started in the trip report section on the website.
I've got quite a backlog of writing and picture editing to do and unfortunately my spare time is rather limited, although I hope to improve on turnaround speeds in the next months.
Besides writing all those articles, I got a couple of more interesting plans in store for the Paliparan website in general, which I will detail and share soon enough.
For the upcoming months in the new year, I also some vague (but fun) plans for travels of course, although these plans still need to be finalised.
In any case, make sure you check the website regularly for new updates, reviews and destination articles!