Praha Hlavní Nádraží – Prague's Stunning Art Nouveau Station
In this article we take a closer look at Prague's central railway station (called Praha Hlavní Nádraží or Praha hl.n in Czech) and its gorgeous Art Nouveau architecture.
Prague station
After a couple of days in Prague, I made some plans to go on a day trip to Olomouc, a city located some two-and-a-half hours away by train.
This made for a great opportunity to take a closer look at Prague's central railway station, which is an amazing sight in its own right.
Prague's main railway station – called Praha Hlavní Nádraží in Czech and often abbreviated as Praha hl.n on train timetables – has to be one of the world's prettiest stations.
However, if you however arrive by metro or on foot from the old town, chances are you might miss all of the station's beauty as most arrivals are led directly into the modern underground concourse which was built in the late 1970s.
If you aren't aware of the beauty of the old station building and how you can actually get there, it's easy to hop onto a departing train without ever seeing the true beauty of Praha Hlavní Nádraží.
The same is true for those who arrive in Prague by train, as walking directly from the platform towards the old town or the underground metro station means you are missing out on some beautiful architecture.
Entrance
Passengers who arrive on foot from the old town enter Prague's central railway station through a modern entrance building on the station's western side.
Inside this building you can find the ticket office, the entrance to the Prague metro, ATMs, a supermarket as well as plenty of shops, cafés and fast-food outlets to stock up on food and drinks for your train journey.
It's a large building built over two floors, with inclined moving walkways and lifts linking the different levels.
Access to the platforms
If you want to access the platforms, you have to go to the upper level of the modern station building.
From there, underground passageways run below the railway tracks and the platforms, so you simply have to go up one more level by stairs, escalator or lift to reach your platform.
Platform numbers and train departures are all clearly signposted, so it shouldn't be too hard to find the place where you need to go.
Platforms
The platforms of Prague central railway station are located underneath a gorgeous vaulted train shed which gives the station an old world vibe.
It's good fun to stand on one of the platforms and to watch all the different trains depart and arrive.
Most trains which you will see will be the blue-and-white trains of the Czech railways (České dráhy), although you can also spot trains from several private railway companies such as Regiojet and Leo Express, as well trains from national operators from neighbouring countries like Slovakia and Hungary.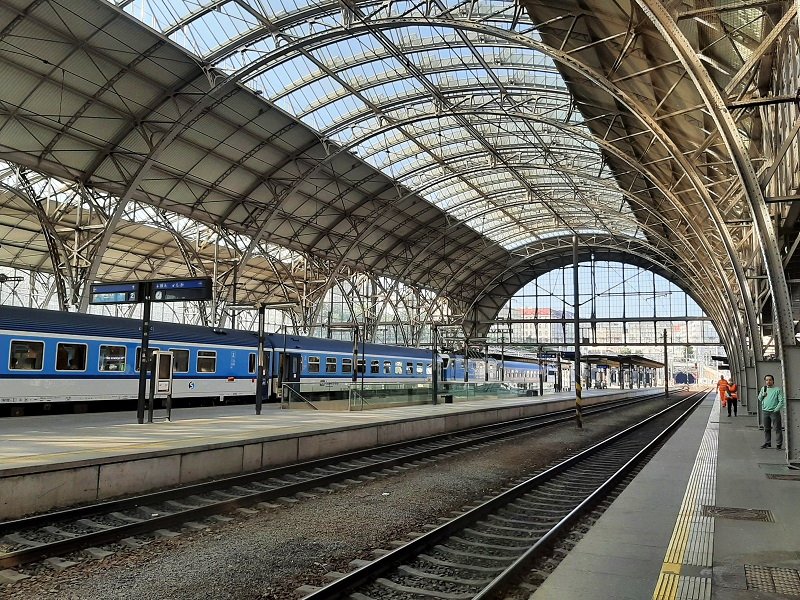 Art Nouveau
Although it's certainly not a secret, it still comes as a surprise to many visitors that Prague also has a beautiful Art Nouveau station building.
Built in the early 1900s, this Art Nouveau building designed by Josef Fanta was the main entrance to Prague's central station until the 1970s, when a large scale overhaul and modernisation project saw the new terminal and concourse being added.
Even though the Art Nouveau building doesn't really have a function anymore and sits empty for most, it was fortunately not destroyed so you can still admire its beauty.
It's easiest to access the old Art Nouveau station building via platform 1. Simply go up from the underground concourse to platform 1 and go through the doors there to enter the building.
Before you enter the station building, you should however pay your respect at the statue of Sir Nicholas Winton on platform 1 as this relatively unknown hero saved 669 mostly Jewish children from the Nazis in occupied Czechoslovakia in 1939.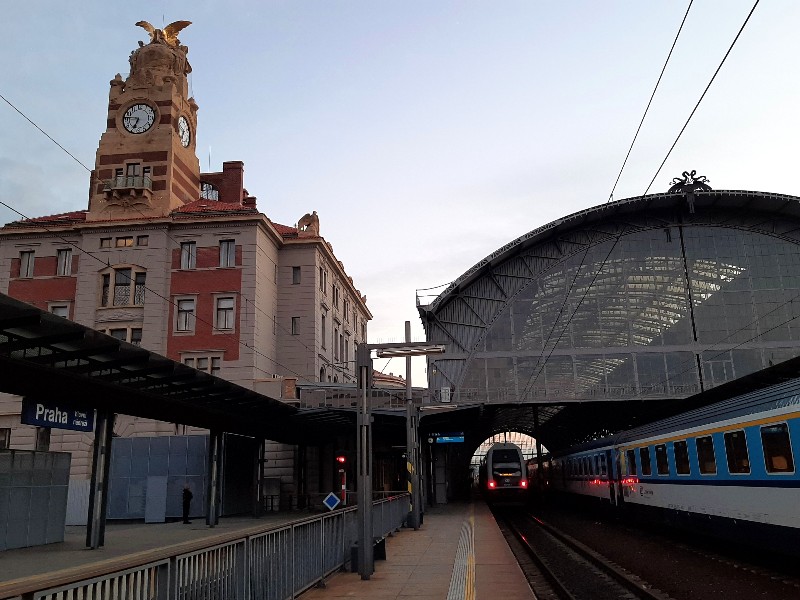 Old station building
The highlight of the old station building is without doubt its semi-circular central hall and cupola.
Everything in this hall breathes Art Nouveau, from the lavish decorations to the font used to spell 'Fantova Kavárna' (Fanta's Café), which makes for a great spot to drink a coffee.
There are lots of cool details to admire, such as the coat of arms (shields) of different European cities such as Prague, Budapest and Paris.
Old entrance
The old Art Nouveau station building has a stunning exterior as well, although this is a bit more tricky to see. If you would exit the building, you will find yourself at a busy dual carriageway which you cannot cross on foot.
If you want to admire the old station building from a distance, you will have to go back to the underground passage and take the lift up to the parking lot and bus platforms at the other side of the road, from where you have a much better view of it.
Personally, I think it's a huge pity that such a lovely entrance building now sits mostly idle with barely any passengers going through its doors!
Station location
Prague's central railway station is located in the heart of the city and is just a short walking distance away from the old town.
Even such sights as the Charles Bridge (Karlův most) aren't more than 30 minutes on foot away from the station.
By metro, the train station can be reached through the Hlavní Nádraží metro stop on line C (the red-coloured line on the metro map).
Other stations in Prague
Although most trains serving Prague do use the main station of Praha Hlavní Nádraží, there are a number of trains which use secondary stations.
Praha Masarykovo Nádraží (Prague Masaryk Railway Station) is located just five minutes away on foot from the main railway station and has an equally great central location.
Masaykovo is another gorgeous little station, although it will be of little use to most travellers as it is currently only served by suburban trains.
The modern, non-descript station of Praha Holešovice (Prague Holešovice) is more important. A few trains to/from Berlin, Vienna and Budapest currently do not use the main Hlavní Nádraží station but instead only call at Holešovice.
Although Holešovice is located out of the city centre, it does have a metro station which makes access to Prague's old town rather easy.
Do check in advance from which of Prague's train stations your train is departing (or arriving) – if the train calls at both stations you are well advised to just use Praha Hlavní Nádraží unless for some reason you actually have to be somewhere near Holešovice.
Conclusion
Prague's main railway station (Praha Hlavní Nádraží) is one of my favourite train stations in Europe.
As it is a bit hidden away, the old Art Nouveau station building is easy to miss, but you would do yourself a huge disservice if you would bypass it.
Designed by Josef Fanta, this station building is one of the finest examples of Art Nouveau architecture not only in Prague but in entire Central Europe.
Although I'm certainly not a fan of the ugly concourse which was built in the 1970s, the old train shed and the Art Nouveau building of Prague's central station are still a sight to behold.
Whenever I transit through Hlavní Nádraží, I just have to stop in the semi-circular main hall for five minutes to admire its sheer beauty, no matter how many times I have done so before already.
Trip report index
This 'Trains, Planes, Beer and Tapas: A Trip to Prague and Madrid' trip report consists of the following chapters:
1. Review: Ryanair Bucharest to Chania (Boeing 737-800)
2. A Rainy Chania Stopover
3. Ryanair Hell: My Bad Chania to Budapest Flight Experience
4. Review: T62 Hotel, Budapest, Hungary
5. Review: EuroCity Train "Hungaria" Budapest to Brno
6. A Walk Through the Historic Old Town Centre of Brno
7. Review: EuroCity Train "Metropolitan" Brno to Prague
8. Review: K+K Hotel Central, A Prague Art Nouveau Delight
9. Beer Boozing in Prague: Sampling Some Czech Brews
10. Praha Hlavní Nádraží – Prague's Stunning Art Nouveau Station (current chapter)
11. Review: Leo Express Train Prague to Olomouc
12. Olomouc Guide: Baroque and Belle Epoque Beauty
13. Review: RegioJet Train Olomouc to Prague
14. Review: Erste Premier Lounge Prague Airport
15. Review: Air France HOP Business Class Embraer 170
16. Review: Air France Schengen Business Lounge Paris CDG Terminal 2F
17. Review: Air France Business Class Paris CDG to Madrid (Airbus A220)
18. A Madrid Tapas Crawl: Bar Hopping in Spain's Capital
19. Review: Ibis Madrid Aeropuerto Barajas
20. Review: Puerta de Alcala VIP Lounge Madrid Airport
21. Review: Air Europa Economy Class Madrid to Milan (Boeing 787)
22. How To Transfer Between Milan Malpensa and Bergamo Airport