Review: Leo Express Train Prague to Olomouc
In this review, we take a Leo Express train in 'premium class' between Prague and Olomouc, Czech Republic.
Prague to Olomouc
During my time in the Czech Republic I had the opportunity to make a day trip to Olomouc, an absolutely beautiful city on which I will write more in the next chapter of this trip report.
Trains from three different railway companies link Prague with Olomouc: You can hop on a train from state-owned České Dráhy (Czech Railways, often abbreviated as ČD), or opt for trains which are run by the private companies of RegioJet and Leo Express.
Having travelled with České Dráhy many times before, it was time for me to check out the product of the private competitors and to see how they compare with the state-owned railways.
My plan was quite simple. On the outbound from Prague to Olomouc I would try out Leo Express, while for the return trip I had a ticket booked for a RegioJet train.
Prague station
As I was booked on the 7.42am train which links Prague with the cities of Olomouc, Ostrava and Bohumín, I had to get out of bed rather early, which wasn't the most easy thing to do after a night out drinking beer with some Czech friends.
Besides this connection, Leo Express also has trains linking Prague with Žilina, Poprad, Prešov and Košice is Slovakia as well as a service to the cities of Wroclaw, Katowice and Krakow in Poland.
Fortunately, Prague's gorgeous main railway station was just a short distance walking away from the K+K Central Hotel where I was staying.
Prague's main railway station – called Praha Hlavní Nádraží in Czech and often abbreviated as Praha hl.n on timetables – has to be one of the world's prettiest stations.
The beauty of the train station did surely made the early departure hour a bit more bearable.
If you are passing through Prague don't forget to admire the Art Nouveau beauty of the old station building under which the modern-day concourse is built (you can access the old station building via platform 1 – see the above link for much more information about this!).
On the platform
My Leo Express train to Olomouc was already standing ready on platform 1B, a side platform at the northern half of platform 1.
As a cleaning crew was tidying up the train before departure, the doors were firmly shut and passengers weren't yet allowed to board the train.
It made for an excellent opportunity to take a few pictures of the Leo Express train with its striking black colours.
Travel classes
Leo Express isn't your average railway company – and this becomes quite clear when you look at the different travel classes on board their trains.
On a Leo Express train, you will find economy class, economy plus, business and premium class. Economy class seats are your normal 2nd class train seats and come in a 2-2 configuration.
Food and drinks are not included in the fare, although you can buy them from the train steward.
Premium travel classes
Economy plus is a step up from economy class as seats are in a 2-1 configuration and select refreshments and snacks are included in the fare.
Although having similar leather seats as economy plus in the same 2-1 configuration, business class seats are located in a more quiet part of the train and feature more legroom. A complimentary business class menu and drinks are also included in the fare.
The economy plus and business class seats on Leo Express are comparable to first class seats you'll find with most other European train companies.
The most luxurious and comfortable option on board Leo Express is premium class. There are only six premium class seats on each train, located in a separate, quiet section to ensure optimal privacy.
These premium class seats are proper leather recliner seats much like those found in business/first class on aircraft in the US or Asia.
In premium class, passengers have access to complimentary food and drinks from the premium menu.
WiFi internet is available in the entire train for all passengers regardless of travel class. There are power sockets and tables at every seat in all four travel classes on Leo Express trains.
For a full overview of the travel classes on board Leo Express trains and the food and drink menus, check the company's PDF brochure.
Leo Express Train Prague to Olomouc
Train LE1251– Departure: 7.42am – Arrival: 10.04am
Duration: 2h22m – Distance: 247 kilometres
Premium Class, Seat B4 – Costs: 31.60 EUR
Boarding
So let's have a look how my journey was on Leo Express! For the journey from Prague to Olomouc, which lasts around 2 hours and 20 minutes, I paid 31.60 euro for a ticket in premium class.
At one end of the train you can find the economy and economy plus seats, while the other of the train features premium and business class.
If you enter the trains through the doors leading to the premium and business class sections, you will find a rack with complimentary newspapers and magazines.
With the business class seats being located towards the right, I entered the door on the left to the small premium class section at the far end of the train.
Premium class seat
Although the premium class section doesn't have the most sleek interior ever, the seats certainly do look fantastic.
With just 6 seats in a separate section of the train in a 2-1 configuration, Leo Express Premium Class certainly makes for a private and premium way to travel by train.
Given that the two solo seats were already taken when I booked my ticket a week before departure, I took the window seat of one of the two duo seats (Leo Express gives you the possibility to assign a seat for free in advance using a handy seat map).
Unless you have a direct seat neighbour, there is a lot of privacy in premium class as the seats are slightly staggered. Fortunately, I got lucky and the seat next to me remained empty all the way until Olomouc.
The seats in Leo Express premium class are miles ahead of any first class product you can find on board European trains and are indeed more akin to domestic first or business class products on an American or Asian airline.
Although these leather seats don't go fully flat, they do recline a good deal and simply extremely comfortable to lounge or nap in.
Each seat features responsive controls which allow you to set the recline and footrest and to turn on the individual reading light built into the seat.
Departure
My Leo Express train departed Prague's central station right on time for its journey across the Czech Republic towards Olomouc, Ostrava and Bohumín.
Apart from myself, there were three other passengers in premium class, which ended up being amazingly quiet throughout the entire journey.
Right after departure, one of the train stewards introduced herself and asked whether I wanted something to eat or drink from the menu.
Food and drinks are all included in the premium class fare, although given it was still early in the morning I decided to take it easy and just order a coffee and some water for the time being.
Scenery
The first hour after departure from Prague the scenery is rather boring, with there being mainly flat agricultural fields to see from the train window.
This was however not a problem for me. Given that I was still tired from yesterday's night out I easily managed to doze off in my comfortable premium class seat.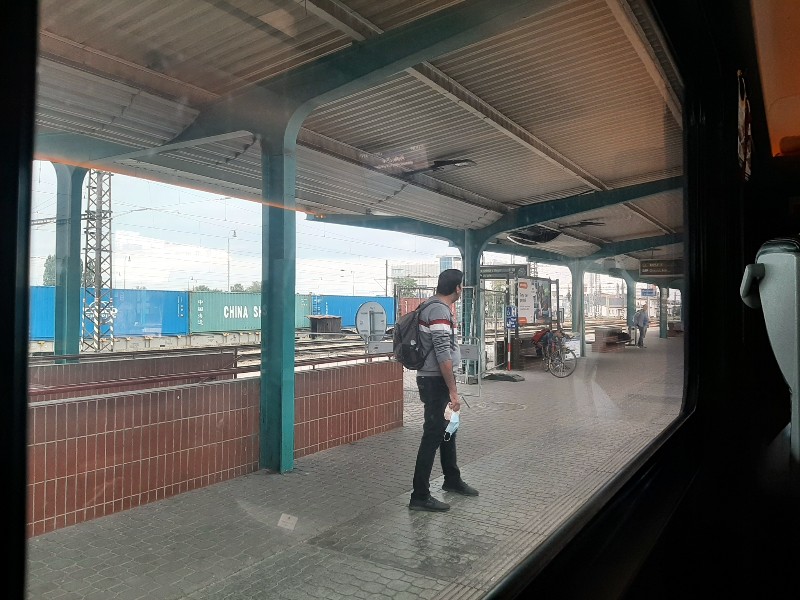 Snack time
After the stop at Pardubice station, the steward entered the premium class compartment again to check if any of us might want to order some more food or drinks.
As I was getting peckish, I decided to order something.
Although it was tempting to try one of the hot meals from the menu, I wasn't that hungry so I just ordered the pulled pork baguette and some kind of Oreo dessert.
Both food items were decent enough, although certainly not premium quality. The bread of the baguette was a bit chewy and the Oreo dessert was rather bland and unimaginative.
To drink, I ordered a small bottle of Prosecco – which is always a great idea when you want to make your morning train ride feel more premium.
Although I was really enjoying the ride on Leo Express in my enormously comfortable seat, I thought that the premium feeling could be improved even more, for example by offering real glassware instead of a plastic cup with the drinks.
Forests and hills
In the last hour of the journey, the scenery slowly started to get a bit more diverse.
Although the line from Prague to Olomouc can hardly be described as Europe's most scenic stretch of rail, the parts where the train rolls through some dark and densely forested hills is quite pretty.
Arrival
With a 10-minute delay, the Leo Express train rolled into Olomouc station, where I had to disembark the train.
While the weather upon departure in Prague was cold and cloudy, it seemed to be much better in Olomouc, with some blue skies being visible and the sun slowly starting to break through the clouds.
Although I was still a bit tired when I boarded the Leo Express train in Prague, I now felt awake and refreshed after the ride and I couldn't wait to start exploring Olomouc.
Conclusion
I had a great ride in premium class on Leo Express between Prague and Olomouc, which certainly is worthy of the 'premium' label.
The premium class seats on the Leo Express train are amazingly comfortable and perhaps the best you will find on any daytime train in Europe.
Perhaps only a product like executive class on Trenitalia's high-speed Frecciarossa trains can compete with Leo Express in terms of seat comfort, which tells you quite a lot about this relative small Czech open-access train operator.
Given that the fares for premium class are affordable, it is certainly worth the splurge to go for this travel class instead of business or economy class if you take a Leo Express train.
Service on board is good too and premium class has food and drinks included in the fare, although this could perhaps be somewhat improved (for example by offering real glassware).
In the grand scheme of things (and taken into account the ticket price which I paid) that's however all relatively minor.
Leo Express has a fantastic product with its premium class and I can certainly recommend it if you need to travel from Prague to destinations like Olomouc, Katowice, Krakow or Kosice.
Trip report index
This 'Trains, Planes, Beer and Tapas: A Trip to Prague and Madrid' trip report consists of the following chapters:
1. Review: Ryanair Bucharest to Chania (Boeing 737-800)
2. A Rainy Chania Stopover
3. Ryanair Hell: My Bad Chania to Budapest Flight Experience
4. Review: T62 Hotel, Budapest, Hungary
5. Review: EuroCity Train "Hungaria" Budapest to Brno
6. A Walk Through the Historic Old Town Centre of Brno
7. Review: EuroCity Train "Metropolitan" Brno to Prague
8. Review: K+K Hotel Central, A Prague Art Nouveau Delight
9. Beer Boozing in Prague: Sampling Some Czech Brews
10. Praha Hlavní Nádraží – Prague's Stunning Art Nouveau Station
11. Review: Leo Express Train Prague to Olomouc (current chapter)
12. Olomouc Guide: Baroque and Belle Epoque Beauty
13. Review: RegioJet Train Olomouc to Prague
14. Review: Erste Premier Lounge Prague Airport
15. Review: Air France HOP Business Class Embraer 170
16. Review: Air France Schengen Business Lounge Paris CDG Terminal 2F
17. Review: Air France Business Class Paris CDG to Madrid (Airbus A220)
18. A Madrid Tapas Crawl: Bar Hopping in Spain's Capital
19. Review: Ibis Madrid Aeropuerto Barajas
20. Review: Puerta de Alcala VIP Lounge Madrid Airport
21. Review: Air Europa Economy Class Madrid to Milan (Boeing 787)
22. How To Transfer Between Milan Malpensa and Bergamo Airport