Beautiful Batumi – The Pearl of Georgia's Black Sea Coast
In this destination trip report we guide you through Batumi, the pearl of Georgia's Black Sea coast.
Batumi
The Georgian resort city of Batumi has always been immensely popular among travellers looking for seaside fun.
Already in the days when Georgia still was a republic within the Soviet Union, people from places as far as Siberia went here on their summer holiday.
Even after the collapse of the USSR, Batumi managed to retain its position as a premier holiday spot and tens of thousands of Ukrainians, Georgians, Russians and Armenians kept travelling here each summer to enjoy their summer vacation.
Although I did set foot in Batumi before some years prior, I never actually managed to properly visit the city.
Back then, I arrived in Batumi by bus from the Turkish city of Trabzon. Although I originally planned to stay for at least a night, the torrential rainfall along the Black Sea coast that day and the lousy weather forecasts made me change my mind and I decided instead to push on towards to Tbilisi immediately.
Fortunately, this time around the weather in Batumi was absolutely glorious and the old town looked bright and shiny under the blue skies.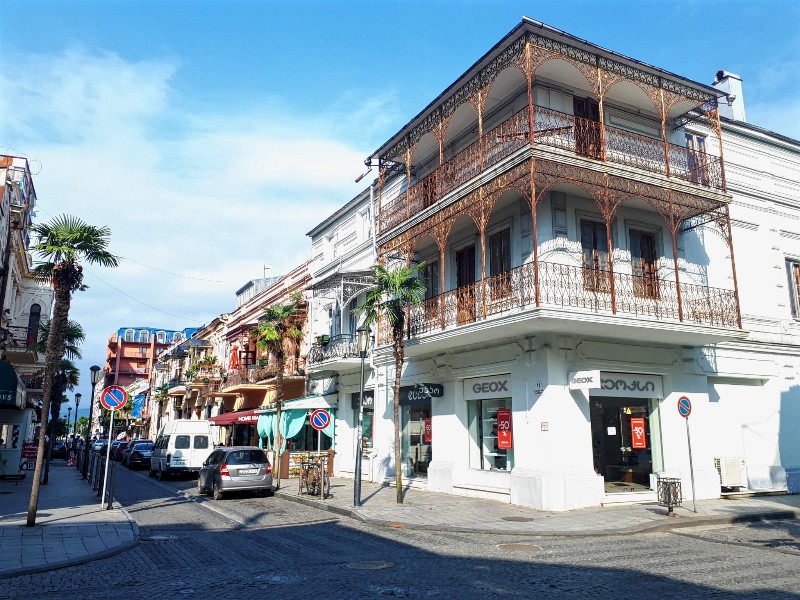 A traditional Georgian lunch
As my marshrutka ride from Kutaisi to Batumi was quite gruelling, the first order of business was to get some lunch. On advice of the receptionist at my wonderful Batumi apartment, I went to a nearby restaurant called Shemoikhede Genatsvale.
To start, I ordered some khinkali (Georgian dumplings which are usually filled with meat) and some basturma (air-dried cured beef which is highly seasoned).
If you want to eat khinkali like a true Georgian, you should never use cutlery but eat it with your hands.
You simply hold the khinkali by its knob, take a bit, and immediately suck out the juices inside the dumpling. It's highly important that you do so, as otherwise the meaty juice from inside the khinkali will spill out all over you!
After you safely sucked out the juice with your first bite you can eat the rest of the khinkali, although you should make sure that you never eat the twisted knob where the pleats of the dumpling are joined together. This bit you simply discard on your plate and keep as some kind of badge of honour.
Next up was some Adjaran khachapuri (cheese bread), named after the Adjara region in which Batumi is located. There are some other regional khachapuri varieties too, which I explained in detail in my chapter about the city of Kutaisi, which is home to the Imeretian khachapuri.
The dough of the Adjaran khachapuri is formed in the shape of an open boat and its topped with a raw egg and a pat of butter.
Also this dish comes with its own rules of how you are supposed to eat it.
To eat an Adjaran khachapuri like a real Georgian, you first take out your knife to cut open the bread from the inside out, after which you mix the butter, egg and cheese inside the 'boat' with the dough of the bread.
Only after you finished with this you can start eating the damn thing. The Adjaran khachapuri is an absolute calorie bomb but my God, it is freaking delicious.
A walk around town
Fully energised by the khinkali, khachapuri and the beers, I began my walking tour around the old town of Batumi. I just love it to wander around aimlessly in cities, especially if they have the same compact size of Batumi which makes this perfectly feasible.
Of course, you pick a few points you want to see beforehand so you can orientate yourself a slight bit, but nothing really is better than just randomly wandering between those select point and following your eyes and intuition as what to see next.
I started off in the old town of Batumi, which is a wonderful mix of traditional Georgian and Tsarist Russian architecture.
In the old town of Batumi you can also find buildings in a lot of other old world architectural styles such as some lavishly decorated Art Nouveau and Neoclassical houses. Batumi's architecture really is a curious but magnificent mix of different eras and styles.
What is special about Batumi is that even some of the more modern constructions, such as the astronomical clock on the restored façade of the old national bank building, ooze old world charm despite the fact that they are quite recent additions to the Batumi cityscape.
Modern additions

Inside the old town you can also find a faux Italian-style piazza (square) with some appealing looking outdoor cafés and restaurants.
Nowadays, the city architecture is much more diverse than it was during the boom days some one-and-a-half century ago.
It does not take much effort to see what the most recent additions to Batumi's skyline are when you walk around in the old town as high-rise apartment blocks as well as glitzy hotel and casino towers are never far away.
Churches
In and around Batumi's old town there are a couple of interesting churches which you can visit.
The main religion in Georgia is Orthodox Christianity, with more than 80 percent of the population following the Georgian Orthodox Church, although in the region of Adjara there is also a large Sunni Muslim minority.
Perhaps the most interesting one of Batumi's churches is the Cathedral of the Mother of God.
This church, built in Gothic Revival style in the early 20th century, started its life as a Catholic church, was used as a laboratory under Soviet rule, and was finally transferred to the Georgian Orthodox Church in 1989.
In the old town you can however also find a couple of interesting Armenian churches.
Central park
I walked a bit more around the curious architectural mix which is the old town of Batumi. There are just so many interesting buildings, cute cafés and restaurants as well as green parks to keep you entertained for a while.
The city's central park features a neoclassical entrance, which is quite typical for parks in ex-Soviet countries like Georgia.
The park roughly forms the boundary between Batumi's old town centre to the east and miles of modern apartment buildings and glitzy hotels towards the south-west.
Unless you are staying in one of those beach resorts or want to visit a certain restaurant or nightclub, there aren't many reasons to venture all the way out there as a tourist.
Batumi beach
As Batumi is of course best known as a summer beach destination, it was about time to check out the city beach.
From Central Park, the beach is just a stone throw away right at the other side of the main thoroughfare of Rustaveli Avenue and the beachside promenade.
Stretching across almost the entire city, Batumi's beach is certainly wide and large and has plentiful space for all the holidaymakers. However, you shouldn't expect too much of the actual beach itself.
If you are just looking for a beach holiday and the quality of the actual beach is of utmost importance to you, then Batumi will likely disappoint as its pebbly beach looks rather grey and grim and is without any natural shade.
In such a case, you would be better off visiting somewhere in Turkey or Greece where the beaches are more idyllic and of higher quality.
That said, the Black Sea water temperature is certainly good for a swim and Batumi does have an excellent summer holiday resort vibe.
Seaside promenade
Even though the beach might disappoint, Batumi has such a brilliant summer atmosphere that I quickly forgot about the sub-average quality of its beach.
Tourists from all over Georgia and places further afield are having fun at the beach, the city's open air bars and clubs are all full, and the seaside promenade is certainly lively with hundreds of people strolling across.
At Batumi's seaside promenade and park, you can find plenty of food and drink stalls, funfair rides for the kids, as well as all kinds of street performers.
Even though it might not have a perfect beach, Batumi really has everything else you might want on a summer seaside holiday.
Virtue and vice
So far, I absolutely loved my time in Batumi and with every minute which passed the city grew more on me.
I was a bit dehydrated at this point so I sat down in a simple pavement café with plastic chairs for a tasty pint of beer (0.5L for less than 1 euro) to quench my thirst.
My seat had a good view of some Georgian police officers who stood on the cobblestoned road next to their flashy police car and motorbike which both looked like they came straight out of a Hollywood film.
The story behind the Georgian police is actually an interesting one. In the years following Georgia's independence from the Soviet Union, the police had a bad reputation for massive corruption and general unreliability while crime rates soared across the country.
When Mikheil Saakashvili became President of Georgia in 2008, he launched some sweeping reforms to westernise the country.
While some of Saakashvili's policies are still hotly debated and can be rather controversial among Georgians, there is arguable one reform which did won universal acclaim: The complete overhaul of the national police.
Saakashvili, who was educated at some prestigious universities in the United States, basically fired the entire Georgian police squad. He then rehired some of them again from scratch (mostly young officers who had not been corrupted by communism) and filled the ranks with brand new recruits.
Police stations were literally torn down across Georgia and replaced by new glass buildings which allowed the people to actually look inside what the cops were doing behind their desks. Needless to say, it was also the perfect metaphor for a new era of transparency.
Old Soviet-era Ladas were replaced by shiny police cars which wouldn't look out of place in a garage in Houston, Texas.
The changes were massively successful and they have turned the police in a trusted national institution and Georgia into a safe country to visit.
Although Batumi does have a dark side as well, with organised crime syndicates involved in smuggling and prostitution (which attracts thousands of men from neighbouring Turkey and the wider Middle East seeking sex), the city is as safe as any other major tourist resort in this part of the world.
When you walk along the beach and promenade or the old town and all the main sights, you certainly feel like you are in a family-friendly holiday destination.
Vodka tower
After the beer, I continued my walk towards the port of Batumi, passing by such sights as the city's theatre and the rather unusual Alphabet Tower, which has a revolving restaurant and observation deck in a glass sphere on top DNA-shaped pillars.
At the entrance of the port you will also encounter the Soviet-era 'morskoy vokzal' (maritime station) and the Chacha Tower, which is a replica of the famous clocktower in Izmir, Turkey.
The Chacha Tower is named after 'chacha' – Georgian grape vodka which can easily reach an alcohol level of 65%.
The tower was built by the Batumi city council in 2012 to highlight the Georgian national firewater and there even used to be chacha coming out of the four fountains of the tower!
Sadly, the chacha taps of the fountains were closed indefinitely when I made my visit to Batumi and it didn't look like they would ever be opened again.
Harbour
Together with the harbour of the city of Poti some 75 kilometres to the north, the port of Batumi is the main freight hub of both Georgia as well as the entire greater Caucasus region.
The port of Batumi is located just a stone throw away from the old town and you can almost freely walk along the quays. It's a wonderful place to watch the shipping traffic and to admire the magnificent natural surroundings of Batumi.
This part of the Black Sea coastline (from Trabzon in Turkey all the way towards Russian-occupied Abkhazia) has a subtropical climate as there is a high amount of year-round precipitation.
Standing in the harbour, you can clearly see the lush backdrop of densely forested, green hills – a direct result of the unique Black Sea microclimate.
The dark rain clouds which I saw in the far distance were proof how fickle the weather in Batumi can be.
Fortunately, this time around I was lucky enough to only have sunny and warm days during my visit, but as I knew from my previous trip to Batumi it could have easily been torrential rains for a couple of days in a row.
Cable car
At the place where the seaside promenade ends and the harbour starts, you can find the lower station of the Argo Cable Car.
During the cable car ride up into the hills you can enjoy some fantastic views over the modern Batumi skyline, the old town houses, as well as the entire harbour.
When I looked down towards the city and the sea, I realised how much Batumi has changed in recent years, as most of the buildings which now make up the Batumi skyline weren't yet there when I last visited.
During the last few years, Batumi really made a remarkable metamorphosis as it changed from a slightly decayed port city into a perfectly renovated, glitzy resort, one which can even be described as some kind of miniature version of Dubai on the Black Sea.
Once you reach the upper cable car station, make sure that you walk towards the back so that you can also admire the panoramic views over the green hills in the interior.
At the upper station you can also find a small entertainment complex with some overpriced restaurants and cafés – you are better off taking the cable car down again once you have admired the views.
Dinner
Although I managed to jump into the first available cable car on my way up, there was however quite a queue going back down and I had to wait half an hour until it was my turn.
Fortunately, the wait wasn't too bad as I ended up having a fun talk in the queue with a Russian family which has been visiting Batumi for years.
Once I was back down, I opted to sit down at the first waterfront restaurant I could find as I was getting quite hungry.
The first place I encountered was a restaurant called Sanapiro, and it certainly did not disappoint. From the terrace there were some breath-taking sunset views over the harbour and my food (grilled trout in orange sauce) was good too.
Also the price was a pleasant surprise, as for the food and the half litre of Georgian white wine I didn't pay more than 5 or 6 euro combined.
Evening walk
After the tasty meal I wandered back to the seaside promenade, which by this time became even more crowded than it was during the day.
It seemed that each and every holidaymaker in town, including dozens of families with children, were out for a 10pm stroll before going to bed or hitting the pubs and clubs of Batumi.
There were certainly plenty of good reasons for taking such an evening stroll. The twilight views were absolutely superb and there are plenty of cool activities for young and old at the seaside promenade.
At the promenade, you can find a giant Ferris Wheel, sunset cruise departures, live music and other street artists, lots of stalls selling drinks, candies and toys, and a lot of other entertainment options.
The Batumi seashore basically has everything you need to round to round up a perfect summer day or to get one of those long summer nights started.
Ali and Nino statue
One of the most interesting sights you will encounter at the promenade is the revolving statue of Ali and Nino, which depictures the tales from a classic Caucasus novel about a love story between a Muslim Azerbaijani boy and a Christian Georgian girl.
The statue is made in such way that both figures at first stand far apart, but eventually merge into each other, becoming one.
After watching a full rotation of the statues, I was pretty much exhausted from the long day exploring the city.
I decided to just go back to my apartment, drink a wee bit of the complimentary homemade red wine which I received from the host, and to hit my bed relatively early.
Morning walk
The next morning I woke up early as there were still some things I wanted to see and do in Batumi on my second day in town.
My top priority for today was a visit to the Batumi botanical gardens. However, my first priority was to buy some coffee and some pastries from a nearby bakery so I could have some breakfast on my balcony.
Although I'm certainly not a morning person, I do however always have lots of energy when I'm on holiday in a sunny destination.
And when you stay in a place that is as beautiful as Batumi's old town, it is certainly not a crime to get out of bed early and have a walk around a still-empty city centre while the sun is shining in your face.
Reaching the botanical gardens
The botanical gardens are located at the far north-eastern edge of Batumi, so you need to take a taxi or public transport to reach it.
From the old town, I took marshrutka (minibus) number 31, which took about 40 minutes to complete its journey.
The marshrutka drops you off at the parking lot, from where you have to cross a railway line to reach the ticket booth at the park entrance.
Cape
Batumi's botanical gardens are located on top of a cape on the northern outskirts of the city.
Close to the entrance of the botanical gardens is also a small pier and a quite decent pebble beach – which surely looked more appealing than the Batumi city beach itself.
Unfortunately I did not have my swimming shorts with me, but otherwise it would make for a nice combination with the gardens.
It certainly looked like a nice place where you could linger for quite a while longer given the fact there were also a couple of open-air bars and restaurants around the parking lot and the beach.
Subtropical flowers
The grounds of the Batumi botanical gardens are large and it can easily take a few hours if you want to see everything.
As I already wrote before, the unique subtropical microclimate and high amounts of year-round precipitation has created some unique vegetation at this side of the Black Sea.
Whether its palm trees or exotic-looking flowers, you can find a lot of beauty in the botanical gardens of Batumi.
However, the highlight of the park is in my opinion the observation platform at the top of the cape from where you have great views over the coastline.
The botanical gardens were certainly lovely to visit and they make for a nice half-day trip out of Batumi.
Lunchtime
After my visit to the botanical gardens, I took a marshrutka back to Batumi.
As I was dropped off near the same restaurant (Sanapiro) where I had dinner the day before, I decided to eat there again as the food and location were great and I wasn't really in the mood to walk more.
Given that I was quite hungry, I opted for both some khachapuri and some potatoes, pork and veggie stew in a clay pot. I washed it away with a surprisingly good bottle of sparkling rosé which featured on the menu for just 4 euro.
It's not without reason why I like Georgia so much!
Sunset
After the big lunch (although it might have been the bottle of sparkling wine as well) I felt a bit tired so I went back to my apartment for a siesta.
Fortunately, I woke up with enough time to spare to get out of the house to watch the sunset.
Given how beautiful the colours of the sky already were the previous day, I figured that I could get an even better sunset view today if I made sure that I was at a better location with completely unobstructed views towards the west.
I figured that the Batumi pier would be the best location for sunset views based on a quick look on the map and my impressions during the last days.
Already on my way to the pier the sunset colours looked amazing. Once I hit the beach the colours really started to explode in lovely shades of blue, purple, red and orange.
I slowly headed towards the pier – where the sunset indeed turned out to be quite an amazing sight. What a gorgeous end to my stay in Batumi!
Garlic chicken
As I would only leave Batumi the following morning, I still had an entire evening ahead of me to have some fun in town.
After eating some shkmeruli – a traditional Georgian dish of chicken in some kind of garlic-milk sauce – it was time to hit some of the old town bars for a couple of shots of chacha and some nargila (waterpipe) and tea to end the evening.
What a fantastic two days in Batumi I had – I really wished I could stay for a couple of days longer at that very moment.
Conclusion
Located on the subtropical shores of the Black Sea, Batumi is an amazingly beautiful and lively seaside destination which will easily please a wide variety of travellers looking for some summer fun.
The city centre of Batumi is extremely well-kept and offers an intriguing mix of magnificent old-world architecture, modern skyscrapers and gaudy Mar-a-Lago-like casino and hotel resorts.
Whether you are walking in the cobblestoned streets of the old town, stroll around the beachside promenade or sit down in the bustling port, Batumi is certainly a diverse and happening city.
If you are just looking for the perfect beach, then Batumi is likely to disappoint as its large pebble beach isn't the most attractive. However, there is so much else to see and do in Batumi to make up for this.
Whether you take the cable car up into the hills, visit the beautiful botanical gardens, or just laze the day away with a bottle of wine at a seaside café, you certainly won't get bored easily in fun-loving Batumi.
Batumi has enough to offer to families with young children, older travellers as well as young backpackers – and when you walk around the promenade you can clearly see how much everyone is enjoying their summer holiday in the city.
I certainly found Batumi an unexpectedly fantastic summer destination myself and I ended up loving its easy-going holiday vibe.
Whether you visit for a summer vacation with your family, for the history, the great food or some nightlife fun, Batumi surely has it all covered in summer.
Trip report index
This article is part of the 'Khachapuri & Kebabs: A Summer Trip to Georgia and Turkey' trip report, which consists of the following chapters:
1. Review: Wizz Air Bucharest to Kutaisi (Airbus A320)
2. A Day in Kutaisi, the Charming Capital of Imereti
3. Caves, Churches and Monasteries – A Kutaisi Day Trip
4. Review: My Warm Guest House, Batumi, Georgia
5. Beautiful Batumi – The Pearl of Georgia's Black Sea Coast (current chapter)
6. From Georgia to Turkey: Batumi to Kars by Bus
7. Review: Kars Konak Hotel, Kars, Turkey
8. A Day Trip From Kars to the Ancient Armenian City of Ani
9. Goose, Cheese and Russian Remnants: A Visit to Kars, Turkey
10. Review: Dogu Express Night Train Kars to Ankara, Turkey
11. Review: AnadoluJet Ankara to Izmir (Boeing 737-800)
12. Review: Ege Palas Business Hotel, Izmir, Turkey
13. Izmir: Turkey's Most Liberal and Liveable City
14. Ancient Ephesus: An Easy Day Trip From Izmir
15. A Visit to the Hilltop Wine Village of Sirince
16. A Beach Trip From Izmir to Cesme and Ilica
17. Foça: A Beautiful Seaside Town to Visit From Izmir
18. Flying Back Home With Atlasglobal and TAROM