Review: Night Train Bucharest to Sighetu Marmatiei, Romania
In this review, we travel in a private sleeper on a CFR night train from Bucharest to Sighetu Marmatiei in Romania.
Romanian railways
The first leg on my long trip to Mariupol would be a night train from my home town of Bucharest to Sighetu Marmației, located right on the Romanian-Ukrainian border in Maramureș County.
This night train is one of the many in Romania which are operated by CFR Călători, the passenger subdivision of the state-owned Romanian Railways (CFR stands for Căile Ferate Române).
The only other company which operates a domestic night train in the country is privately-run Astra Trans Carpatic, which runs a sole sleeper on the Arad-Timișoara-Bucharest route.
I've travelled quite a few times before on the Bucharest to Sighetu Marmatiei night train as it's one of the most convenient ways to reach the border with Ukraine from southern Romania.
Besides, this CFR night train takes you along some of the most scenic stretches of railway in Romania.
Bucharest Gara de Nord
My night train journey started at Bucharest's main railway station, called București Gara de Nord in Romanian.
Although the exterior of Gara de Nord is rather impressive, the ageing station is a bit more basic on the inside.
However, you can find all the facilities you might need at Bucharest Gara de Nord as there are plenty of coffee shops, fast food restaurants, kiosks and a supermarket to stock up before your journey.
As Bucharest Gara de Nord is a terminus station, night trains which commence here are typically shunted from the nearby rail yards into the station some 15 minutes before departure.
Indeed, when I arrived at the station my train was already waiting for departure at one of the platforms.
CFR Călători Night Train Bucharest to Sighetu Marmației
Train IRN1641 – Departure: 9.05pm – Arrival: 9.56am (+1)
Duration: 12h51m – Distance: 606 kilometres
Carriage 4, seat 41
Private sleeper compartment – Costs: 59 EUR
About the Sighetu Marmației night train
The CFR night train to Sighetu Marmației exists out of a couple of through carriages which are attached to the main train with destination Baia Mare.
Therefore, at stations such as Bucharest Gara de Nord you will often see this train listed as 'Baia Mare' if you look at the departures screen!
When the train reaches the station of Beclean pe Someș at 5.33am, the Sighetu Marmației through carriages are decoupled from the Baia Mare train and form a separate train which heads out on a branch line towards Sighetu Marmației.
In fact, the Baia Mare night train does not only have through carriages for Sighetu Marmației, but also carriages which serve Cluj-Napoca and Bistrița.
It's a common way for railways to run trains, as for a big part of the journey all these carriages can just be hauled by a single locomotive, which is of course cheaper than running four separate trains!
Boarding the train
Travelling on a sleeper train through Romania is a throwback in time, albeit in a rather good way for most.
CFR sleeper carriages are generally a few decades old and therefore have quite some wear and tear, but I always find them cosy and comfortable.
Although train travel in Romania tends to be slow with average speeds hardly topping 50kph (31mph) and delays being quite common, it is certainly cheap.
I paid just 59 EUR for my train ticket from Bucharest to Sighetu Marmației, which included a sleeper compartment for private use (called 'dormit single' in Romanian).
A berth in a shared 2-person sleeper compartment would set you back €46 on this route, a bunk in a 4-berth couchette compartment would be €30 (or €27 in a 6-berth couchette) while a 2nd class seat would cost you 20 euro.
You can simply book your night train online at the CFR website after which you will receive a PDF ticket by e-mail, which you can print or just show on your phone to the carriage attendant when you board the train.
Sleeper compartment
My sleeper compartment on the train from Bucharest to Sighetu Marmației is the most common one you will find on night trains in Romania.
With their dark wood colours, these sleeper compartments certainly ooze a lot of old world charm.
In fact, these night train carriages were originally built for the German Sleeping and Dining Car Company (DSG) and acquired second-hand by CFR.
Each compartment has two berths, with the upper one being reachable by a small ladder.
Although there can be quite some wear and tear in these carriages (for instance, the window handle was broken in my compartment) they are generally clean and comfortable.
When it came to the most important things, I had no reasons to complain as the bed sheets were fresh and crisp and the heating/air-conditioning system worked well.
In each sleeper compartment you will find a coat rack and a small nightstand, which doubles as a washbasin when you open the lid.
Below the mirrored storage cabinet (or inside it in some carriages) you can find a standard European power socket.
Inside this storage cabinet you can also find a basic amenity kit containing a toothbrush, toothpaste and washcloth, as well as a complimentary bottle of water.
Toilets are shared with the other passengers and can be found at either side of the carriage.
For your baggage there is plenty of storage space on the floor, on a small luggage rack above the window, or right above the door in a recess from your compartment over the corridor ceiling.
Bucharest departure
The train departed on time from Bucharest Gara de Nord as we made our way north towards the first stop at Ploiești.
Although there is no WiFi internet on sleeper trains in Romania, 4G mobile coverage is generally quite good throughout the country so if you have free roaming it's easy to stay online.
As the night train to Baia Mare/Sighetu Marmației doesn't have a restaurant wagon, you are highly advised to stock up on a few drinks and snacks beforehand.
My train meal for the evening consisted out some jumări (pork cracklings), cheese, bread and hummus with za'atar, which I washed away with two craft beers from Hop Hooligans.
Mountain stations
After the stop at Ploiești, the train approaches the Carpathian foothills and slowly starts to climb up.
If you travel this route in summer, you will have some great views of the Carpathian Mountains at sunset as the train halts at mountain resort towns such as Sinaia, Bușteni, Azuga and Predeal.
As I was travelling in winter and it was already dark, there wasn't much to see in terms of scenery apart from a look at the stations en route.
Just after Predeal, the train reaches the highest point of the Romanian passenger railway network at 1,033 metres above sea level.
From there, it's downhill again until the railway line reaches the city of Brașov in the region of Transylvania at the other side of the Carpathians.
Time to sleep
At the station of Brașov, the train makes a 15-minute scheduled stop.
Here, the locomotive is decoupled from the front of the train and attached at the other end as we reverse course for our loop across the Transylvanian plateau.
During the night, the train will traverse the Székely lands of Transylvania in the counties of Covasna, Harghita and Mureș which are predominantly inhabited by the Hungarian-speaking Szeklers.
The stop at Brașov signalled that it was time for me to go to sleep, as I wanted to wake up early the next morning to enjoy the scenery in northern Romania.
Each sleeper compartment can be locked from the inside – which you are highly advised to do at night when you go to sleep.
You therefore don't have to worry about safety on board a night train in Romania as long as you take normal precautions and don't leave valuables unattended.
Each sleeper wagon in Romania also has its own carriage attendant who will look after the security of the passengers on the train.
Morning in Maramureș
One aspect which I always love about travel on sleeper trains is waking up in the morning to entirely different surroundings than the last time you peeked out of the window in the evening before going to sleep.
That was certainly the case on my night train from Bucharest to Sighetu Marmatiei as the views from my sleeper compartment over the snowy hills of Maramureș in northern Romania were fantastic.
Scenic railway line
Although the night train from Bucharest only arrives in Sighetu Marmatiei at 9.56am and I could have slept longer, I was happy that I got up early at 7am.
If you travel to Sighetu Marmatiei by night train, you don't want to miss out on the stunning scenery along the route in the early morning, which in my opinion is one of the best of all railway lines Romania.
With its many viaducts from where you have perfect views of the valley down below, this line even slightly resembles the famous Semmering Railway in Austria.
Vișeu de Jos
One of the more important stops on the railway line to Sighetu Marmației is Vișeu de Jos.
Although Vișeu de Jos (Lower Vișeu) itself is just a small village, it is located just a few kilometres away from the much larger town of Vișeu de Sus (Upper Vișeu).
Vișeu de Sus is a sizeable market town and popular tourist destination due to its proximity to Maramures Mountains Natural Park (Parcul Natural Munții Maramureșului).
In Vișeu de Sus you can also find the Mocăniță, a highly scenic narrow-gauge forestry railroad on which regular steam train excursions are held for tourists.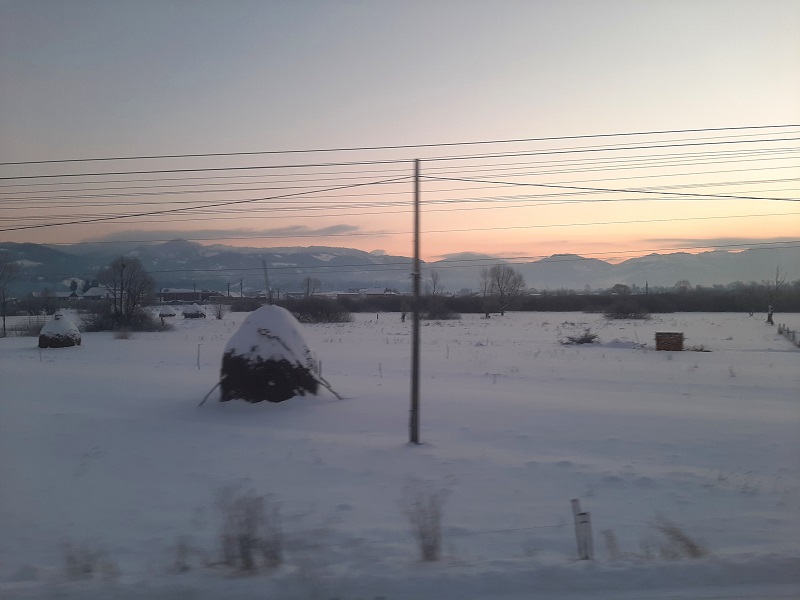 Vișeu de Jos to Leordina
From Vișeu de Jos towards the station of Leordina, the railway line runs mostly parallel to the main provincial road.
The morning views from my night train compartment remained fantastic as the rising sun coloured the skies in gorgeous pastel colours which contrasted vividly with the layer of snow covering the fields, forests and mountains of northern Romania.
Bistra river
One of the reasons why I love the Bucharest to Sighetu Marmatiei night train so much is that this journey keeps surprising you with its diverse scenery.
At the moment you think that the scenery cannot get any more beautiful, you ride on a stretch of railway line which is even more scenic than the couple of miles you rode before.
That's certainly true of the part of the line when the railway runs parallel to the icy waters of the Bistra river.
When you travel on this railway line you really don't want to take away your eyes from the window for even a second.
Authentic villages
The night train from Bucharest to Sighetu Marmatiei gives you a great impression of rural Maramureş.
Maramureş is arguably Romania's most authentic region and from the train window you can certainly see a lot of cute villages with their traditional wooden houses.
There is just something unbelievably picturesque about travelling through Maramureş by train on a cold winter day and seeing the smoke rise up from the chimneys of all the village houses.
Especially the part around the village of Petrova was superb when it came to such picture-perfect rural views.
River gorge
Again, when you think that the scenery cannot possible get any better, the Sighetu Marmatiei night train will keep on surprising you with some more breathtakingly beautiful Romanian landscapes.
About one-and-a-half hours before arrival at Sighetu Marmației, the railway line follows the course of the Bistra river as it meanders through a narrow gorge.
With the mountains rising up high on both banks of the river, you really do not want to miss the views at this point of the journey.
You can clearly see that the border with Ukraine is not too far away at this point as some of the station names become bilingual with also the Ukrainian town name being written in the Cyrillic alphabet below the Romanian name.
Some towns in this part of Maramureș have a large ethnic Ukrainian minority or can even be fully Ukrainian, just like there are some towns across the border in Ukraine with a large Romanian minority.
In other parts of Maramureș you might also find bilingual or trilingual town signs with the Hungarian name added as well.
Valea Vişeului
The last major stop of the Bucharest to Sighetu Marmatiei night train is Valea Vişeului.
At Valea Vişeului, the train halts for about 15 minutes as the train again reverses its course and the locomotive needs to be attached at the other end.
Valea Vişeului, which is located at the confluence of the rivers Bistra and Tisza, seemed to be a busy stop as quite some people from the village boarded the 2nd class seating carriages of the train.
For many locals, this railway is a lifeline as it gives them access to all the shopping, education and employment possibilities in the regional hub of Sighetu Marmației.
Besides workers and women going on a shopping trip you will therefore also see quite a lot of high school students on the train.
Since January 2023, you can take a connecting train train at Valea Vişeului directly across the Romanian-Ukrainian border on a reconstructed railway line towards Rakhiv.
Last stretch towards Sighetu Marmației
With the CFR night train having reversed its course, we could now embark on the final stretch towards Sighetu Marmatiei.
Although it is a good 45 minutes from Valea Vișeului to Sighetu Marmatiei and there are still some fine views from the window, the scenery on this part of the line pales in comparison to all the splendour from the previous two hours.
In case you are still asleep at this point, the carriage attendant will most likely knock on your compartment door about half an hour before your destination to make sure you are awake in time for your stop.
Arrival at Sighetu Marmatiei
After a fantastic ride, the night train from Bucharest approached the outskirts of Sighetu Marmatiei in the far northern fringes of Romania.
Colloquially, Sighetu Marmației is simply shortened to Sighet by Romanians, so you will often see the full name on the timetables while people on board the train would simply say Sighet.
The train stops briefly at the station of Cămara Sighet before continuing to the main station of Sighetu Marmației, where it arrived just 5 minutes late.
From the Sighetu Marmatiei train station, both the town centre as well as the border with Ukraine are just a 15-minute walk away.
Conclusion
The Bucharest to Sighetu Marmatiei sleeper train is one of the greatest of all night train routes in Romania – perhaps even in all of Europe – due to its wonderful scenery.
There is just something special about seeing the snow-covered villages, forests, and mountains in Maramureș County in the far northern part of Romania from the comfort of your warm and cosy sleeper train compartment.
Although the Bucharest to Sighetu Marmatiei night train is perhaps at its best in winter, I can also highly recommend it in summer when you have the added advantage of crossing of the Carpathians in southern Romania at sunset (or in the morning daylight when travelling the other way around).
Travel on a CFR night train through Romania really is a throwback in time – and that's not only due to the traditional countryside villages with their wooden houses and horse-drawn carriages you see from the window.
Sleeper train compartments in Romania ooze an old world charm with their wooden interiors.
Even though they might not be up to modern standards, these compartments are comfortable and have all the basics you need such as clean sheets, a wash basin and power socket.
Moreover, travelling by night train in Romania is certainly excellent value for money as you won't find many other nations in Europe where you can cross the entire country in your own private compartment for under 60 euro.
Trip report index
This article is part of the 'Mail From Mariupol: A Pre-War Trip to Ukraine by Train' trip report, which consists of the following chapters:
1. Review: Night Train Bucharest to Sighetu Marmatiei, Romania (current chapter)
2. At the Sighet-Solotvyno Border: From Romania Into Ukraine
3. Review: Solotvyno to Rakhiv by Bus
4. Review: Hotel Europa, Rakhiv, Ukraine
5. In the Land of the Hutsuls: A Visit to the Town of Rakhiv
6. Rakhiv to Mariupol: Riding Ukraine's Longest Train Route
7. A Tribute to Mariupol: Memories of a Pre-War Visit
8. Ukrainian Railways Mariupol to Kiev Train in Platzkart
9. Review: Ibis Kyiv Railway Station Hotel
10. Review: Kyiv-Pasazhyrskyi Station First Class Lounge
11. Ukraine Night Train: Over the Mountains to Mukachevo
12. Review: Latorca InterCity Train Mukachevo to Budapest
13. A Short Stopover in Szolnok, Hungary
14. Review: Ister Night Train Budapest to Bucharest
15. Epilogue: Witnessing the Ukrainian Refugee Crisis at the Border