Review: Hotel Europa, Rakhiv, Ukraine
In this review we stay a night at the Hotel Europa in Rakhiv, Ukraine.
One night in Rakhiv
After a long but magnificent ride by train and bus from the border with Romania, I had finally arrived in the town of Rakhiv in the Ukrainian Carpathians.
I would stay one night in Rakhiv before moving onward by train to Mariupol the following day.
For my one-night-stay in Rakhiv I opted for Hotel Europe, a budget hotel in the city centre.
In fact, the accommodation options in Rakhiv seem to be limited to budget hotels, hostels, apartment rentals and guest houses only, so you shouldn't expect the widest range of options ever.
Hotel Europa check-in
From Rakhiv's bus and train station, it's a short and easy walk to Hotel Europa.
The reception of the hotel is located on the first floor, where a middle-aged lady checked me in.
Although she didn't speak any English, the check-in procedure was smooth and I was given the keys for my room on the second floor of the hotel.
Do however note that there is no elevator in the hotel and that the upper floors can only be reached by stairs.
Hotel Europa room
For my stay at the Hotel Europa, I had booked a twin room for the grand sum of 400 UAH (€12) for the night.
When you walk through the hotel corridors to your room you may already notice the dated interior, which feels a bit Soviet.
When it came to the room décor it certainly felt a bit like one of those ubiquitous Soviet-era budget hotels which you can find throughout all countries which were once part of the USSR.
However, I thought the Hotel Europa was definitely a step up from this.
Sure, from the carpets to the paintings and the colour of the walls many things did feel a bit old-fashioned.
However, the room did have quite some facilities which you don't always find in a hotel of this price category.
My twin room had two comfortable beds, a fridge, desk, kettle, flat-screen TV, good-functioning WiFi internet and plenty of power sockets.
Although the room doesn't have air-conditioning (which isn't necessary in summertime in the mountains anyway in my opinion) it did have heating, which was quite welcome on this cold winter day.
More importantly, I thought the room was comfortable, spacious and clean.
Balcony and view
My room also had a balcony with a view towards the back overlooking a courtyard down below and some mountains in the distance.
In summer it would make for a nice area to sit outside, although I don't know whether the hotel puts out some chairs on the balconies during the warmer months of the year.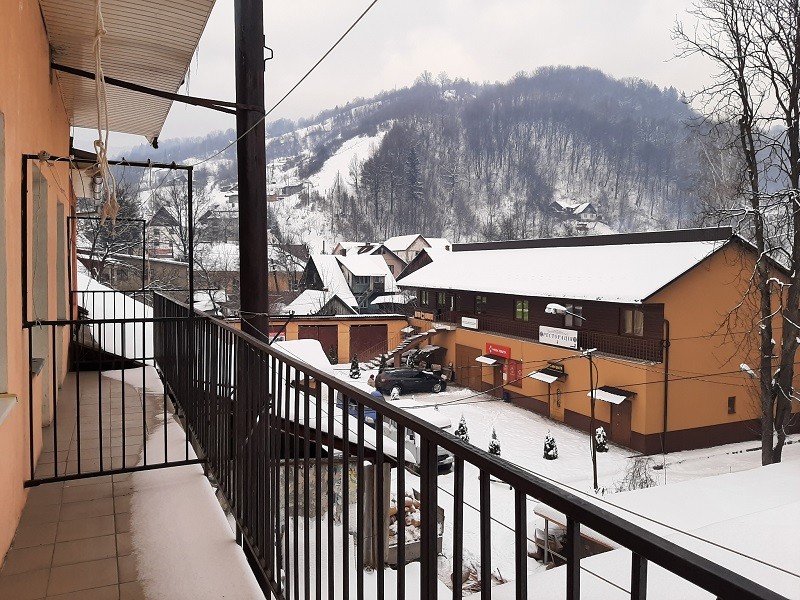 Bathroom
The bathroom was certainly better than I expected as well, as it was clean and had a fully enclosed shower.
The only minor disadvantage was the vintage Soviet toilet paper, which is infamous for its rough surface and being impossible to tear down properly.
Breakfast
Breakfast was not included in my room rate, although you can have it at the hotel for an extra 2 euro.
Although that's not a big sum of money, I didn't opt for it as from previous Ukrainian travel experiences I knew that you can always find something better in a nice café for about the same amount.
Indeed, just a few metres away from the hotel a nice café called 'Coffee Jazz' did some tasty pancakes and excellent coffee for the total sum of €3.50.
Coffee Jazz also does some nice cakes and is generally a highly recommended coffee shop when you visit Rakhiv.
Conclusion
I had a pleasant stay at Hotel Europa, which exceeded my expectations on a lot of fronts.
Although the room certainly looks a bit old-fashioned and brought back memories of Soviet-era hotels, it was clean, comfortable and well-equipped.
The internet worked well, the beds were comfortable, there was a fridge and a kettle in my room and the shower was in good condition.
Given the price I paid (12 euro) I certainly had no reasons whatsoever to complain!
Trip report index
This article is part of the 'Mail From Mariupol: A Pre-War Trip to Ukraine by Train' trip report, which consists of the following chapters:
1. Review: Night Train Bucharest to Sighetu Marmatiei, Romania
2. At the Sighet-Solotvyno Border: From Romania Into Ukraine
3. Review: Solotvyno to Rakhiv by Bus
4. Review: Hotel Europa, Rakhiv, Ukraine (current chapter)
5. In Hutsul Lands: A Visit to the Town of Rakhiv
6. Review: Rakhiv – Mariupol Night Train, Ukraine's Longest Rail Connection