Review: Erste Premier Lounge Prague Airport
This review details the Erste Premier Lounge, a business lounge at Prague Airport Terminal 2 (Schengen flights).
Prague Airport
Having spent a great time drinking beer and admiring some Art Nouveau architecture in the Czech Republic, it was time to move on to another country.
To get from Prague to my destination of Madrid, I would fly with Air France in business class via Paris Charles de Gaulle Airport.
As I was booked on the early morning flight to Paris I already found myself at Prague Airport in the wee hours of morning.
Although there was quite a queue at the sole SkyPriority and business class check-in desk when I arrived, it moved rather fast.
Fortunately, there was no queue at all for fast track security and within minutes I found myself airside in Terminal 2 of Prague Airport, which is designated for Schengen Zone flights (T1 is solely used for non-Schengen flights).
Erste Premier Lounge Prague Airport
The Erste Premier Lounge is the main business lounge of Prague Airport Terminal 2 and can theoretically be accessed by passengers on any departing flight.
Named after an Austrian bank, the Erste Premier Lounge is clearly signposted with the entrance located one floor up from the main corridor.
Access to the Erste Premier Lounge is complimentary for business class passengers and frequent flyer elites of most airlines operating out of Terminal 2 of Prague Airport.
Priority Pass and Dragon Pass are among the lounge membership cards accepted at the Erste Premier Lounge, while also holders of Erste Premier bank cards can access the lounge for free.
If you don't qualify for complimentary access, you can also pay for access at this business lounge, with the current rate being 860 CZK (€35) for a 2-hour visit.
Flying with Air France in business class (and holding Flying Blue platinum status) I had no problems at all entering the lounge.
Inside the Erste Premier Lounge
When you stand in front of the lounge reception desk, you can either turn to the lounge area on the left or to the area on your right.
Both parts of the lounge are fairly identical and feature a buffet counter for food and drinks, so I would just pick whatever part of the lounge is the least crowded.
In my experience, this usually is the right-hand side of the business lounge as you enter, and this was also the part of the lounge where I sat down.
The Erste Premier Lounge has a modern design and a variety of seating options ranging from comfortable sofas and armchairs to dining table seats.
There are plenty of power sockets to be found throughout the lounge and the Wi-Fi internet was fast.
Although the lounge does not have any tarmac views, it does have natural light shining through the windows and therefore has a bright feel.
Lounge facilities
The Erste Premier Lounge has all the standard facilities which you might expect from an airport business lounge in Europe.
You can grab a newspaper or some magazines to read from a large rack at the lounge reception area.
The Erste Premier Lounge also features a couple of work stations with computers and a printer.
The lounge has a dedicated children's play area as well.
Lounge showers
The Erste Premier Lounge has two shower rooms available, one inside the men's washrooms and one in the women's washroom area.
You can inquire at the lounge reception desk whether the shower room is available.
Although it was certainly clean, the shower room was among the smallest business lounge showers I have ever encountered and the provided towel was equally small.
Apart from a hair dryer and rather basic soap inside a dispenser at the sink there were no bathroom amenities provided.
Lounge buffet
The Erste Premier Lounge in Prague is your average European business lounge when it comes to the selection of food and drinks.
Although you shouldn't get in expecting a wide variety of choice in food and drinks, the quality is actually quite good.
Throughout the entire day, a selection of tasty sandwiches, cup salads, soup and cold cuts platters are available.
In the morning you can find hot food such as eggs, while later in the day this will be replaced by dishes such as mini schnitzels or pasta.
Although both sides of the business lounge have a food and drinks counter with identical offers, the hot food options are usually only available at the buffet in the left part.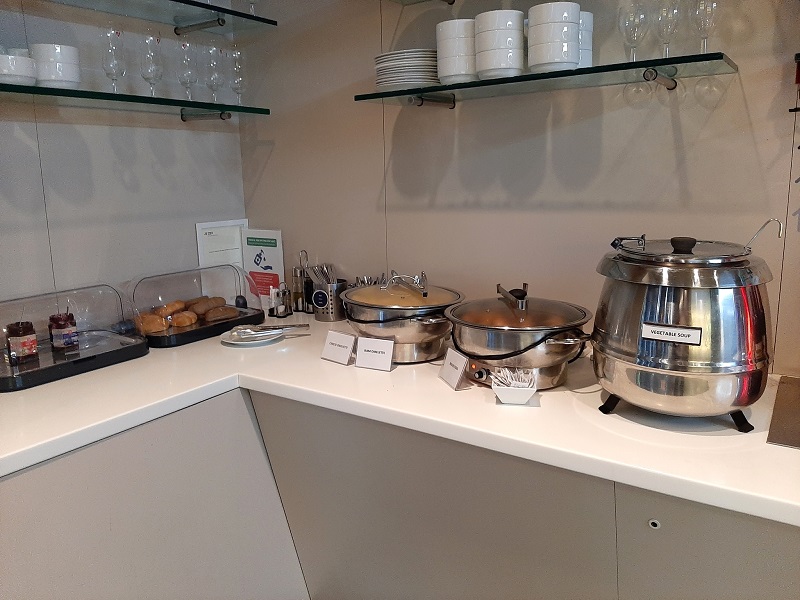 Drinks
When it comes to drinks, you can find the usual selection of coffee, tea, juice as well as soft and alcoholic drinks in the Erste Premier Lounge.
You can get sodas and water from a dispenser at the buffet.
The coffee machine in the lounge does actually make a decent espresso, which certainly helped me to wake up a bit more at this early hour.
It being Prague, you can of course expect some good Czech beers inside this airport business lounge.
Indeed, there are a couple of beer fridges in the lounge with normal and non-alcoholic Budweiser beer – the real Czech brew from the town of Budweis (Budvar) that is, and not the inferior American one.
There is just one label each available of white and red wine, while booze is limited to a couple of mid-shelf brands of strong alcohol such as Ballantine's whisky, Bombay Sapphire gin and Smirnoff vodka.
The Czech favourite of Becherovka is available too – mix it with tonic to make a tasty drink which the Czechs call 'beton'!
Lounge experience
During my early morning visit, the Erste Premier Lounge was delightfully empty and an oasis of quietness.
Although I have never experienced the lounge to be at capacity during my multiple visits throughout the last few years, it can get more crowded later on in the day.
However, even when it's more crowded I always found the lounge to be relatively quiet and peaceful.
I certainly enjoyed having a coffee or two and some sandwiches for breakfast in the lounge before my flight while checking up on some messages and emails.
Conclusion
The Erste Premier Lounge in Terminal 2 of Prague Airport makes for a pleasant place to wait for your flight departure.
This business lounge features a decent buffet and drinks selection and plenty of places to relax or work in quietness.
If you need a good snack before your flight, the Erste Premier Lounge will certainly do, although you should not expect much more from it when it comes to food.
Although showers are available, they are among the smallest and more basic ones I have ever seen at an airport lounge.
Overall, the Erste Premier Lounge is a business lounge which is well-worth a short visit, although I personally wouldn't come early to Prague's airport for it.
This 'Trains, Planes, Beer and Tapas: A Trip to Prague and Madrid' trip report consists of the following chapters:
1. Review: Ryanair Bucharest to Chania (Boeing 737-800)
2. A Rainy Chania Stopover
3. Ryanair Hell: My Bad Chania to Budapest Flight Experience
4. Review: T62 Hotel, Budapest, Hungary
5. Review: EuroCity Train "Hungaria" Budapest to Brno
6. A Walk Through the Historic Old Town Centre of Brno
7. Review: EuroCity Train "Metropolitan" Brno to Prague
8. Review: K+K Hotel Central, A Prague Art Nouveau Delight
9. Beer Boozing in Prague: Sampling Some Czech Brews
10. Praha Hlavní Nádraží – Prague's Stunning Art Nouveau Station
11. Review: Leo Express Train Prague to Olomouc
12. Olomouc Guide: Baroque and Belle Epoque Beauty
13. Review: RegioJet Train Olomouc to Prague
14. Review: Erste Premier Lounge Prague Airport (current chapter)
15. Review: Air France HOP Business Class Embraer 170
16. Review: Air France Schengen Business Lounge Paris CDG Terminal 2F
17. Review: Air France Business Class Paris CDG to Madrid (Airbus A220)
18. A Madrid Tapas Crawl: Bar Hopping in Spain's Capital
19. Review: Ibis Madrid Aeropuerto Barajas
20. Review: Puerta de Alcala VIP Lounge Madrid Airport
21. Review: Air Europa Economy Class Madrid to Milan (Boeing 787)
22. How To Transfer Between Milan Malpensa and Bergamo Airport