Chisinau Guide: A Visit to Moldova's Capital
In this destination guide we visit the sights of Chisinau, the capital of Moldova.
A trip to Chisinau
After a fun trip on the Prietenia night train I had arrived in the Moldovan capital of Chișinău.
It was already the sixth time or so I paid a visit to Chisinau.
Moldova is probably the least visited country in Europe and therefore one of the most unknown destinations on our continent.
Although Chisinau certainly cannot compete with other European capitals such as Paris or Rome when it comes to blockbuster sights and beauty, the city is however a fun and interesting place to explore.
Into the city
As I didn't have breakfast yet, my first order of business was to get some food.
From the train station, I walked up Yuri Gagarin Boulevard towards the giant roundabout in front of the communist-era Hotel Cosmos.
If you turn left on Constantin Negruzzi Boulevard, you will walk in the direction of the city centre and encounter plenty of cafés and restaurants on your way.
Make sure you admire the fabulous Soviet mural on Constantin Negruzzi Boulevard as well as the World War II monument in front of Hotel Chisinau, another ageing communist-era hotel.
In the end, I entered a random café where I enjoyed some bacon and eggs and a cappuccino for just €3.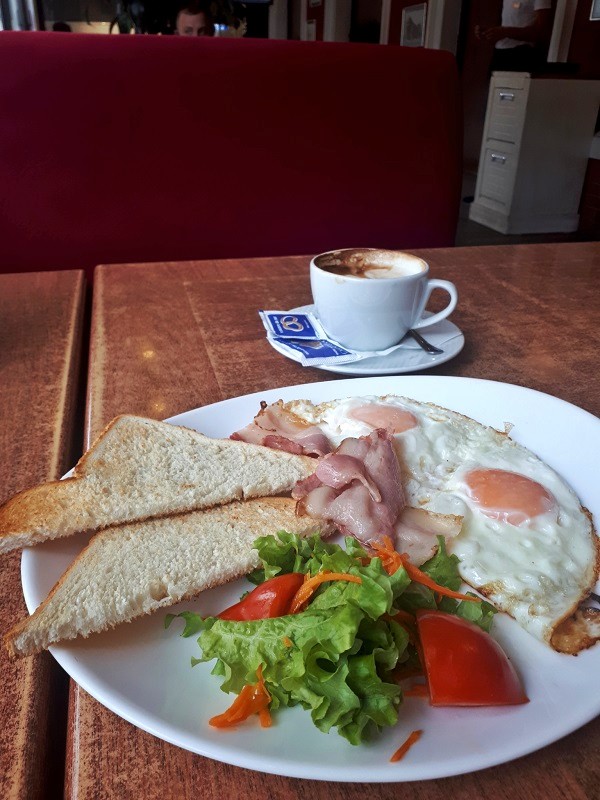 Ciuflea Monastery
Having finished breakfast, I was pleased to see that the dark storm clouds had disappeared and given way to clear blue skies.
I started off my tour of Chisinau by making a visit to Ciuflea Monastery.
This 19th century monastery and church complex has colourful pastel blue walls and golden domes and is well-worth a visit.
Even the interior of the church is dominated by bright blue colours.
Stefan cel Mare boulevard
Most of Chisinau's sights are located along the city's main street which is called Boulevard Stefan cel Mare.
The boulevard is named after 15th Century Moldovan ruler Stephan the Great (called Stefan cel Mare in Romanian).
Stephan the Great is arguably Moldova's most famous historical figure.
During his reign, the country of Moldova (or Principality of Moldavia as it was called back then) was much bigger than it is now as it also included parts of Ukraine as well as what is now the Romanian province of Moldavia.
Stefan cel Mare was not only a great military commander who managed to beat much mightier opponents such as the Ottomans and the Hungarians, but he was also famed for constructing several beautiful monasteries and churches throughout his domain.
It is no surprise that you will find his image on every Moldovan banknote and his name being attached to pretty much every park or building in the country.
Notable buildings
Although the lower half of Boulevard Stefan cel Mare is dominated by communist-era highrises and non-descript modern office blocks and shopping centres, the street gets more interesting as you get closer to the historic heart of Chisinau.
After a while you will also encounter a couple of ornate buildings on Stefan cel Mare in which different government offices are housed such as the Ministry of Internal Affairs and the General Prosecutor's Office.
Chisinau history
As you walk down Stefan cel Mare, you will probably notice the different architectural styles of the buildings.
This is partly due to Moldova's complicated history as Chisinau has been part of different nations over the last centuries.
The Principality of Moldavia which I mentioned before eventually became a vassal state of the Ottoman Empire until it was conquered by the Russian Empire in the 18th century.
Many of the buildings on Stefan cel Mare are from this era and they can be easily recognised by their architecture and typical soft pastel colours.
Between the two World Wars, the territory of the modern-day Republic of Moldova and thus Chisinau became part of Greater Romania.
In this time, buildings such as the Mihai Eminescu National Theatre (named after the famous Romanian poet) were constructed.
After World War II, Chisinau became the capital of the Moldavian SSR (Soviet Socialist Republic) and was formally incorporated into the Soviet Union.
Only when Moldova gained its independence in 1991 after the collapse of the Soviet Union did Chisinau became a real capital city.
Indeed, it's important to realise that for most of its history, Chisinau has been more of a provincial town rather than a true capital city.
Moldavia's historic capital was first Suceava and later the city of Iași – both being located in what is now the Romanian region of Moldova.
The current borders of the modern-day Republic of Moldova are therefore rather artificial and don't necessarily follow the historical cultural and linguistic frontiers.
Moldova is a majority Romanian-speaking country, although there is a big minority that has Russian as their mother tongue.
In Chisinau, you will find both languages being used on the streets or in restaurant menus.
Unsurprisingly, the concept of national identity is still is a hotly debated topic in Moldova.
Many people in Chisinau will just tell you that they are Moldovans and are a wholly unique cultural group, while others will simply say they are Romanian as they share the same language and culture with their bigger neighbour across the current border of the River Prut.
However, since Moldova was part of the Russian Empire and the Soviet Union for such a long time, even Romanian-speaking Moldovans have been influenced by Russian culture.
Triumphal Arch
If you walk long enough up Stefan cel Mare Boulevard you will eventually reach the heart of the city centre of Chisinau.
Here you will find some of the top sights of Chisinau such as the communist-era Government House in which the Moldovan Government is housed.
Opposite the street from the Government House you can find the Triumphal Arch (Arcul de Triomf) which was built in 1840 to commemorate the Russo-Turkish War of 1828-1829.
Don't expect anything as big as the Arc de Triomphe in Paris though as Chisinau's Triumphal Arch is proportionally about the same size as the country of Moldova is when compared to France.
Cathedral Park
A visit to Chisinau is not complete without exploring some of its fine city centre parks.
The first park which I visited was Cathedral Park, which is located right next to the Triumphal Arch.
It is obviously named after the city's Cathedral, which you can find in the middle of the park.
Chisinau Cathedral
Chisinau's Metropolitan Cathedral, which is called the Cathedral of Christ's Nativity, is one of the must-visit sights in the Moldovan capital.
The Cathedral was constructed in the 1830s following a Neoclassical design.
The Bell Tower, which was destroyed by the communists in the 1960s but rebuilt in the 1998, stands 40 metres away from the Cathedral in perfect symmetry.
Chisinau's Cathedral has three altars, with the main altar being devoted to Christ's Nativity while the two side altars are dedicated to Stephan the Great (who was canonised into Sainthood in 1992 by the Romanian Orthodox Church) and the Protection of the Mother of God.
Stephan the Great Park
Diagonally opposite of the Cathedral and the Triumphal Arch you can find another lovely Chisinau park.
This park is named after Stefan cel Mare but is also known as the Central Park.
At the park's entrance you can find a large statue of the Moldovan national hero.
It's a nice park to take a stroll on a sunny day in spring, autumn or summer.
Nearby, the Valea Morilor Park with its hillside cascade is another pleasant Chisinau park.
Lunch
As I was getting hungry from my walk through the city I went to La Placinte for lunch.
La Placinte is a local chain restaurant that does great Moldovan food at affordable prices.
The restaurant is named after the national dish – a small round or square-shaped pastry filled with a savoury ingredient such as cheese or potatoes (although there are also sweet placinte with apple or cherry filling).
This time, I however enjoyed some tochitură, a meat stew served with mămăligă (polenta), eggs, grated soft cheese and sour cream on the side.
It's always a great idea to wash your lunch away with a glass of wine.
Moldova is a wine-growing country that makes some excellent white, red and sparkling wines and it's good fun to try out some different varieties.
Leafy streets
After the excellent lunch I went for another walk to digest the food.
Perhaps the most picturesque part of Chisinau is located directly to the south-west of this stretch of Boulevard Stefan cel Mare.
In this area you can get a glimpse of the old Chisinau before it was devoured by communist construction projects and modern-day architecture.
You will find some beautiful leafy streets and old houses from the Tsarist or Interwar period.
Chisinau night out
After my walk through town I met up with a few of my friends for a couple of drinks and dinner at Eli-Pili, another recommended restaurant.
Eating and drinking out is one of the main attractions of Chisinau, as the city has a lot of quality cafés, bars, restaurants and night clubs.
From a western European perspective, you will find that food and drinks are generally cheap in Chisinau, making an evening out perfectly affordable.
However, make sure you dress up if you go for a night out as otherwise you will definitely look out of place between the neatly dressed Moldovans!
Chisinau day trips
Although you can easily visit the sights of Chisinau in a single day, there are a couple of great day trips you can make from the city.
It is therefore hardly a crime to stay longer than one night in Chisinau, as there is plenty to do to keep you entertained.
In particular, I would recommend three different day trips, some of which can be done in half a day when you have your own wheels and don't have to rely on public transport.
Orheiul Vechi (Old Orhei) is known for its historical monastery complex and caves on a scenic spot high above a river.
There are a couple of interesting wineries that you can visit as a day trip from Chisinau.
The Mileștii Mici winery – which is located some 16 kilometres out of Chisinau – has the biggest wine cellars in the world.
The underground pathways and roads of the Mileștii Mici cellars stretch an impressive 200 kilometres and store around 2 million bottles of wine.
Although a visit to the wine cellars of Mileștii Mici is highly impressive, it is not the best winery in Moldova if you want to taste some quality wines.
Serious wine lovers should therefore also consider visiting wineries such as Chateau Purcari and Castel Mimi for some top-quality wines that can easily rival those from Europe's main wine-producing countries.
Another recommended day trip you can make from Chisinau is a visit to Transnistria.
Transnistria is a bizarre breakaway republic recognised by no-one except for three other (ex-Soviet) breakaway republics.
Transnistria has the support of Russia, which still maintains a small army garrison in the breakaway republic despite firm opposition of the Moldovan Government in Chisinau to which the territory de jure belongs.
A visit to Transnistria feels like a giant throwback to the 1980s USSR – with plenty of Lenin statues and Soviet monuments to keep you occupied.
Conclusion
Although Chisinau will probably never become one of Europe's big tourist destinations, the capital of Moldova is a highly interesting place to visit.
There are a couple of enjoyable sights in Chisinau such as the Cathedral and the city's pleasant parks.
Moreover, Chisinau is a certainly a lively city and there are many quality bars and restaurants to keep you entertained when you stay a couple of days in town.
From Chisinau you can also make a couple of fun day trips to destinations across Moldova and visit some monasteries, wineries and the breakaway republic of Transnistria.
For those who want to visit something entirely different than your average European capital and are willing to explore a destination off the beaten path, Chisinau will certainly not disappoint.
Trip report index
This article is part of the 'From Uzbekistan With Plov' trip report, which consists of the following chapters:
1. Review: Prietenia Night Train Bucharest to Chisinau
2. Chisinau Guide: A Visit to Moldova's Capital (current chapter)
3. Istanbul Ataturk Airport and the Turkish Airlines Lounge
4. Review: Turkish Airlines Business Class Airbus A330
5. Tashkent Travels: A Day in the Capital of Uzbekistan
6. Tashkent to Samarkand by Uzbekistan Railways 'Shark' Train
7. Samarkand Visit Guide: Travelling Through Silk Road Splendour
8. Review: Afrosiyob High-Speed Train Samarkand to Bukhara
9. Bukhara: Exploring Unique Historic Sights and Timeless Charm
** rest of the chapters to follow soon **