A Madrid Tapas Crawl: Bar Hopping in Spain's Capital
In this destination guide we will go on a tapas bar crawl through the Spanish capital of Madrid and show you the best places to eat and drink.
A Madrid visit
After a great business class flight with Air France on their Airbus A220, I had arrived in Madrid.
While the weather was great upon departure from Paris, there were dark storm clouds in the skies above the Spanish capital.
I took the metro from Madrid Barajas Airport to the heart of the city centre, where I would stay for two nights at Hotel Europa in a fine room overlooking Puerta del Sol.
Tapas with a view
I started off my Madrid tapas crawl in the next morning at El Corte Inglés at nearby Plaza de Callao.
El Corte Inglés is a Spanish department store chain and at first sight you might think that it's a weird location to kick off a Madrid tapas crawl.
However, the Corte Inglés at Plaza de Callao has a rooftop terrace with some upscale tapas bars and great views over the city centre of Madrid, making this an excellent place for your first tapa.
Bar crawl
The great thing about going on a tapas bar crawl through Madrid is that you can combine it with a bit of sightseeing on your way.
Even though I have been to Madrid countless of times before, it's still a great pleasure to see some of the city's top sights again.
Fortunately the weather had cleared up by the time I left El Corte Inglés, so I decided to have a walk to the Royal Palace.
On my way there, I stopped at Taproom Madrid (located on Plaza de Isabel II next to the Royal Theatre) for some delicious Spanish craft beer.
Royal Palace
After the beer I headed out again in the sunny Madrid weather and walked up to the Royal Palace, which is located on the western side of the city centre overlooking the vast Casa de Campo park.
Although you can tour the palace and see it from the inside, I just had a quick peek through the fence to see the exterior.
Cathedral
Next-door from the Royal Palace is Madrid's Cathedral, which is dedicated to the Virgin Mary of Almudena.
Construction of the baroque Almudena Cathedral started in the late 19th century but was only completed in 1993, the same year when it was officially consecrated.
100 Montaditos
All the sightseeing around Madrid made be thirsty, so it was time to seek out the next tapas bar.
I ended up at one of the many branches of Cervecería 100 Montaditos, a popular Spanish tapas bar chain.
As the name already implies, these tapas bars are well-known for their montaditos, which are open-faced baguettes with a wide variety of different fillings.
However, what made 100 Montaditos so popular are the low prices.
For a small beer you pay just €1, while the cheapest montaditos also start at the extremely low price of just one euro.
Plaza Mayor
The most logical next stop of my walk through Madrid was Plaza Mayor, the historic heart of Old Madrid.
The rectangular square is surrounded by uniform buildings and has a statue of King Philip III in the centre.
Although the bars and restaurants on this square are rather touristy and more expensive than average, I couldn't resist sitting down outside for a beer given the magnificent weather and beautiful surroundings.
Hotel tapas
As I still had some work to do on my laptop, I returned to my hotel after the beer on Plaza Mayor.
However, that didn't mean that there would be no more tapas today.
On my way to the hotel, I stopped at a supermarket to buy a bottle of wine and some cheese, jamón (dry-cured ham) and chorizo (a spicy cured and smoked sausage).
I was therefore able to enjoy a yummy charcuterie board on my hotel balcony overlooking Puerta del Sol while getting a little bit of work done.
A morning in El Retiro
After a good Spanish breakfast of toasted bread with tomato and jamón the following morning, it was time to explore Madrid a bit more.
I had a quick look around the nearby Mercado de la Cebada before taking the metro to El Retiro Park.
Retiro Park
El Retiro is Madrid's main city centre park and it's a wonderful place to stroll around.
One of the main sights in the park is the Monument of Alfonso XII, a large equestrian statue and colonnade facing a rectangular pond.
Palacio de Cristal, which is modelled after London's Crystal Palace, is another popular sight in El Retiro.
As the weather was again beautiful, I couldn't resist stopping for a first beer at one of the lakeside terraces.
Madrid museums
On the western side of El Retiro Park you can find some of Madrid's most famous museums such as the Thyssen-Bornemisza, Reina Sofía and the Prado.
To add a bit of culture during the Madrid tapas bar crawl, I decided to visit the Reina Sofía.
The most famous work of art in the Reina Sofía is arguably Picasso's painting 'Guernica', which depicts the destruction of the Basque town of Gernika by German bombers during the Spanish Civil War.
Stately buildings
The area towards the west of El Retiro is not only famous for its world famous museums, but also for its wide boulevards and stately buildings.
The large roundabout around Cibeles Fountain with the beautiful Palace of Communications behind it is one of the most interesting sights in this part of Madrid.
If you walk west on Calle de Alcalá you can find a couple of other gorgeous pieces of architecture such as the Beaux Arts style Metropolis Building.
Just to the west of the Neptune Fountain, another famous Madrid roundabout, I encountered another branch of 100 Montaditos
I therefore had no choice but to sit down again for some beer and a montadito.
Lavapiés
What I like about Madrid is that the neighbourhoods in the city are so diverse.
Whether you visit the glamorous and posh Madrid neighbourhood of Salamanca or the bohemian and slightly alternative area of Malasaña, you will find that each part of town has its own distinct character.
That's certainly the case if you head out to the down-to-earth, working-class neighbourhood of Lavapiés, which is home to some of Madrid's greatest tapas bars.
A personal favourite of mine is Bar Melo's, which is famous across Madrid for their zapatilla sandwiches overflowing with succulent pork shoulder ham and melted cheese.
It might sound like a simple dish but Bar Melo's zapatilla really is comfort food at its best.
The meat-filled croquettes at Bar Melo are certainly delicious too.
La Latina
I continued my Madrid tapas bar crawl by heading west towards the adjacent neighbourhood of La Latina.
La Latina is a great area of Madrid for a tapas crawl as you will find plenty of lively bars and restaurants scattered throughout the neighbourhood.
Calle de la Cava Baja is one of the best-known streets in La Latina if you are looking for some quality tapas bars.
Calamares
After some glasses of wine and a few pintxos (Basque tapas typically skewered to a piece of bread) I headed back by metro to my hotel for an afternoon nap.
However, as I was still a bit peckish I visited one more tapas bar on my way to the hotel.
I stopped at a place called Mesón Viña T, a cheap local tapas bar where I enjoyed a portion of 'calamares fritos' (fried calamari) and another glass of white wine.
Before I returned to the hotel I also enjoyed some cheesecake and coffee to clean my palate and to settle all the food and drinks in my stomach.
Sol tapas bars
After a much-needed siesta, it was time for some last bit of tapas bar crawling through the city centre of Madrid.
This time I focussed on the area directly south of Puerta del Sol.
Although this is one of the most touristy parts of Madrid, it is certainly a lively area where you can find some quality tapas bars in between the more bog-standard places tailored towards tourists.
To start, I enjoyed some yummy patatas bravas (spicy potatoes) and croquetas de bacalhau (cod croquettes) at Las Bravas – a Madrid institute.
At a beautifully decorated Andalusian restaurant called Alhambra I enjoyed a selection of fine meats and cheese.
I finished with a portion of absolutely delicious 'pulpo a la gallega' (Galician-style octopus) at La Pulpería de Victoria.
This dish is known in the local Galician language of north-western Spain as 'polbo á feira', which literally means 'fair-style octopus' as it was traditionally served at fairs and festivities.
According to local custom, you pair the dish with a glass of red wine and not with a glass of white as you might expect.
As the dish packs quite some paprika and salt, the red wine actually goes extremely well with the octopus.
Back to the airport
As I had an early flight out to Milan the following day, I had decided to stay my last night in Madrid at an airport hotel instead of the city centre Hotel Europa where I stayed the previous two nights.
After another glass of red wine at La Pulpería de Victoria, I ended my Madrid tapas bar crawl and took the metro towards the suburb of Barajas.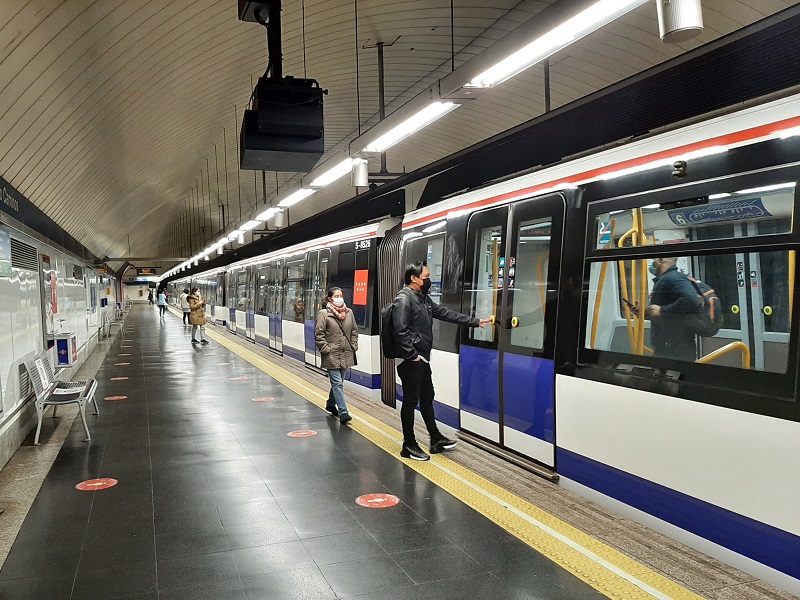 Conclusion
Madrid is a fantastic destination for foodies as it has an amazing variety of excellent tapas bars.
The great thing about Madrid as a city is that it has such diverse neighbourhoods.
This is reflected in the choice of tapas bars and restaurants, as you will find everything from down-to-earth local bars where you sit side-by-side with working class Madrileños to bohemian joints, touristy taverns and posh cafés.
Some of my favourite areas for a tapas bar crawl in Madrid are La Latina, Sol and Lavapiés, although you will find many more places outside these neighbourhoods too.
In particular, I can recommend everyone to eat a zapatilla at Bar Melo and to enjoy some delicious polbo á feira at La Pulpería de Victoria.
If you have any particular favourite tapas bar in Madrid, feel free to recommend it in the comments below!
Trip report index
This 'Trains, Planes, Beer and Tapas: A Trip to Prague and Madrid' trip report consists of the following chapters:
1. Review: Ryanair Bucharest to Chania (Boeing 737-800)
2. A Rainy Chania Stopover
3. Ryanair Hell: My Bad Chania to Budapest Flight Experience
4. Review: T62 Hotel, Budapest, Hungary
5. Review: EuroCity Train "Hungaria" Budapest to Brno
6. A Walk Through the Historic Old Town Centre of Brno
7. Review: EuroCity Train "Metropolitan" Brno to Prague
8. Review: K+K Hotel Central, A Prague Art Nouveau Delight
9. Beer Boozing in Prague: Sampling Some Czech Brews
10. Praha Hlavní Nádraží – Prague's Stunning Art Nouveau Station
11. Review: Leo Express Train Prague to Olomouc
12. Olomouc Guide: Baroque and Belle Epoque Beauty
13. Review: RegioJet Train Olomouc to Prague
14. Review: Erste Premier Lounge Prague Airport
15. Review: Air France HOP Business Class Embraer 170
16. Review: Air France Schengen Business Lounge Paris CDG Terminal 2F
17. Review: Air France Business Class Paris CDG to Madrid (Airbus A220)
18. A Madrid Tapas Crawl: Bar Hopping in Spain's Capital (current chapter)
19. Review: Ibis Madrid Aeropuerto Barajas
20. Review: Puerta de Alcala VIP Lounge Madrid Airport
21. Review: Air Europa Economy Class Madrid to Milan (Boeing 787)
22. How To Transfer Between Milan Malpensa and Bergamo Airport