Review: Kyiv-Pasazhyrskyi Station First Class Lounge
This review details the first class lounge and all other facilities you can find at Kyiv-Pasazhyrskyi (Kyiv Pass), the main train station of the Ukrainian capital of Kiev.
Long ride home
My journey from Mariupol back to my home in Bucharest was a long one as it involved taking four different trains through Ukraine, Hungary and Romania.
I had travelled from Mariupol to Kiev in Platzkart, which is akin to third class on Ukrainian night trains.
The next leg on my journey home was an overnight train from the Ukrainian capital of Kiev to Mukachevo in south-west of the country.
This time I would be travelling in first class, which is known as "Spalny Vagon" (SV).
As a ticket in Spalny Vagon gives you access to the first class lounge, I arrived a bit early at the station.
Kiev Pass
Although Kiev's railway station isn't my favourite Ukrainian train station (that distinction goes to Lviv) it is certainly a beautiful facility.
It's not a crime to arrive a bit early for your departure so you can admire the beautiful station and to do some trainspotting.
Kiev's central station is officially known as Kyiv-Pasazhyrskyi, which is often abbreviated as Kyiv-Pass in railway timetables.
The main entrance of the station is on the north-eastern side of the tracks and was built between 1927 and 1932 in Ukrainian Baroque style.
This is also the exit you have to take to reach the adjacent 'Vokzalna' metro station or to walk towards the city centre.
Main hall
Whether you enter Kyiv-Pasazhyrskyi through this entrance in order to catch a train or exit the station here after your arrival, chances are that you will be blown away by the magnificent interior of the main station hall.
With its vaulted ceiling, huge chandeliers and classical design elements, the main station hall of Kyiv-Pass is simply stunning.
Even though the main staircase and escalators were boarded up for reconstruction work, all the splendour of the station hall was still visible.
Station facilities
At the ground floor of the train station you can find all the facilities you might need.
Towards the left and the right of the central hall you can find dozens shops, pharmacies, luggage lockers and exchange offices.
At the far end of these corridors you can find some waiting halls with plenty of seats to await your train departure.
You will also come across many different ticket windows.
There is however no need to queue at these ticket windows if you need to buy a train ticket as you can also do this online through the handy booking tool of Ukrzaliznytsia, the Ukrainian Railways.
If you get up a floor from the central hall you will reach the overpass from where you can reach the departure platforms.
Just outside the main north-eastern exit – as well as the south-western exit at the far other side of the train station – you can find several fast-food and pizza restaurants as well as some coffee shops if you need a meal or drink before your train departure.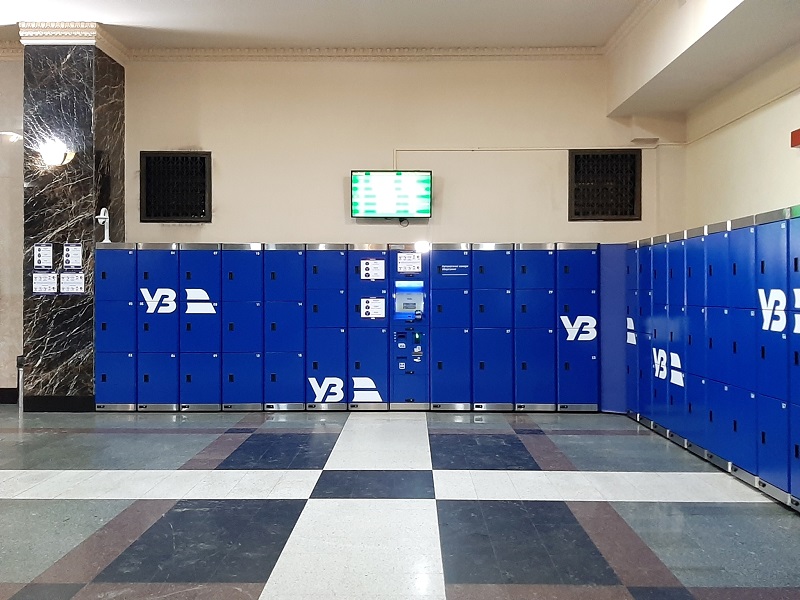 South-west entrance
At the south-western side of the railway tracks there is another, more modern station building.
Here you can find some more ticket windows and waiting areas.
Station hotel
If you exit the station through the south-western entrance and turn right, you will already see the ibis Kyiv Railway Station hotel.
The hotel is ideal for those who have an early train departure as you can reach the station platforms within minutes after you check out.
First class station lounge
As I already wrote before, there is also a first class passenger lounge at Kyiv-Pasazhyrskyi railway station.
You will find the lounge by heading up the stairs from the main hall and turning left into the corridor.
There are multiple doors in this corridor, although it's easy enough to find which one leads into the lounge as it's clearly shown on bilingual Ukrainian-English signs.
You get complimentary access to this first class station lounge if you have a first class (Spalny Vagon) train ticket.
Inside the lounge
The first class lounge at Kyiv-Pasazhyrskyi is a truly wonderful place to wait for your train departure.
With its pastel colours, high ceilings, chandeliers and classic decorations and ornaments, the first class lounge at Kiev's main railway station feels more like a palace.
There are several leather chairs and sofas spread around the lounge.
As there was only one other passenger in the lounge it almost felt like I had my own private waiting area.
However, even if there are more passengers you will find that the lounge provides a quiet and peaceful environment.
As there is quite some distance between the seats and the surface area is quite large, there is a lot of privacy in the lounge to begin with.
Food and drinks
Although the first class lounge at Kyiv-Pass station is simply stunning, you shouldn't come in with too high expectations when it comes to food and drinks or other lounge facilities.
This train station lounge might be a private and beautiful place to await your train, but it's not comparable to your average airport lounge.
There is a bar in the lounge where you can order drinks or snacks, although you will have to pay for everything you order.
I ordered a cup of tea for 20 hryvnia (€0.60), which was served in a paper cup instead of a proper glass with podstakannik (traditional tea cup holder).
Conclusion
Kyiv-Pasazhyrskyi (Kyiv Pass), the beautiful central train station of the Ukrainian capital of Kiev, has all the shops and facilities you would expect from a large railway station.
If you are booked in Spalny Vagon (first class) on a long-distance train, you can visit the first class station lounge for free.
The first class lounge at Kyiv-Pasazhyrskyi is the most beautiful lounge I have ever seen at a railway station or airport as the décor looks more like a palace.
However, don't expect too much of the facilities in this train station lounge as you will only find a bar where you can order drinks and snacks for a fee.
Even though this basically makes it more of a glorified waiting area than an actual first class lounge, I would still recommend you to visit it before your train departure.
Sitting in the palatial surroundings of the first class lounge at Kyiv-Pasazhyrskyi really gets you into that timeless train travel mood.
This article is part of the 'Mail From Mariupol: A Pre-War Trip to Ukraine by Train' trip report, which consists of the following chapters:
1. Review: Night Train Bucharest to Sighetu Marmatiei, Romania
2. At the Sighet-Solotvyno Border: From Romania Into Ukraine
3. Review: Solotvyno to Rakhiv by Bus
4. Review: Hotel Europa, Rakhiv, Ukraine
5. In the Land of the Hutsuls: A Visit to the Town of Rakhiv
6. Rakhiv to Mariupol: Riding Ukraine's Longest Train Route
7. A Tribute to Mariupol: Memories of a Pre-War Visit
8. Ukrainian Railways Mariupol to Kiev Train in Platzkart
9. Review: Ibis Kyiv Railway Station Hotel
10. Review: Kyiv-Pasazhyrskyi Station First Class Lounge (current chapter)
11. Ukraine Night Train: Over the Mountains to Mukachevo
12. Review: Latorca InterCity Train Mukachevo to Budapest
13. A Short Stopover in Szolnok, Hungary
14. Review: Ister Night Train Budapest to Bucharest
15. Epilogue: Witnessing the Ukrainian Refugee Crisis at the Border