Review: TAROM Economy Class Boeing 737-700
This review details my flight from Bucharest to Brussels in economy class with TAROM on their Boeing 737-700.
TAROM flight
TAROM has recently changed its inflight service as they switched from complimentary food and drinks to buy-on-board.
Although passengers in business class can class can still look forward to a free premium meal and drinks, you will now have to pay for any food items and beverages in economy.
This in itself is not much of a surprise given that TAROM hasn't made a profit in years.
Moreover, there is a clear trend in Europe of full-service carriers switching to buy-on-board service on short-haul flights (looking at you, Lufthansa).
I have reviewed TAROM's economy class a couple of times before on my website and always enjoyed the inflight service.
Would I still enjoy flying TAROM as much now they no longer serve free food and drinks? Let's find out!
Bucharest Otopeni Airport
My first opportunity to sample TAROM's revamped service came in February when I needed to fly from my home in Romania to the Low Countries.
Flight prices were high on the date I needed to travel, with TAROM's flight from Bucharest to Brussels being the cheapest at 161 euro.
I decided to book it and headed to Bucharest Otopeni Airport a couple of days later to catch my flight.
The last few times I flew through Bucharest Otopeni Airport there were hardly any queues.
However, to my surprise it was complete chaos this morning at security control.
Once airside it wasn't much better as all the gate areas and the airport's narrow corridors were heavily overcrowded.
Fortunately I could access the TAROM Business Lounge thanks to my Flying Blue platinum status.
Although this lounge is nothing special – it is miles better than waiting in the overcrowded, dirty airport terminal which really is in dire need of expansion and renovation.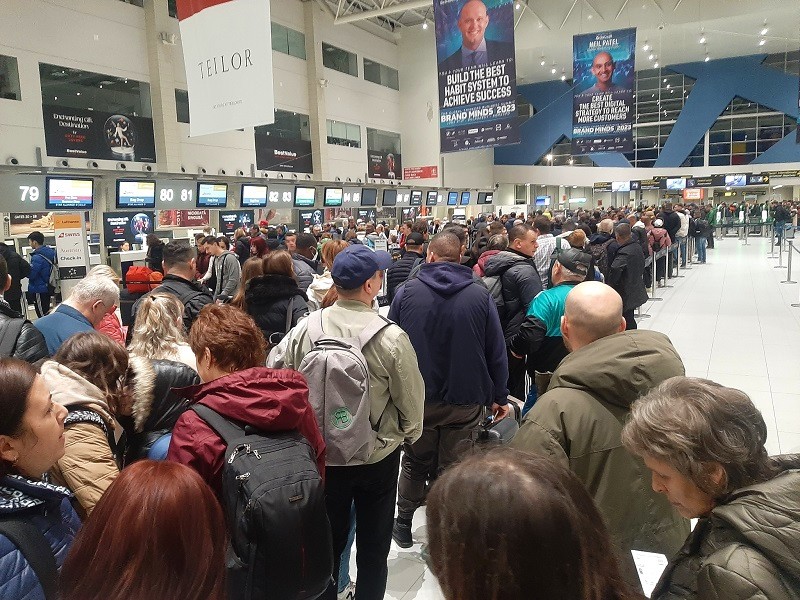 Boarding
TAROM allows you to check-in online for your flight and select a seat for free 30 hours before departure.
To my surprise, the business class cabin on the Boeing 737-700 that would operate the flight from Bucharest to Brussels was completely declassified.
This meant that even with an economy class ticket, I could select a business class seat free of charge.
TAROM regularly does this when no business class tickets are sold and economy class is (close to being) overbooked.
Unlike most other European airlines, TAROM has proper business class seats on their Boeing 737-700s (but not on other aircraft types).
Although I would of course have the standard economy class service, getting such a comfortable seat for the price of an economy class ticket was of course a big win.
Boarding started on time and priority boarding for Flying Blue and SkyTeam frequent flyer elites was neatly observed by the gate agent.
Bucharest (OTP) to Brussels (BRU)
Flight RO 371 – Boeing 737-700
Plane registration number: YR-BGG
Economy class – Seat 1F
Departure: 7.40am – Arrival: 9.30am
Flight time: 2h50m – Distance: 1,093 miles
Price: 161 EUR
TAROM Boeing 737-700
The Boeing 737-700s in service of TAROM have 14 leather recliner seats in business class and 102 seats in economy class.
Business class seats are in a 2-2 configuration while economy class seats are in a 3-3 configuration.
These planes are however fairly old and don't have any modern amenities.
Not even the business class seats feature power sockets or USB charging ports, so you certainly shouldn't expect this in economy.
Not a single TAROM plane is equipped with Wi-Fi internet.
Seat comfort
That said, I do think that the seats on the TAROM Boeing 737-700 are comfortable.
This was certainly the case with my business class seat, as the seat pitch was good and I had all the shoulder room I could possible want.
The economy class seats on the TAROM Boeing 737-700 are fine too as they are well-padded and more comfortable than modern slimline seats being used these days by most airlines.
However, you will likely notice that the seats have been in use for quite some years and some of them might be a bit worn out.
Wear and tear
The Boeing 737-700 I was flying (tail number: YR-BGG) was really showing its age.
Already upon boarding I noticed that the overhead luggage bin seemed broken.
During the flight, part of the overhead bin came down completely after a wee bit of turbulence – which says a lot about the wear and tear on this particular Boeing 737-700.
Although this obviously doesn't say a thing about the airworthiness of the plane (I fully trust TAROM when it comes to safety) the airline really can and should do better when it comes down to keeping the interior of their planes in a decent condition.
This was far from the first time that I flew TAROM and saw something on board that was either broken or absolutely dirty.
Departure
The flight to Brussels seemed almost completely booked and it took a while before boarding was completed.
We departed from Bucharest Otopeni Airport with a slight delay of 15 minutes.
It was a lovely winter morning in the southern Romanian region of Wallachia so the views upon departure were quite good.
Buy-on-board menu
When I first had a look at TAROM's new buy-on-board menu, it wasn't really what I was expecting.
I thought the airline would come up with something basic akin to low-cost airlines like Ryanair and Wizz Air, offering a standard assortment of snacks and drinks.
However, TAROM has clearly taken a different path and really seems to want to distinguish itself from other airlines.
The buy-on-board menu looked definitely more premium and more Romanian than I expected, as there were several unique snacks and dishes listed which you won't find on any other airline.
I'm certainly curious to see how it will work out and whether these products will be a hit among passengers.
I was pleased to see some quality wines from Lacerta being offered, as TAROM previously served bottom shelf wines even in business class.
Prices of the buy-on-board products are however not exactly cheap – but then again that seems to be the norm for airlines all across the world (apart from Air Asia where you can still buy a hot meal on board for $2).
The entire TAROM buy-on-board menu can be seen here.
Inflight service
Of course, I had to test out the quality of the food from TAROM's buy-on-board menu in order to write a proper review.
Once we reached cruising altitude, the flight attendants came by to as whether anyone wanted to order something from the buy-on-board menu.
I decided to buy the plăcintă cu brânză (traditional Romanian pastry filled with cheese) for €7.
The friendly flight attendant told me that it would take about 10 to 15 minutes to prepare the meal in the oven.
Indeed, she came back after 15 minutes with my pastry.
To my surprise, the plăcintă cu brânză actually tasted good and wouldn't look out of place in a proper bakery.
Although I still think it's a downgrade of the passenger experience when an airline switches from complimentary meals and drinks to buy-on-board, I was happy that at least the food quality had substantially improved given that the free offer wasn't always great.
Inflight entertainment
There are no personal inflight entertainment screens on the TAROM Boeing 737-700.
However, there are a couple of TV screens throughout the cabin that will play the route map of the flight.
These screens are rather ancient and the resolution is poor.
The age of the inflight entertainment can also be clearly seen if you take a closer look at some of the maps as TAROM apparently thinks that Yugoslavia is still a country.
Views
Apart from the overhead screens, the inflight entertainment on board is limited to the inflight magazine and the view from the window.
When you fly out of Romania to western Europe, I always try to take a seat on the right of the plane as you usually have some pretty views over the Carpathians from that side.
This was also the case on this flight to Brussels, although the views quickly disappeared once we hit some cloud cover over Hungary.
Arrival
The rest of my flight to Brussels was rather uneventful.
As I had not slept much during the night, I made good use of the comfortable business class seat to get some extra shut-eye.
I was only woken up when the captain announced that we would be landing soon in Brussels and the flight attendants readied the cabin for our arrival.
It was a misty winter morning in Belgium with limited visibility.
As we were unable to make up on the lost time upon departure, we arrived with a 15-minute delay at Brussels Airport.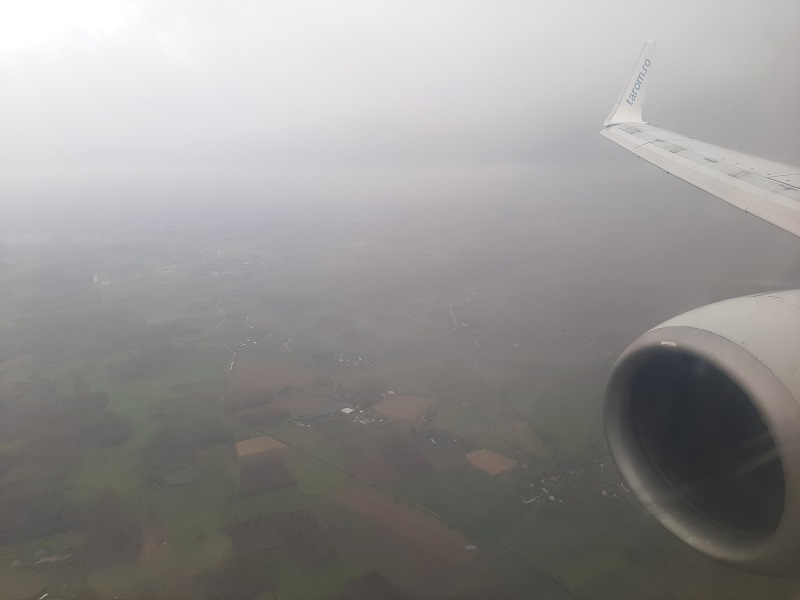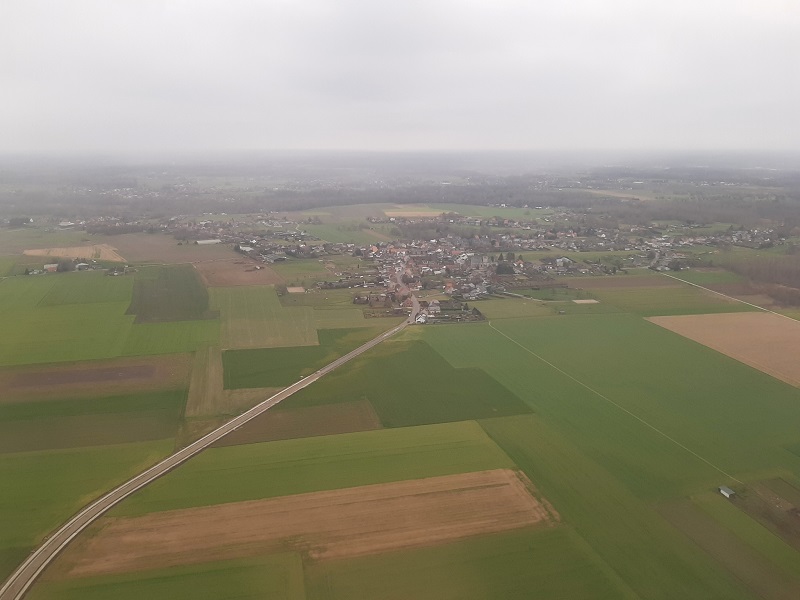 Conclusion
Flying TAROM in economy class on the Boeing 737-700 is a perfectly pleasant affair.
In more than one way, flying TAROM is a throwback to the last decades of the 20th century. This comes with its share of advantages and disadvantages.
The main advantage is that the seats in economy class of the TAROM Boeing 737-700 are well-padded and relatively comfortable and spacious unlike many of the modern slimline seats.
I was lucky that I was able to select a proper business class seat for free upon online check-in, which made the entire experience even better.
Even though TAROM no longer serves complimentary food and drinks in economy class, the items on the buy-on-board menu look attractive and the meal I ordered was certainly good quality.
The main disadvantage of flying TAROM on their Boeing 737-700 is the huge amount of wear and tear as these planes look and feel ancient.
You therefore shouldn't expect any luxuries such as power sockets, USB charging ports, Wi-Fi internet or any other form of entertainment.