Review: Ibis Madrid Aeropuerto Barajas
This review covers my stay at ibis Madrid Aeropuerto Barajas, an airport hotel within walking distance of Terminal 1, 2 and 3.
Madrid airport hotel
After a great time eating tapas in Madrid, it was time to head back home.
As I had an early morning flight out of Madrid to Milan, I decided  to stay my last night in the Spanish capital in an airport hotel close to the terminal.
This would allow me to walk to the terminal in the early hours of morning instead of having to take a night bus or taxi.
I had booked myself a night at the ibis Madrid Aeropuerto Barajas, located in the suburb after which Madrid's airport is named.
To reach the hotel, I simply took a metro from the city centre to the Barajas metro stop and walked for 10 minutes to the hotel entrance.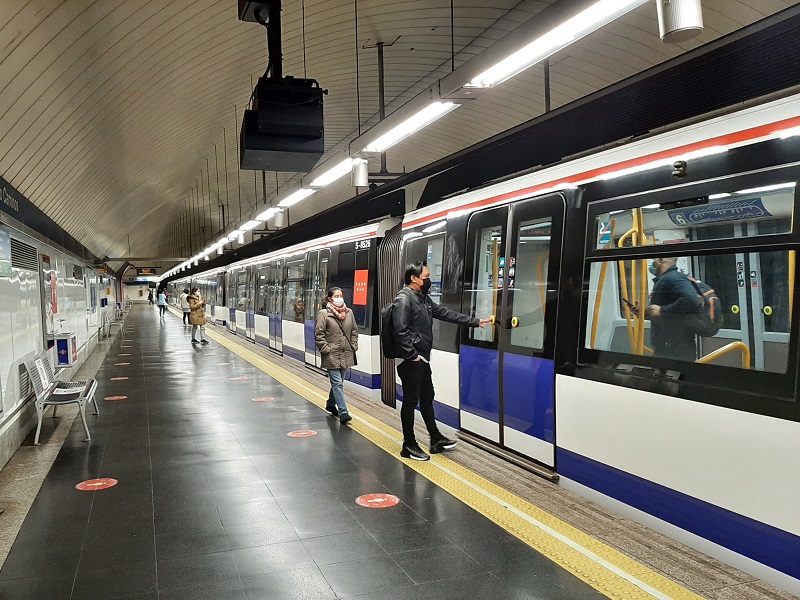 Ibis hotel check-in
As there was a person in front of me in the queue, I had to wait for a few minutes until it was my turn to be checked in.
The check-in process was smooth and within minutes I got they key card to my room.
For a one night stay in a double room I paid 75 euro – a rate which didn't include breakfast.
Room
At first sight, my double room at the ibis Madrid Aeropuerto Barajas was the typical room you would expect from an ibis hotel.
It had the basic room design of an ibis hotel and all the standard facilities such as a desk, flatscreen TV and wardrobe.
Unfortunately there was quite some wear and tear in the room.
Although my room was clean, the bed was not neatly made up and the mattress was sagged like it has been used for more than a decade.
Rather annoyingly, there were no bedside power sockets, although there were some at the desk.
The room also felt freezing cold on this cold and rainy autumn day and the heating barely worked.
Overall, I was certainly not too impressed with the quality of my room.
Bathroom
The bathroom was fortunately a bit better as it was spacious and clean.
However, you shouldn't expect any amenities apart from a hairdryer and basic soap and shampoo from dispensers.
Hotel facilities
The ibis Madrid Aeropuerto Barajas has Wi-Fi internet throughout the entire hotel, which was free, fast and reliable.
The hotel also features a bar and restaurant, although I didn't try them out during my stay.
On the plus side, I thought the public areas of the hotel did look modern and fresh.
Hotel location
The ibis Madrid Aeropuerto Barajas is located in the working class neighbourhood of Barajas.
Even at night and in the early morning, the area around the hotel felt perfectly safe.
There are lots of cafés, bars and restaurants tailored towards the local community in the immediate vicinity, so you should have no problem getting a nice meal or a drink outside of the hotel.
Walking to Madrid Barajas Airport
The main reason why I selected the ibis Madrid Aeropuerto Barajas was its close proximity to Terminal 1, 2 and 3 of Madrid Barajas Airport.
At the time of my visit, no free shuttle bus was offered so your options are to walk, take the metro for 1 stop, or take a taxi (approximately €20).
I decided to walk all the way to the airport to avoid the airport surcharge for the metro and to wake up properly from the cold morning air at this early hour.
It takes about 20 minutes to walk from the ibis hotel to Terminal 1-2-3 of Madrid Barajas Airport.
Most of the walk is straightforward, although you will help yourself by using Google Maps or another navigation app.
The walk takes you along a roundabout, across a pedestrian bridge over a motorway and through the Terminal 2 parking garage.
However, do note that this only works if your flight actually departs from Terminal 1, 2 or 3.
If your flight departs from Terminal 4 of Madrid Barajas Airport (all Iberia flights and other oneworld airlines among others) walking will be in a completely different direction and will take much longer, making the metro a better option.
Conclusion
I wasn't too impressed with the ibis Madrid Aeropuerto Barajas as my room was stone cold, had lots of wear and tear and some other small issues.
On the plus side, the ibis Madrid Aeropuerto Barajas has a good location, as you can reach Terminal 1, 2 and 3 within 20 minutes on foot.
The next time I have an early flight out of Terminal 2 of Madrid Airport I might therefore opt for another hotel in the Barajas suburb instead.
This 'Trains, Planes, Beer and Tapas: A Trip to Prague and Madrid' trip report consists of the following chapters:
1. Review: Ryanair Bucharest to Chania (Boeing 737-800)
2. A Rainy Chania Stopover
3. Ryanair Hell: My Bad Chania to Budapest Flight Experience
4. Review: T62 Hotel, Budapest, Hungary
5. Review: EuroCity Train "Hungaria" Budapest to Brno
6. A Walk Through the Historic Old Town Centre of Brno
7. Review: EuroCity Train "Metropolitan" Brno to Prague
8. Review: K+K Hotel Central, A Prague Art Nouveau Delight
9. Beer Boozing in Prague: Sampling Some Czech Brews
10. Praha Hlavní Nádraží – Prague's Stunning Art Nouveau Station
11. Review: Leo Express Train Prague to Olomouc
12. Olomouc Guide: Baroque and Belle Epoque Beauty
13. Review: RegioJet Train Olomouc to Prague
14. Review: Erste Premier Lounge Prague Airport
15. Review: Air France HOP Business Class Embraer 170
16. Review: Air France Schengen Business Lounge Paris CDG Terminal 2F
17. Review: Air France Business Class Paris CDG to Madrid (Airbus A220)
18. A Madrid Tapas Crawl: Bar Hopping in Spain's Capital
19. Review: Ibis Madrid Aeropuerto Barajas (current chapter)
20. Review: Puerta de Alcala VIP Lounge Madrid Airport
21. Review: Air Europa Economy Class Madrid to Milan Malpensa (Boeing 787)
22. How To Transfer Between Milan Malpensa and Bergamo Airport