End of a Dream Holiday in Greece: One Last Day in Athens
This article covers my last day in Athens after a dream holiday in Greece.
Back in Athens
Following a pleasant domestic flight with Aegean Airlines from Rhodes to Athens, I found myself back in the Greek capital where my journey began two weeks prior.
With most of the afternoon and evening still ahead of me, as well as the following morning, I had ample time to spend at my leisure before my flight back home.
At the start of my trip I had already explored Plaka and the Acropolis.
This time, I planned to take it easy as I had already seen all the sights and museums of Athens on numerous prior visits to the Greek capital.
Hotel
I had reserved a deluxe double room at the Acropolian Spirit Boutique Hotel for my final night in Athens, which cost me 80 euros and included breakfast in the rate.
Although the hotel had a good location and my stay was perfectly fine, in my opinion it lacked a bit of character to be considered a proper boutique hotel.
Night walk
I didn't spend much time in the hotel as I met up with some Greek friends in the evening at one of their homes located in the city's northern suburbs, where we enjoyed a few beers together.
After taking a night bus back to the city centre, I went for one last night-time stroll through Athens.
In front of the neoclassical parliament building on Syntagma square, I watched the guards parading in their traditional Evzones (elite light infantry) uniforms with tsarouchia shoes with woolen pompon.
Acropolis view
Back at the hotel, I took the lift up to the top floor to admire the views over the Acropolis.
No matter how many times you've seen it before, this view never grows old.
Breakfast
Although I found the breakfast buffet at the hotel somewhat disappointing, it came with one huge benefit.
The top floor breakfast room featured the same fantastic views over the Acropolis.
It was certainly not a bad view to fully wake up to while sipping your morning coffee.
Morning walk
After the breakfast I had one little morning walk in the neighbourhood around my hotel.
I passed by a couple of major Athens sights such as the Panathenaic Stadium, Temple of Olympian Zeus and the Zappeion.
Shopping
There was some shopping to be done as well on my last day in Athens.
This mostly involved buying some particular Greek groceries, bottles of wine and mastiha liqueur to take home.
In the streets around the nearest big supermarket there was a 'laiki' (street market), which made me realise how much I miss buying fresh produce from such markets.
Taking a morning walk through the weekly street market in my neighbourhood was always one of my favourite activities when I was living in Chania on the island of Crete a few years ago.
To the airport
All good things must come to an end, and the same was true for my Greek holiday.
With my trolley loaded up with all the groceries I had purchased, I made my way to Syntagma Square to catch the metro to the airport.
Flight home
My flight home went by rather uneventfully.
I was however amazed by the fantastic visibility when we descended over southern Romania.
From the plane window, I could clearly see the Carpathian Mountains and even the Transylvanian plateau beyond.
It's amazing how even after so many flights to and from Bucharest, there are still moments of surprise.
The queues at passport control were fortunately light and within minutes I managed to catch an Uber from the parking deck to drive me home.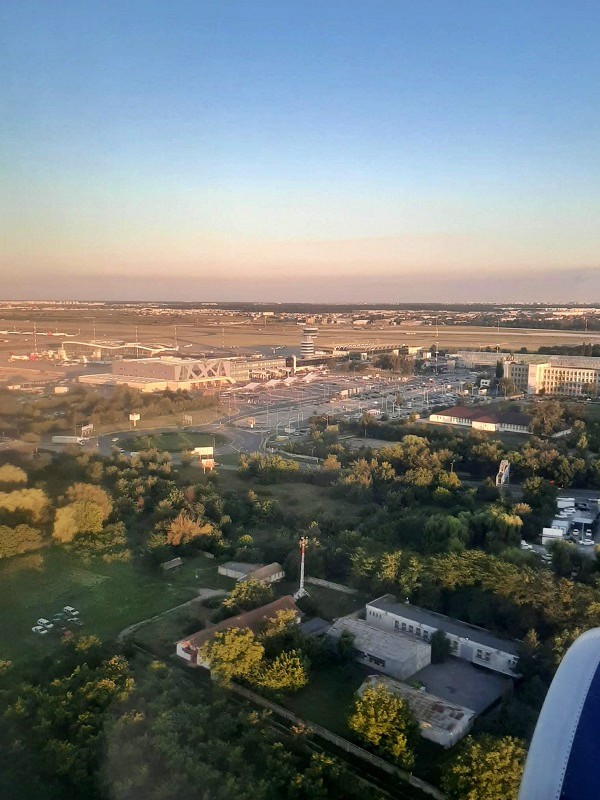 End of the trip
My flight from Athens to Bucharest marked the end of a dream holiday in Greece during the summer of 2020.
It was an unique experience to see some of Greece's most beautiful places almost completely devoid of other tourists.
As I don't think there will ever be such a moment again I certainly savoured every single moment of the trip.
Many thanks for joining me on this island hopping adventure in Greece.
If you missed any earlier chapters of this trip report, you can find the trip report index below.
Feel free to leave a comment, or subscribe to our Twitter, Facebook or Instagram pages to receive instant updates when a new article is posted online!
A simple like, follow or comment really makes our day and does help supporting this website.
Trip report index
This article is part of the 'A Dodecanese Dream: Summer Island Hopping in Greece' trip report, which consists of the following chapters:
1. Back in the Skies – My First International Flight in the Age of Corona
2. Review: Kimon Hotel, Athens, Greece
3. Exploring Plaka: Through the Winding Streets of the Old Town of Athens
4. Climbing up the Acropolis: Visiting Athens' Most Famous Sight
5. Review: Skyserv Melina Merkouri Lounge Athens Airport
6. Review: Sky Express Athens to Naxos (ATR 42)
7. Review: Studios Zafiri, Naxos Town, Greece
8. Naxos Town: The Gorgeous Historic Heart of the Cyclades
9. Review: Blue Star Ferries Naxos to Astypalaia
10. Review: Belvedere Studios, Astypalaia Town, Greece
11. Astypalea Town: The Unknown Crown Jewel of the Aegean Sea
12. Astypalea Island Guide: Exploring the Butterfly of the Aegean
13. On a Night Boat in Greece – Astypalea to Kastellorizo With Blue Star Ferries
14. Review: Traditional Apartments Alexandra, Kastellorizo, Greece
15. Kastellorizo: A Look Around Greece's Easternmost Island
16. Hiking on Kastellorizo: Two Sunset Hikes Detailed
17. Review: Olympic Air Kastellorizo to Rhodes (Dash 8-100)
18. Guide: How to Travel From Rhodes to Halki by Ferry
19. Review: Dorothea Apartments, Halki, Greece
20. Halki Town: Eating, Swimming & Relaxing in Beautiful Emborios
21. A Hike to Horio: Exploring Halki's Old Abandoned Capital
22. Guide: The Best Beaches on the Island of Halki
23. Review: Hermes Hotel, Rhodes Town, Greece
24. A Visit to the Delightful Old Town of Rhodes
25. Review: Aegean Airlines Domestic Flight Rhodes to Athens
26. End of a Dream Holiday in Greece: One Last Day in Athens (current chapter)