A Varenna Visit: A Day Trip to Lake Como's Most Beautiful Town
This destination guide covers a visit to Varenna, a beautiful town located on Lake Como that is easily accessible as a day trip from Milan.
Train to Varenna
After a gorgeous train journey from Milan, I had finally arrived in Varenna where I would spend a couple of hours before moving onward to Tirano.
I've visited Varenna a couple of times before and it's my favourite town on Lake Como.
Although the beauty of the town is hardly a secret and the direct train connection to Milan means it's easily accessible, the crowds aren't as bad as in other famous Lake Como towns such as Bellagio.
Walk into town
It's an extremely straightforward walk to get from the train station to the town centre of Varenna on the lakeside.
The walk from the train station is clearly signposted and takes about 10 to 15 minutes.
All you need to do is walk downhill towards the lake.
Once you reach the lakeshore, simply turn left onto a small pedestrian path that will lead you to the town centre.
On your way you will pass by the Varenna jetty from where ferries depart across Lake Como to Menaggio and Belaggio.
Views
As you walk along the lakeside path, you can enjoy lovely views of Lake Como, with even more scenic vistas awaiting you as you reach the centre of Varenna.
Varenna is basically built on a small promontory jutting out into Lake Como.
As you approach the town centre of Varenna from the lake, the views over the town are truly gorgeous.
The colourful yellow and pink pastel-coloured houses create a stunning contrast against the deep blue waters of the lake and the clear skies, adding to the picturesque beauty of Varenna.
Varenna town centre
The town of Varenna isn't large and you can easily walk through the entirety of it in an hour.
However, you don't necessarily come to Varenna to walk around as the town is much more about taking in the stunning lakeside setting and enjoying the environment while sipping a drink or two.
The best place to do so is undoubtedly along the lakefront, where you'll find the most appealing bars and restaurants, all offering outdoor seating and picturesque views of Lake Como.
Upper town
Varenna's main square is however not located on the lakefront but higher up the hill.
As you climb up through the narrow streets and alleys you can enjoy some beautiful views of the town and lake from a completely different perspective.
Along the main square you can find several more cafés and restaurants, as well as Varenna's church called Chiesa San Giorgio.
Villa Monastero
A day trip to Varenna is not complete without a visit to Villa Monastero.
Located just outside the town centre, this waterfront mansion features rooms with lavish décors from the 1800s, but the main draw lies in its adjacent botanical gardens.
A full-price ticket to visit both the villa and the botanical gardens costs €13.00, whereas a ticket for the gardens alone is priced at €10.
Children aged 0 to 14 years old can enjoy free entrance, while those between 15 to 25 years old are eligible for a discounted ticket.
A walk through the gardens
On this trip to Varenna, I only bought a ticket for the botanical gardens as I had visited the villa before.
The terraced gardens of Villa Monastero rank among the most stunning in all of Europe and are without a doubt my personal favourite.
Not only are the lakeside gardens painstakingly landscaped, they also blend in perfectly with their surroundings.
You need at least two hours to explore the gardens although one can easily spend half a day here enjoying the beautiful views.
Fountains and statues
The botanical gardens of Villa Monastero are a beautiful place to explore.
Most of all, the gardens offer a tranquil setting by the lakeside, where you can relax and take in the natural beauty.
Don't miss the lovely statues, fountains and all kinds of fine architectural details as you wander through this delightful botanical oasis.
Flora
Of course you will also discover a variety of impressive trees and plants when you walk through the botanical gardens of Villa Monastero.
Among them are the majestic Lebanese cedar, tall and elegant cypresses and different kinds of palm trees that add a touch of exoticism to the landscape.
The lakeshore is adorned with oleanders showcasing their beautiful pink blossoms.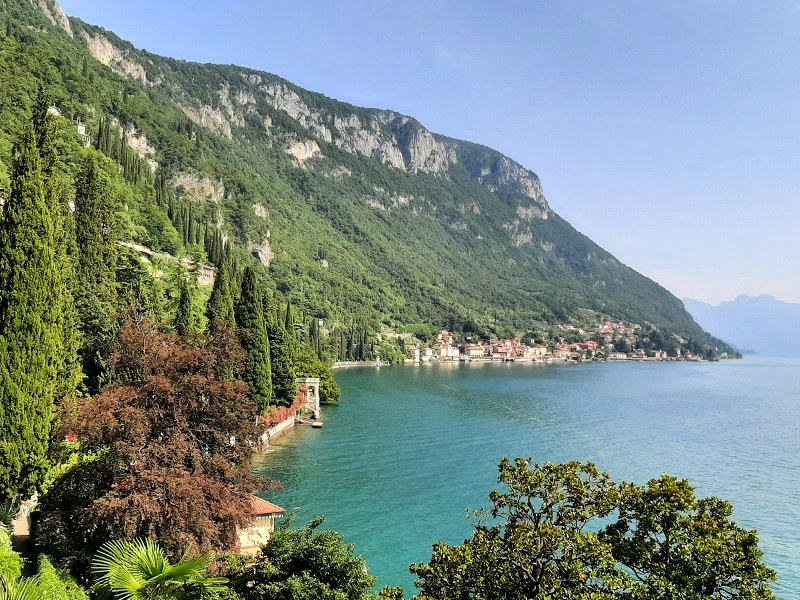 Garden café
Inside one of the houses in the gardens you can find a café where you can buy basic snacks and drinks.
Although it's a much better idea to have lunch at one of the many restaurants in the town of Varenna proper, the garden café is a great place for a drink.
I certainly enjoyed two or even three glasses of Aperol Spritz while enjoying the fantastic views over the gardens and the lake.
Back to the station
As I had an onward train to catch, I did unfortunately had to leave the tranquil environment of the botanical gardens after a while.
On my way back to the train station, I again enjoyed stunning views of Varenna and Lake Como, savouring the beautiful surroundings one last time.
Some more Aperol
A great way to end your day trip to Varenna is a visit to the lovely station bar for a drink or two before you catch your onward train to Tirano or return to Milan.
The station café has both indoor and outdoor seating and makes a good Aperol Spritz.
I therefore wouldn't worry too much if you have just missed your train as it's hardly a crime to wait a bit longer for the next departure with a drink in your hand.
Conclusion
Lake Como is one of Italy's most breathtaking travel destinations and there is perhaps no better place to enjoy the stunning scenery than the picturesque lakeside town of Varenna.
As Varenna is an easy day trip by train from places like Milan or Bergamo, it can get crowded if you visit in summer or on sunny weekends, although the town is not as touristy as some other places on Lake Como.
Varenna has a highly scenic lakeside setting and it certainly makes for a fun day to explore its small alleys and to have a lovely meal at one of the many lakeside restaurants.
No trip to Varenna is however complete without a visit to Villa Monastero, which was the absolutely highlight of my day in town.
The botanical gardens of Villa Monastero are not only one of Europe's prettiest, but the tranquil setting and wonderful views over the lake really help you to slow down and relax while you absorb the beautiful surroundings.
Trip report index
This article is part of the 'Scenic Trains Around Switzerland and the Italian Lakes' trip report, which consists of the following chapters:
1. Bergamo: A Visit to Lombardy's Beautiful Hilltop Town
2. Travelling From Bergamo to Milan by Train
3. From Milan to Varenna and Tirano By Trenord Regional Train
4. A Varenna Visit: A Day Trip to Lake Como's Most Beautiful Town (current chapter)
** rest of the chapters to follow soon **