Review: Afrosiyob High-Speed Train Samarkand to Bukhara
This review covers a trip from Samarkand to Bukhara on an Uzbekistan Railways 'Afrosiyob' high-speed train in VIP class.
Samarkand to Bukhara by train
Having spent two days exploring the magnificent sights of Samarkand, it was time to move onward to my next destination in Uzbekistan.
I was booked on an Afrosiyob high-speed train from Samarkand to Bukhara, another renowned city along Uzbekistan's historic Silk Road.
Samarkand station
After a great breakfast at my hotel, I took a taxi to the station of Samarkand from where I would travel by train to Bukhara.
Samarkand's railway station boasts the same modern architecture as most other major train stations in Uzbekistan.
To access the station, a guard will examine your train ticket, and you'll need to pass your bags through an X-ray scanner.
Within the station, you'll find a few stores selling basic snacks and drinks, as well as a souvenir shop.
You're almost always better off stocking up for your train journey at a supermarket outside the station.
However, for the relatively short train journey from Samarkand to Bukhara, you don't really need to bring any supplies.
Afrosiyob high-speed train
After a brief wait, my high-speed train arrived at the station, having departed earlier in the day from Tashkent.
The high-speed train service in Uzbekistan is known as 'Afrosiyob' and is named after an ancient archaeological site near Samarkand.
Afrosiyob trains connect Tashkent with Samarkand and Bukhara at speeds of up to 250 kilometers per hour (155 miles per hour).
These trains have halved the original journey time between Tashkent and Bukhara from 7 hours to about 3.5 hours, undoubtedly revolutionising passenger railway transport in Uzbekistan.
Avid rail fans will notice that these Afrosiyob trains are Spanish-made Talgo high-speed trains, bearing a striking resemblance to their counterparts on the Iberian Peninsula.
Talgo trainsets are quite popular in Central Asia, as you can also find them in neighbouring Kazakhstan.
If the Afrosiyob train is sold out or the departure times don't align with your schedule, you can also opt for a Shark train, the second-best quality train in Uzbekistan, to travel between Samarkand and Bukhara.
Samarkand to Bukhara by Uzbekistan Railways 'Afrosiyob' Train
Train 762 'Afrosiyob' – Departure: 9.48am – Arrival: 11.19am
Duration: 1h31m – Distance: 236 kilometres
Price: 30 euro for a 'VIP Class' seat.
Different classes
The Afrosiyob train offers three classes: Economy class, business class, and VIP class.
The Afrosiyob train offers economy class seats in a 2+2 configuration (a pair of two seats at each side of the aisle), while both business class and VIP class have seats in a 1+2 configuration.
When comparing business class to VIP class, you will notice that VIP class seats are more comfortable and spacious, as they are made from black leather.
As the VIP section on the train is much smaller than business class, which spans an entire train wagon, it also offers a more private and serene atmosphere.
I decided to splurge on a VIP class ticket, which cost me 30 euros for the ride between Samarkand and Bukhara.
Service
Regardless of the class you book on the Afrosiyob, you can look forward to a basic snack tray and complimentary tea, coffee, or water.
Of course, the service will be a bit better in business and VIP class, although you shouldn't have too high expectations as you still won't get any lavish meals or free-flowing champagne.
What I did experience in VIP class was a dedicated train attendant who continuously provided refills, with tea and coffee being served in proper tableware.
The difference between the classes is therefore really seat comfort, space and having multiple drink rounds instead of just one.
Additionally, there is a bar wagon on the Afrosiyob train where passengers in all classes can purchase extra snacks and drinks.
There are power outlets in all classes of the Afrosiyob high-speed train.
Scenery
Due to the arid, flat and relatively featureless scenery along the railway line between Samarkand and Bukhara, the Afrosiyob train can reach high speeds.
The ride was perfectly smooth, and the overall ride quality was comparable to that of high-speed trains in Spain.
Regarding the scenery itself, it was generally rather dull, although the dreary weather might have also played a role in this perception.
Desert
When the train was getting closer to Bukhara, the landscape visibly changed.
The already arid landscape gradually transformed into a genuine desert landscape, which was certainly interesting to observe from the train window.
Observing the landscapes gradually change has always been one of the main reasons why I enjoy train travel, as it allows you to gain a better understanding of the geography, and thus also the culture and history of a country.
Indeed, this is particularly true in the case of the culture and history of Bukhara, as the city is built in a desert oasis.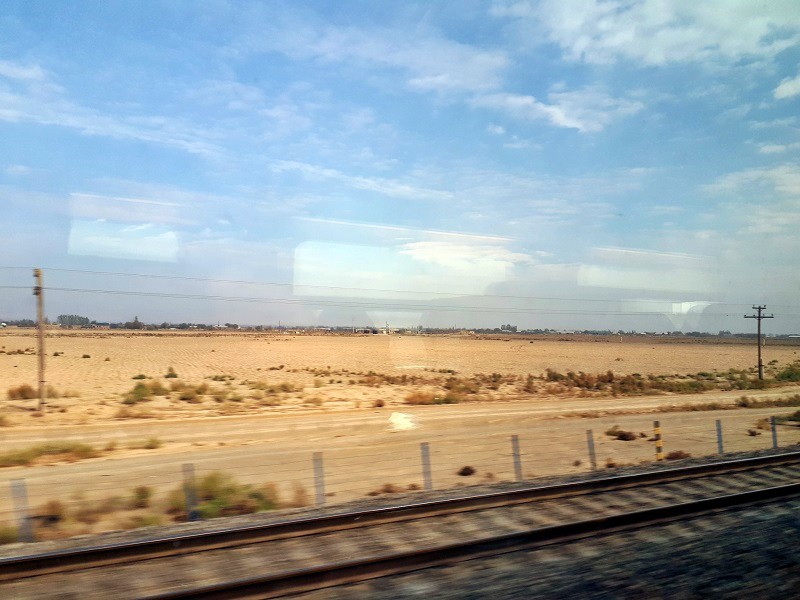 Bukhara station
My Afrosiyob high-speed train arrived on time at the station of Bukhara.
Although Bukhara station is built in the same style as the ones in Samarkand and Tashkent, it had a little surprise in store.
A large welcome party was waiting in front of the station building, complete with a music band playing traditional tunes, and schoolboys and girls dressed in folkloric costumes, all eager to greet arriving passengers.
I had no idea for whom they were waiting, but it appeared that some officials or foreign dignitaries were on my train as well, paying a visit to Bukhara.
Into Bukhara
Bukhara's railway station is also known as Bukhara-1 (there is a Bukhara-2 as well, but that is exclusively used for freight).
The station isn't actually located inside Bukhara itself, but rather in the town of Kogon, an old Russian cantonment built right outside the city limits of Bukhara.
Indeed, it was the Russians who constructed this railway line during Tsarist times.
However, the Emir of Bukhara was highly conservative and he adamantly opposed the construction of a railway line into the city as he considered trains to be rather devilish.
As a result, you'll need to take a marshrutka (minibus) or a taxi to reach downtown Bukhara from the station, which typically takes around 20 to 25 minutes.
Conclusion
The Afrosiyob high-speed train offers a fast, enjoyable, and comfortable way to travel through Uzbekistan.
This train links the main tourist destinations in Uzbekistan such as Tashkent, Samarkand and Bukhara and you'll likely find yourself on at least one Afrosiyob train during your travels in the country.
Tickets for the Afrosiyob are affordable in all classes, although you might want to consider spending a bit more for the additional space, privacy and enhanced service offered in business or VIP class.
I certainly had a pleasant trip on the Afroyisab between Samarkand and Bukhara, watching how the landscape slowly turns into an inhospitable desert.
Trip report index
This article is part of the 'From Uzbekistan With Plov' trip report, which consists of the following chapters:
1. Review: Prietenia Night Train Bucharest to Chisinau
2. Chisinau Guide: A Visit to Moldova's Capital
3. Istanbul Ataturk Airport and the Turkish Airlines Lounge
4. Review: Turkish Airlines Business Class Airbus A330
5. Tashkent Travels: A Day in the Capital of Uzbekistan
6. Tashkent to Samarkand by Uzbekistan Railways 'Shark' Train
7. Samarkand Visit Guide: Travelling Through Silk Road Splendour
8. Review: Afrosiyob High-Speed Train Samarkand to Bukhara (current chapter)
9. Bukhara: Exploring Unique Historic Sights and Timeless Charm
** rest of the chapters to follow soon **