Plane and Train Comparison: What Is the Better Way to Travel?
This comparison shows whether a plane or a train is the best way to travel, taking the train on the outbound journey and a flight back.
On a trip within Europe, we will take a look how the plane and train compare when it comes to price, comfort and travel time.
Personal choice
Of course, what constitutes the best way to travel is ultimately a deeply personal preference.
For example, if you are determined to reduce carbon emissions, you will likely choose the train as your preferred mode of transportation.
Having a preference for one transport mode over the other simply because you find it much more appealing is entirely acceptable as well.
There is nothing wrong with making choices based on what brings you the most enjoyment.
However, there are some objective ways to make a comparison between the train and a plane to see which is best.
Furthermore, considering the fact that I thoroughly enjoy both train travel and flying, I am not biased in any way, if I can say so myself.
Plane and train comparison: A case study
My case study involves a long weekend trip from my hometown of Bucharest in Romania to Bratislava, the capital of Slovakia.
On the outbound journey I will take the train, while on the return I will simply fly.
For a number of reasons I think this trip makes for a perfect case study.
First of all, it's the distance between these two cities.
At a distance of 800 kilometres (500 miles) as the crow flies, the journey between Bucharest and Bratislava is one where both the train and plane can be competitive options.
It's not too far to make the train uncompetitive in travel time and price, but also not too short to make the plane unviable.
It roughly equals the distance between city pairs such as Paris and Venice, Amsterdam and Salzburg, Munich and Copenhagen, as well as London and Zurich.
I also think it's a realistic city pair for another reason.
Many comparisons between the train and plane on the internet or YouTube are often made when traveling between major European capitals, such as Amsterdam and Berlin.
The reality is that most people do not live in a major city with a large airport nearby, or they may wish to travel to a smaller destination that lacks such an airport.
This is precisely why I found Bratislava to be such an intriguing destination, as there are no direct flights between my hometown of Bucharest and the small airport of the Slovak capital.
It meant that on the return journey, I thus had to travel first from Bratislava to the nearby airport of Vienna in order to fly back to Bucharest.
Indeed, this is the case for numerous holidaymakers across Europe.
If you live in Devon or in the Midlands you may have to drive first to London Heathrow or Gatwick Airport to start your holiday, in the same way that people living in German cities such as Aachen or Essen will have to take the train to Düsseldorf Airport if they want to catch a flight.
Train route
Before I factually start to compare the train with the plane on my journey to Bratislava, I first want to describe the travel experience on both transport modes, starting with the train journey to Slovakia.
My route was straightforward: I would take the night train from Bucharest to Budapest, followed by a daytime intercity train between Budapest and Bratislava.
Even though I had the option to take the Ister night train to Budapest or even the Dacia sleeper train to Vienna, I chose the 'Muntenia' night train due to its more convenient later departure time at 9.46pm.
Unlike the afternoon departures of the Ister and Dacia trains, the Muntenia train allowed me to work a full day on Thursday before boarding the train in the evening.
If everything would go according to plan, I would arrive in Budapest at 1.50pm the following afternoon, connecting to the 3.29pm Metropolitan EuroCity train to Prague, which would get me into Bratislava at 6.39pm.
At around 20 hours duration, the train journey might seem long if you compare it with a short flight, but in practice it wasn't.
Since I had work commitments on Thursday, I wouldn't have been able to catch the last flight from Bucharest to Vienna at 7pm, making it impossible for me to reach Bratislava by plane that day.
With the morning flight on Friday being prohibitively expensive, I could have gone for the affordable 1pm flight that day, but it would also have meant that I would have only reached Bratislava in the late afternoon as well.
Indeed, it demonstrates that the night train can be a time-effective option, as the time spent traveling overnight on the train is comparable to the time one would spend sleeping at home before catching a flight.
The train journey
So how was the train journey?
It was perfectly comfortable, as between Bucharest and the city of Timișoara in western Romania, I was traveling in the comfort of a private sleeper compartment.
Although the Romanian Railways (CFR) sleeper was a bit old, it was perfectly clean, comfortable and undeniably charming, evoking the golden days of train travel.
With a small nightcap before going to bed, power sockets to keep my phone charged, and a washbasin to freshen myself up in the morning, I woke up well-rested the next day, ready for the journey ahead.
Since the sleeper wagon would be detached from the Muntenia train during the stop in Timișoara (only couchette and seat wagons make the entire trip from Romania to Hungary), I simply switched to a 2nd class carriage on the same train for the remainder of the journey to Budapest.
Although I was traveling with just a small bag, I couldn't help but notice that many other passengers had taken a considerable amount of luggage with them.
This is where the train can have an advantage over the plane, as on trains you can bring as much baggage as you want, while on a plane there are strict hand luggage restrictions, and taking additional bags might incur significant extra costs.
However, I also encountered my first problem with the train: Delays.
When we entered Hungary, the delay of my train was already approaching 90 minutes, and I had just 2 hours and 40 minutes between my arrival at Budapest Keleti station and the departure of my onward train from Nyugati station across town.
As much as I love train travel, I know very well that connections and delays can cause stress, and while ensuring you have a sufficient buffer between trains is vital, it does add up in travel time too.
However, even though it was a bit stressful, I do have to point out that in a comparison between the train and plane, a similar situation can also occur at an airport if you have connecting flights and your first flight is delayed.
Change in Budapest
With a final delay of 90 minutes, I arrived at the magnificent train station of Budapest Keleti Pályaudvar, which simply translates to 'Eastern Railway Station'.
With 1 hour and 10 minutes to catch my onward train from Budapest Nyugati Pályaudvar (Western Railway Station), I knew that I would make the connection and even had the luxury to walk between the two stations instead of taking the metro or a taxi.
Although the 30-minute walk may sound lengthy, there are airports where you might have to walk the same distance between gates when connecting between flights if you are unlucky (Istanbul Airport being the most notorious in this regard), and this time I could at least admire the beautiful surroundings of Budapest.
Train stations
Budapest Nyugati station is another gorgeous European railway cathedral and a reminder why train stations simply look better than airports in my honest opinion.
Some more advantages of train stations over airports: The shops and food outlets are cheaper.
If you take the plane you might have to shell out 10 euro or even more for a coffee and a small snack at the airport, while in comparison this would only cost you the normal street price at a train station.
Another obvious advantage of the train when you make a comparison with the plane: You have to check-in for your flight, pass through security and then have to go through a lengthy boarding procedure, while none of this is necessary to catch a train.
Although there are some exceptions (Eurostar, high-speed trains in Spain) you can simply walk into a train station and board your train, a process which rarely takes longer than 5 minutes.
Budapest to Bratislava
With its fine views over the Danube, the Budapest to Bratislava railway offers one of Europe's classic train journeys.
Although a plane will offer you fine views upon take-off and landing, travelling by train allows you to fully absorb the gradually changing landscape throughout the entire trip.
This way, you get a much better grasp of the geography, culture and history of the places you visit.
The Budapest-Bratislava-Prague Metropolitan EuroCity train features a Czech dining car where you can enjoy freshly prepared food and quality drinks, including draught beer.
A goulash soup, some delicious svíčková, apple strudel, a couple of beers and a coffee only set me back €20.
Needless to say, it's a far better offer than what you can purchase when flying economy class in Europe, and the food is of higher quality and more substantial compared to the complimentary meals served in business class on most intra-European flights.
Travelling by train also gives you the opportunity to bring your own food and drinks – including alcohol – on board, which is a bit more complicated when flying.
My Metropolitan EuroCity train eventually arrived on-time in Bratislava after a highly pleasant journey.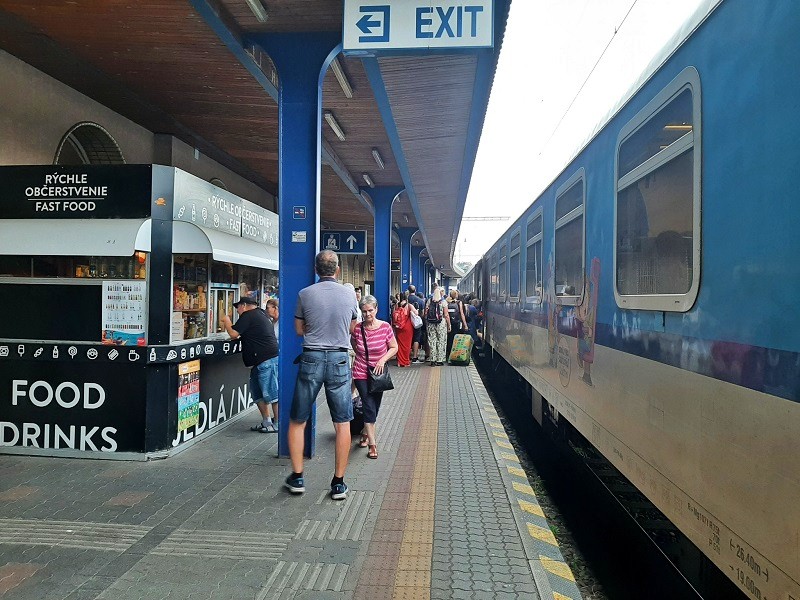 The way back
In order to make a full comparison between the train and plane I took a flight back to my home in Romania.
To be precise, I had a flight booked on Monday at 3.35pm from Vienna, which would get me into Bucharest Otopeni Airport at 6.10pm.
The flight was reasonably priced, costing me only €55 for an 'economy light' ticket, which included only hand luggage.
Since seats are automatically assigned during online check-in when booking an economy light ticket, I paid an extra €20 for advanced seat assignment in one of the front rows of the plane to avoid the risk of getting a middle seat.
Considering that most passengers pay for at least one add-on, like seat assignment, checked luggage, or a large cabin bag, I thought including the extra costs I paid for my front row seat would make for a more realistic price comparison between the plane and train.
Reaching Vienna Airport
In order to reach Vienna Airport from Bratislava, I first had to take a train to Vienna's main railway station and change there for a train to the airport.
Ideally, I would only arrive at Vienna Airport two hours before my flight.
However, since I didn't want to risk missing my flight due to a train delay or misconnection, I departed from Bratislava one hour earlier than planned to have an additional buffer in case things didn't go as expected.
I departed on a regional express train from Bratislava's main station at 10.37am, and I arrived in Vienna on time one hour later at 11.44am.
From Vienna's main railway station, I then boarded the 12.12 pm Railjet train to the airport, and I arrived on time at 12.27pm with three hours to spare until the departure of my flight.
Status benefits
My flight back from Vienna to Bucharest was on Austrian in economy class.
Since I have Star Alliance gold status, I could take advantage of priority check-in and fast track security, and I also had access to the business lounge.
Indeed, if you fly in business class or have a high enough frequent flyer status, the entire airport experience will be significantly better than that of the average person.
All the usual airport hassles will be brought back to a minimum and you can enjoy some complimentary food and drinks in the lounge while you wait for boarding to commence.
Business travellers will undoubtedly appreciate the quiet surroundings of a business lounge with dedicated work spots, while business and leisure travellers alike will find the option to freshen up during their trip by taking a shower to be highly appealing.
With a few exceptions, such luxury cannot be found at a train station, but then again you don't need to arrive at least 2 hours before your train departure at the station.
However, the fact that you can take advantage of frequent flyer programmes is a big advantage of the plane over the train as you can earn all kinds of benefits and collect miles and points that can be redeemed towards free flights.
This is particularly appealing for frequent travellers, but even casual travellers can still earn some benefits over time.
On trains, your loyalty isn't particularly rewarded at all.
At the airport
During boarding, one of the disadvantages of flying became clear.
As the flight from Vienna to Bucharest was fully booked and the overhead storage compartment space was limited, the gate agents were searching for passengers with trolley bags as hand luggage, and they had to gate check them to be placed in the hold of the plane.
The struggle for storage space in the overhead compartments and the additional fees some low-cost airlines impose for carrying a trolley bag as hand luggage are not the most pleasant aspects of air travel.
Once a sufficient number of bags were tagged for gate checking, the boarding process finally began.
On the plane
For this afternoon flight to Bucharest, I had assigned myself a window seat in the first row of economy class on the Airbus A321 used by Austrian Airlines.
The seat itself was perfectly fine for a short intra-European hop and had a decent amount of legroom.
While an economy class plane seat in a row of 3 is certainly not as comfortable as a seat on a long-distance train, I only had to endure it for one-and-a-half hours, so it was bearable.
Despite a slight delay upon departure caused by the lengthy boarding procedure, we managed to make up for lost time during the flight.
A small piece of chocolate and a glass of water were complimentarily distributed in economy class during flight, with more substantial snacks and other drinks being sold for a premium.
Arrival
My plane arrived on time at Bucharest Airport, but it took an additional 30 minutes before I finally managed to get through the long queue at passport control on arrival.
However, my journey wasn't over yet, as Otopeni Airport is located approximately 17 kilometres north of downtown Bucharest.
I therefore had to take a bus to the city and walk for a bit to my apartment, adding another one-and-a-half hours to my travel time.
However, I was quite happy with my decision to take the plane on the return journey as it allowed me to have some evening hours to spare and to sleep in my own bed.
If I had chosen to take the train back, I would have arrived home only on Tuesday morning and would have had to immediately begin my workday.
When flight schedules align perfectly with your needs, there's no denying that the plane is by far the fastest option.
Plane and train comparison
As is evident from my experiences shared above, both the train and plane have their unique advantages and disadvantages.
However, some of these aren't as clear-cut.
On the outbound journey the train turned out to be as time-convenient as the plane would have been, while on the inbound the plane was clearly the better option.
Indeed, whether the train or plane is the best will be highly dependent on the exact cities you need to travel between, as well as on the train and flight schedules.
A too early or late departure can make a travel mode to be highly desired or an absolute no-go.
This is particularly true as most people don't have the luxury of flexibility when planning their holidays, especially for weekend trips when they must adhere to strict departure and return times due to work commitments.
Costs
However, we can make a factual comparison between the train and plane on my Bucharest to Bratislava journey when it comes to the costs and travel duration.
Let's start with a cost breakdown.
This is what I spent on the train journey from Bucharest to Bratislava:
– Private sleeper compartment Bucharest-Timișoara: €72
– 2nd class train ticket Timișoara-Budapest: €14
– 2nd class train ticket Budapest-Bratislava: €11
As I could walk from my home to the train station in Bucharest and my accommodation in Bratislava was walking distance too, there were no additional transport costs.
So how does the plane compare in costs?
– Austrian Airlines flight Vienna-Bucharest: €55
– Advanced seat assignment: €20
– Train Bratislava-Wien Hbf: €14.50
– Train Wien Hbf-Vienna Airport: €4.40
– Bus Bucharest Airport: €0.62
In total, I spent €97 for the train and €94.52 for the plane – so let's call that a draw!
Family travel
I want to emphasise that travel on night trains can become more cost-effective when you are traveling as a couple or a family.
The cost per person is significantly cheaper if there are two of you using a 2-bed compartment than if you are traveling solo and want to book the compartment for sole occupancy.
If you are a family of four, you can book an entire couchette compartment with 4 berths, which further lowers the price you pay per person.
Choosing to fly would not offer the same cost-saving benefits, as you would be required to purchase four plane tickets, resulting in a price four times higher than that of a solo traveller.
Travel time
Now, let's make a comparison in travel time between the train and the plane.
I departed from my home in Bucharest half an hour before the 9.46pm train departure, and I arrived at my accommodation in Bratislava half an hour after reaching the city by train at 6.03pm the following day.
This means it took me 21 hours and 17 minutes to travel from Bucharest to Bratislava by train (the calculation includes the one-hour time difference between the two cities).
On the return journey, I left my Bratislava accommodation half an hour before the 10.37am train departure to Vienna and eventually arrived at my Bucharest home at 8.10pm.
This totals an actual travel time of 8 hours and 33 minutes (again including the time difference, as the clock is put one hour forward due to a time zone change if you fly from Vienna to Bucharest).
The plane is clearly the winner here, although I already demonstrated earlier that this doesn't always have to be the case as sometimes the train can be highly competitive here as well.
Example
I'm the first to admit that this is just one example and that depending on the journey the outcome of the train versus plane comparison can be entirely different.
For example, if I would have taken a trip in Western Europe, the train would have likely been more expensive.
However, in Western Europe, the travel time would likely be much faster due to the better track conditions and the availability of high-speed trains, which was not the case in Romania, where poor track conditions result in significantly slower average speeds.
There are however some key takeaways that I believe hold true regardless of the country you travel in.
Advantages of the train
The advantages of the train over the plane are quite evident.
I find the overall experience of the train to be more comfortable, and it truly gives you the feeling of embarking on a journey.
Indeed, from the train window you can see much more of the beautiful scenery compared to a plane, and on a scenic railway line the train journey itself can be an amazing holiday experience in its own right.
With no luggage limits to worry about, you can bring your own picnic on board or simply hop to the dining car for a wonderful meal while speeding through Europe.
Given that train stations are usually located in the heart of a city, you don't have to deal with buses or taxis as you would when arriving at an airport far out of the city.
Train stations are generally much easier to navigate and more beautiful than airports, with much cheaper shops, bars and food outlets to buy drinks and snacks.
You certainly don't need to arrive two hours before your train departure either, as there are no security checks or check-in cut-offs to worry about.
Advantages of the plane
The train has some obvious disadvantages too when you compare it to a plane.
Booking a train itinerary can be much more complicated, often involving navigating through websites of different railway operators to check timetables and prices for each leg of the journey.
Booking a flight? Easiest thing ever!
Then there is the issue of potential delays and misconnections, which can cause a lot of stress and uncertainty during the train journey.
This is all much better arranged when you travel by plane, as there are clear passenger rights and you will be put on the next available plane if you misconnect on a single itinerary.
If my Bucharest to Budapest night train had experienced an even bigger delay causing me to miss my train to Bratislava, I would have had no choice but to buy a new ticket for the next departure at a much higher fare than my advance saver ticket.
Conclusion
It won't come as a surprise if you have read the entire text, but the answer to the question whether the plane or the train is the best option cannot really be answered as this is highly dependent on lots of different factors.
The exact city pair you wish to travel between, your flexibility in departure and arrival times, how much luggage you need to take and how many people there are travelling all play a role when trying to decide whether the plane or the train is best.
Although the plane is usually much faster, trains can be highly competitive too, especially if your journey involves a high-speed train or sleeper service.
When considering costs, it's important to bear in mind that taking the plane often involves additional charges, including transportation to the airport and potential extra fees for luggage and seat reservations.
If you are open to both transport modes, it's advisable to make a comparison between the plane and train each time you need to travel.
You will likely discover that in some cases, taking the train is simply the best option, while in other cases, you can't beat a flight, just like I found out on my trip from Bucharest to Bratislava where the train was the best on the outbound journey and the plane was the best on the return.