Casablanca: Is Morocco's Biggest City Worth a Visit?
In this destination guide we travel to Casablanca and discuss whether a visit to Morocco's biggest city is worth it or not.
A visit to Casablanca
Casablanca might be Morocco's biggest city, but many tourists choose to ignore it on their trip to the country as they don't think it's worth visiting.
Indeed, if you read some travel guide books you might be dissuaded entirely from visiting Casablanca, as many describe it as chaotic, crowded and lacking in sights compared to Morocco's more famous tourist destinations such as Marrakech.
However, this was not the experience I had when I visited the city.
I found Casablanca to be a wonderful, vibrant destination and an intriguing mix between old and new.
Exploring Casablanca
After a flight from Barcelona to Casablanca with Royal Air Maroc and a comfortable night's stay at the ibis Casa Voyageurs hotel, I was fully rested and ready to explore the city the following morning.
While waiting at Barcelona Airport to check in for my flight, I struck up a conversation with a Moroccan girl behind me in the queue who offered valuable tips on fun neighbourhoods to explore and the best places to stop for food.
First on my list was the Habous neighbourhood, one of the older parts of Casablanca which is also known as the New Medina.
As I walked towards Habous I however noticed that the city streets were eerily devoid of traffic and people.
Although I had intended to begin my trip after Ramadan (which isn't the ideal time to visit an Islamic country), I had overlooked the fact that the days immediately following this fasting month are also less than ideal due to the celebration of Eid-al-Fitr.
As people were all celebrating Eid together with their families, the city felt completely empty and many shops were closed.
Habous
Even though the city was completely deserted in the morning, there were some upsides to it.
The biggest advantage was that without any people or cars around, it made for an excellent opportunity to photograph the picturesque Habous neighbourhood.
The Habous neighbourhood is located directly south of the Royal Palace and includes the sprawling Habous Market.
Although the Royal Palace itself is off-limits, you can walk along the outer walls, which feature some intricate arched galleries.
Habous Market
The main street leading from the Royal Palace to the Habous Market is lined with fabulous arcades on both sides.
Inside these arcades you will normally find a wide variety of shops selling clothes, books, rugs and all kinds of gifts, but unfortunately all of them had their traditional wooden doors firmly shut.
When the stores are open, make sure you visit Pâtisserie Bennis Habous, as this bakery is one of the most popular places in Casablanca to buy all kinds of Moroccan sweets ever since its establishment in the 1930s.
Although the market streets were lacking their usual bustle, the arched galleries created a picturesque setting, particularly with the towering minaret of the Moulay Youssef Mosque in the background.
Exploring the neighbourhood
Whether the shops are open or not, the Habous neighbourhood is certainly worth an hour or two of your time as its a picturesque area to explore.
You'll find a lot of beautiful archways in this part of Casablanca and the backstreets are well-worth to explore as well.
In addition to the Moulay Youssef Mosque, the Habous area is also home to another large mosque, the Al-Mohammadi Mosque.
This mosque from the 1930s is named after Sultan Mohammed V of Morocco, who sponsored its construction.
The minaret of the Moulay Youssef Mosque bears a striking resemblance to that of the Mohammadi Mosque, as both are constructed in the same Almohad architectural style.
Cats of Casablanca
One thing I immediately noticed while strolling the streets of Habous was the large number of stray cats and kittens, some of them appearing famished and in poor physical condition.
A sweet cat even jumped onto my lap the moment I sat down on a public bench and then refused to leave, accompanying me through a couple of streets before I finally returned the affectionate feline to the spot where I first encountered her.
This would become a recurring theme throughout my day in Casablanca, as sadly enough many cats appeared hungry and seemed in need of urgent veterinary care.
If you are a cat lover and will visit Casablanca, do please buy some cat food or meat from a local supermarket and feed it to the poor creatures who look like they need it most.
Tea time
Travel is just as much about enjoying the local cuisine and beverages as it is about sightseeing, and this was certainly something I enjoyed in Casablanca as well
There are several nice cafes in the Habous neighbourhood to sit down for a drink or a snack.
When the weather suddenly took a turn for the worse and it started raining heavily, I quickly took a seat under the awnings of Café Imperial, where I enjoyed some delicious Moroccan mint tea.
Casablanca architecture
Once the rain had finally stopped, it was time to get moving again and walk towards the city centre.
On my walk through the palm-fringed streets of an upscale residential area I could instantly notice the fine architecture of which Casablanca is famous.
Throughout the centre of Casablanca, you'll find numerous impressive Art Deco and Modernist buildings.
Almost all of the buildings in Casablanca are whitewashed – and if you think of it, the city name (Casa Blanca means White House in Spanish) makes perfect sense.
If you have an interest in architecture or design, Casablanca will certainly be worth a visit when you travel to Morocco.
Mohammed V Square
In the city centre, the first sight I encountered was Mohammed V Square, on which some of the city's main landmarks are located.
The main building on this square is the Casablanca City Hall with its iconic clock tower, although the courthouse is equally impressive.
Normally, Mohammed V Square is bustling with people strolling around, although this time the pigeons outnumbered the humans.
Ville Nouvelle
The area around Mohammed V Square is the heart of the Ville Nouvelle (New Town), a part of Casablanca built in French colonial times under a grand design plan by architect and urban planner Henri Prost.
Mohammed V Square lies at the heart of the Ville Nouvelle (New Town), a district in Casablanca that was developed during the French colonial era under the lead of urban planner and architect Henri Prost.
Almost all major cities in Morocco have such a Ville Nouvelle, which back in the day when the country was a French protectorate housed the colonial authorities as well as the European inhabitants and Moroccan upper classes.
These areas were typically constructed adjacent to the Medina, the old walled town that serves as the historic centre of commerce and culture for the indigenous Moroccan population.
At a certain point during the Interbellum, nearly half of Casablanca's population was European, and even today parts of the Ville Nouvelle still ooze French charm.
Casablanca Medina
Although the Medina in Casablanca is certainly not as beautiful and full of sights like those in other Moroccan cities such as Marrakech and Fez, it is still well-worth to visit.
The Medina – the walled old town – is a maze of winding streets and souqs, markets where everything is sold ranging from food to clothes and souvenirs.
Due to the Eid holiday, most of the shops were closed during the morning, but it seemed that many of them were beginning to open now as the afternoon approached.
As it was also approaching lunchtime and I was feeling quite hungry, I opted to walk straight through the Medina streets to the opposite side of this quarter, where I had spotted two appealing restaurants that I thought would be worth a visit.
After lunch, I could then revisit the Medina when all the shops would finally be open.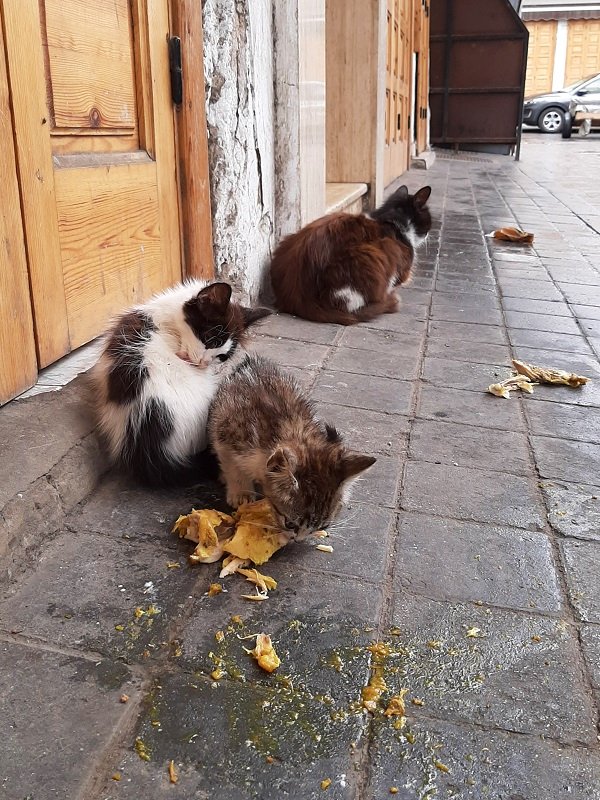 Rick's Café
The first restaurant I passed by which had been recommended to me (La Sqala) by a Moroccan friend was unfortunately closed.
I therefore walked straight on to another restaurant that was on my list, namely Rick's Café.
As you might expect from the name, this restaurant is themed in the style of the 1942 film 'Casablanca' starring Humphrey Bogart, Ingrid Bergman and Paul Henreid.
I absolutely enjoyed my lunch at Rick's Café, as not only had the restaurant a drop-dead gorgeous décor and ambiance straight from the 1930s and 1940s, but the food and service was excellent too.
The Sole Meunière I ordered was delicious, and it came served with complimentary freshly baked bread and an amuse-bouche of some kind of chili-flavoured rose jelly.
Corniche
When I stepped outside of the restaurant after an excellent lunch, I was greatly surprised to find that the rainclouds had given way to blue skies and the sun was shining brightly.
I therefore decided to head first to the corniche, Casablanca's seaside promenade, and to visit the the Medina afterwards.
When I walked across a modern shopping centre towards the corniche, I again noticed some sad-looking and hungry kittens craving for some food and attention.
It was hard to get the thought of these poor cats out of my mind, although the sea breeze from the Atlantic Ocean at the corniche did help.
Hassan II Mosque
Casablanca's most famous sight is arguably the Hassan II Mosque, which is built on a promontory jutting out in the Atlantic Ocean just off the corniche.
The Hassan II Mosque is certainly an impressive sight, as this house of worship is certainly massive in size and its minaret even is the second-highest in the world.
It's also Africa's largest mosque and ranks as the seventh largest in the world, with there being space for 105,000 worshippers (25,000 inside and 80,000 on the grounds outside).
Unfortunately, I didn't manage to visit the mosque as it was closed because of the Eid holidays and would only open much later in the day, so I need to leave this for a future opportunity if I find myself back in Casablanca one day.
Back to the Medina
From the Hassan II Mosque, I headed back towards the Medina.
I thoroughly enjoyed strolling through the neighbourhood adjacent to the north-western side of the Medina, as some streets offered excellent views of the old walls.
Once I was back in the Medina, I found its streets and narrow alleys much more alive than in the morning.
By now, most of the shops had opened, market salesmen had set up stalls or were directly selling their wares from carts and there were lots of people about in general.
I was surprised to find that there was almost no hassle whatsoever in the old Medina of Casablanca, which was something I was not expecting given that it's quite common in more touristy areas of Morocco such as the souqs of Marrakech.
In general, I found Casablanca to be a safe city to explore and at not a single moment did I feel worried about my safety.
Sunny walk
Back in the Ville Nouvelle, I took another leisurely stroll through some streets and squares I had visited earlier as by now they were much more alive.
As it was now afternoon and the sun was shining brightly, there were plenty of families with children out in the streets.
At Mohammed V Square, there were now all kinds of street artists and people selling balloons or offering go kart rides to children.
Arab League Park
The next sight I wanted to visit on this beautiful afternoon in Casablanca was the Arab League Park, which was just a short distance walking away from Mohammed V Square.
Arab League Park is beautifully landscaped and features dozens of impressively-sized palm trees.
At one of the corners of the park you can find Casablanca's beautiful Sacred Heart Cathedral, which unfortunately wasn't open to visit as the building is being renovated.
Other sights
Although my feet were starting to hurt a bit from all the walking by now, I decided to explore even more of Casablanca given that I still had a few hours of daylight left.
Through some palm-lined streets with some beautiful Art Deco and modernist architecture, I headed south.
At some points during my walk it almost felt like I was in Los Angeles or Miami Beach thanks to all the palm trees, whitewashed buildings and Art Deco architecture!
My first stop was a sky bar called Sky 28, from where you have some sweeping views over the entire city of Casablanca, although it was sadly enough closed when I visited and I was turned away at the front entrance.
I then walked east along a busy boulevard towards the Church of Notre Dame of Lourdes, a fabulously brutalist structure.
Coffee time
At this point, my feet really started to hurt so I decided to sit down at the first café I would come across.
In a side street close to the Church of the Notre Dame of Lourdes, I found a neighbourhood café with outdoor seating with a lovely view over a beautiful old villa with an overgrown garden.
There are many great neighbourhood cafes like this all over Casablanca where you can enjoy some quality coffee for highly affordable prices.
Final impressions
After the extended coffee stop, I headed back for a third time to the city centre in order to catch the tram back to my hotel.
However, in front of the Central Marketplace, I encountered the bittersweet sight of a group of abandoned street kittens huddled together on a large pile.
The poor creatures were clearly looking a bit dehydrated and hungry, so I put some water and food out in front of them.
I sincerely hope that some compassionate individuals came across these kittens and provided them with a safe haven, along with the care they require.
Tram back
From the Central Marketplace I took a tram back to my hotel.
After resting a bit in my room, I headed out towards a local fast food eatery in a side street of the large square in front of Casa Voyageurs station and enjoyed some meat brochettes for dinner.
As I had a long day of flying ahead the following day, I went to sleep early so that I would be well-rested for the journey that lay ahead.
Conclusion
Although Casablanca is not Morocco's most famous travel destination and many tourists skip it when they visit the country, I certainly had a great time wandering around this bustling and surprisingly beautiful city.
Casablanca has some interesting sights to visit such as the beautiful Islamic architecture of the Habous neighbourhood, the souqs of the Medina and the impressive Hassan II Mosque.
Make sure you also wander around the streets and parks of Casablanca's Ville Nouvelle for some fabulous Art Deco architecture and French colonial remnants.
Moreover, as Morocco's largest city and economic hub you will find some great shopping opportunities and a wide array of quality cafés, bars and restaurants in Casablanca.
Although you can make a case for skipping Casablanca in favour of other destinations if you have only limited time in Morocco, the city is certainly worth to visit and would offer a fabulous modern-day contrast to more touristy places such as Marrakech and Fez.
Trip report index
This article is part of the 'Qatar Airways Qsuites Adventure to Casablanca' trip report, which consists of the following chapters:
1. A Stopover Walk Through Barcelona
2. Review: Joan Miró VIP Lounge Barcelona Airport
3. Review: Royal Air Maroc Economy Class Barcelona to Casablanca
4. Taking the Casablanca Airport Train: The Cheap Way Into the City
5. Review: Ibis Casa Voyageurs Hotel, Casablanca
6. Casablanca: Is Morocco's Biggest City Worth a Visit? (current chapter)
7. Review: Royal Air Maroc Zenith VIP Lounge Casablanca Airport
** rest of the chapters to follow soon **