Into the Carpathians: A Beautiful Drive to Moieciu de Sus
This destination guide covers my road trip through the Carpathians to the beautifully located mountain village of Moieciu de Sus.
Road trip
After my visit to the beautiful Brancoveanu Monastery in Sâmbăta de Sus, I returned to my rental car and started driving again.
Even though my road trip was almost over, I still had nearly a whole afternoon left before I had to return my rental car in Brașov.
I decided to drive deeper in the Carpathians in order to enjoy some fine mountain scenery on this beautiful autumn day.
To be specific, I put the village of Moieciu de Sus in my GPS as I had seen some beautiful pictures of its surroundings before and had yet to visit it.
Hills and rivers
To reach Moieciu de Sus (Upper Moieciu), I first drove on the 104A from the Brancoveanu Monastery to Șinca, where I took the junction onto the 73A towards Zărnești.
Once in Zărnești, it would be a short drive towards Bran and Moieciu de Jos (Lower Moieciu), where the road to Moieciu de Sus branches off and climbs up into the mountains.
The first stretch of the journey took me right alongside a small river through the scenic Carpathian foothills.
Into the mountains
After a while, a series of hairpin turns indicated that I really started to climb up into the mountains.
At this point, some of the Carpathian peaks were already clearly visible in the distance.
As the road was almost completely absent of traffic, it made for some fun driving on these twisting roads.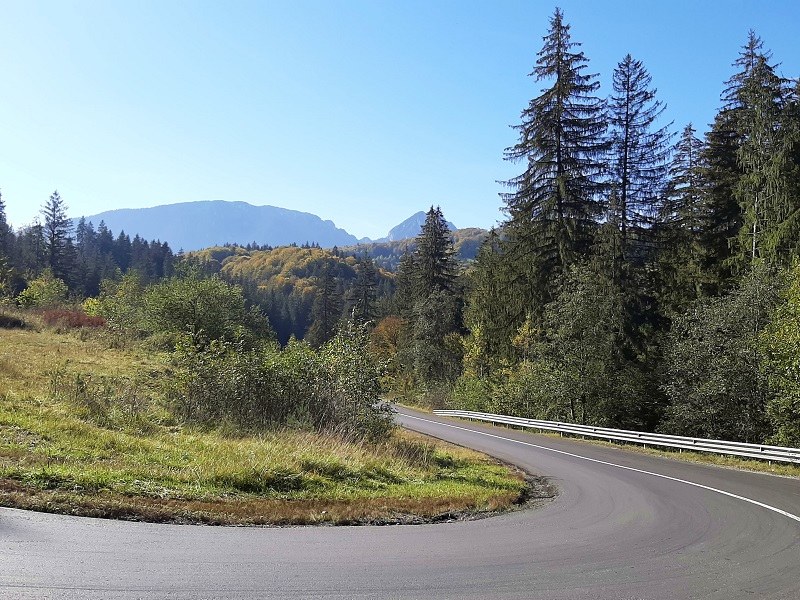 Autumn foliage
Although autumn colours were somewhat lacking so far during my mid-October road trip across Transylvania, they did for sure appear at higher altitudes in the mountains.
The autumn foliage along the road was stunning and I stopped at several places to take in the fine views.
Cheile Grădiștei
About halfway down the road between Moieciu de Jos and Moieciu de Sus there is a junction with a road splitting off on your right towards the Cheile Grădiștei mountain resort in Fundata.
You can clearly see where the name comes from, as Cheile means 'gorge' or 'canyon' in Romanian and the road does indeed take you through a beautiful river gorge.
Once you reach the end of the road you will find yourself in the resort on the mountaintop featuring a large chalet-style hotel and some smaller accommodation units.
There are also some restaurants as well as an Alpine coaster you can enjoy here, although the best of all are without a doubt the sweeping views over the mountains.
Into Moieciu de Sus
After some backtracking down the mountain, I found myself again on the road towards Moieciu de Sus, which follows the course of a small river through a forested gorge.
A while later, the valley widened out a bit and the first houses of the village of Moieciu de Sus appeared alongside the road.
A walk through town
Moieciu de Sus is just a small village and there isn't really anything to see or do besides enjoying the fine mountain scenery.
The scenic location of the village inside a particularly picturesque valley of the Carpathian Mountains is however reason enough to come here.
By the looks of it, it seemed that many houses inside Moieciu de Sus were either holiday homes or pensions.
Indeed, if you are looking for a quiet and beautiful place to say in this part of the Carpathians, then Moieciu de Sus could certainly be a good option.
Climbing up
The Carpathians offer ample opportunities for hiking, and also in Moieciu de Sus you can find numerous trails running into the mountains.
Sadly, I had little time for hiking in the Carpathians as I still needed to drive back to Brașov to return my rental car in time.
However, I did have some time to climb up the hillside, from where I enjoyed some sweeping views over Moieciu de Sus and the surrounding mountains.
Driving back to Brașov
Having enjoyed some of the fresh mountain air and fine views, I again headed to my car for the drive back to Brașov.
Driving back from Moieciu de Sus to Moieciu de Jos along the same road, I had even better views of the spectacular rock formations lining the river gorge.
At Moieciu de Jos, I again joined the main road towards Brașov.
This road took me directly through the town of Bran, famous among tourists for its impressive castle situated on an outcrop.
Although the castle is without doubt stunning to look at, I think it's one of the most overrated sights in Romania, mostly thanks to all the Dracula kitsch around it and the fact that historically it has absolutely zero to do with Vlad the Impaler, the man on whom the legend of Dracula is based.
I drove straight on to Brașov, where I returned my Dacia Sandero rental car without any issue whatsoever.
Evening walk in Brașov
As I still had some time left before the departure of my train back to Bucharest, I enjoyed a sunset stroll through the beautiful streets of Brașov.
I had a short walk through the city centre to Piața Sfatului, the central square of Brașov, and around the imposing Black Church.
Of course, I couldn't resist to buy some kürtős, a sweet chimney cake covered with nuts.
Although you can see this chimney cake all over Central Europe, kürtős is originally a Transylvanian-Hungarian delicacy.
Dinner time
All the driving had made me hungry and thirsty, so I headed to the traditional cellar restaurant Sergiana for some authentic Romanian food.
I enjoyed a complimentary portion of jumări (pork cracklings) before delving into a delicious bean soup and some sarmale (cabbage rolls stuffed with meat), all washed away with an Ursus beer or two.
Back to Bucharest
After the delicious meal, I took a bus to Brașov's railway station.
Fortunately, I didn't had to wait for long.
Some 15 minutes after I had arrived, the evening train to my home town of Bucharest pulled into the station.
Conclusion
I had a fun drive through the Carpathians during the final hours of my Transylvanian road trip, visiting the beautifully located village of Moieciu de Sus.
The roads were great to drive, being mostly devoid of traffic and having some gorgeous views from the window, also partly thanks to the autumn foliage.
I'd only wish I had some more time in the Carpathians to do some proper hiking as the blue autumn skies were highly inviting!
End of the trip
This article about my drive through the Carpathians towards the village of Moieciu de Sus and back to Brașov marks the end of this trip report covering the Saxon Fortified Churches of Transylvania and some other major sights in this Romanian region.
If you missed any of the previous chapters of this trip report, you can find the trip report index below.
Thanks for following me along this entire trip and feel free to leave a comment or subscribe to our Twitter, Facebook or Instagram pages to receive instant updates when a new article is posted online!
A simple like, follow or comment really makes our day and does help supporting this website.
Trip report index
This article is part of the 'Visiting the Saxon Fortified Churches of Transylvania' trip report, which consists of the following chapters:
1. The Fortified Church of Harman (Honigberg), Brasov County
2. The Fortified Church of Prejmer (Tartlau), Brasov County
3. The Fortified Church of Feldioara (Marienburg), Brasov County
4. A Visit to Rupea Fortress
5. The Fortified Church of Homorod (Hamruden), Brasov County
6. Racoș: Exploring an Extinct Volcano and Abandoned Castle
7. In the Footsteps of King Charles: A Visit to Viscri, Romania
8. A Visit to the Fortified Church of Viscri, Brasov County
9. A Night Walk Around the Citadel and Old Town of Sighisoara
10. Review: Hotel Casa Wagner, Sighisoara, Romania
11. The Fortified Church of Saschiz (Keisd), Mureș County
12. The Fortified Church of Cloasterf (Klosdorf), Mureș County
13. The Fortified Church of Mesendorf (Meschendorf), Brasov County
14. The Fortified Church of Crit (Deutsch-Kreuz), Brasov County
15. The Fortified Church of Biertan (Birthälm), Sibiu County
16. The Fortified Church of Hosman (Holzmengen), Sibiu County
17. Review: Brukenthal Palace Hotel, Avrig
18. A Visit to Sambata de Sus and the Brancoveanu Monastery
19. Into the Carpathians: A Beautiful Drive to Moieciu de Sus (current chapter)