Review: Royal Air Maroc Zenith VIP Lounge Casablanca Airport
This review details my visit to the Zenith VIP Lounge, the business lounge of Royal Air Maroc in Terminal 1 of Casablanca Airport.
Flying home
After a great time in the surprisingly pleasant city of Casablanca it was time to return home.
Even though I was heading home, I was immensely looking forward to my flight as I was booked in Qatar Airways Qsuites business class.
Having enjoyed a filling breakfast at the ibis Casa Voyageurs hotel, I took the Casablanca airport train from the adjacent railway station to the city's Mohammed V International Airport.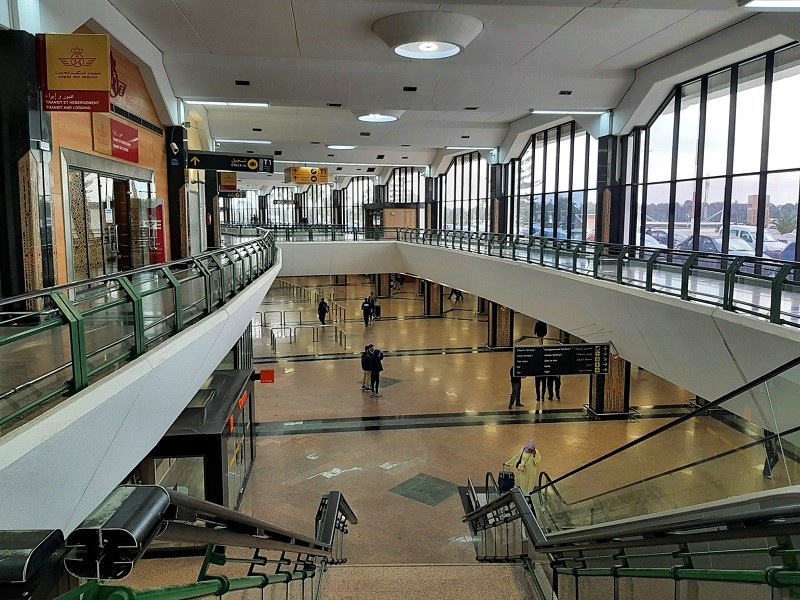 Casablanca Airport
Casablanca Airport consists out of two terminals: Terminal 1 and Terminal 2.
My Qatar Airways flight was departing from Terminal 1, so I headed in that direction to check in for my flight.
There was no queue at the priority check-in desk, where some airport employees were in the process of setting up everything needed to assist the passengers of the Qatar Airways flight to Doha with the check-in process.
Terminal 1
With my boarding pass in hand, I proceeded through security and passport control, both of which fortunately had no queues.
Casablanca Airport looked like it was quite a decent airport to hang out if you don't have lounge access, as there are a number of duty free shops, cafés, restaurants and ample seating.
As I was flying in Qatar Airways business class, I could however access the Royal Air Maroc business lounge in this airport terminal.
The Royal Air Maroc business lounge, known as the Zenith VIP Lounge, is located one level below the main departures area in Casablanca Airport Terminal 1.
Simply take the escalator or lift one level down, where you will find enough signs to show you the way to the lounge.
Zenith VIP Lounge entry requirements
The Royal Air Maroc Zenith VIP Lounge has the standard entry requirements for a oneworld business lounge.
When flying in business class with Royal Air Maroc, Qatar Airways, or another airline within the oneworld alliance, complimentary entry to the Zenith VIP Lounge is provided.
Also frequent flyers with oneworld Sapphire or Emerald status can enter the lounge for free, and are also allowed to bring in a guest.
The Zenith VIP Lounge at Casablanca Airport cannot be accessed currently with Priority Pass or other lounge membership programmes.
Inside the Zenith VIP Lounge
The Royal Air Maroc Zenith VIP Lounge is spread out across two floors, which are connected by stairs and lift.
The majority of seats are situated on the lower level, where the lounge entrance is located.
Here, you will find chairs surrounding low tables, dining tables, and high-top seats positioned along an elongated wall table, which makes for a decent spot to work on your laptop.
About a third of the seats have access to power sockets.
On the lower level, you can also find the main buffet area of the Zenith VIP Lounge.
Second floor
The second floor of the Royal Air Maroc Zenith VIP Lounge is the most appealing spot to hang out, with most seats located along floor-to-ceiling windows that offer views of the apron.
Despite the abundant natural light provided by these windows, plane spotting is limited as the view extends over a less frequented section of the apron.
The large chairs facing the window are however quite comfortable to sit in and they were my favourite spot in the lounge.
On the second floor of the Zenith VIP Lounge you can also find the bar.
Bar
At the lounge bar on the second floor of the Royal Air Maroc Zenith VIP Lounge, you can order a variety of complimentary drinks, including alcohol.
The drink options include a variety of soft drinks, bottled water, tea, coffee, beer, wine, and a selection of liqueurs and strong spirits.
I enjoyed a cup of coffee in the lounge, as well as a Moroccan beer.
Next to the bar, you can find a small selection of pastries and cookies.
Food buffet
The main buffet, located on the ground floor of the lounge, is unfortunately rather limited.
While you might find a decent snack at the Royal Air Maroc Zenith VIP Lounge, don't anticipate getting a full, high-quality meal at this business lounge.
When I visited, the food at the buffet basically existed out of canapés, tuna sandwiches, a small salad bar and a half dozen different pastries.
Even though it was lunchtime, the two buffet containers were empty when I inspected them.
The couple of pastries which I tried all tasted rather stale.
Within the buffet area, you can also find self-serve fridges stocked with bottled water and soft drinks, along with jars filled with juice.
Other lounge facilities
The Wi-Fi network in the Zenith VIP Lounge worked well throughout my visit and I had no problems whatsoever surfing the internet and getting some work done.
Inside the Zenith VIP Lounge, you'll also find restrooms and showers, though I didn't personally use them during my visit.
Crowding
Even though the Zenith VIP Lounge was only about half-full when I initially entered, it grew crowded later on during my visit.
At one point, there were scarcely any seats available in the lounge because of overcrowding.
Whether you can enjoy a quiet, relaxed atmosphere within the lounge therefore really depends on the timing of your visit to Casablanca Airport and the number of other oneworld flights scheduled around your departure.
To the gate
After completing some work, I found myself growing bored inside the lounge.
As the lounge really started to get crowded, I therefore decided after an hour to take a stroll through the terminal instead and spend the remaining time before departure at the gate.
Conclusion
The Royal Air Maroc Zenith VIP Lounge at Casablanca Airport Terminal 1 is a highly mediocre business lounge with a poor food selection.
This Casablanca Airport business lounge can get overcrowded too, and at peak times it can be hard to find an empty seat.
If you're just wanting a drink only or want to get some work done, the Zenith VIP Lounge isn't a bad place to hang out for a while.
However, I wouldn't arrive early at the airport to visit the Zenith VIP Lounge and would be wary of booking Royal Air Maroc flights with a long layover at Casablanca Airport, as their business lounge really isn't a place where you want to spend more time than absolutely necessary.
Trip report index
This article is part of the 'Qatar Airways Qsuites Adventure to Casablanca' trip report, which consists of the following chapters:
1. A Stopover Walk Through Barcelona
2. Review: Joan Miró VIP Lounge Barcelona Airport
3. Review: Royal Air Maroc Economy Class Barcelona to Casablanca
4. Taking the Casablanca Airport Train: The Cheap Way Into the City
5. Review: Ibis Casa Voyageurs Hotel, Casablanca
6. Casablanca: Is Morocco's Biggest City Worth a Visit?
7. Review: Royal Air Maroc Zenith VIP Lounge Casablanca Airport (current chapter)
** rest of the chapters to follow soon **