Khiva: Uzbekistan's Unique Desert Oasis City
This travel guide covers my visit to Khiva, one of the old Silk Road cities of Uzbekistan.
Khiva visit
Having visited Samarkand and Bukhara, Khiva would be the last Silk Road city on my Uzbekistan itinerary.
I was absolutely looking forward to explore this historic Silk Road city – especially as I finally had clear blue skies after some days of overcast weather and rain.
Atmosphere
Khiva, which historically was also known as Khorasam or Khorezm, feels special from the moment you arrive, having a completely different atmosphere than both Bukhara and Samarkand.
Ichon-Qala
The old town of Khiva, known as Ichon-Qala, is perfectly preserved and an absolutely delightful place to discover.
Sightseeing
Kukhana Ark
The Kukhana Ark, an impressive fortress at the western edge of the old town, served as the residence of the Khans of Khiva.
End of the Khanate
Madrassa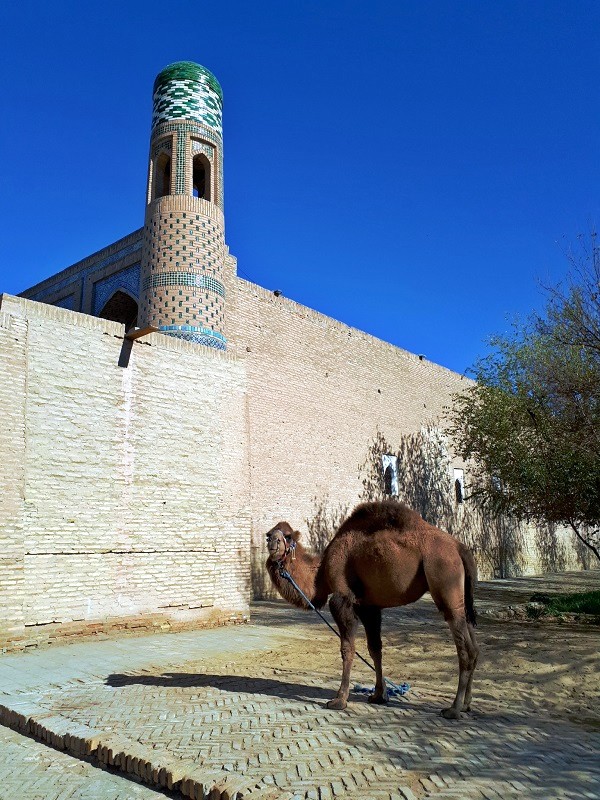 Old town streets
Islam Khoja Madrassa and Minaret
Climbing the minaret
It's quite a climb to reach the top of the minaret as you have to overcome some narrow and steep steps.
However, once you reach the top of the Islam Kohja Minaret you will certainly enjoy the sweeping views over the old town of Khiva, so it's well-worth it to make the climb up.
Lunch
I enjoyed some yummy laghman (noodles with potatoes, vegetables and meat in a flavourful broth) as well as some tea.
Backstreets
The Islam Kohja minaret towers high above all the buildings in this part of town.
Pahlavon Mahmud Mausoleum
I'm talking about the Pahlavon Mahmud Mausoleum, which houses the tomb of a man who was not only a renowned poet and philosopher but also a legendary wrestler.
The tomb was originally constructed in 1326, but was rebuilt during the 19th century.
South Gate and walls
Juma Mosque
Some of these beautifully decorated wooden columns date back to the 10th century.
Other Khiva sights
There were a couple of more sights and museums I had yet to explore.
In the small Qozi Kalon Madrassa you can find a museum featuring local music instruments.
Towards the east of the old town, you can admire the beautiful façade of the Allakuli Khan Madrassa, which was built in 1853.
The 19th century Toshhovli Palace is also well-worth a visit, especially for its fine mosaics.
Dinner
The manti (dumplings) and shashlik I ordered were tasty enough, even though it was one of the least impressive meals I had on the trip.
Hotel
Night walk
Trip report index
This article is part of the 'From Uzbekistan With Plov' trip report, which consists of the following chapters:
1. Review: Prietenia Night Train Bucharest to Chisinau
2. Chisinau Guide: A Visit to Moldova's Capital
3. Istanbul Ataturk Airport and the Turkish Airlines Lounge
4. Review: Turkish Airlines Business Class Airbus A330
5. Tashkent Travels: A Day in the Capital of Uzbekistan
6. Tashkent to Samarkand by Uzbekistan Railways 'Shark' Train
7. Samarkand Visit Guide: Travelling Through Silk Road Splendour
8. Review: Afrosiyob High-Speed Train Samarkand to Bukhara
9. Bukhara: Exploring Unique Historic Sights and Timeless Charm
10. Bukhara to Khiva by Train: My Travel Experience
11. Khiva: Uzbekistan's Unique Desert Oasis City (current chapter)
** rest of the chapters to follow soon **